Nearly 30,000 family members, friends, and guests packed West Point's Michie Stadium for the Graduation of the Class of 2016. While rain was in the forecast, it was nothing but sunshine and smiles for the 953 graduates who received their diplomas. They also received their second lieutenant bars from four members of the Class of 1966, their 50-Year Affiliation Class, which has gripped hands with members of the Class of 2016 since their March Back from Beast Barracks in August 2012. The bars are engraved with "66-16" to commemorate the special bond between the classes.
Vice President Joe Biden attended the event and gave the graduation address. He told the graduates that they arrived at West Point four years ago as the most promising students in the country and leave today as the most promising second lieutenants of the greatest fighting force in the history of war, ready to meet transnational challenges and diverse missions. "The United States Military Academy has forged you into warriors and strategists, and with a bond that will never be broken," Biden said. "Where ever you go, you'll feel the bond of not just the classmates sitting next to you, but of the thousands of others of the Long Gray Line, the most elite fraternity and sorority in the United States of America, who may have never met you but know who you are before you arrived."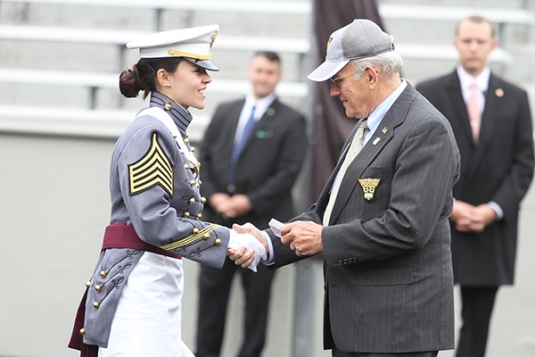 After taking the officer oath and tossing their white hats high in the air upon the order "Class of 2016, dismissed!" the graduates exited in mass to various bar-binning ceremonies across post. Almost all of the graduates will be commissioned as officers in the U.S. Army; three will be commissioned in the U.S. Navy, and one will become an officer in the Marine Corps.
This year's graduation class includes 151 women (7 of whom branched Infantry and Armor), 77 Hispanics, 71 Asian/Pacific Islanders, 69 African-Americans, and 12 Native Americans. The class also includes 25 combat veterans, 11 international graduates, and 66 members who are sons and daughters of West Point graduates (9 of which have parents who are both graduates).
The motto for the Class of 2016 is "With Honor We Lead." The Vice President reminded the graduates of this near the end of his commencement address. "We are counting on you; we are entrusting you with an incredible responsibility," he said. "Lead with honor and know that whatever challenges lie ahead, you are up for it because of the preparation you have received at West Point."