By Erika Norton, WPAOG Senior Multimedia Journalist
Four former Army leaders who served on the ground during the Battle of Mogadishu in Somalia shared their experiences and lessons learned with West Point cadets upon the 30th anniversary of the conflict. 
The battle, also known as the Black Hawk Down Incident, occurred on October 3-4, 1993, between U.S. forces and Somali militia fighters. U.S. casualties in the battle numbered 18 dead and more than 70 wounded, an estimated 700 to 1,500 Somalis died, and there were 13 casualties among UN personnel. It marked the end of the U.S.-led military intervention in Somalia, which had begun in 1992.
The four men, two West Point graduates and two West Point parents, shared with the cadets gathered in Robinson Auditorium lessons they had learned not only from that infamous mission, but throughout their careers as Army leaders.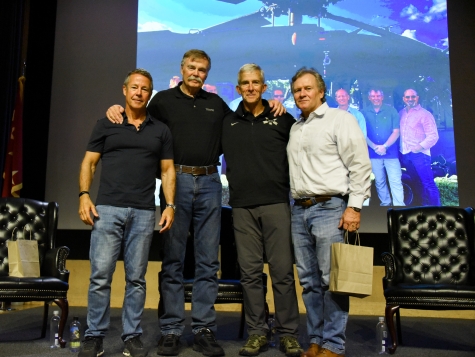 "It's that calm in the chaos that is so important if you're a leader," said Colonel (Retired) Lee Van Arsdale '74, "especially if you're in combat.
"When things get chaotic, and they ultimately will, no matter what you do, that calm permeates through the entire organization. And the opposite is true," he said. "If your hair's on fire when you're the leader, that entire organization is going to be running around with their hair on fire. So always be ready to do whatever job you have to do to be the calm in the chaos."
A common theme among the four men on stage was the importance of having "extreme trust" in their leadership and their fellow soldiers. They defined extreme trust as someone who is willing to sacrifice everything for another. Retired Master Sgt. Norman Hooten said he trusted his fellow soldiers more than some of his own family.
This extreme trust is something that you build by working with people over and over again in arduous and tough situations, according to Retired Chief Warrant Officer Dan Jollota.
"These three individuals, I would trust with anything I ever did in my life," Jollota said. "At the end of the day, when everything goes to hell, it's all about protecting each other and that extreme trust. We wanted to fight the fight for the guy on our right and the guy on our left."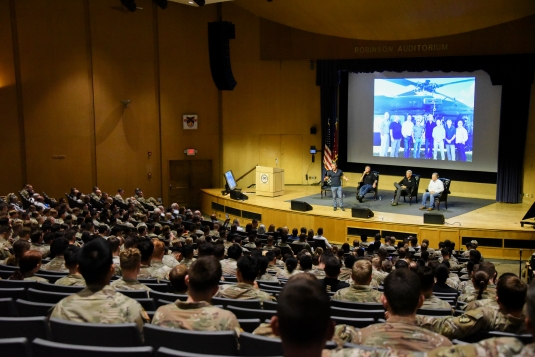 General (Retired) Scott Miller '83 agreed and said that it is a leader's responsibility to build that extreme trust. While staying physically and mentally fit in preparation for combat is critical, it is also critical for leaders to foster camaraderie within their units so that they build trust in their leader and each other.
It is a leader's job for their team to get along with each other, according to Miller, but if team members do not trust their leader, in any organization, there will be a culture problem. 
"There's also nothing like a crisis and a really hard fight to pull people together," Miller said, referencing the Battle of Mogadishu. "We could add 25 people up here from different organizations, and you could see oh, they're brothers for life."
After a question and answer session with the cadets in attendance, BG Shane Reeves '96, 15th Dean of the Academic Board and host of the panel discussion, wrapped the forum saying, "These men understand our obligation to prepare you all for the most difficult of human experiences, and that's warfare and we do everything we can to achieve that goal. I think having exposure to these warriors really does that for us."