By Erika Norton, WPAOG staff
West Point's most winning men's team added a top trophy to their case in 2022 when they won the Men's Division 1A Rugby National Championship for the first time in program history.
Led by Coach Matt Sherman and Cadet Larry Williams Jr. '23, Team Captain, this year's team is attempting to keep that momentum going as they prepare for the road to the championship this spring.
Last year was certainly a special season, and the lessons, relationships and memories will be with us forever," Sherman said. "We've tried to keep the same approach—to be the best team we can be. Our vision is to develop the best leaders in the nation through developing the best team in the country and cadets in the Corps. We focus on achieving that goal by being laser-focused on our behaviors as teammates and men, by contributing toward a culture of excellence, and by being the fastest improving team we can be."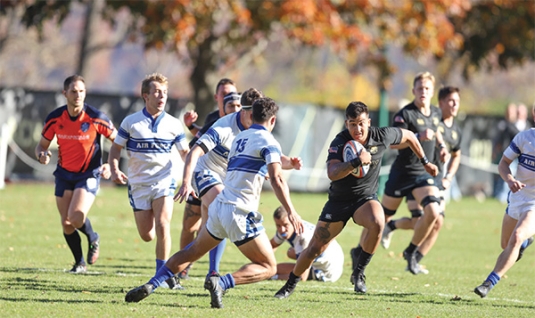 According to Sherman, the team uses three values to guide the behaviors its athletes hope to live by, and to develop the habits they aim to build: trust, commitment and love. Their focus is on the process.
"I think if we get our process right, and we do become the best team we can be, we might be capable again of being the best team in the country," Sherman said. "But we acknowledge that's out of our control, and we focus first and foremost on beating ourselves every day."
Before reaching national champion status, West Point's rugby program started in 1961 as a club sport. In 2007, the Anderson Rugby Complex opened at West Point, thanks to lead donors Lee Anderson '61 and his wife, Penny (the Andersons have also generously supported the Men's and Women's Rugby teams' endowments). The dedicated facility and field allowed an already winning club program to develop into a Division 1 team in 2010 (which later became Division 1A) and a corps squad team in 2014.
Williams was a key player for the Black Knight's 2022 championship win. So much so that as a junior playing the prop position, he won the Rudy Scholz Award, named after two-time Olympic Gold Medalist Rudy Scholz, who played for Team USA in the 1920 and 1924 Olympic games. The award is given to the collegiate player of the year.
"Winning the national championship was a surreal feeling," Williams said. "Every team in the country obviously plays their season in the hope that they get to that moment, and there was no doubt within our team that we would get there and be victorious. Everyone bought in to getting better from day to day, and I think this is what led to such great success. It was amazing being able to share that moment on the field with so many alumni of the program, and with my teammates who have given their blood, sweat and tears to the sport."
As team captain, Williams said he feels his role is to help lead the team toward their vision and goals. He said he sees his role as a bridge between the coaches and the players, one in which he acts as advocate on his teammates' behalf. His goal is to be approachable, so players feel comfortable coming to him for advice or for help. Williams also believes it is his role to help ensure that team motivation stays high despite any adversity or challenges they may face along the way.
"As a team, we do not like to discuss the championship from last year very often," Williams said. "While it is awesome that we won and made history in the process, the focus has to be on today and now. The most important thing to us is the present. If we try to live in the past and dwell on our past success, complacency can set in, which, to be candid, happened to us toward the end of this fall season. I think that our focus has to be about us improving our personal best. It does not matter what opponent we are facing or the accolades and successes of the other team or of our previous team. We need to focus on improving ourselves."
One word both Williams and Sherman use to describe the team is "brotherhood." Sherman said that, while the team maintains a high caliber of athletes, he thinks there's an attraction to the Army team because of its strong brotherhood, culture, and the warrior ethos that the team and sport embodies.
Williams said that the term "brotherhood" is thrown around to describe a lot of different sports, but he believes the true concept of brotherhood is not always captured when it's used.
"I think brotherhood means that you love the people that you are with and would do anything to see them succeed or to ensure their well-being," Williams said. "You buy into each of your brothers and become invested in their lives because you truly do care about them. A part that I think a lot of teams miss is the accountability part of brotherhood. You have to be willing to tell your brother the things that he does not want to hear so that he can get better. You have to be willing to confront your brothers when they mess up or stumble and be right there to pick them back up."
Not only does rugby foster camaraderie, adaptability, and resiliency, but the sport itself is rich in traditions. According to Williams, after a rugby game, it is typical for the home team to host some sort of social event during which both teams have a meal together and get to know one another. He said it amazes him how two teams can go from beating each other down on the pitch to laughing, joking, and engaging in good conversation.
This culture of brotherhood is a great fit for West Point's mission to develop both leaders of character and warriors prepared to fight and win the nation's wars, according to Sherman.
"At its core, rugby is about a team trying to find cohesion in a very chaotic and stressful environment," Sherman said. "On the coaching side, while it's important to develop technical skills, a tactical plan, and physically capable players, what I really enjoy is developing the leadership behaviors and collective problem-solving capabilities to work through the challenges my players face, and how they work together to adapt and overcome those challenges. Processes for communication, problem-solving, opportunity identification, course correction, adaptation, etc. are critical to develop in the team and players, and they are a lot of fun to coach, especially given that they are our country's most important future leaders."
Read the complete Spring 2023 edition of West Point magazine here.