By Erika Norton, WPAOG Senior Multimedia Journalist
After a livestreamed opening yielded a seemingly empty time capsule from inside the Thaddeus Kosciuszko monument, USMA archaeologists discovered hidden treasure after all.
The United States Military Academy announced that their team of archaeologists found six silver American coins and a commemorative medal inside the nearly 200-year old time capsule. The historic artifacts were discovered in the sediment inside the one square-foot box.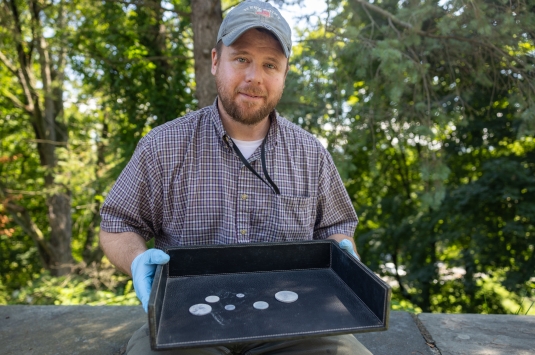 Six coins and a medal were embedded within the matrix, dating from 1795 to 1828. The coins include a 1800 Liberty dollar, an 1828 50-cent coin, an 1818 25-cent coin, an 1827 10-cent coin, a 1795 five-cent coin, an 1827 one-cent coin and an Erie Canal commemorative medal from 1826.
According to the Academy, the historical preservation process will continue, and updates will be provided when new information is available.
The time capsule from 1828 was discovered by West Point Association of Graduates employee Chris Banson during renovations to the statue and monument base this summer.
As an integral part of WPAOG's commitment to honor West Point and the enduring legacy of the Long Gray Line, donations to WPAOG contribute to the preservation, upkeep, and creation of not only academic and athletic infrastructure but also the historic statues and monuments gracing West Point.