By Erika Norton, WPAOG Senior Multimedia Journalist
The West Point Association of Graduates has been expertly restoring West Point's historic Tadeusz Kościuszko monument this summer. As WPAOG's Construction Manager Chris Branson led the project, he never expected to find treasure.
Inside the base of the monument, Branson discovered a nearly 200-year-old time capsule.
"I literally stuck my head in and looked down and was like, holy smokes, there's a box!" he said.
According to Branson, the magnitude of what he discovered hit him the second he shut down the job and removed all contractors from the site to ensure preservation was the top priority.
USMA officials have since determined that the sealed one-square-foot lead time capsule was placed in the base of the Kościuszko monument by cadets in 1828, 26 years after the Academy's founding.
The original base and column were designed by John H.B. Latrobe, an ex-cadet from the Class of 1822, and paid for by cadets. The 8.5-foot bronze statue of Tadeusz Kosciuszko, which was donated by the Polish Clergy and Laity of the United States in 1913, was mounted on the column nearly 100 years later.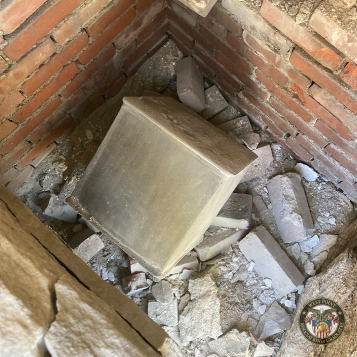 During an inspection in 2021, the column and base of the monument were found to have structural cracks. The statue was removed and placed in storage, and restoration of the monument base began this summer. Branson not only unearthed the time capsule, but he also recovered a cannonball, a grapeshot, and a spike, possibly used during the original monument's construction.
Branson and his team have been meticulously restoring the Kościuszko monument in kind, using 3D imaging and sourcing the same quality white marble used in monuments built during that time period. The statue of Kościuszko is being recast in bronze, and the original plaques are being refinished.
As part of WPAOG's mission to serve West Point and the Long Gray Line, gift funds to WPAOG support the restoration, maintenance and construction of not only academic and athletic facilities but also historic statues and monuments at West Point.
Recent projects, such as the addition of the Ulysses S. Grant Statue on the Plain and the ongoing renovation of Egner Hall, ensure that the history and legacy of the Long Gray Line are preserved and memorialized for the Corps of Cadets. These projects also bolster the advancement of the Academy.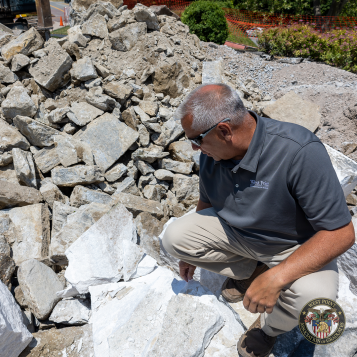 The U.S. Military Academy will open and unveil the contents of the time capsule during a ceremony on August 28 in Thayer Hall's Robinson Auditorium.
"What I hope is in the box are the original drawings of the monument and how they built the original monument and maybe why they put it there," Branson said. "Maybe there are some original documents in there. There may be some letters from the young cadets who built it, maybe a couple of trinkets from the time, but I just don't know. The 1800s were a long time ago, and I'm sure people from that time period cherished everything they had. It would have to be something really significant if they were going to bury it for that long."