The Directorate of Cadet Activities' (DCA) Extracurricular Program offers more than 120 diverse teams and clubs for cadets to join.
While all clubs support the pillars of West Point leader development, they are divided into seven categories based on their supporting agency: competitive sports (Department of Physical Education), academic (Office of the Dean), military (Department of Military Instruction), religious (USCC Chaplain), diversity (Office of Diversity, Inclusion and Equal Opportunity), support (USCC), and hobby (DCA). Yet, perhaps there is another way to classify DCA clubs, one based on those that incorporate the outdoor resources of West Point, the Hudson Valley, and the Northeast into their activities. From the Bass Fishing Club to the Cadet Hunting Club, clubs of this kind foster a lifelong appreciation for outdoor sportsmanship as well as the military profession through cadet-officer mentorship.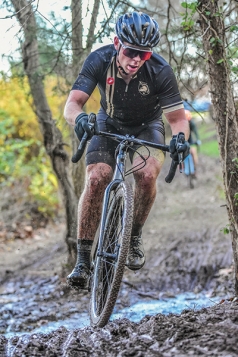 Cycling Team
"The West Point Cycling Team uses the outdoor resources surrounding West Point in a variety of ways throughout the academic year. We use the training area to practice mountain biking and to practice for races throughout the country; we use the roads on and around West Point to train for the road-racing season, and we bike in the open grassy areas to dial in cyclocross skills. The beautiful outdoor resources around West Point provide the Cycling Team with the ability to train for a variety of different race styles. Without access to these resources, we would not be able to train and compete at a national level."
—Major Brett Rocha '12; Instructor, Department of Civil & Mechanical Engineering; Officer in Charge, Cycling Team
"Being a California native, I had always wanted to live somewhere that had four seasons, and this was a consideration when applying to West Point. Now that I'm here, I never realized how I took for granted the privilege of using the outdoors year-round. Although there are times when I wish I did not have to slog through the snow to class, I truly appreciate the beauty of the trees losing their autumn leaves, signaling the start of the bright white snow contrasting against our gray backdrop. Being a member of the Cycling Team and riding my bike every day allows me to experience the changing seasons, and each day I'm reminded how the outdoors looks just a little bit different than the day before."
—Cadet Olivia Romo '25 (from Alamo, California)
Triathlon Team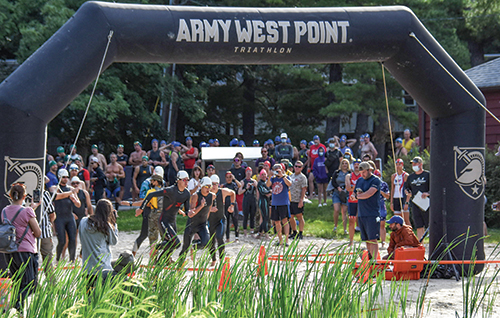 "The Army West Point Triathlon Team is fortunate to have and use the many natural resources in and around West Point to train the team to compete at the highest levels of collegiate triathlon, and beyond, to include national and world championships. Having access to Camp Buckner and Lake Popolopen allows the team to train in open water under the supervision of our lifeguard and coach for much of the fall and late spring. Open-water swimming is a key discipline in the sport and requires training and techniques that cannot be adequately simulated in a swimming pool. We can train our team to swim in packs, adjust to weather and sunlight conditions, and site to turning buoys in the lake. We're also able to ride our bikes from West Point to Camp Buckner and around the local areas, including Bear Mountain. The varied and hilly terrain allows our team to train under tough circumstances, which promotes fitness and prepares team members for some of the most challenging triathlon courses around the world. Of course, our final discipline is running, and there are few places better to see amazing nature views than to run along the historic roads and trails at West Point. From the challenging climbs to the flat track down by the river, West Point allows multiple running experiences where we can safely train year-round."
—Dr. Ken Allen '93; Professor of Nuclear Engineering and Nuclear Engineering Program Director, Department of Physics and Nuclear Engineering; Officer in Charge, Triathlon Team
"Triathlon has given me a team that I can train with and has given me some of my closest friends at West Point. The sport has also given me an appreciation for the outdoors. We train outdoors in the fall, spring, and summer, and still run outside in winter. One of my favorite workouts is biking to the top of Bear Mountain in the fall. The leaves are pretty and the view from the top is awesome."
—Now Second Lieutenant Jonah Park '23, Team Captain (from Overland Park, Kansas)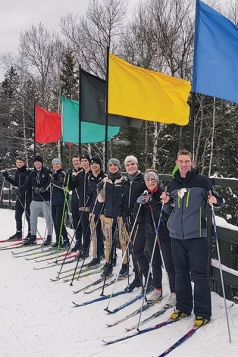 Nordic Ski Team
"The Army West Point Nordic Ski Team provides a great way for cadets to experience and appreciate winter in the northeastern United States. While snowfall here in the Hudson Valley during our most recent winters has been minimal or tricky for cross-country skiing (icy or not deep enough for ski grooming), the team can always find locations within a three-to-five hour drive that do have snow. Just this past season alone, we've spent time at Lake Placid, NY, skiing at the site of the 1980 Olympic Winter Games; at Paul Smith's College Visitor Interpretive Center in New York's Adirondack Park; and in northern Vermont at the Craftsbury Outdoor Center and the Vermont National Guard's Camp Ethan Allen Training Site. At Camp Ethan Allen, our cadets were able to observe the National Guard Biathlon Championships and got the chance to ski and shoot with National Guard athletes from across the United States. The team members have been able to visit great destinations in the northeast and make connections with other military athletes."
—Laura Mosher; Cadet Engagement Librarian, USMA Library; Officer in Charge, Nordic Ski Team
"Our purpose as soldiers is to be uncomfortable so other people don't have to be. By placing ourselves in situations that are uncomfortable as members of the Nordic Ski Team and trying new things that are hard and that require strength, endurance, and aerodynamic efficiency to tackle the outdoor obstacles associated with our sport, we're learning to adapt and learning to enjoy these situations, which is the essential task of training and of West Point in general."
—Cadet Orion Rolater '25 (from Plano, Texas)
Orienteering Team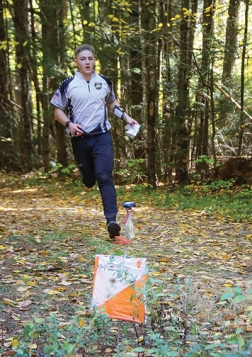 "Orienteering competitions seek unique and difficult terrain to test competitors. The vast training areas and forest resources surrounding West Point provide countless opportunities to practice the many skills necessary to improve the team's ability to navigate precisely under pressure. Throughout the year, the Orienteering Team uses virtually all the training area land to continuously introduce unfamiliar and challenging terrain. West Point's unique set of resources rapidly develops our skills and leads to success at the national and international level. The outdoor resources at West Point also afford the Orienteering Team the opportunity to host a nationally ranked event each spring. This event attracts hundreds of competitors from across North America. It's hosted by the Orienteering Team cadets, contributing to our professional development and helping us build the skills needed to plan and execute complex training events as officers."
—Cadet Hana Myers '25, member of the Orienteering Team (from Steilacoom, Washington)
"Moving from Pennsylvania to Florida during my second year of middle school, I happily joined my school's cross country team but lost out on the enjoyment I had exploring the woods, as the Florida undergrowth is too thick to navigate. Joining the Orienteering Team at West Point brought back the excitement of being outdoors while combining it with the rigor of a cross country race. Every day that I run through the hills around West Point, I'm reminded of fond childhood memories and face exciting navigational challenges."
—Cadet Owen Taylor '26 (from Geneva, Florida)
Mountaineering Team
"The Mountaineering Club uses multiple outdoor resources around West Point. It capitalizes on the existing rock formations around post to practice trad, sport, and ice climbing, in addition to using the Class of 1979 Rock Climbing Wall in Arvin Gymnasium. Having outdoor resources provides the team with realistic training close to post, which allows for a regular practice schedule. Some of the outdoor resources it uses are the stone wall near the old MP barracks (The MP Wall), the rock face near South Dock for sport climbing (The PI Wall), and the rock face behind Arvin Gym, which freezes over during winter and allows the team to practice ice climbing. On weekends the Mountaineering Club also organizes trips to the Catskill Mountains and the Shawangunk Mountains ("the Gunks"—home to the best traditional rock climbing in the country, offering climbs of all levels of difficulty) to practice the skills learned on Post in more in-depth.
"I was raised in a coastal town with relatively no elevation change, and my hobbies related to coastal activities such as surfing and fishing. During plebe year, I found myself missing these hobbies and noticed a flyer promoting the Mountaineering Club, which emphasized that anyone could try out, regardless of experience. I have been on the team for three years now, and, as the current CIC, I can attest to the fact that the majority of plebes brought on have little to no prior experience. The Mountaineering Club introduced me not only to a new hobby I have come to love but also to extremely knowledgeable coaches and like-minded peers who have helped mold me into a capable mountaineer and a better leader. The lessons I've learned from being a part of the Mountaineering Club go much further than technical mountaineering skills, and I have no doubt that I will carry them with me throughout my career as an Army officer, and as a mountaineer."
—Cadet John McKinney '24, Cadet in Charge (from Wilmington, North Carolina)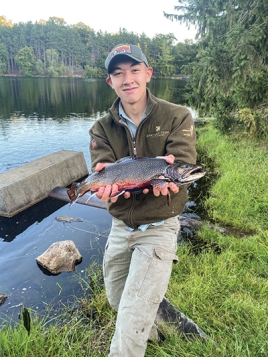 Cadet Fly Fishing Team
"The area around USMA provides a wonderful setting for cadets to learn fly fishing. When a cadet needs to decompress for an hour, they can travel to Lusk Reservoir, 'in their backyard,' to do some fly fishing. The goal of the club is to introduce fly fishing as an activity that may be needed as a resiliency tool in future years. Mike Adams '02 set the course for the club when he was its Cadet in Charge (CIC), establishing a program that focused on fly-fishing techniques, crafts (fly tying and rod building), and conservation. Sadly, his life and love of fly fishing were cut short in Iraq on March 16, 2004, but his vision to educate, train, and inspire the future leaders of this nation through fly fishing continues. Today's club continues to use the outdoor resources around USMA to introduce an activity that cadets can use and then pass along later in a situation where the activity may be a lifesaving tool. 'Over the years since I graduated, I found fishing to be one of the most therapeutic activities for me personally and a great activity to introduce to peers,' notes Lieutenant Colonel Max Ferguson '05 (CIC when he was with the club) 'Frankly, there is no better way to open meaningful and vulnerable conversations with friends who have heavy hearts than on the water, as there is something disarming about fishing with a friend, among the trees, stalking fish.'"
—Lieutenant Colonel Ron Hasz '95; Instructor, Department of Physics and Nuclear Engineering; Officer in Charge, Cadet Fly Fishing Club

"Managing stress is fundamental to success as a cadet, and for myself and many others, that management takes the form of fly fishing. From trips to the Salmon River in Pulaski, New York, to casting clinics at Lusk Reservoir, the USMA Fly Fishing Club allows me to recharge and reset so that I can maintain high energy levels during the academic year. I would not be the same person I am now if it wasn't for this club."
—Cadet Jack Hager '24 (from Flint, Texas)
Other outdoor DCA clubs include the Alpine Ski Team, the Bass Fishing Club, the Equestrian Team, the Ski Club, the Marathon Team, the Crew Team, and the Hunting Club. All DCA clubs are supported in large part by Margin of Excellence funding through private giving.
Read the complete Summer 2023 edition of West Point magazine here.