CDT Brandon Liu '24 received an opportunity to attend the 2023 Korea Summer Academic Individual Advanced Development (AIAD) excursion, sponsored by the Department of Systems Engineering.
During his 21 days in Korea, Liu took advantage of dozens of opportunities that will benefit him in the future by making him a more well-rounded Army officer and person. For example, Liu, a Systems Engineering major, shadowed MAJ Nikesh Kapadia '09 and worked on a research project determining metrics to evaluate behavioral health via the app Neuroflow. In addition to his work at U.S. Army Garrison Humphreys in Pyeongtaek, Liu stayed overnight at the Korean Military Academy (KMA) and conducted a virtual raid with Korean cadets at their simulation center. "While staying with the cadets from KMA, I learned a lot by asking them many questions," Liu says. "Knowing that developing solid relations with our allies is important, many friendships were formed." Liu also had the unique opportunity to visit the Joint Security Area, the only portion of the Korean Demilitarized Zone where North and South Korean forces stand face-to-face.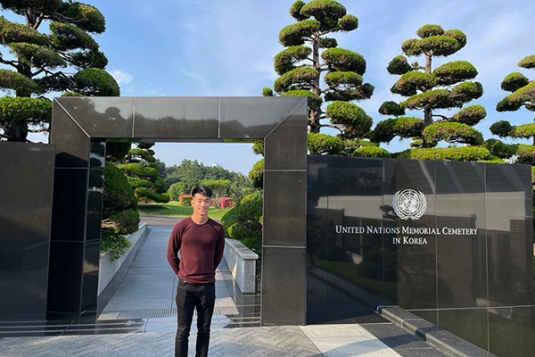 Beyond his Army experiences, Liu enjoyed Korean cultural experiences thanks to this AIAD. For example, he traveled to Seoul, the capital of Korea, and visited Gyeongbokgung Royal Palace, where he learned about Korea's complex history and its past and current relations with China, Japan and America. He also wore a "hanbok," a traditional Korean costume; tried a variety of delicious Korean dishes (made with oysters, abalone, and shrimp); and visited Gyeongju, the capital of the ancient kingdom and home to numerous royal tombs, temples, palace ruins, Buddhist statues, and more. According to Liu, his visit to the United Nations Memorial in Busan was the most significant moment of his AIAD. "By watching the historical film of the Korean War, walking around and realizing the significance of the fallen comrades from the different United Nations countries, this cemetery, the only United Nations cemetery in the world, had a big impact on me," he says.
"Cross-cultural leadership is essential as the world becomes more global," says Liu, "I believe spending the summer in Korea on this AIAD will ultimately make me a better leader ready to take on the challenges of this more global world." AIADs such as these are funded by the Margin of Excellence.