Families visiting West Point now have a new transportation option, thanks to a generous donation by Timothy (Tim) and Janice Surdyke through the Cadet Thomas Surdyke Memorial Foundation Endowment. The gift of a six-passenger golf cart this fall was in honor of their son, Thomas (Tom) Surdyke, a member of the Class of 2019, who died in June 2016 saving the life of a drowning stranger.
Tom's heroic action fulfilled his personal mission outlined in his West Point entrance essay: "I want to dedicate my life to serve and protect those who are not able to do so for themselves. A career in the military is not only something I desire; it is something I truly feel called to do." Tom was posthumously awarded the Soldiers Medal.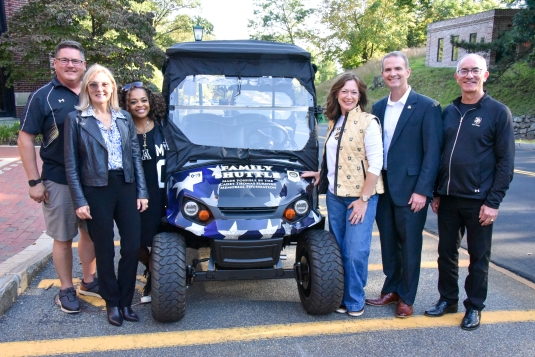 "The mission of the Association of Graduates is to serve West Point and the Long Gray Line, and an essential part of that mission is our support to parents," said WPAOG President and CEO Mark Bieger '91. "Thanks to the Surdykes, we can better inform and host families at activities such as the Pre-Reception Day (R-Day) Ice Cream Social and additional activities within R-Day, A-Day, Army football games, Family Weekend, Plebe-Parent Weekend, and graduation."
The West Point Association of Graduates recognizes Tim and Janice Surdyke as members of the Henry H. (Hap) Arnold Giving Society for their generous support of the Academy. "Through the Cadet Thomas Surdyke Memorial Foundation, we try to continue fulfilling our son's legacy of serving others, by fostering and supporting young leaders like Tom," said Tim and Janice. The Surdykes have also celebrated Tom's legacy by establishing the Sandhurst Surdyke Award given to the Best Squad Leader of the International Sandhurst Competition annually.