By Erika Norton, WPAOG Senior Multimedia Journalist
West Point hosted undergraduate students from across the globe for the annual McDonald Conference for Leaders of Character (MCLC). The conference, made possible by the vision and resources of founding benefactors HON Bob McDonald '75 and Diane McDonald, provides cadets and attendees from diverse backgrounds the opportunity to take part in team-based experiential and analytical exercises to bolster leadership skills, foster critical thinking and collaboration, and explore strategies to address global issues.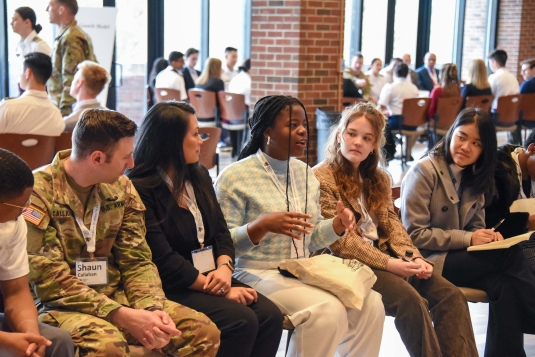 The conference is hosted each year by the Department of Behavioral Sciences and Leadership. Cadets attend the conference and a small team of cadets is charged with the logistics from OPORD (operation order) to execution to AAR (after action review).
This year's conference theme is "Influence Without Authority: Following, Leading Peers and Inspiring from an Entry Level."
"As I traveled around the world, I saw that really knotty problems in the world are ones that can't be solved by any one country or any one person. We need to work together across boundaries, across genders, and across disciplines," McDonald said. "The mission of this conference is to bring people together, talk about leadership and becoming leaders of character, and then send those leaders back out around the world so they can work together."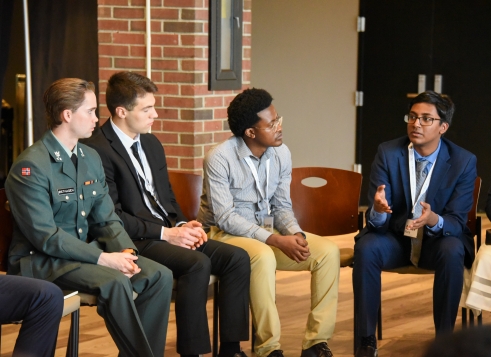 McDonald said that hearing from these young leaders and seeing them grow and learn how to be more intentional about their leadership is inspirational.
Elizabeth Ogolo is attending this year's conference from Harvard University. She said she is really enjoying getting to talk to a diverse group of student leaders from all different places. She specifically enjoyed the session with the West Point band. After hearing how the conductor leads all of the different sections of the band together in unison, Ogolo was given the opportunity to try and conduct the band.
"Being able to talk about my personal experiences with leadership and mentorship, and then being thrust into this real-world situation with little preparation, I felt it was a really interesting 'theory meets practice,'" Ogolo said. "Being up on that podium, I was really terrified. At first, I was like, I don't know what I'm doing. I don't know how to do this. But then I was looking into the audience; I was looking at not just the MCLC participants, but also at the band members, and everyone was cheering me on.
"The constructive criticism was really positive and helpful," Ogolo said. "I wasn't expecting to learn so intimately about music in that way and leadership in a musical space, so that was really cool."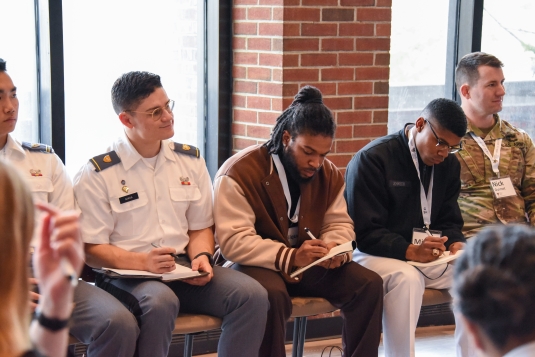 Arian Van Winkle is an international MCLC fellow. He went to the University of Pretoria in South Africa but is now based in London.
Van Winkle said he is hoping to gain better skills in leadership and global relationships and a bit of insight into the military experience.
"I've been more business oriented in terms of making money and focusing on myself, and I might want to potentially join the military, so this is the right place to learn a little bit about military life."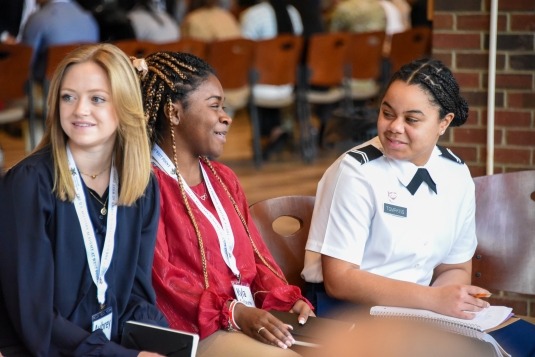 Events at this year's MCLC include a panel on strength of character, a panel on followership, and keynote speeches from Mark Shapiro, president & CEO of the Toronto Blue Jays, and Seema Hingorani, managing director at Morgan Stanley and founder and chair of Girls Who Invest.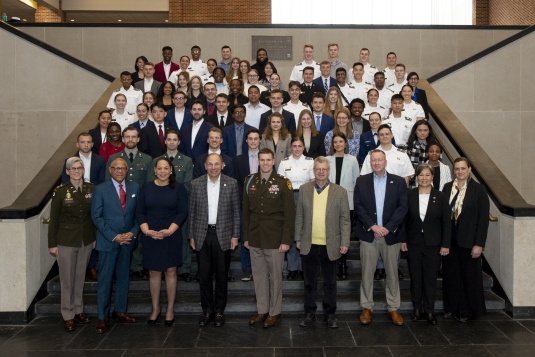 CDT Sydney Shannon '23 is one of the assistant cadets in charge of the conference and is helping facilitate some of the panel discussions. She was a cadet fellow at last year's MCLC.
She said that West Point's cadet fellows are often surrounded by other cadets, so the conference is an awesome opportunity to hear different leadership perspectives from across the country and across the world.
"I'm really just hoping that everyone learns something new," Shannon said. "I hope the conference pushes everyone to meet new people, put themselves out there and gain some more leadership skills, whether that's communicating better, learning how to reflect better or just be a better leader."
Since the first conference in 2012, the McDonald Conference for Leaders of Character has touched the lives of over 600 student leaders.