Beloved "Friend of West Point" has Outsized Impact
Over the years Nina Leslie and COL (R) Robert Leslie '69 have played a significant role supporting cadets and Old Grads with their time and through donations, with a focus on the West Point Society of the San Francisco Bay Area and the West Point Cyber Research Center. In 2011, COL (R) William Joseph Garcia Jr. '59 and the late LTC (R) William Schwartz '59 nominated Nina to be designated a "Friend of West Point," someone who supports the mission, goals, and ideals of West Point.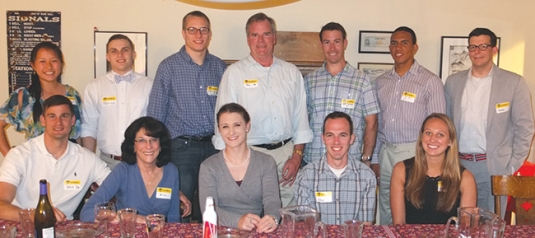 Approved by the West Point Association of Graduates Board, she was presented with a certificate acknowledging the designation which she still proudly hangs on the wall in her home office today.
Nina and Rob's involvement in the West Point Society of the San Francisco Bay Area first started after the Presidio of San Francisco closed, and the West Point Society experienced a period of low attendance at their Founders Day events. Nina, who was in the process of retiring from a career in health care management, reached out to the Society Board about her disappointment and took the opportunity to find a new venue for the event and worked to boost attendance.
In 2007, she organized Founders Day at an Oakland country club and that first year 120 people attended. Over the years attendance has continued to grow, and now around 175 people attend the Founders Day celebrations. After this first introduction to the Society, she began to assist the Board in organizing Benny Havens and other events. Rob and Nina held the first West Point Society Summer Picnic at their home, which grew each year to upwards of 100 people attending, and now is held in a public park. Always willing to jump in, Nina has hosted several luncheons for the leadership team and local field force representatives, including a recent luncheon with LTG Gilland '90, USMA Superintendent, in 2023. There is no limit to Nina's generosity to West Point. Year-over-year, Nina's role continued to grow within the West Point Society. She became a member of the West Point Society Board and was acknowledged as the "Administrator" of the Society, a role she was very happy to take on.
After a successful career in health care management, Nina found working with the West Point Society and graduates to be incredibly rewarding. She had the opportunity to meet hundreds of grads and help many of them as they moved to the Bay Area. Prior to technological tools such as Sallyport and Grad Link, Nina used her knowledge and network to connect grads who were looking for a job with other graduates who were in the same industry. She and Rob also reviewed resumes and helped advise grads. Ben Faw '07 has been in the Bay Area since 2010, when he was still on active duty with the Corps of Engineers in San Francisco. He became active on the West Point Society Board where he worked closely with Nina and he praised her commitment to the Academy. "Nina's leadership and passion for West Point, and the Bay Area West Point Society, has impacted hundreds of alumni. For me personally, Nina was an incredible resource when I relocated to San Francisco and transitioned out of the military. I'm incredibly grateful for all that she has given to West Point."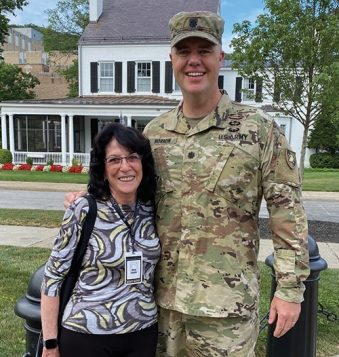 Nina and Rob realize how much they've benefited from West Point and how it enriched their lives. They noted that almost all of their friends are through the West Point connection, and not just classmates, but spanning many years. Nina told us, "I have never met a finer group of people than the West Point grads. When Covid hit, I sent out an email asking anyone who had a problem and needed help to let me know (such as getting to a doctor's appointment, getting food, picking up a prescription). I also asked the local graduates to let me know if they were available to volunteer to help graduates who needed help, and the response was overwhelming. I had a list of graduates in every geographical location of the Bay Area who were willing to help. When one graduate emailed me and jokingly said 'Send Beer,' I asked a young graduate who lived in the vicinity if he could accommodate the request, and he brought beer to the grad's house and we all had a good laugh, and new friendships were formed!" said Nina.
Nina left high school after her junior year when she had just turned 16 because her father was sick, and she had enough credits to graduate. She then worked full time and went to college at night for nine years to get her degree. Since she never had the opportunity of graduating college (nor high school) with her "class," she didn't have the long-term relationships that full time students have with their classmates. When she was first introduced to the San Francisco West Point graduates, she was immediately welcomed into the group. She was impressed with the camaraderie amongst the graduates and said, "it felt like family."
In addition to all of the incredible volunteer work Nina and Rob have done for the Academy, they also support the West Point Cyber Research Center among other areas. In 2016, when the Cyber Research Center was very new, Nina met with LTG (R) Rhett Hernandez '76, who hoped she could introduce him to Bay Area graduates who were interested in or involved in cyber security who might support the center. This sparked Nina's interest in the mission of the Cyber Research Center and inspired her to do more.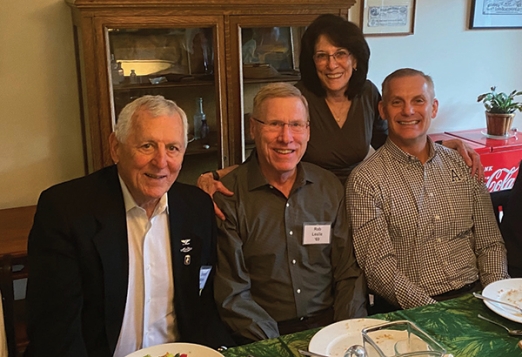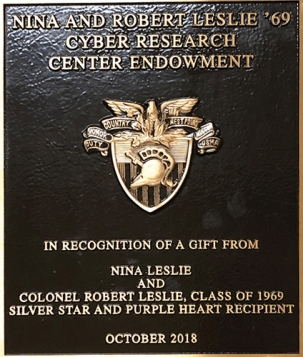 While reading an earlier issue of this WPAOG newsletter (formerly named Together We Lead), she read about a woman who made a significant donation to West Point in honor of her parents who had passed away. "It gave me the idea to discuss starting an endowment for the Cyber Center with WPAOG," said Nina. As a result, in 2018 the couple established the Nina & Robert Leslie '69 Cyber Research Center Endowment to educate and train cadets in cyberspace operations, provide undergraduate research opportunities, and build and sustain deep ties with the national cyberspace operations community. Most recently their endowment supported cadets attending ShmooCon 2023 in Washington, D.C. and the New York Celebration of Women in Computing Conference 2023 in Lake George, N.Y.
After a long history supporting West Point, Nina and Rob have continued to make additional gifts to their existing endowment and the Academy. The couple is excited about the many new opportunities on the horizon for future cadets to experience.