By LTG Steven Gilland '90 and BG Shane Reeves '96, Guest Authors
Approaching what appears to be a deep cave complex, a platoon leader stops the formation. Recent intelligence indicates possible radiological threats and a high risk of improvised explosive devices (IEDs) within the complex. The platoon leader decides to map the area with the platoon's autonomous four-legged robot. The robot enters the GPS-obscured cave complex opening and autonomously navigates the caves and tunnels, traversing rocks and hills. When it has completed its mission, the robot returns and provides the platoon leader with a map of the cave complex, including objects of interest in each room, likely IED locations, and a radiological heat map.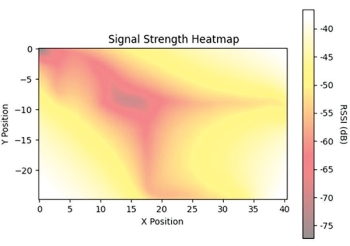 These technological advances are not fiction. They're real, and they're on today's battlefields. So, how do we ensure our graduates are ready to identify, develop, and integrate such innovations?
Building innovative Army officers is critical. The 2022 National Defense Strategy highlights this point through its emphasis on integrated deterrence—developing and combining our strengths by working seamlessly across warfighting domains, theaters, alliances, partnerships, and more.
To address these ever-growing and increasingly complex needs, our officers must be creative and entrepreneurial. They must be skilled in working across organizations and domains. The time to start developing these skill sets begins on R-Day. The United States Military Academy (USMA), the world's preeminent leader development institution, is uniquely capable of providing these opportunities. At West Point, we ensure our graduates are effective at every stage of the innovation process. We provide opportunities for our cadets to test their knowledge and apply their education through pragmatic project-based learning. This approach ensures that USMA develops critical thinkers who can go beyond the textbook to out think their adversaries and thrive and win on the modern battlefield.
Intellectual Theme
We therefore proudly announce this year's intellectual theme, "Innovation, Technology & The Future of National Defense."
Our theme will focus on four components: Military Innovation, Organizational Innovation, Emerging Technology, and the Future of National Defense. Throughout the year, we will bring the West Point community together in a shared intellectual experience. We will host fireside chats, guest lectures, seminars, and podcasts from the perspective of various academic disciplines. The theme intends to inspire faculty, staff, and cadets to explore how their interests can nest within the four components and encourages interdisciplinary discourse and research. We will also leverage this year's intellectual theme to establish an Innovation Hub within the Office of Research. This Hub will provide resources, shared awareness, and collaborative space so that, for decades to come, our graduates will have an academic experience commensurate with the complexity they will face as Army leaders.
What is Innovation?
Innovation has become a buzzword, leading many to ponder and debate its definition. Often, you know it when you see it. Yet, we need to do better than that if we want to foster innovation in our organizations and develop leaders capable of seamlessly identifying and implementing innovations.
Breaking innovation into three phases—identify, develop, integrate—provides a manageable approach to understanding what innovation is and how we can develop innovative leaders.
Identify Needs
First, leaders must recognize the need for innovation. Seemingly simple, this first phase can grow in complexity depending on the identified problem. For example, where does this identification stem from? Is the organization willing and ready to recognize the need? Is the leader who recognizes the need capable of effectively communicating it to organizational stakeholders? Our intellectual theme will emphasize sharing stories about overcoming these barriers. Picture cadets hearing from leaders like Anthony Noto '91 about challenges he faced in creating an innovative culture at organizations like Twitter, Goldman Sachs, and SoFi.
Develop Solutions
Our cadets are creative and critical in their thinking and are able to provide out-of-the-box solutions. We know this because it's a recurring compliment they receive when working with external agencies during Academic Individual Advanced Development (AIAD) opportunities. Our staff and faculty showcase this daily as they collaborate across disciplines at an unparalleled level. We are a sought-after partner and combat multiplier. West Point has a mission-first mindset and an ability to quickly assign appropriate talent to converge on a problem. Where else do you see an international law expert and autonomous robot engineer combining talents and expertise to address the potential of autonomous robots on the battlefield—all stemming from casual coffee chats at Grant Hall? Yet, the question remains: how do we ensure that such an approach to problem-solving is nurtured and advanced rather than stunted during our graduates' military careers? Our theme will encourage cadets, staff and faculty to create a collective learning experience and will deeply ingrain innovation into every aspect of their thinking.
Integrate
Once an innovation is ready, we must be prepared to implement disruptions to the status quo while keeping a steady focus on mission accomplishment. We must empower organizations and leaders to reflect on and assess the need to adjust, reverse, or continue such innovations. At times, this might require leaders to integrate innovations that haven't gone through a rigorous development process—to fill the gaps with the resources they have. Regardless from where the innovations come, we must build trust in them. This could range between building trust in a new evaluation system to an autonomous robot.
For example, what happens when we start fielding autonomous robots to map non-GPS environments at the edge of the battlefield? Whether initial trust levels are low or high, we must be ready for equipment failures. If the E2MAPS robot has a competency failure or violates an integrity norm, how do we repair that trust? Can we? These examples are the type of discussions we hope to foster across all disciplines throughout the year.
Way Ahead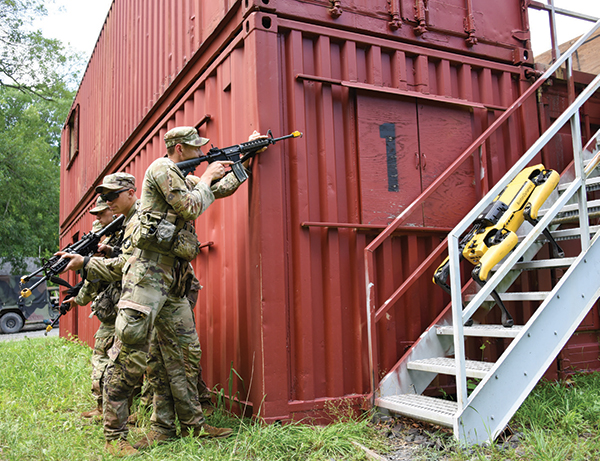 Phases of innovation can take a circuitous route, and there will always be gaps. How we fill those gaps is part of the Academy's focus—building knowledgeable leaders with entrepreneurial thinking. At every stage of the innovation process, we need leaders who can adapt and think quickly on their feet. On the immediate horizon is building the Army of 2030—the Army our most recent graduates will encounter as company-grade officers. The application of our work doesn't end there. We will use this theme as a lens through which we develop cadets as leaders who think beyond the next 10-20 years—as strategic thinkers.
While innovation is always a focus here at West Point, we hope that our year-long emphasis will drive ongoing work into a broader light for the betterment of the whole Academy, the Army, the Long Gray Line, and our nation. Looking ahead, we want our graduates to disrupt the future battlefield and leverage their intellectual capital for the strategic needs of the nation. This is where our Long Gray Line can truly grip hands to amplify our innovation efforts, contribute knowledge, and enable partnerships.
LTG Steve Gilland '90 currently serves as the 61st Superintendent of the United States Military Academy. A career Infantry officer, he has served in a variety of tactical assignments in Air Assault, Armor, Mechanized Infantry, Ranger and Special Operations units. He most recently commanded 2nd ROK-U.S. Combined Division in Korea and has participated in numerous operational deployments to the Middle East, Africa, and Afghanistan throughout his career. Gilland holds a master's degree in military operational art and science from the Air Force Command and Staff College.
BG Shane Reeves '96 currently serves as the 15th Dean of the Academic Board at West Point. He commissioned into the Army in 1996 as an Armor officer. After law school in 2003, he transitioned into the Judge Advocate General's Corps with assignments including senior trial counsel, international and operational law professor, and deputy staff judge advocate of Joint Special Operations Command. He has written over 30 articles and book chapters on the Law of Armed Conflict and national security issues and co-founded the Lieber Institute for Law and Land Warfare at West Point. He is also a member of the Council on Foreign Relations. Reeves holds a J.D. from the College of William and Mary and an LLM in military law from the Judge Advocate General's Legal Center and School.
Listen to the "Inspiring Innovation" podcast, featuring LTG Steve Gilland '90 and BG Shane Reeves '96.
Read the complete Fall 2023 edition of West Point magazine here.