On June 13, USMA Superintendent LTG Robert L. Caslen, Jr. '75 joined leaders from the West Point Association of Graduates (WPAOG) and Army West Point Athletics to mark the official groundbreaking for the Malek Soccer Stadium, the new state-of-the-art home for USMA men's and women's soccer. Funded by Frederick V. Malek '59, the project will bring much-needed improvements and enhancements to the current soccer stadium located at Clinton Field.
Identified by the Superintendent as a need within the WPAOG's For Us All Campaign, the stadium project was fully funded by Mr. Malek. Co-Chair of the For Us All Campaign and named a West Point Distinguished Graduate in 2014, Mr. Malek is the embodiment of the leadership qualities that West Point fosters. During his long career in business and in public service he served as president of both Marriott Hotels and Northwest Airlines, was an advisor to four U.S. Presidents, and chaired the West Point Board of Visitors.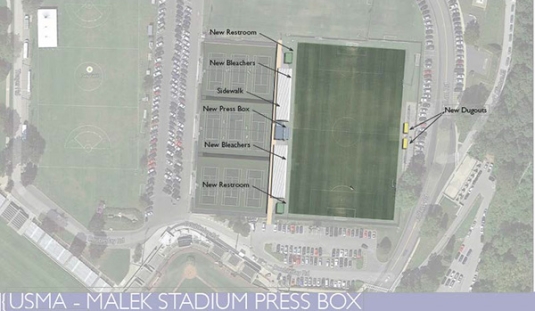 Long a champion of Army West Point Athletics and a multi-sport athlete and soccer player as a cadet, Mr. Malek has also supported the Malek Tennis Center as well as the O'Meara, Malek, Dawkins, Class of 1959 Strength Development Center in the Kimsey Complex. "Giving back to West Point, it's not been a duty, it's more than a calling, it's more than an obligation, it's just a feeling you have," Mr. Malek said. "Because those of us who came here and got so much out of this place despite the fact that it was as tough as it was, we went away with something that you can't get anywhere else."
Among the improvements to the stadium will be a new elevated, multi-level press box with an isolated room for radio broadcasting and an open platform for broadcast cameras, which will allow for better game coverage. Upgraded facilities and new individual cushioned seating at centerfield for premium spectators will enhance the fan experience. The project will also improve the overall stadium appearance to integrate with the architecture of the area and will aesthetically enrich the overall appearance of the Plain.
"Fred and Marlene Malek have stepped forward time and time again, be it for any aspect of the Academy, not just athletics," said Boo Corrigan, Director of Athletics at Army West Point. "They are a transformational couple that really does go all in. Malek Stadium at Clinton Field has a great ring to it, and we can be proud of that." Head women's coach Marcia McDermott and assistant men's coach Rich Costanzo expressed the soccer team's excitement and agreed that the new state-of-the-art facilities and field improvements will make the Malek Stadium one of the best places in the country to play and watch first-class collegiate soccer.
"The impact of Fred Malek's dedication to Army athletics and his leadership in providing this exceptional athletic facility will be felt by Army West Point for years to come," said COL (R) Robert McClure '76, WPAOG's President and CEO. "WPAOG is committed to giving our talented cadet-athletes every opportunity to succeed, and we are grateful to have Fred on our team."