By Erika Norton, WPAOG Senior Multimedia Journalist
When USMA Class of 2003 graduate Edward Graham saw the flooding devastation on the news, he knew he had to find a way to help the Highland Falls community rebuild.
"It was very important for me to be able to help in Highland Falls," Graham said. "I spent four years at West Point, and Highland Falls was the gateway to our Post. I have many fond memories of time spent there. Professors, staff, and coaches often called Highland Falls home, and as a cadet just getting away from the rigors of the academy to the local community was often a welcome refuge.
"In a way, it's like helping my hometown," he said.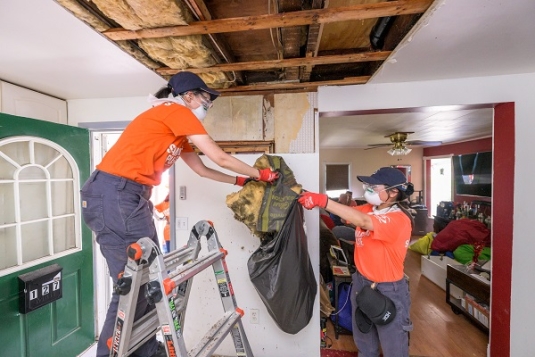 Graham leads the non-profit Samaritan's Purse, and after the historic rainfall and flash flooding in the Hudson Valley on July 9 left thousands of homes damaged and at least one person dead, the organization sent disaster relief teams to help Highland Falls homeowners recover.
According to Graham, team members are mucking out the basements and bottom floors of damaged houses, pulling out wet carpet, shoveling out mud, and clearing out destroyed furniture. They are also cutting back the drywall and spraying a protective solution on the studs that will help prevent mold growth.
Volunteers do all of this under the supervision of staff and trained site leadership team members, according to Graham. They also deploy trained chaplains from the Billy Graham Evangelistic Association (Graham's grandfather) alongside the relief team to share hope in these times of crisis.
Since they arrived, they have already helped 50 families start to recover from the flood, Graham said, and they are still sending out volunteer teams every day.
Graham's four years at West Point not only helped him prepare for his 16-year career in the Army, but his current leadership position at Samaritan's Purse.
"I'm not always going to be the best or smartest person in the room," Graham said he learned. "When it's something outside of my area of expertise, I find the person that is good at it, I trust them, and I empower them to do their job."
He also learned about trust.
"Almost every leader I had at West Point, along with my time in the Army, operated off of the tenets of Mission Command, and the idea of shared mutual trust to achieve mission success," Graham said. "This is something I carry over to this job."
"I learned to take prudent risks," Graham added. "I want my team taking calculated risks and getting uncomfortable. If we are comfortable in our jobs, then we are wrong. In a ministry that serves in conflict zones and in the aftermath of natural/man-made disasters around the world, I need staff that can thrive in challenging situations and are not afraid to make a decision."
You can support the Highland Falls community by making a donation to the Hudson Valley Project.