By Erika Norton, WPAOG staff
Since the beginning of the Academy, an integrated curriculum of physical education, testing and competitive sports have been core components to cadet physical development at West Point. When Herman J. Koehler was appointed Master of the Sword in 1885, he established a high-quality physical education program to match the rigorous academic program at West Point. Daily exercise regimens brought a dramatic improvement in cadet strength and endurance, and in 1905 physical education became mandatory for all cadets. Later, in 1919, then Superintendent Brigadier General Douglas MacArthur, Class of 1903, established a mandatory program of competitive athletics. To this day, "every cadet physically fit" and "every cadet an athlete" remain central to cadet education at West Point.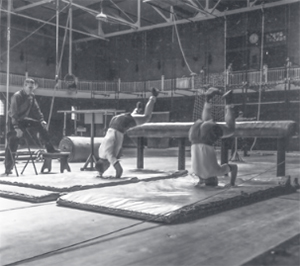 Changes to the IOCT
Administered by the Department of Physical Education (DPE), the Indoor Obstacle Course Test (IOCT) is a test of full-body functional physical fitness and is considered to be one of the best evaluations of total body fitness given in the Army. West Point began administering the IOCT and a five-minute swim test in 1944 to bring about a more comprehensive measurement of cadet physical ability. Over the decades, the IOCT has not changed much. In 1948, military specific items in the IOCT were replaced by a series of obstacles that measured agility, strength, technique and cardiovascular ability. The next major change didn't occur until 1975, when the dive roll was replaced by the tunnel crawl due to a concern about the potential for injury during the dive roll, which started the course. Additionally, the cargo net used to reach the balcony if the rope or shelf could not be negotiated was replaced by stairs. In 1979, the stairs were replaced by a ladder.
The most significant changes occurred in 1981. The IOCT was modified slightly to accommodate the physiology of women, who were admitted to the Academy in 1976. To reduce the emphasis on upper body strength and to include additional tests of balance and agility, the parallel bar walk was eliminated and a tire run and balance beam were added. This resulted in a sharp decline in IOCT failure rates for both men and women. In 1982, the passing time for men was 3:19, and for women it was 6:28. This changed in 1985, with the women's passing time decreasing to 5:29 (in 2003, the passing time for men changed to 3:30). In 1986, the cargo net was re-inserted to replace the ladder for those cadets unable to negotiate the shelf or rope climb to reach the balcony. Additionally, automatic IOCT failure was enacted for any cadet who fails to reach the balcony using the cargo net.
Currently, cadets who earn an A− or higher are authorized to wear the IOCT Badge on their athletic shorts. In 2012, the IOCT became a graduation requirement. In 2014, yearling cadets were required to take the IOCT. Most recently, in 2020, Military Movement was moved to yearling year so the stand-alone IOCT was eliminated for Third Class cadets, but they are introduced to the IOCT during the course and get an opportunity to practice negotiating its challenges and are graded accordingly.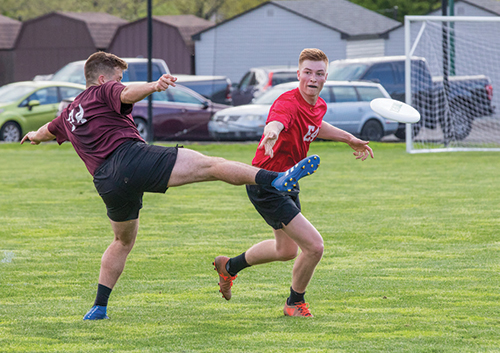 New Company and Club Athletic Teams
As Superintendent, MacArthur established a mandatory program of intramural athletics in 1919. "Upon the fields of friendly strife are sown the seeds that, upon other fields, on other days, will bear the fruits of victory," MacArthur said. Koehler implemented MacArthur's order, and the program was very successful. Today, all cadets are still required to participate in the Competitive Sports Program if they are not already participating in intercollegiate/varsity athletics.
In Company Athletics, formerly known as intramurals, cadets compete against other cadets as part of their company teams. The choices have greatly expanded for cadets. Sports offered in the fall include submission grappling, flag football, basketball, soccer, volleyball, and functional fitness. Spring sports include orienteering, area hockey, team handball, flickerball, and ultimate frisbee.
In Competitive Club Athletics, cadets compete against other universities within sanctioned club leagues and at the national level. The Department of Cadet Activities sponsors 15 Competitive Clubs: Boxing, Climbing, Crew, Cycling, Equestrian, Fencing, Judo, Marathon, Orienteering, Powerlifting, Men's Team Handball, Women's Team Handball, Triathlon, Men's Volleyball, and Water Polo.
Swimming in Yearling Year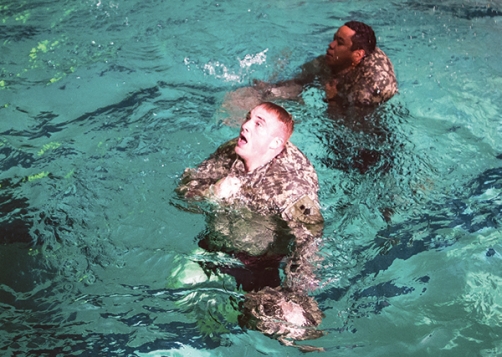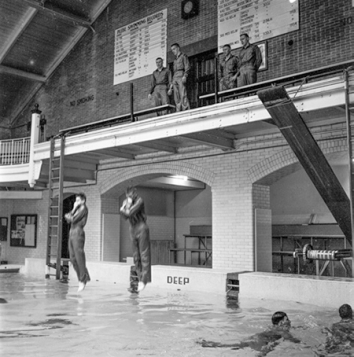 When the IOCT was created in 1944, West Point also began administering a five-minute swim test, which was given annually. The Advanced Swimming Program for First Class cadets included certification by the American Red Cross as swim instructors. Physically deficient cadets attended special exercise sessions twice a week in lieu of other physical activities. Deficient swimmers met four times a week for remedial instruction.
Currently, Survival Swimming is required during yearling year, and it is designed to expose cadets to real-life battle scenarios where they must think, analyze, and react under duress in less-than-optimal conditions. In the early 2000s swimming was moved from plebe year to cow year to provide less courses during plebe year and balance the schedule. In 2014, it was decided that swimming was better placed in yearling year to balance the more rigorous courses throughout the 47-month experience. It also now serves as a prerequisite for lifetime physical activity aquatics experiences.
Read the complete Spring 2023 edition of West Point magazine here.
---
Support DPE Physical Development Excellence
Read/Print Brochure
The Department of Physical Education is charged with developing warrior leaders of character who are physically fit and mentally tough by engaging cadets in activities that promote and enhance physical excellence. Programs such as the Human Performance Laboratory and the Combatives Center of Excellence strengthen and complement the cadet-centered educational environment that provides a militarily relevant and scientifically-based physical development program.