After months and months of cadets, staff, and faculty feeling and hearing the blasting of granite across all areas of the post, the new Cyber & Engineering Academic Center (CEAC) is now visible. The building is rising out of the ground, with major foundation work complete and thousands of cubic yards of concrete and dozens of truckloads of reinforcing steel in place. Construction is on track for CEAC to open for the Fall 2025 academic year.
Standing four stories high and encompassing roughly 145,000 square feet of academic space, CEAC is the first new academic building at West Point in more than a decade. It will be the hub of innovation and collaboration at West Point, supporting academic, laboratory, and collaborative project space for the departments of Civil and Mechanical Engineering, Electrical Engineering and Computer Science, and Systems Engineering. Forming a monumental south entrance to the Central Area, the project's features include an extraordinary bridge, which provides synergistic study space while connecting CEAC to Mahan Hall, and a rooftop colloquium and collaboration space.
West Point's current primary civil, mechanical, and systems engineering classroom building was designed over 50 years ago as a general science building and lacks the modern laboratories and facilities necessary for cutting-edge engineering and design education. As such, innovation is limited rather than enabled. While the government has committed more than $200 million to the project, attaching Margin of Excellence (MOE) private funding to the project is a huge force multiplier. Three key MOE structures will ensure that the facility achieves its goal of integrating academic programs and projects across disciplines.
The Redoubt: Adding a fourth floor to the facility increases collaborative spaces for cadets and faculty to engage with each other and host notable speakers in a setting that offers views of the Hudson River and northward across Central Area.
The Gateway: By connecting CEAC to Mahan Hall, this bridge forms an iconic entrance to West Point and increases the number of individual and group study spaces for cadets.
The Overlook: By connecting CEAC to the Math & Systems Engineering Center (MSEC), this bridge is the final link between the three facilities that comprise the Innovation Hub.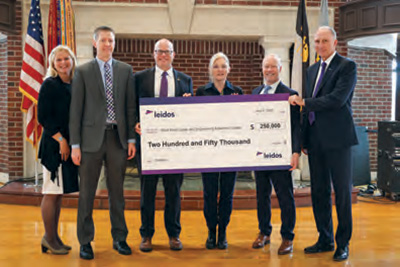 Together, the government-funded construction and its Margin of Excellence additions thanks to generous individuals, classes, and organizations will be vibrant, exciting, and modern while showcasing an exterior that honors West Point's traditions and heritage.
Recent contributions include a donation by Leidos, a Fortune 500® technology, engineering, and science solutions and services leader working to solve the world's toughest challenges in the defense, intelligence, civil, and health markets. Leidos has nation-scale expertise and works alongside domestic and international organizations and agencies—including the DoD, DISA, all branches of the U.S. military, UK MOD, and UK NATS.