West Point cadets have a long, proud history of earning graduate scholarships in the science, technology, engineering, and mathematics (STEM) disciplines. Last year alone, 20 STEM scholarships were awarded to cadets: six cadets were selected for the National Science Foundation Graduate Research Fellowship; five cadets received the MIT Lincoln Laboratory Fellowship; two cadets received the Draper Laboratory Fellowship; five cadets were awarded the Purdue Military Research Institute Fellowship; and two cadets won the Goldwater Scholarship.
Their journey in preparing, applying, and ultimately winning these scholarships is supported by West Point's Technical Scholars Program, which is one of four scholarship programs at the Academy under the umbrella of the West Point Consolidated Scholarship Program.
The Technical Scholars Program (TSP) focuses on supporting cadets specifically pursuing STEM-focused scholarships; this includes two undergraduate scholarships (Astronaut Scholarship and Goldwater Scholarship) as well as the following graduate-level scholarships: Churchill Scholarship, Draper Laboratory Fellowship, Hertz Foundation Fellowship, MIT Lincoln Laboratory Fellowship, National Science Foundation Graduate Research Fellowship, and Purdue Military Research Institute Fellowship.
However, while the program has successfully supported cadets in competing and winning these scholarships, it has lacked the necessary administrative capacity to realize the full potential of the program.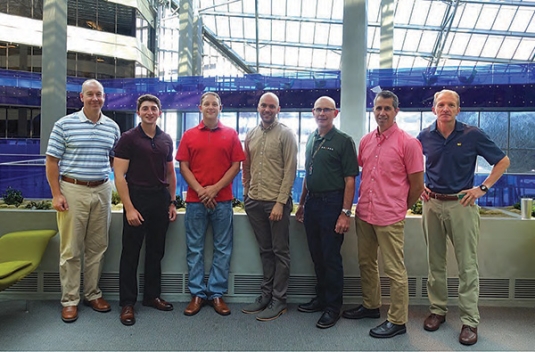 "Our faculty have done a tremendous job in developing this program and mentoring our cadets, and the number of scholarships awarded to cadets reflects this effort," said COL Bret Van Poppel '92, Professor and Head of the Department of Civil & Mechanical Engineering and Executive Agent for the Technical Scholars Program. "So, imagine what we can accomplish with greater capacity and full-time staffing. The TSP has enormous potential for cadets and the Academy, providing greater levels of support for these talented, high-performing cadets while also advancing technical scholarship at West Point."
This vision is now possible, thanks to Bloomberg Philanthropies' recent commitment to expanding and enhancing the Technical Scholars Program into a year-round, comprehensive experience.
Bloomberg Philanthropies' support will allow the Technical Scholars Program to operate at full capacity, to include a new course, a speaker series, consistent mentorship, out-of-classroom experiences, and an end-of-year culminating event for participating cadets at Bloomberg's offices in New York City. Central to this expansion effort will be a new full-time civilian Deputy Director who will provide the continuity and oversight to design and implement these new features and ensure a high-impact experience for cadets.
"We are thrilled to have Bloomberg Philanthropies' support of the Technical Scholars Program," remarked Kristin Sorenson, WPAOG's Vice President of Development. "Their commitment will develop a number of new resources and experiences that will help cadets achieve the highest levels of academic success while better preparing them to meet the demands of an increasingly technical and complex operational environment."
The Technical Scholars Program consists of an annual cohort of 36-54 cadets who are accepted into the program in the fall semester of their junior year. With support from Bloomberg Philanthropies, each cohort will have the chance to avail themselves of a number of new opportunities that hone their technical skills, prepare them to compete in elite technical scholarships, and forge new relationships with leaders from STEM-based industries. A new, semester-long technical communications course is a critical piece of this expanded program.
"Cadets in the TSP are eager to continue their intellectual development and help solve complex problems by contributing to the larger academic body of knowledge," said LTC Scott Katalenich '02 , Director of the TSP. "We are excited to create a course that specifically develops cadets' abilities to think critically; to synthesize knowledge, tools, and approaches from various disciplines; and to effectively convey technical information in ways that demonstrate their ability to think innovatively and learn independently. This will absolutely build more skilled leaders for our Army."
In addition to this new class, the expanded Technical Scholars Program will include a new guest speaker series. Industry leaders will be invited to West Point to speak with cadets and faculty and offer their insight and expertise into emerging needs and trends within STEM-based industries. Cadets in this program will also have the chance to pursue research projects, internships, and field trips, and receive mentorship from the new full-time Deputy Director who will help guide cadets through scholarship applications.
While the Technical Scholars Program is aimed at providing cadets in their junior and senior years with the resources and support needed to compete for and win technical scholarships, the impact of this program will extend far beyond these two years. With the administrative structure and capacity in place, the program intends to establish a growing community of cadets, past scholarship winners, faculty members, officers, and industry experts who share a high level of interest and experience within the STEM disciplines. This community will serve as a cross-sector hub of technical expertise that can collectively drive innovation for West Point, the Army, and the nation.