In June 2021, Army West Point Director of Athletics Mike Buddie named Michelle Tumolo the Noto Family Head Women's Lacrosse Coach. Anthony Noto '91, CEO of SoFi, is the benefactor who endowed the Noto Family Head Women's Lacrosse Coach position. When asked about Michelle Tumolo, Noto said, "We are incredibly excited to welcome Michelle to the Army West Point Family. I knew in minutes after talking to Michelle that she was the perfect leader to build on the strong foundation Kristen (Skiera) built over the last seven years to continue our drive to win a National Championship for West Point!" Mike Buddie added, "After a nationwide search, it was clear that Michelle's experience and passion for developing student-athletes aligns perfectly with the Academy's core values of Duty, Honor and Country."
Having dealt with games being canceled and postponed in 2020 and 2021, the Lacrosse Program has enjoyed great success in the last two seasons. In 2023, the women improved on their 2022 record of 12-6 in the overall season and 7-2 in the Patriot League Conference to 14-2 overall and 8-1 in the Patriot League in 2023. On the men's side, after a tough loss in the Patriot League final in 2022, they took home the trophy this year against a strong Loyola Maryland team. And both teams earned a trip to the NCAA Tournament, and both head coaches (Coach Tumolo and Coach Alberici) were named Patriot League Coach of the Year.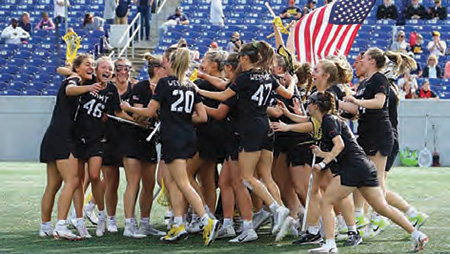 To support the cadet-athlete experience, the Army Men's Lacrosse Team Endowment and Army Women's Lacrosse Team Endowment help to provide Margin of Excellence funding for the program. This includes facility enhancements, such as locker rooms and team rooms; player development, such as equipment, leadership, nutrition, and training aids; recruiting; coaches and staff; team travel, such as out-of-region and out-of-season competition; training trips and foreign trips; and technology improvements, such as video and editing software. The endowments allow the lacrosse program to gain a competitive edge in support of its cadet-athletes and coaches. "Contributions to team endowments provide long-term financial stability and greatly assist us in providing an extraordinary Division I athletic experience for every cadet athlete in their relentless pursuit of excellence," said Mike Buddie.
LTG (R) Ken Dahl '82, who played lacrosse during his time at West Point, recently helped lead an effort to increase the Men's Lacrosse Endowment and recognizes its importance and impact. In addition, the Men's Lacrosse Team, Class of 2022, had 100% participation on their First-Class Gift, the first opportunity for cadets to give back to the Academy. He described the Class of 2022 Men's Lacrosse graduates as "demonstrating leadership in action, loyalty and commitment to lacrosse that inspired all of us." Dahl discussed the importance of the players' participation. "It's not so important how much they gave, we all know they are brand new Second Lieutenants receiving their first paychecks, but the fact that they gave is recognition of the role they can play as alumni."
Team Endowments such as the Army Men's Lacrosse Team Endowment and the Army Women's Lacrosse Team Endowment make certain that West Point is able to fund all varsity sports, in perpetuity.
For more information, contact Brendan Desautels, Director of Sport Specific Giving, at brendan.desautels@wpaog.org.