The West Point Association of Graduates (WPAOG) has named the 2019 recipients of the Distinguished Graduate Award. This annual award has been bestowed upon those West Point graduates whose character, distinguished service, and stature draw wholesome comparison to the qualities for which West Point strives, in keeping with its motto: "Duty, Honor, Country." The awards will be presented in a ceremony at West Point on May 20, 2019. View photos of the event here. The 2019 Distinguished Graduate Award Recipients are:
GEN (R) David Bramlett '64
GEN (R) David Bramlett has devoted nearly 35 years of uniformed service to the nation and nearly two decades more following his retirement from the Army. After graduating in the top 10 percent of his class and commissioning Infantry, Bramlett commanded at every level, from platoon through division, serving in Vietnam twice with distinction. Following graduate study at Duke University, he returned to West Point as an instructor in the Department of English (1972-75) and then again as the 62nd Commandant of Cadets (1989-92). He has earned the Silver Star Medal and six Bronze Star Medals (three with "V" device) and, for his outstanding service and support to the Infantry, was recognized by the Chief of Infantry with the Doughboy Award in 2016. Bramlett continues to support the Army as a mentor and volunteers non-stop in his adopted state of Hawaii: board president of the USO of Hawaii, board president of the Hawaii Army Museum Society, vice chair of Chaminade University Board of Regents, and more. "But what really puts a defining point on him as a person is the teaching missionary work he did in the Pacific Rim area," says GEN (R) Dennis J. Reimer '62, the 33rd Chief of Staff of the Army. "Dave is a gentleman and a caring leader who treats everyone with dignity and respect, and he gets things done right!"
COL (R) Victor F. Garcia, M.D. '68
From growing up the son of Puerto Rican immigrants in Harlem, NY, to becoming one of the nation's leading pediatric trauma surgeons, COL (R) Victor Garcia, M.D., has always embodied the excellence, integrity, and character that West Point seeks to instill in its graduates. Following graduation, Garcia headed to Fort Benning, GA, where he was elected commander of his Ranger School class. After an assignment with the 8th Signal Battalion in Germany, he entered Perelman School of Medicine at the University of Pennsylvania, completing his residency in general surgery at Walter Reed Military Medical Center in 1978. After studying pediatric surgery under Dr. C. Everett Koop (13th Surgeon General of the United States) at Children's Hospital of Philadelphia, Garcia returned to Walter Reed and, in 1987, became the Chief of General Surgery Services. After retiring from the Army, he founded the Trauma Center at Cincinnati Children's Hospital, serving as its director until 2009. During that time, he not only focused on advancing the treatment of traumatic injuries but also preventing them. He developed the "Buckle Up for Life" program with Toyota, co-founded the Cincinnati Initiative to Reduce Violence, started a nonprofit to address the root causes of health disparities, catalyzed the development of a for-profit inner city business to stimulate economic growth in disadvantaged inner-city neighborhoods, and co-developed an artificial technology-based medical platform that predicts and treats blood flow instability during trauma care. In May 2018, in recognition of his work, Garcia received an Honorary Doctorate of Humanities from Xavier University. Father Michael Graham, President of Xavier University, calls Garcia "a champion for the marginalized, a man who truly lives his life for and with others."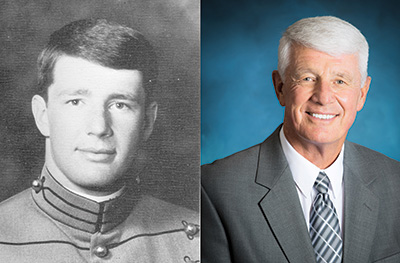 LTG (R) Robert L. Van Antwerp '72
From First Captain of the Corps of Cadets to the last general officer in his class to retire from active duty, LTG (R) Robert L. Van Antwerp accomplished much in his 39 years of service. Serving in the Corps of Engineers, Van Antwerp laid over 250 kilometers of highway across southern Iraq as commander of the 326th Engineer Battalion of the 101st Airborne Division, supported the response and recovery efforts following the 1994 Northridge earthquake as the Los Angeles Engineer District commander, and led 37,000 personnel deployed to 33 countries around the world providing engineering, project management, construction, and operational support valued at more than $45 billion as Chief of Engineers. However, as Mitchell Landrieu, former mayor of New Orleans, notes, there is no more notable example of Van Antwerp's leadership than that following Hurricane Katrina (2005). "Under his leadership," Landrieu says, "USACE accomplished the impossible…and his urgency to complete the project likely saved New Orleans from what could have been another devastating flood in 2012 when Hurricane Isaac made landfall." Van Antwerp is also credited with the success of the "Army Strong" Campaign, which he approved as commander of U.S. Army Accessions Command. During his time in this post, the Army grew from 428,000 soldiers to 570,000 soldiers, helping it meet the demands for the battlefields of Iraq and Afghanistan. Van Antwerp currently serves as an executive of the Flippen Group providing Executive Development consulting, coaching, and Leadership Keynotes. He is the former Chairman of the Board of Eagle Creek Renewable Energy and Board Director of USAA, Cardno-GS, and Calibre Systems.
GEN (R) Walter L. Sharp '74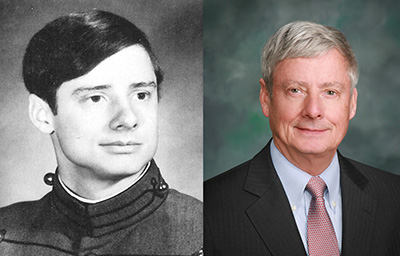 Called the "George Marshall of our generation" by his classmate GEN (R) Martin Dempsey '74, the 18th Chairman of the Joint Chiefs of Staff, GEN (R) Walter "Skip" Sharp served multiple tours on the Joint Staff, culminating as the Director of the Joint Staff; fought in Iraq during Operations Desert Shield/Storm; led peacekeeping operations in Haiti and Bosnia; and commanded more than 28,500 troops in the Republic of Korea (ROK). During his command tour in Korea he stood fast and courageously defused several volatile crises, including North Korean forces sinking a South Korean naval vessel and shelling an island, killing sailors and ROK citizens. Addressing these incidents, ROK Ambassador Ho-Young Ahn says, "Despite the rising tensions on the Peninsula, General Sharp's calm and resolute leadership helped deter future belligerence from the North." Sharp continues to work on ROK–U.S. relations as the chairman of the Board of Directors of the Korean Defense Veterans Association and a director on The Korea Society Board of Directors. He also is on the MOAA Board of Directors. Sharp has served West Point in retirement, leading the Class of 1974 to raise more than $4 million for the atrium of the Malek West Point Visitors Center, the largest class gift ever given to USMA for a single purpose. "Throughout his 37 years of active duty, Skip proved himself to be a leader of extraordinary ability and strategic vision," says GEN (R) John Abizaid '73. "A tested combat leader, a respected mentor and a strategic advisor to the highest levels of our government and that of several major allies, Skip Sharp's contribution to the defense of our nation is unequaled."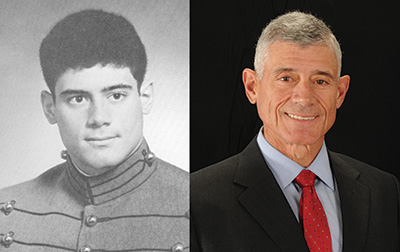 LTG (R) Robert L. Caslen Jr. '75
One of only four officers to have served as both West Point's Superintendent (59th) and Commandant of Cadets (70th), LTG (R) Robert L. Caslen's career spans more than four decades, three war zones, and the Pentagon on 9/11. Commissioned as an Infantry officer, Caslen commanded at every level, from platoon to division in light, airborne, and mechanized units. Notably, he served in Operations Desert Shield/Storm, coordinated joint and interagency counterinsurgency operations in Nicaragua and El Salvador, deployed to Operation Uphold Democracy in Haiti, commanded the 25th Infantry Division and Multi-National Division-North in Iraq, and was Chief, Office of Security Cooperation following the planned 2011 withdrawal of U.S. security forces in Iraq. He also had three tours at West Point: first, as an assistant football coach and company tactical officer; second, as Commandant (who initiated the Cadet Leadership Development Program with its extended field training exercises at Camp Buckner for rising First-Year cadets); and, finally, as Superintendent. Regarding this last post, one of his nominators said, "Perhaps Douglas MacArthur deserves credit as West Point's finest Superintendent, but history will show us that Bob Caslen's impact on the Academy lasted longer and was more transformative." Affectionately called "Supe Daddy" by cadets, Caslen instituted a fourth pillar of West Point Leader Development ("character," also known as "honorable living"); stood up numerous improved facilities and a new barracks, as well as academic and athletic centers; promoted a winning culture at the Academy, and inspired approximately 8,000 future officers in the U.S. Corps of Cadets.