The West Point Association of Graduates (WPAOG) has named the 2009 recipients of the Distinguished Graduate Award. This annual award has been bestowed upon those West Point graduates whose character, distinguished service, and stature draw wholesome comparison to the qualities for which West Point strives, in keeping with its motto: "Duty, Honor, Country." View photos here. The 2009 Distinguished Graduate Award Recipients are: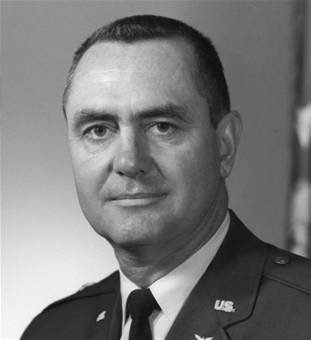 LTG (R) James Donald Hughes '46
Duty, Honor, Country: those three "hallowed words" are an apt description of the lifetime of service of Lieutenant General James D. Hughes. From his West Point graduation in June 1946 until his military retirement in 1981, and throughout a subsequent civilian career, General Hughes demonstrated these ideals daily. In fact, they guided him through his exceptional record of achievements.
General "Don" Hughes' thirty-five-year career in the Air Force took him around the globe and included three combat tours in Korea and Vietnam. His illustrious record of military service began upon graduation from the United States Military Academy on June 4, 1946 when he was assigned to the Army Air Corps – which would become the US Air Force one year later – and it culminated in his final assignment as the Commander in Chief, Pacific Air Forces. Along the way, General Hughes accumulated 6300 flying hours, commanded from squadron to major air command level, and served as the Military Aide to the Vice President and later to the President of the United States of America.
General Hughes' remarkable military journey began with duty as a pilot with the 8th Fighter-Bomber Wing at Itazuke Air Base in Kyushu, Japan. He deployed with this unit to Korea and was among the first to fly the F-80 in the Korean War, distinguishing himself as a skilled and courageous fighter pilot. By March 1951, he had completed 101 combat missions and was awarded two Distinguished Flying Crosses, nine Air Medals, and the Purple Heart.
In 1957, he was selected to be the Military Aide to Vice President Richard M. Nixon. Charged with advising and maintaining the Vice President's schedule, he accompanied Mr. Nixon on the notable trip to Caracas, Venezuela in 1958 when the Vice President's motorcade was violently attacked by a hostile mob that threatened the personal safety of the Vice President and Mrs. Nixon. When Mr. Nixon became President of the United States, he called upon Hughes once again, this time to serve as Military Assistant to the President. As such, he was responsible for all military support to the President and the White House, to include logistics, transportation, communications, ceremonies, and implementation of the White House emergency plan that provided for the security of the President, his family, key staff, and continuity of government in the event of a national crisis. The responsibilities and demands of this position were extensive and complex, involving both the coordination and the oversight of security anywhere the President and his senior staff traveled. He was the senior military member of the advance party to Beijing in October 1971 to prepare for President Nixon's historic meetings with Chinese government officials. Dr. Henry A. Kissinger, National Security Advisor and Secretary of State during this period, stated he was impressed with Hughes' "ability, precision and leadership" and believed he was "destined for high command."
General Hughes volunteered for duty in Vietnam in 1962. Assigned to the 2nd Air Division Headquarters at Tan Son Nhut Air Base in Saigon, he served as an instructor pilot to Vietnamese Air Force pilots and trained them to perform night close air support in response to attacks on their villages by the Viet Cong. He was awarded the Bronze Star and Air Medal for his service. General Hughes went on to command the 9th Air Force at Shaw Air Force Base, SC and the 12th Air Force at Bergstrom Air Force Base, TX, the largest tactical Air Force. As commander of the 12th Air Force, General Hughes integrated the new F-16 aircraft into the inventory while also remaining responsible for all tactical fighter and reconnaissance forces west of the Mississippi River, including Air National Guard and Reserve units. Upon relinquishing command of the 12th Air Force, General Hughes was presented the "Order of the Sword" by all of the noncommissioned officers in his unit. This award marked the deep respect and admiration the enlisted corps had for General Hughes as he departed the command.
The pinnacle of his military career was his assignment as Commander in Chief of the Pacific Air Forces. Charged with planning, controlling, coordinating, and conducting all offensive and defensive air operations in the Pacific, General Hughes had the enormous responsibility for over 34,000 Air Force personnel stationed in Japan, Korea, the Philippines, and Hawaii. The demands of all these commands were monumental, yet General Hughes performed with distinction each time. He retired on July 1, 1981, with thirty-five years of Air Force service.
General Hughes continued his service to the nation following his retirement from the Air Force. Maintaining close ties to the Air Force, he became Vice President of the Lockheed Air Terminal Company, and later a general consultant with Lockheed. In 2006, his twelve years of work to establish the National Purple Heart Hall of Honor were realized as the Hall was dedicated and opened in New Windsor, NY, the very location where General George Washington established the Badge of Merit (the precursor to the Purple Heart) during the encampment of the Army from the Battle of Yorktown to the signing of the Treaty of Paris in 1783. The National Purple Heart Hall of Honor commemorates the extraordinary sacrifices of America's servicemen and servicewomen who were killed or wounded in combat.
General Hughes has led a life of exemplary leadership, dedication, and service to our nation. He is a credit to the West Point tradition of Duty, Honor, Country. Accordingly, the West Point Association of Graduates takes great pride in presenting the 2009 Distinguished Graduate Award to James D. Hughes.
GEN (R) Donn Albert Starry '48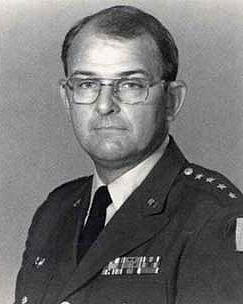 General Donn A. Starry's service to our nation – as a soldier, leader, mentor, scholar, visionary, author and businessman – gives true meaning to the West Point motto: Duty, Honor, Country. During 40 years of military service he was respected as a leader of limitless energy, great vision, and love for the American soldier. Excelling as a warrior, military intellectual, and trainer, General Starry personified character, competence, and commitment. Following military retirement he continued to serve the Army and the nation as a defense industry leader, mentor of rising officers, prolific author, and accomplished lecturer.
After graduating with the Class of 1948, Donn Starry was commissioned a Second Lieutenant in the Transportation Corps but successfully branch transferred to Armor. He initially served with the 63rd Heavy Tank Battalion, 1st Infantry Division in Germany from 1949 to 1952, and later as the Aide-de-Camp for the Commanding General of the 3rd Armored Division at Ft. Knox from 1952 to 1953. After attending the advanced course at The Armor School in 1954, he was assigned to the 8th Army in Korea from 1954 to 1955 as an intelligence officer. Following additional schooling and staff assignments, he commanded the 1st Battalion, 32nd Armor, 3rd Armored Division from 1962 to 1964 with excellent results. He attended the Armed Forces Staff College in 1965 and the Army War College in 1966, where he also earned a Master of Science in Political Science from George Washington University.
From 1966 to 1967 LTC Starry served with distinction at Headquarters, United States Army, Vietnam where he earned the Legion of Merit and Army Commendation Medal. After a tour with the Office of the Assistant Secretary of Defense in 1968, he returned to Vietnam in 1969 with the Headquarters, Military Assistant Command, Vietnam where he earned the Legion of Merit, Bronze Star Medal and the Joint Service Commendation Medal. In 1970 Colonel Starry assumed command of the 11th Armed Cavalry Regiment, the premier armored force in Vietnam. He led the Blackhorse Regiment on the historic Cambodian incursion where he proved to be tactically brilliant, inspiring to his subordinates, and courageous while leading from the front. Seriously wounded while saving the life of another officer, Colonel Starry was awarded the Silver Star, Legion of Merit, Distinguished Flying Cross, Soldiers Medal, Bronze Star Medal for Valor, Purple Heart, and nine Air Medals.
Following high-level staff assignments with Department of the Army from 1970 to 1973, General Starry commanded The Armor School and Ft. Knox from 1973 to 1976. He subsequently commanded V Corps in Germany from 1976 to 1977, where his depth and breadth of strategic and tactical knowledge significantly contributed to the eventual collapse of the Soviet Union.
General Starry served as Commanding General of Training and Doctrine Command from 1977 to 1981. Perhaps first among his many contributions was his role as the architect of AirLand Battle – the doctrinal basis for the Army of today. In concert with that work, he directed the efforts to create the National Training Center where the tactics, techniques and procedures of AirLand Battle could be practiced against a well-trained Opposing Force. General Starry was also instrumental in the fielding of the Abrams Tank, Bradley Fighting Vehicle, the Apache and Blackhawk helicopters, and the Patriot Missile System. He was awarded the Distinguished Service Medal for his tireless efforts.
In 1981 General Starry was assigned as Commander-in-Chief, US Readiness Command in Tampa, Florida. His leadership, vision, and mastery of modern warfare would earn him respect from all branches of the military. Upon his retirement in 1983, he was awarded the Defense Distinguished Service Medal and the Distinguished Service Medal. Having served with distinction in war and peace, his contributions made an indelible impact on virtually every facet of Army life.
Following military retirement General Starry served on the Defense Science Board and the Army Science Board, bringing his strategic and tactical acumen to bear on a wide range of problems confronting the nation. As vice president and, later, executive vice president of Ford Aerospace and Chairman of the Board of Maxwell Technologies and, later, Universal Voltronics, he pursued solutions to problems he had identified while on active duty. He was Chairman of the Board of the US Cavalry Association and was selected as one of the handful of those honored on the Armor Center's International Commanders Wall at Fort Knox. General Starry was inducted into the Command and General Staff College Hall of Fame at Fort Leavenworth and the Joint Forces Staff College Hall of Fame at Norfolk.
Donn Starry's legacy – demonstrated so vividly in the performance of America's Army in some of the most daunting tactical challenges it has ever faced – will be felt for decades to come. His selfless and inspired service to the nation reflects the nature and value of West Point. Accordingly, the Association of Graduates takes great pride in presenting the 2009 Distinguished Graduate Award to Donn A. Starry.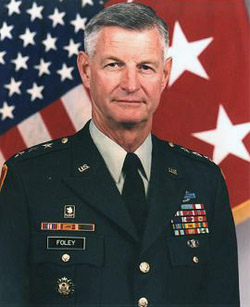 LTG (R) Robert Franklin Foley '63
Throughout his life of service as an Army officer, scholar, and leader, Lieutenant General Robert F. Foley has continuously dedicated himself to the principles of Duty, Honor, and Country. LTG Foley began his Army career after graduation from West Point in 1963. He advanced quickly through junior officer assignments while honing the skills he learned at West Point. During this phase of his career, he began demonstrating a characteristic of service to others and compassion for the Soldier, themes which would be reinforced throughout his life both in and out of uniform. An early indication of his commitment to these values became most evident when he earned the Medal of Honor in the Vietnam War for conspicuous gallantry on 5 November 1966 while serving as Company Commander of A Company, 2nd Battalion, 27th Infantry, 25th Infantry Division. His professionalism and caring concern for Soldiers are a sterling reflection of the spirit of "Duty, Honor, Country."
When General Sam Walker became Commandant of Cadets in 1969, he specifically asked for then Captain Foley to be assigned as a Company Tactical Officer for the Corps of Cadets. According to General Walker, Foley stood out as an officer of tremendous courage, not only for his award of the Medal of Honor for actions during the War in Vietnam, but also for the courage of his convictions and character traits that he demonstrated to members of his company and to the Corps at large.
LTG Foley continued to expand his leadership experience during the next phase of his career by holding positions of increased responsibility including Commander, 1st Battalion, 4th Infantry in Aschaffenburg, Germany; Commander, 2nd Brigade, 3rd Infantry Division in Kitzingen, Germany; and Assistant Division Commander, 2nd Infantry Division, Republic of Korea. Between these commands, he continued to contribute to the war fighting capabilities of the Army, serving in various positions in and out of the Pentagon, where he focused his efforts on the readiness of our forces world-wide.
LTG Foley returned to West Point in 1992 as the 63rd Commandant of Cadets. As Commandant, he established a core value "Consideration for Others," now called "Respect," which inspired cadets to be responsible for treating others with respect and dignity. This became an Army–wide program that focused leaders on the kind of trust and cohesion essential to successful mission accomplishment. The program he began at West Point was and remains an integral part of the inculcation of values and cadet leadership development.
In his final assignment on active duty, LTG Foley became Commanding General of Fifth US Army at Fort Sam Houston, Texas. In this assignment, he was responsible for integrated training support and wartime mobilization for Army National Guard and Army Reserve units, as well as disaster relief support to civilian authorities. After completing thirty-seven years of active duty in 2000, he became the President of Marion Military Institute, a junior college in Marion, Alabama. Since 2005, LTG Foley has been Director of Army Emergency Relief, a private, non-profit organization that has provided emergency financial assistance to Soldiers and their families for more than 67 years.
LTG Foley has distinguished himself for nearly fifty years of selfless service to West Point, the US Army, his Soldiers, their families, and the nation. Accordingly, the West Point Association of Graduates takes great pride in presenting the 2009 Distinguished Graduate Award to Lieutenant General Robert F. Foley.
GEN (R) Eric Ken Shinseki '65
Throughout a lifetime of dedication to our nation, as a Soldier and civilian, General Eric Ken Shinseki has exemplified the ideals of West Point: Duty, Honor, Country. His military career spanned over 38 years, and his service to our nation continues still. He is a visionary and humble leader who has proven again and again that he deserves the title "Distinguished Graduate."
"Ric" Shinseki, a native son of Hawaii, graduated from West Point in 1965. He soon found himself at war in Vietnam, where he served two tours, earned two Purple Hearts, and emerged a skilled and confident warrior. "My name is Shinseki, and I'm a Soldier" became his trademark self-introduction.
As a young officer, General Shinseki transferred from the Field Artillery to Armor. He then obtained a Master of Arts degree in English Literature from Duke University and served as an instructor at West Point from 1976 to 1978. He went on to command, successively, an armored cavalry squadron, an armored brigade, and eventually the famed 1st Cavalry Division at Fort Hood, Texas. In each of these command positions and the many staff assignments in between, General Shinseki displayed a visible commitment to Soldiers and their families.
By 1997, General Shinseki had earned his fourth star and was given three concurrent assignments: Commanding General, United States Army Europe; Commander of Allied Land Forces Central Europe; and Commander of NATO's Stabilization Force (SFOR) in Bosnia-Herzegovina. His tenure was marked by two major changes: defused tensions between previously warring factions and the rebuilding of the national infrastructure. It was in Bosnia-Herzegovina that he learned how much the international security environment was changing – in fundamental ways – and how transformation would be necessary for our Army to adapt and win.
In 1999, General Shinseki was appointed as the Army's 34th Chief of Staff, assuming the mantle worn by such storied figures as George Marshall, Dwight Eisenhower, and Creighton Abrams. During the next four years, he devoted his own energies and the Army's to adapting to the new demands facing our nation's ground forces. He had seen a dangerous bifurcation. Slow-to-deploy heavy formations capable of sustained combat were powerful, while more readily deployable and versatile light forces were vulnerable. He envisioned hybrid formations – making the Army more responsive, deployable, agile, versatile, lethal, survivable, and sustainable – that have since proved their worth in the Global War on Terror. General Shinseki also asserted that a holistic approach to transformation would be necessary, including everything from recruitment to training to supporting Army families.
Anticipating support from politicians who expressed a commitment to defense reform, General Shinseki instead met with resistance. In a firm show of integrity, he consistently offered his honest and straightforward professional opinion. He understood what capabilities our Army would need. He was determined to foster buy-in across the Army for transformation, knowing that this would provide the sustainability such changes require. General Shinseki was always willing to stand up for what was best for the Army and its Soldiers.
Subsequent to his retirement, General Shinseki was appointed as the first holder of the Class of 1951 Chair on Leadership at West Point. Among other leadership positions, he served as an Advisor to the Center for Public Leadership at Harvard's John F. Kennedy School of Government and to the US Comptroller General. His recent selection as Secretary of Veterans Affairs is more than fitting since he has always believed that Soldiers are the most important resource in our nation's defense structure.
"My name is Shinseki and I'm a Soldier." Few who have ever worn the uniform have invested that title with as much wisdom, dedication, integrity, and personal grace. His contributions to the nation continue as he has offered his professional excellence and visionary leadership to our nation for over four decades. History will record General Shinseki as a true leader of character, steeped in the principles of Duty, Honor, Country. Accordingly, the West Point Association of Graduates takes great pride in presenting the 2009 Distinguished Graduate Award to Eric K. Shinseki.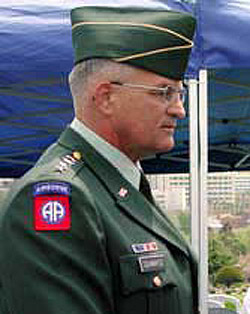 GEN (R) Thomas Allen Schwartz '67
Throughout a distinguished career of service to the United States Army and his country spanning thirty-five years, as a commander who always placed the welfare of his Soldiers and their families as a top priority, and as a leader whose every action epitomized the words of the United States Military Academy motto – Duty, Honor, Country – Thomas Allen Schwartz established a reputation for integrity, courage, and commitment that set a standard for others to emulate.
Commissioned in the Infantry upon graduation from West Point in 1967, Lieutenant Schwartz was assigned as a platoon leader and company executive officer with the 508th Airborne Infantry at Fort Bragg, North Carolina. A year later, he joined the 82nd Airborne Division in Vietnam as a platoon leader and company commander. He was awarded the Silver Star for gallantry in action, the Bronze Star Medal and the Purple Heart.
Returning to the United States, Captain Schwartz was appointed aide-de-camp to the Commanding General, US Test and Evaluation Command at Aberdeen Proving Ground, Maryland. After an assignment to the Armor School and a year at Duke University, where he obtained a Master's Degree in Education, Tom Schwartz returned to the United States Military Academy and served three years as a company tactical officer in the Department of Tactics.
Promoted to major, Tom Schwartz was appointed S-3, Headquarters 1/31 Infantry in Korea. In 1978 he began a three-year tour as a personnel management officer in the Army Military Personnel Center. In 1981, Major Schwartz was assigned as executive officer for the 1st Battalion, 6th Infantry in Germany, and later, as inspector general for the 1st Armored Division. In May, 1983, Lieutenant Colonel Schwartz took command of the 1st Battalion, 6th Infantry at Illesheim, Germany. Back in the United States in 1985, he graduated from the Naval War College in 1986, and was awarded a master's degree in National Security and Strategic Studies. Appointed Chief, Infantry Branch, and later, Chief, Combat Arms Division, US Military Personnel Center in 1986, Colonel Schwartz left Washington to take command of the 1st Brigade, 4th Infantry Division (Mechanized) at Fort Carson, Colorado in 1988. Two years later he was appointed Division Chief of Staff.
In 1991, Tom Schwartz was assigned to Korea, where he served as Chief of Staff, Combined Field Army, and in 1992 Brigadier General Schwartz became assistant division commander of the 2nd Infantry Division. In 1993, Major General Schwartz took command of Fort Carson and the 4th Infantry Division (Mechanized) until 1995, when he was promoted to lieutenant general and placed in command of Fort Hood and the III Corps.
General Schwartz became Commanding General, US Forces Command in 1998. In this assignment, he was instrumental in establishing the integration of active Army divisions with National Guard brigades. This decision, of far-reaching consequences, materially strengthened the US Army in overseas operations. His last active duty assignment was Commander in Chief, United Nations Command, Combined Forces Command and U S Forces Korea, a position he held from 1999 until he retired from active duty in 2002. General Schwartz's many decorations and awards include the Army Distinguished Service Medal, the Defense Superior Service Medal, the Legion of Merit, and the Air Medal. The University of Maryland University College conferred an honorary Doctor of Law degree on General Schwartz at his change of command ceremony.
Tom Schwartz and his wife Sandy were a decisive force in establishing the Military Child Education Coalition (MCEC) in 1998. Dedicated to ensuring that the children of military parents receive the best education possible within their school district, this non-profit organization's sole purpose is to ease transition issues facing military children. General Schwartz has been Chairman of the Board since 2004, and in that year the MCEC was named Congressional Charity of the Year. With an annual budget of over three million dollars, the MCEC encompasses 329 military installations and 114 school districts throughout the world. A board member of the MCEC said, "Tom Schwartz is a role model and a mentor. He simply inspires you to do more."
A classmate, former teammate, retired general officer and now, President of the University of Alaska, said this: "I don't know how a single man can balance humility and gentleness with valor and decisiveness, and balance family and friends with service and soldiers, and balance common sense and humor with intelligence and incisiveness. I don't know a single man who can do that, but I know one who has: Tom Schwartz."
General Schwartz's lifelong career of distinguished service made permanent and invaluable contributions to the welfare and security of this nation. With an uncommon devotion and selfless dedication to his country and the Army, Tom Schwartz exemplifies the finest qualities of the American Soldier. Accordingly, the Association of Graduates takes great pride in presenting the 2009 Distinguished Graduate Award to Thomas Allen Schwartz.
GEN (R) John Philip Abizaid '73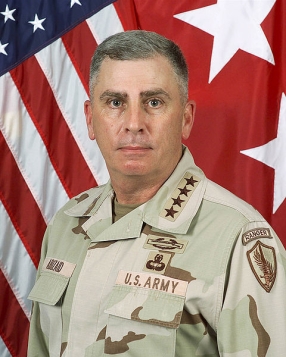 For more than three decades, General John P. Abizaid has served our nation with distinction and brought extraordinary credit to West Point. A consummate soldier, scholar, and statesman, he is as well known for having inspired countless individual service members as for directing numerous combat and humanitarian operations on the international stage. His skills and character have uniquely suited the demands of his times.
Following graduation and commissioning into the Infantry on June 6, 1973, John Abizaid joined the 504th Parachute Infantry Regiment at Ft. Bragg, North Carolina and then the 2/75th Infantry at Fort Lewis, Washington, where he would command his first company. Studies at the Defense Language Institute followed, where he began a second career path, focused on international relations. At West Point, John had won an Olmsted Scholarship, which provided for his studies at the University of Jordan in Amman from 1978 to 1980. In Jordan, he immersed himself in Middle Eastern studies, polished his language skills, and trained with Special Forces. Thereafter, he matriculated at Harvard University and became known for his insightful writing on defense policy in the context of the Middle East.
In 1983, the 82nd Airborne Division deployed to Grenada with Captain Abizaid commanding a company of the 1st Ranger Battalion and establishing a reputation for imaginative tactical command. He would later command the 325th Airborne Battalion Combat Team in Vicenza, Italy, which deployed under his command to Northern Iraq in 1991, tasked with providing a safe haven for the Kurdish population. As commander of an 82nd Airborne Division Parachute Brigade, he headed the unit designated the lead attack element in the aborted invasion of Haiti in 1995. Among his other assignments were executive assistant to the Chairman of the Joint Chiefs of Staff, special assistant to the Vice Chief of Staff, US Army, and United Nations observer and Operations Officer for Observer Group Lebanon from 1985 to 1986. He was an assistant division commander in the 1st Armored Division and the 1st Infantry Division in Bosnia-Herzogovina. As a major general, he would later command the 1st Armored Division, "The Big Red One," when it deployed the first ground troops into Kosovo.
As a brigadier general, John Abizaid returned to his alma mater, serving as the 66th Commandant of Cadets. At West Point he significantly revised cadet training, emphasizing skills cadets needed to lead soldiers. He also established the Affirmation Ceremony and other rites of passage connecting the West Point program with service in the Army. During this time John was also a leader within his Class, helping to spearhead the Class of 1973's gift that resulted in renovations of Grant Hall.
In subsequent years, General Abizaid's military career took on a decidedly joint aspect. He served as Director of Plans and Policy, J-5, responsible for military strategic planning and interagency policy coordination. After the attacks of September 11, he was responsible for initiating and coordinating the rapid interagency and international response for the Joint Staff. He was subsequently appointed to the position of Director of the Joint Staff.
As the Combatant Commander of United States Central Command, he was responsible for military strategy and joint operations in the Middle East, the Horn of Africa, and Central Asia. Serving fifty-four months in combat zones both as Deputy Commander (Forward), and as the Combatant Commander, he led simultaneous international coalitions that operated in Iraq, Afghanistan, the Horn of Africa, and the Persian Gulf. He worked to advance enhancement of regional military, counter-terrorist and counter-insurgency capabilities in order to help the nations of the region help themselves against the many threats to stability they face.
His other missions included protection of the sea lanes in the Red Sea and the Persian Gulf, operations against piracy in the Arabian Sea, and support of countries throughout the region such as Yemen, UAE, Bahrain, Qatar, Oman, Saudi Arabia, and Pakistan as they confronted local and regional extremism. Concurrently, he oversaw humanitarian operations such as relief for earthquake victims in Iran and Pakistan and evacuation of American citizens from Lebanon prior to and during the Israeli-Hezbollah border conflict in 2006.
Following retirement from the military, John Abizaid was named the first Annenberg Distinguished Visiting Fellow at the Hoover Institution, Stanford University. He now works with the Preventative Defense Project at Stanford University and Harvard's Kennedy School of Government, and he regularly speaks on leadership and international security through the Washington Speakers Bureau. He is a member of the Council on Foreign Relations and the International Institute for Strategic Studies, and he currently serves as a Director of the George Olmsted Foundation and USAA. John Abizaid also continues to serve at West Point, where he is the Distinguished Chair of the Combating Terrorism Center. Accordingly, the West Point Association of Graduates takes great pride in presenting the 2009 Distinguished Graduate Award to John P. Abizaid.