By Rebecca Rose, WPAOG Multimedia Journalist
Most of the Class of 1940 entered the United States Military Academy on July 1, 1936, and 449 graduated on June 11, 1940 – the second class to graduate in the Fieldhouse. These graduates entered a changing political climate graduating just one day after President Roosevelt announced that Benito Mussolini, dictator of Italy, declared war on France and Great Britain. LTG Hugh A. Drum was the commencement speaker, and according to the New York Times, repeatedly referenced the "imminence of war" and our "quickening attitude in securing and adapting weapons and means of modern warfare" during his address to the class. LTG Drum presented diplomas to 444 graduates commissioned into the Army. The Cadet First Captain for the class of 1940 was John F. Presnell Jr. and the first overall graduate was Harold Clifton Brown. The last living graduate for the class was BG Paul D. Phillips (USA, Retired) who was 105 years old when he passed away on August 27, 2023.
Notable graduates from the Class of 1940 include John Finzer Presnell Jr., First Captain, Knox Trophy Recipient, awarded a Bronze Star, Silver Star and Purple Heart; POW that went MIA in 1945. LTG (R) Donald Vivian Bennett who on June 6, 1944, along with the 62nd Armored Field Artillery Battalion which he commanded, landed with the second wave at 0720 on D-Day. He was director of the Defense Intelligence Agency under President Richard Nixon and served as Superintendent of the United States Military Academy from 1966-1969. He is recipient of the Distinguished Service Cross as well as two Purple Hearts.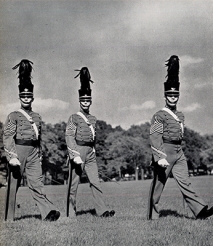 Chester Kieser Britt was awarded the Legion of Merit for exceptionally meritorious conduct in the performance of outstanding services to the government of the United States while serving with the 301st Artillery in the Philippine Islands, in 1942. LTG (R) John MacNair Wright Jr., a POW in Japan, awarded a Silver Star, Purple Heart, two Distinguished Service Medals, the Distinguished Flying Cross and 47 Air Medals. In 1986 he was elected to the Army Aviation Hall of Fame and later awarded the George Washington Honor Medal by the Freedom's Foundation at Valley Forge. He was also a 2007 recipient of the Distinguished Graduate Award and a lifelong and preeminent leader of the Boy Scouts of America.
The class donated to the Clinton Parapet Restoration, the illustrated West Point History entitled Historic West Point and a Cadet Activities Endowment.
From the Class of 1940 Howitzer: This book the Howitzer of the Class of 1940 is dedicated to the history of the Military Academy and to the traditions which we, as cadets, soon to take our places in the Long Gray Line, have cherished during our "proving period" and which will remain with us throughout our careers.
Search and read more about the members of the Class of 1940 here.