A distinguished national public servant, educator, entrepreneur, business executive, friend of the Military Academy, and great American, Dr. William J. Perry has devoted his life to serving our Nation. Enlisting in the Army in 1946, he was later commissioned as a lieutenant before embarking on a succession of defense-related positions, including appointment to our National Military Command Authority as Secretary of Defense. Currently, Dr. Perry is a professor at Stanford University with a joint appointment in the School of Engineering and the Freeman Spogli Institute for International Studies. He is a Senior Fellow at the Hoover Institution.
As did Sylvanus Thayer, William Perry often has championed initiatives at the nexus of engineering and defense. He has founded and served as a senior executive in several high-tech and engineering firms and was Under Secretary of Defense for Research and Engineering from 1977 to 1981 and Deputy Secretary of Defense from 1993 to 1994. As Secretary of Defense from 1994 to 1996, Dr. Perry played a central role in guiding our armed forces through critical post-Cold War challenges in eastern Europe, Haiti, Korea, China, Japan, Somalia, and the Persian Gulf.
Known for "hands-on" management and concern for the troops, Dr. Perry has frequently traveled abroad, visiting American forces and defense partners, and seeking solutions to international tensions. Within the Pentagon, he led development of defense acquisition reform and the preventive defense policy. His contributions also include his leadership role in developing stealth technology and systems for protecting forces against missile attack and his participation in negotiating nuclear arms reductions.
Recognition of Dr. Perry's service has been widespread. He is a recipient of the Presidential Medal of Freedom, honors from the enlisted personnel of the services, and decorations from the governments of Germany, the United Kingdom, France, Korea, Albania, Poland, Ukraine, Bahrain, Slovenia, Hungary, and Japan.
Dr. Perry's contributions to our Nation are truly extraordinary, reflecting his lifelong commitment to the ideals of Duty, Honor, Country. Accordingly, the West Point Association of Graduates takes great pleasure in presenting the 2008 West Point Sylvanus Thayer Award to Dr. William J. Perry.
Theodore G. Stroup '62
Chairman, West Point Association of Graduates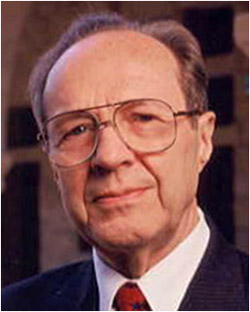 William Perry is the Michael and Barbara Berberian Professor at Stanford University, with a joint appointment at FSI and the School of Engineering. He is a senior fellow at FSI and serves as co-director of the Preventive Defense Project, a research collaboration of Stanford and Harvard Universities. He is an expert in U.S. foreign policy, national security and arms control. He was the co-director of CISAC from 1988 to 1993, during which time he was also a professor (half-time) at Stanford. He was a part-time lecturer in the Department of Mathematics at Santa Clara University from 1971 to 1977.
Perry was the 19th secretary of defense for the United States, serving from February 1994 to January 1997. He previously served as deputy secretary of defense (1993-1994) and as under secretary of defense for research and engineering (1977-1981). He is on the board of directors of LGS Bell Labs Innovations and several emerging high-tech companies and is chairman of Global Technology Partners. His previous business experience includes serving as a laboratory director for General Telephone and Electronics (1954-1964); founder and president of ESL Inc. (1964-1977); executive vice-president of Hambrecht & Quist Inc. (1981-1985); and founder and chairman of Technology Strategies & Alliances (1985-1993). He is a member of the National Academy of Engineering and a fellow of the American Academy of Arts and Sciences.
From 1946 to 1947, Perry was an enlisted man in the Army Corps of Engineers and served in the Army of Occupation in Japan. He joined the Reserve Officer Training Corps in 1948 and was a second lieutenant in the Army Reserves from 1950 to 1955. He has received a number of awards, including the Presidential Medal of Freedom (1997), the Department of Defense Distinguished Service Medal (1980 and 1981), and Outstanding Civilian Service Medals from the Army (1962 and 1997), the Air Force (1997), the Navy (1997), the Defense Intelligence Agency (1977 and 1997), NASA (1981) and the Coast Guard (1997). He received the American Electronic Association's Medal of Achievement (1980), the Eisenhower Award (1996), the Marshall Award (1997), the Forrestal Medal (1994), and the Henry Stimson Medal (1994). The National Academy of Engineering selected him for the Arthur Bueche Medal in 1996. He has received awards from the enlisted personnel of the Army, Navy, and Air Force. He has received decorations from the governments of Albania, Bahrain, France, Germany, Hungary, Japan, Korea, Poland, Slovenia, Ukraine, and the United Kingdom.
Perry was born October 11, 1927, in Vandergrift, Pennsylvania. He attended grade school and high school in Butler, Pennsylvania. He received a BS and MS from Stanford University and a PhD from Penn State, all in mathematics.