By Rebecca Rose, WPAOG staff
The Long Gray Line has long played a role in United States history, including the implementation of the 50-star flag that flies today.
According to the Dwight D. Eisenhower Presidential Library, Museum & Boyhood Home, in the 1950s, it was assumed Alaska would be admitted to the Union and President Eisenhower, USMA Class of 1915, signed the official proclamation on January 3, 1959. Upon learning this, designers began retooling the American flag to add a 49th star to the existing 48.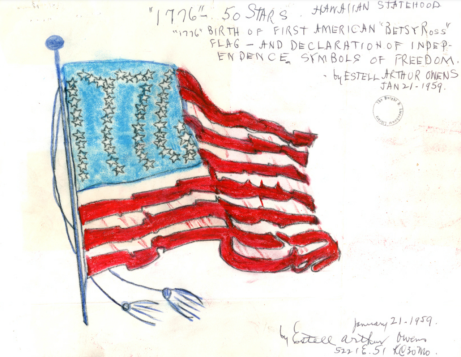 Many expected that Hawaii would be added as the 50th state and 1953 was the earliest submission of a 50-star flag design. However, the bulk of the submissions began pouring in after the admission of Alaska. More than 3,000 people had sent in their ideas, some of them submitting multiple designs before the 50-star design was finally chosen. The designs came in a wide range of media from simple pencil sketches to professionally constructed flags.
One of those designs originated for an American history project. During Bob Heft's junior year of high school in 1958, he created a 50-star flag from one of his parents' wedding presents, according to Story Corps. At just 17-years-old, the Ohio student borrowed his mother's sewing machine, disassembled the gifted 48-star flag and stitched on 50 stars in a proportional pattern.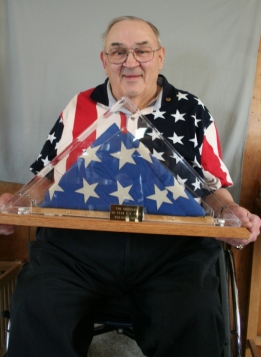 "I'd watch my mom sew, but I had never sewn…and since making the flag of our country, I've never sewn again," said Heft. He handed in his creation for the class project, explaining that he expected Hawaii would soon achieve statehood as well. Heft's teacher was unimpressed by his creation and questioned if he knew how many states the U.S. had. Upon giving him his grade of a B-, Heft's teacher told him, "If you don't like the grade, get it accepted in Washington, then come back and see me."
According to HISTORY, upon completion of his class project, Heft sent the flag to his congressman, Walter Moeller, who presented it to President Eisenhower after both new states joined the Union. Two years after he turned in his class project, Eisenhower selected Heft's design, and on July 4, 1960, the president and the high school student stood together as the 50-star flag was raised for the first time.
(Header Image Source: George Mason University)