West Point Authors Bookshelf
Advertise your book in West Point magazine!
---
10% discount for multiple books or editions
$595 for West Point affiliated authors
(Grads, spouses, cadet parents, USMA professors)
$795 for non-affiliated authors
Published in Spring and Fall Editions only!
---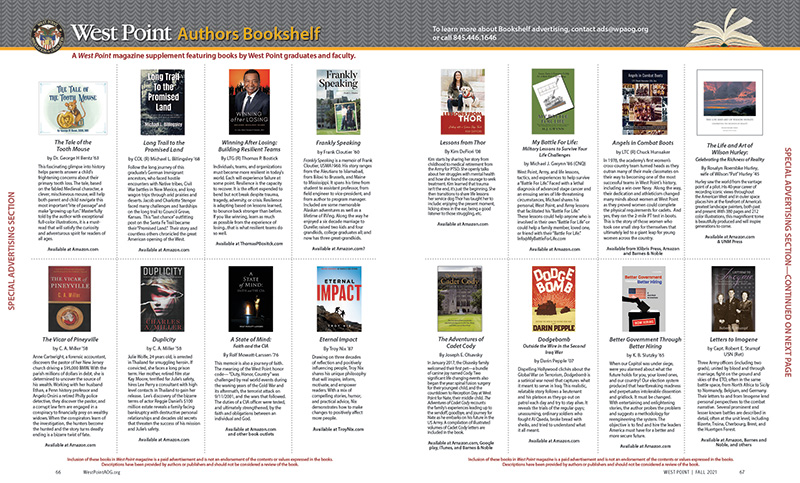 For more information contact:
Austin Hunt
Sponsorships/Advertising Manager
845.446.1646/ 1582
ads@wpaog.org
Advertising Rates and Specs: westpointaog.org/Advertise
Artwork submissions: ads@wpaog.org
Submission Guidelines *
Please include the following with your submission:
A high resolution front cover image (at least 1MB, jpeg preferred)
Entire ad content must total no more than 90 words including:

Book title
Author name (w/ class year if a Grad)
Brief description
Bookseller info

A Microsoft Word document is preferred for copy submission
Examples of bookseller info: "Available at Amazon.com" or "Available at Barnes & Noble"
West Point Authors Bookshelf Deadlines
| Issue Date | Space Reservations | Materials Due |
| --- | --- | --- |
| Spring | Mid-December | Mid-January |
| Fall | Mid-June | Mid-July |
West Point Bookshelf Page Readership Demographics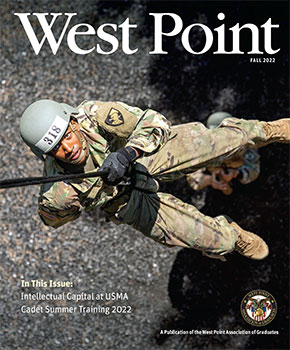 West Point magazine is the official alumni magazine for graduates of the United States Military Academy. It is published quarterly and has a circulation of 59,000 + per issue.) The West Point Authors Bookshelf Page appears 2x/ year in the Spring & Fall editions.
All living graduates of the United States Military Academy
Surviving spouses of graduates
Current cadet parents
Faculty, staff, and friends of West Point
Digital editions are available online at: WestPointAOG.org/WestPointMagazinePastIssues.
West Point Authors Bookshelf is promoted through:
First Call e-Newsletter- regularly reaches over 49,700+ actively engaged West Point graduates and achieves an outstanding open rate of over 57 percent.
LinkedIn (16.6K group members/11.7K page followers)
Twitter (17.9K followers)
View and print West Point Authors Bookshelf PDF here.
*The West Point Association of Graduates' editorial review committee has the right to refuse West Point Authors Bookshelf advertising based upon a review and evaluation of submitted excerpts and or publicly available book reviews and publisher's submissions. Criteria include 1) use of profanity, vulgarity and or slanderous language; 2) disparaging content that could be harmful to the Corps of Cadets, US Army and or Military; and 3) misalignment with the WPAOG mission to support West Point and the Long Gray Line.