Superintendent
Egner Hall (funded)
The Egner Hall Renovation Project will upgrade the Glee Club's rehearsal space into a state-of-the-art permanent home base for the Club. A digital acoustic system will significantly improve practice conditions to expedite learning, improve team skills, and reinforce individual technique. Installing recording capability in the Glee Club room will increase public outreach through more frequent recording and will enable them to capture organic, acoustic performance. An audio-visual installation will connect with the West Point Band audio tech studio, allowing for interaction with guest artists and presenters, commissioned composers, and viewing performances of other groups. Centralized HVAC will provide consistent temperature and relative humidity for the care of equipment, library, and archives, as well as Cadets and staff at work! Facility improvements will benefit other performing Cadet Support Clubs, such as the Spirit Band, String Ensemble, and Rock Band with adequate temperature-controlled storage for expensive instruments, climate-controlled rehearsal spaces, and more functional use of existing space through design improvements.
---
Dean
---
Dean's Program Initiatives
---
---
Consolidated Scholarship Program
---
Cyber Initiatives
---
Model UN
West Point's Model UN Team ranks as one of the top North American college teams. By participating on the team, cadets challenge themselves and one another to clearly and compellingly discuss complex topics and further their understanding of pressing national and international issues. Furthermore, cadets act as Academy ambassadors, helping to educate their civilian peers on the West Point experience.
---
Commandant
Cadet Spirit Support
The endowment supports over 200 cadets participating in the spirit support clubs that include the Cadet Pep Band, the Mule Riders, the Rally Cannon Crew, the Tank Crew, Pipes and Drums, the Cadet Media Group, WKDT, and the Army and cadet company mascots.
Competitive Club Sports
Competitive club sports provide cadets with the opportunity to train, compete, and lead. The 16 competitive cadet club teams are some of the most prominent and recognizable programs at West Point. These clubs have achieved recognition as national champions, world cup invitees, world record holders, Olympians, and a host of regional and state champions. The clubs travel across the U.S. to compete, with the cost of travel and equipment funded solely by donors and profits from DCA retail operations.
---
Athletics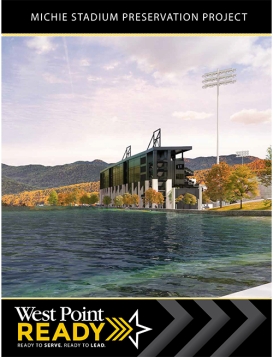 Michie Stadium Preservation Project
Read/Print Brochure | Watch Video
Michie Stadium has been and remains West Point's key portal to the public. The project will reconstruct the 160,000-square-foot East Stands, built in 1962, by modernizing, upgrading, and improving building systems and operations. This will include broadcasting, ticketing, lighting, winterization, premium and hospitality seating options, concessions and amenities, and stadium accessibility.
Army A Club
Read more
The Army A Club Fund provides essential support to USMA's 30 Division 1 athletic programs. Army A Club funding ensures our over 1,000 cadet-athletes have the resources to train, compete, and win at the highest level, delivering an extraordinary Division I athletic experience that develops leaders of character.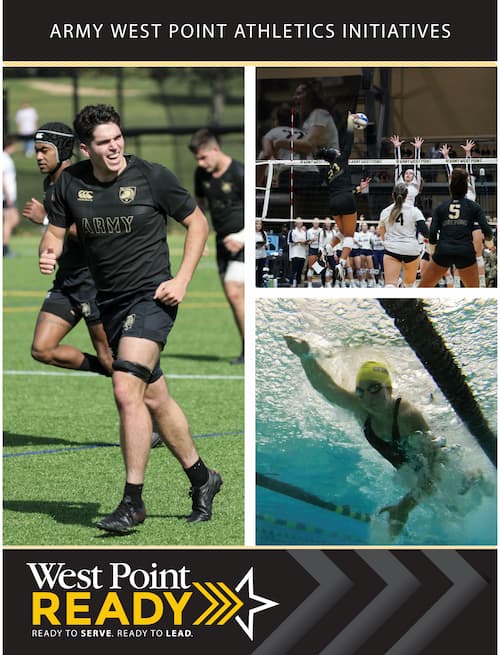 Athletics Teams Quasi Endowments/Funds
Read/Print Brochure
The proposed endowments would enable the Army West Point Athletics Department (AWPAD) to ensure that funds are distributed to all of the varsity sports, allowing the AWPAD to allocate more resources to support cadet-athletes' and teams' needs for equipment, uniforms, travel, and additional quality competitions. The endowments also will make certain that West Point is able to fund all 22 varsity sports, in perpetuity.
---
WPAOG
Long Gray Line Endowment
Read/Print Brochure
The West Point Association of Graduates' mission is to serve West
Point and the Long Gray Line, and it has done so with distinction
since 1869. The Academy and generations of alumni and their
families have benefitted from WPAOG programs, support, and
activities.
Grads Helping Grads
This initiative builds on the concepts of the current Gripping ands program, expanding the effort to connect grads who are requesting assistance with resources, not bound by natural disasters, pandemics, or other catastrophes, but focusing on and providing a vehicle to meet more generalized needs such as consultation and mentorship. This will be achieved by establishing an online marketplace where alumni may volunteer or otherwise offer their services and expertise to fellow alumni seeking advice, assistance, or services.
Herbert Hall Improvement
Multifaceted improvements are centered on the overall graduate experience, making Herbert Hall a destination or first stop for graduates returning to West Point. Enhanced experiences will include technological advances with digital signage, improved reception and potential added amenities, and improvements and modernization of the Gift Shop.
Hudson Valley Project
Read/Print Brochure
This project directly addresses the WPAOG Strategic Plan Goals of serving West Point and the Long Gray Line and complements the USMA Strategy of building the West Point team and strengthening neighboring community partners. To be successful, USMA must be able to attract, hire, and retain exceptional and diverse civilian and military professionals, as well as to recruit exceptional diverse cadet candidates who are seeking a career in the Army and continued service to the nation. The project will support the betterment of Highland Falls and Fort Montgomery through the establishment of an after-school program for the intermediate school, economic development strategies and opportunities for entrepreneurs, and additional possibilities that would offer extra amenities to the residents, employees, and visitors of West Point.
Rockbound Highland Home
The RBHH Program was created exclusively for USMA graduates and is designed to assist in navigating post security procedures, offer special access to select MWR facilities and ervices, and provide insider tours for grads and their guests. Program enhancements will include technological developments allowing for virtual insider grad tours and an ongoing strengthening of the relationship with USMA's Directorate of Emergency Security to enhance the Grad Pass and Grad Perks programs.
Sallyport/Alumni Support Technology
Sallyport is the answer to WPAOG's Phase II Customer Relationship Management (CRM) integration, providing a sophisticated online tool that assists volunteer leaders with the management of membership, event planning, and outward communication to their groups. It is projected to be the one-stop for contact information updates and direct feeds of WPAOG social media content and publications.
Transition Navigator
The Transition Navigator initiative will expand the current Career Services program to coach and assist alumni through other aspects of life transitions, providing tailored personal and professional transition support with high touch support through weekly career services check-ins, pairing grads with a Grads Helping Grads or virtual transition team.
Engagement
The Engagement Endowment will support engagement opportunities with cadets, parents, and surviving spouses in order to build and/or strengthen WPAOG's relationships with these groups. Enhanced engagement will not only build relationships with cadets and parents during the 47-month experience but will advance financial support of West Point and the Long Gray Line, as well as continue relationships with surviving spouses through the Memorial Support and Planned Giving programs.
Digital Content Marketing/Social Media
This endowment will support Communications and Marketing by growing the team with additional writers/editors who are experienced in writing for digital platforms, producing digital products, and integrating WPAOG's digital communications.
Website/CRM
This endowment will support the addition of a website developer to the Communications and Marketing team, who is able to write code to enhance the website, allow for third party integration with the CRM database, and enhance customizations for online publications purchases and donation forms. Possible initiatives include re-imagining the Register of Graduates for a digital world and leveraging WPAOG archives into a tool similar to the ancestry.com website.
Long Gray Line Endowment/Fund
The Long Gray Line Fund and Endowment supports all efforts of the WPAOG to achieve its mission to serve West Point and its graduates.