1802 Circle
The 1802 Circle is WPAOG's annual giving society that recognizes donors for their consistent support of West Point.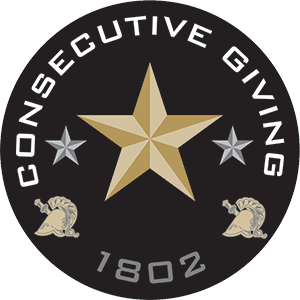 1802 Circle membership is offered to donors who make a gift of any size to West Point or WPAOG for four consecutive years. Membership then remains if subsequent donations are made annually.
1802 Circle donors are recognized in the Annual Report of Gifts. Thank you to our loyal donors who impact the Margin of Excellence year after year.
If you have any questions please contact Allison Barry, Director of Annual Giving, at annualgiving@wpaog.org or 845.446.1657.
2022 Consecutive Giving Donors
Mr. and Mrs. Raymond S. Andrews Jr. '60
LTC (R) and Mrs. Charles V. Anstrom '69
Mr. Joel D. Aron '48
MAJ (R) Donald N. Babb '62
COL (R) and Mrs. John E. Baker '72 (P)
Col (R) Marlin R. Baker USAF '55
Mr. and Mrs. Rand A. Ballard '77
Col (R) and Mrs. Archie D. Barrett USAF 57
Tosh Barron
Tom Barron '65
LTC (R) David W. Bauer '60
Mr. and Mrs. Bennett C. Beaudry '78
BG (R) Raymond E. Bell Jr. '57
COL (R) and Mrs. Richard H. Benfer '54
Mr. and Mrs. Craig C. Borchelt '88
Mr. and Mrs. Terry A. Bossieux '73
Mike and Bette Rose Bowers '63
LTC (R) and Mrs. John S. Brannis '77
COL (R) and Mrs. Frank W. Brittain '69
Gordon and Laura Brown '67
Herman and Iris Bulls '78 (P)
Mr. and Mrs. Samuel W. Burkett '81
LTC (R) and Mrs. Jonathan K. Burns '67
BG (R) James L. Carroll AUS '54
COL (R) Leslie D. Carter Jr. '48
Mr. and Mrs. John Cicerelle Jr. '77 (P)
Mr. and Mrs. Thomas H. Claffey '58
COL (R) Daniel D. Clark '62 and Reverend Dr. Janet A. Long
MG (R) and Mrs. William N. Clark AUS '63
Brian and Grace Concannon '79
Mr. Charles J. Conz '80
Lt Col (R) and Mrs. Peyton E. Cook USAF '51
Norm and Linda Cooney '66
Mr. and Mrs. William H. Correia Jr. '66
COL (R) David G. Cotts '59
Mr. and Mrs. David S. Coughlin '71
COL (R) Paul A. Coughlin '51
LTC (R) Bruce M. Cowan '61
COL (R) and Mrs. Gerald E. Cummins Jr. '71
Mr. James M. Cutchin IV '55
COL (R) John F. D'Agostino '78
LTC (R) and Mrs. Jeffrey W. Davis '76
LTC (R) Steven M. Di Silvio '74 and MAJ (R) Elizabeth L. Di Silvio
Mr. and Mrs. Leonard M. Dixon Jr. '73
LTC (R) and Mrs. John J. Dobiac USAR '70
COL (R) and Mrs. Harry J. Dolton Jr. '69
Mr. and Mrs. Patrick R. Donald '71
Ms. Hope B. Donnelly '86
MAJ (R) and Mrs. Mitchell S. Dossett USAR '74
COL (R) and Mrs. William F. Dworsak USAR '62
LTC (R) and Mrs. William Echevarria '57
Mr. and Mrs. Frank J. Eich '72
LTC (R) and Mrs. Keith D. Emberton '80
LTC (R) Bartlett J. Engram Jr. 70
COL (R) and Mrs. Alexander H. Evans '61
COL (R) and Mrs. Daniel M. Evans Jr. '64 (P)
MG (R) and Mrs. John C. Faith '47
MG John G. Ferrari '87
Mr. Robert G. Finkenaur III '83
COL (R) Uldric L. Fiore '73 and Ms. Nancy Colfax (P)
LTC (R) and Mrs. Elliott G. Fishburne III '62 (P)
COL (R) and Mrs. William G. Foster '69
MAJ (R) and Mrs. R. Reed Fraley '68
LTC (R) and Mrs. Thomas R. Frankenfield '71
LTC (R) and Mrs. William F. Freccia '67
Mr. Charles N. French Jr. '48
Mr. and Mrs. Raymond V. Furstenau '78
Mr. and Mrs. John S. Garay '67
COL (R) and Mrs. Richard M. Gilligan Jr. '62
LTC (R) Dennis R. Gilson '64
COL (R) and Mrs. Robert R. Glass II '61
Mr. and Mrs. David T. Gorczynski '83
MG (R) and Mrs. Fred A. Gorden '62
Mr. and Mrs. Stan W. Graff '72
LTC (R) and Mrs. George T. Greenlee USAR '76
Mr. and Mrs. Marc B. Gunnels '77
COL (R) and Mrs. Albert J. Hamilton III '72 (P)
Mr. and Mrs. Steven L. Hanau '66
COL (R) and Mrs. Terry D. Hand '67
COL (R) and Mrs. John H. Hanna '70
COL (R) and Mrs. Dale W. Hansen '68
Mr. and Mrs. Frank M. Harlem Jr. '58
COL (R) and Mrs. William R. Harnagel '60
BG (R) and Mrs. Gilbert S. Harper '70
Mr. and Mrs. Robert W. Hasbrouck Jr. '55
Mr. John P. Hawn '49
Mr. and Mrs. Robert W. Hayes Jr. '75
COL (R) and Mrs. Michael L. Herman AUS '79
COL (R) and Mrs. Thomas A. Herre '62
Ken and Lucy Hicks '74
Mr. and Mrs. David W. Hill '69
Mr. David A. Himes Jr. '69
LTC (R) and Mrs. David G. Hofstetter '69
MAJ (R) Daniel L. Hogan Jr. '84 and MAJ Sandra M. Merolla
Mr. Stephen W. Holderness Jr. '62
Dr. and Mrs. William J. Hopkinson '74
Ellen W. Houlihan '82 and Mr. Glen M. Houlihan
Lt Gen (R) James D. Hughes USAF '46
Lt Col (R) Richard G. Hurlburt USAF '57
Mr. and Mrs. Richard W. Irwin '62
COL (R) and Mrs. Robert N. Jannarone '69
COL (R) and Mrs. Frank B. Janoski '74 (P)
LTC (R) and Mrs. Gerald R. Jilbert '60 (P)
Mr. and Mrs. Mark A. Johnson '85 (P)
COL (R) and Mrs. Max W. Johnson '64 (P)
LTC (R) and Mrs. Don W. Jones '68
Mr. and Mrs. Noel T. Jones '75
COL (R) Raymond D. Jones '83 and Ms. Nancy E. Huth-Jones
LTC (R) John J. Keane Jr. '68
COL (R) and Mrs. Henry C. Keebler III '73
Mr. James F. Keegan '55
LTC (R) and Mrs. George H. Kellenbenz '67
Mr. and Mrs. Chester F. Kempinski '64
MG (R) Richard D. Kenyon '57
Mr. and Mrs. Kevin A. Kimzey '86
Mr. and Mrs. Mark J. Klaiber '77
LTC (R) and Mrs. William A. Knowlton Jr. '70
COL (R) Thomas Lanyi '67
COL (R) and Mrs. Jack A. LeCuyer '66
Ralph and Anita Leonard '52
Honorable Samuel K. Lessey Jr. '45
Mr. and Mrs. Peter B. Lilly '70
Mr. and Mrs. George E. Lonsberry '64
Col (R) and Mrs. Roy H. Lynn Jr. USAF 55
COL (R) and Mrs. William C. Malkemes '70
Mr. and Mrs. Andrew P. Mapes '89
Mr. and Mrs. Toney A. Mathews '68
COL (R) and Mrs. James S. McCallum '66
Mr. and Mrs. George R. McClelland '71
Bob McClure '76
John and Deb McConaghy '71
Secretary and Mrs. Robert A. McDonald '75
COL (R) John F. McFassel '85
LTC (R) and Mrs. Joseph W. McKinney 70
The Reverend and Mrs. Ivan R. Mechtly Jr. '52 (P)
Mr. and Mrs. Steven P. Medaglia '73
MG (R) and Mrs. Henry W. Meetze '55
LTC (R) and Mrs. Bruce F. Miller '63
LTC (R) and Mrs. James F. Miller III '83
COL (R) Scott F. Miller '72
Mr. and Mrs. Terry A. Morford '70
William F. Murdy '64
Mr. and Mrs. James D. Murff '63
LTC (R) and Mrs. Alan B. Nason '66 (P)
COL (R) and Mrs. Glennon E. Nenninger Jr. '65
Mr. and Mrs. Mario A. Nicolais '56
Dick and Marie Nowak '64
Mr. and Mrs. James D. O'Brien '72
Mr. and Mrs. Roy J. O'Connor Jr. '60 (P)
Walter and Francie Oehrlein '65
Mr. and Mrs. Stephen T. Ohotnicky '66
LTC (R) and Mrs. Alan D. Olson '67 (P)
COL (R) and Mrs. Kevin J. O'Neill '59
LTC (R) and Mrs. Robert H. Orr '64
Mrs. Bobbie J. V. Francis '89
Mr. Ronald Paduchak '90 and Mrs. Stephanie E. Paduchak '90
COL (R) and Mrs. Randall M. Pais '67 (P)
Mr. and Mrs. David E. Palamar '82
COL (R) and Mrs. Bruce T. Palmatier '74
Col (R) Michael L. Patrow USMC '68 and LtCol (R) Renee Patrow USMC
LTC (R) and Mrs. Walton E. Pedersen '70
Dr. Jeffrey S. Poulin '82
COL (R) and Mrs. Charles R. Rash '73
Mr. John F. Reilly '58
LTC (R) and Mrs. Stephen D. Rice '71
LTC (R) and Mrs. David O. Rittenhouse '75
Mr. Richard C. Rogers '76
Mr. William D. Rogers '82
COL (R) and Mrs. Thomas B. Russell '59
COL (R) and Mrs. Charles W. Ryder III '70
LTC (R) and Mrs. E. Duston Saunders '72
COL (R) and Mrs. Madison C. Schepps Jr. '55
LTC (R) and Mrs. Andrew G. Schnabel '71
COL (R) and Mrs. Jeffrey L. Schrepple '72
Mr. and Mrs. Brian G. Schultz '61
LTC (R) and Mrs. Karl O. Schwartz '63 (P)
COL (R) John B. Seely '60
Nancy and Pete Selleck '77 (P)
Mr. and Mrs. William A. Serrao Jr. '80
MAJ (R) and Mrs. John D. Simar '72
Mr. and Mrs. Larry D. Smith '62
MAJ (R) Joseph W. Snodgrass '83
Mr. Stephen J. Stefancin III '80
Mr. and Mrs. William N. Sterrett Jr. '72
Mr. John C. Stevenson (P)
Mr. and Mrs. Scott E. Stewart '73
Barbara and Cris Stone '64
COL (R) and Mrs. Robert A. Strati '55
Dr. and Mrs. Robert A. Strong '72
Timothy R. Sweeney '76
Mr. and Mrs. James E. Sweetnam '74
Mr. and Mrs. David E. Symanski '62
LTC (R) and Mrs. Robert W. Szymczak '62
Mr. and Mrs. David Takacs '80
COL (R) and Mrs. Joseph R. Tedeschi '57
Mr. and Mrs. Bryan K. Thomas '84
Mr. and Mrs. Gary H. Thorstens '69
Mr. Michael J. Timlin III '80
LTC (R) and Mrs. Theodore T. Togashi '64
Mr. and Mrs. Richard F. Trabert '58
Bill and Paula Trivette '70 (P)
Mr. and Mrs. Michael R. Van Zetta '73
Mr. and Mrs. Roderic B. Vitty '55
LTC (R) and Mrs. Roderick K. Wade '81
COL (R) and Mrs. Robert J. Walcott Jr. '78 (P)
LTC (R) and Mrs. Wallace W. Ward Sr. '58
CPT (R) and Mrs. Lawrence E. Waters '62
LTC (R) and Mrs. Herbert W. Wells III '74
COL (R) and Mrs. David E. Wheeler '55
Mr. Asher A. Williams Jr. (former '81)
Mr. James A. Willson III '49
LTG (R) and Mrs. Leonard P. Wishart III '57
Michael and Barbara Wynne '66
John and Beverly Young '60
Mr. Allen M. Zick '86 and Dr. Elizabeth O. Zick (P)
Mr. and Mrs. Michael J. Zolidis '70
MG (R) and Mrs. Bruce E. Zukauskas USAR '73
Anonymous (2)
Mrs. Louis E. Abele (W '49)
COL (R) and Mrs. Dale M. Abrahamson '71
MG (R) and Mrs. Lawrence R. Adair '74 (P)
LTC Matthew T. Adamczyk '01
MAJ Eli S. Adams '02
COL Eric R. Adams '00
Mr. Geoffrey R. Adams '95
LTC Jeffrey W. Adams '97
LTC (R) and Mrs. Ronald K. Adams '68 (P)
LTC (R) and Mrs. Joseph A. Adelman '71
CPT Thomas C. Adkins '01
LTC (R) Scott J. Akerley '01 and Dr. Kathryn Delaney
Mr. Robert J. Albert '53
Mr. and Mrs. John P. Alberto
Mr. and Mrs. Michael M. Aldrich '72
Mr. Robert M. White '79 and LTC (R) Donna S. Alesch-White '80
LTC Nathan G. Allard '99
COL James C. Allen '94
Mrs. Sondra O. Allen (W '58)
LTC (R) Dana C. Allmond '94
Col (R) and Mrs. James L. Altemose USAF '68
LTC Luis M. Alvarez '97
COL (R) and Mrs. Anthony Ambrose '68
LTC (R) and Mrs. Russell J. Ames '98
MAJ (R) and Mrs. Peter A. Amico II '76
Mr. Richard W. Anastasi '67
CPT Jonas Anazagasty '02
LTC (R) and Mrs. William S. Anders USAR '77 (P)
Mr. Brad L. Anderson '85
MG (R) and Mrs. Charles A. Anderson '80
Mr. and Mrs. Darcy G. Anderson '78 (P)
Col (R) and Mrs. Darrell L. Anderson USAF '56
Dr. and Mrs. David P. Anderson '71
COL (R) Jeffery A. Anderson 89
Lee and Penny Anderson '61
LTC (R) Merlin F. Anderson '01
LTC (R) Reginald J. Anderson '00 and LTC Temi L. Anderson '00
LTC Spencer M. Anderson '99
LTC (R) Douglas W. Andresen '94
MG (R) and Mrs. Ronald K. Andreson '58
LTC (R) and Mrs. Flynn Andrew '73
Mr. Jakub H. Andrews '99
Mr. and Mrs. William L. Andrews (P)
MAJ Stephen C. Ang '02
LTC (R) Robert R. Angeli '67
COL Aaron Angell '97
LTC (R) and Mrs. David E. Anselmi USAR '77
Mr. and Mrs. Richard D. Anthis '90 (P)
LTC David A. Anthony '97
Mr. and Mrs. Steven C. Anthony '69
LTC (R) and Mrs. Edward J. Apgar '81
COL (R) and Mrs. Bill R. Aquino '78
LTC (R) and Mrs. Stephen A. Arata '79 (P)
LTC and Mrs. Matthew T. Archambault '97
LTC Jimmy Archange '02
COL Robert C. Armstrong '96
MAJ Steven N. Arne '97
LTC (R) David M. Arnold '97
LTC Edward P. Ash '94
MAJ (R) and Mrs. Brian W. Ashbaugh '66
MAJ (R) Randall L. Ashby '01
MAJ Aaron D. Ashley '01
LTC Andrew P. Aswell '02
Mrs. Cindy T. Atkins '95 and LTC Dennis Atkins
COL Gail E. Atkins '95 and CDR David C. Leiker
LTC (R) Christopher S. Auclair '95
COL (R) David E. Aucoin '82 (P)
Dr. and Mrs. Thomas H. Auer (P)
COL (R) and Mrs. William R. Aultman '75
LTC Scotty M. Autin '02 and CPT Barbara M. Antis '02
LTC and Ms. Bowe T. Averill '02
COL Michael S. Avey '98
MAJ Sonny B. Avichal '02
LTC Darby L. Aviles '00
MAJ Lance D. Awbrey '99
Mr. and Mrs. Adolfo M. Ayala (P)
LTC Nicholas E. Ayers '97
COL (R) and Mrs. Richard R. Babbitt '73 (P)
COL and Mrs. Thomas A. Babbitt '99
LTC (R) and Mrs. Gregory M. Babitz USAR '68
COL (R) and Mrs. William A. Bachman MAANG '68
LTC (R) and Mrs. Alan J. Bacon '73
LTC (R) and Mrs. Chad A. Bagley '95 (P)
LTC (R) Michael D. Bagully '96
LTC (R) Vincent P. Bailey '52
LTC Michael B. Baka '98 and Mrs. Catherine M. Baka '99
LTC Jonathan D. Baker '01
LTC Michael A. Baker '97
LTC Miles A. Baker '02
LTC (R) Rodney S. Baker '97
LTC (R) Troy R. Baker '95
MAJ Peter C. Bakke '02
Mr. and Mrs. David P. Balcom '01
COL Richard R. Balestri '97
LTG (R) and Mrs. John L. Ballantyne III '54
COL Julie A. Balten '97
LTC (R) Robert M. Bankey '77
LTC (R) David A. Barber '98
COL (R) and Mrs. Paul F. Barber '65 (P)
Mr. and Mrs. William T. Barnett '51
COL (R) and Mrs. Max R. Barron '63
Mr. and Mrs. Kevin J. Barry (P)
LTC (R) V. Willam Barta '58
BG and Mrs. James B. Bartholomees III '95
LTC (R) and Mrs. Robert E. Bassler III '74
LTC Timothy S. Batig '01
COL and Mrs. Shawn M. Bault '99 (P)
Mr. Gene C. Baumberger '72
LTC (R) Ricardo A. Bautista '95
Mr. James L. Beard (P)
COL (R) and Mrs. Louin L. Beard '59
LTC (R) and Mrs. Norman E. Beatty '63 (P)
COL (R) and Mrs. Paul S. Beaty '73
COL (R) Slade H. Beaudoin '95
Mr. and Mrs. James L. Becker '80
MAJ Ralph L. Becki '00
COL (R) and Mrs. Gary D. Beech '59 (P)
LTC Kris M. Beers '95
Mr. and Mrs. Thomas A. Beierschmitt '68 (P)
Dr. Arleigh T. Bell Jr. '59
COL and Mrs. Jeremy D. Bell '97
Mrs. Melissa A. Bell '97 and LTC Joseph C. Bell '02
Mr. Jonathan T. Belmont '99
Scott Belveal '92 and Carolyn Belveal '93
LTC Christina A. Bembenek '00
LTG (R) and Mrs. Dennis L. Benchoff '62 (P)
Bill and Barbara Benedict '71 (P)
LTC Matthew C. Benigni '98
LTC Daniel K. Benson '99
COL Michael J. Benson '94
MAJ Michael A. Berdy '97
LTC (R) Michael D. Berendt '78 and Ms. Joan Sgaggio
LTC (R) and Mrs. Steve D. Berlin '97
LTC (R) and Mrs. Howard E. Berner Jr. '74
COL and Mrs. Joshua F. Berry '98
LTC David M. Beskow '01
MAJ Jay A. Bessey '02
Mr. John W. Bethke
BG (R) and Mrs. Lance A. Betros '77 (P)
COL (R) and Mrs. William R. Betson '74 (P)
Brig Gen (R) Richard S. Beyea Jr. USAF '58
Mr. and Mrs. Benjamin Bezkorowajny
Mr. Anthony Bibbo '84
Mr. Mark R. Biehl '94
LTC (R) Bradford D. Bigler USAR '99
LTC Jason D. Billington '00
Mr. Elliott J. Bird '99
COL Michael J. Birmingham '94
Mr. and Mrs. James C. Bishop Jr. '58
COL and Mrs. Eric R. Bjorklund '97
Dr. and Mrs. Clifford P. Black Jr. '72
LTC Richard A. Blackburn '98
COL and Mrs. Daniel D. Blackmon '97 (P)
LTC (R) and Mrs. T. James Blake '69
COL (R) Don B. Blakeslee '70 and Dr. Betsey Blakeslee PhD
COL (R) and Mrs. David G. Blanchard '67
Mr. Mark A. Bliss '95
LTC (R) Timothy D. Bloechl '79 and Mrs. Cathy Crawley
LTC (R) Matthew L. Blome '97
MAJ Craig A. Blow '99
LTC (R) Jeremy S. Boardman '00
Mr. and Mrs. Patrick Boccio
Dr. David L. Bodde '65
CPT Benjamin C. Boekestein '02
Dr. Terrence D. Bogard (former '69) and Dr. Ann L. Bogard
LTC and Mrs. Bryan M. Bogardus '00
LTC Joshua R. Bookout '98 and Mrs. Beth A. Bookout '00
MAJ Benjamin D. Boring '01
LTC (R) and Mrs. Bruce K. Bornick '79
Mr. and Mrs. Gregory F. Boron '74
COL Kevin D. Bouren '97
Mr. and Mrs. David W. Bourland '58
Mr. and Mrs. Merwyn C. Bowdish (P)
LTC (R) and Mrs. Calvert L. Bowen III '87
Mr. and Mrs. Timothy V. Bowler '91 (P)
Dr. and Mrs. Douglas R. Bowman '78
Dr. and Mrs. Greg A. Bowman '72
Mr. Jeffrey Boyajian
COL Adam J. Boyd '94
Mr. Andrew Boyd (P)
Col (R) and Mrs. Thomas E. Boytim USAF '70 (P)
Mr. and Mrs. Paul R. Bozek '79
LTC (R) Jeffrey A. Bradford '87
LTC (R) Kenneth P. Bradley '98
LTC Edward A. Brady '95
Mr. Matthew F. Brady '99
COL (R) and Mrs. Robert C. Brand '70 (P)
MAJ Jeffrey T. Braun '99
Mr. and Mrs. Peter E. Braun '66
MAJ Christopher E. Brawley '02
Mr. and Mrs. Jeffrey P. Bray '92
Mr. Matthew A. Breitbach '99
COL (R) and Mrs. Daniel L. Breitenbach '72
MAJ (R) and Mrs. Ambrose W. Brennan '60
LTC (R) Jennifer A. Brewer '95
LTC Ramon Brigantti '01
MAJ Francis G. Brink III '02
LTC Kirk E. Brinker '98
LTC (R) Jason M. Brizek '94
Mr. and Mrs. James D. Brock '87
LTC Jarett D. Broemmel '95
MAJ (R) and Mrs. Scott A. Bronikowski '99
MAJ (R) George L. Brooks III '97
COL (R) and Mrs. Johnny W. Brooks '71 (P)
LTC (R) Glenn J. Broussard '70
COL Andrew R. Brown '98
Mr. and Mrs. Anthony G. Brown
COL (R) and Mrs. David W. Brown '80
Dr. Douglas M. Brown '76 and Ms. Lynn M. Padgett Brown
COL (R) and Mrs. Edward A. Brown III '61
LTC Jason C. Brown '00
LTC (R) Jason S. Brown '97
COL (R) and Mrs. Keirn C. Brown Jr. '69
COL (R) and Mrs. Lloyd K. Brown '65
COL Matthew W. Brown '97
MAJ Phillip B. Brown '98
Mr. Shelby H. Brown
Mr. Willard D. Brown III '70
Mr. and Mrs. William M. Brown '68
LTC James D. Browne Jr. '02
Mr. Harris J. Brumer '97
Dr. and Mrs. Jon H. Brundage '78
COL Corey A. Brunkow '97
MAJ (R) Charles E. Bryant '95
Mr. Michael E. Bryson '83 and Mrs. Leslie L. Bryson '84
LTC Diosabelle T. Buack '01
LTC Boyce R. Buckner '01
Mr. William C. Buckner '48
LTC and Mrs. Kevin P. Buettner '99 (P)
COL and Mrs. Alexander L. Bullock '97
LTC Joshua M. Bundt '00
Mr. and Mrs. Russell T. Bundy (P)
MG (R) Robert M. Bunker '58
LTC (R) Dale W. Burbank '95
Mr. Gerald A. Burgess '69
COL (R) and Mrs. William M. Burke Jr. '57
COL Christopher A. Burns '94
COL (R) and Mrs. Ralph R. Burr Jr. '62
1LT (R) Jake S. Bursack '99 and Mrs. Kimberly A. Bursack '99
Mr. Dale M. Busic '85
LTC Craig W. Butera '99
Jack and Bonnie Buttine '72
LTC Christopher J. Byrd '97 and Mrs. Patricia A. Byrd '97
MAJ Jonathan C. Byrom '95
LTC Curtis L. Byron '01 and LTC Michelle A. Byron '01
COL (R) Robin R. Cababa '69 and Ms. Claudia M. Akroyd
Mr. Thomas R. Cafaro '71 and Ms. Sandra Pogue
Mr. and Mrs. Dennis P. Caflin (P)
Mr. Konrad L. Cailteux '77
COL Jason C. Caldwell '95
Mr. James J. Cameron '95
Mr. and Mrs. Michael L. Camire (P)
Mr. Bryan W. Campbell '99
Mr. and Mrs. Michael T. Campbell '66
LTC (R) and Mrs. Gregory V. Campion '99
CPT Adam M. Cannon '02
LTC Melissa M. Cantwell '02
CPT Raymond C. Canzonier '02
Mr. and Mrs. John A. Capelli '80
Mr. David J. and Mrs. Gail H. Capp '79
CPT William D. Capps '02
COL Kevin S. Capra '95 and Mrs. Molly C. Capra '96
COL (R) Paul R. Capstick '80
COL (R) and Mrs. Eduardo Cardenas '76
BG (R) and Mrs. Richard G. Cardillo '55
Mr. and Mrs. Rodney D. Cariker '76
Mr. John M. Carreiro '95
COL (R) and Mrs. Bruce M. Carswell '49
Mr. and Mrs. Jerome N. Carter '71
COL and Mrs. Thomas E. Cartledge Jr. '86
Lisa and Chris Casciato '80
MAJ (R) and Mrs. Michael P. Castelli '78 (P)
Mr. and Mrs. Peter L. Casterline '02
Mr. and Mrs. Anthony W. Castile '83
COL Larry D. Caswell Jr. '99
Mr. and Mrs. William E. Cates '67
Mr. and Mrs. Robert W. Catlin Jr. '66
MAJ Brandon C. Cave '01
Mr. Ronald C. Celeste Jr. '84 (P)
Robert A. Cenci '67
LTC Chad C. Chalfont '95
LTC Faith Chamberlain '99
Mr. Mark A. Chandler '99
LTC (R) and Mrs. Geoffrey B. Charest '70
COL (R) and Mrs. Emery J. Chase Jr. '65 (P)
LTC and Mrs. Dallas Q. Cheatham '01
MAJ Richard T. Chen '01
LTC Steven C. Chetcuti '02 and MAJ Monique M. Chetcuti '03
LTC Christa M. Chewar '95
Mr. and Mrs. Anthony J. Chiappinelli (P)
MAJ (R) Matthew W. Childers '00
COL Bryan J. Chivers '97 and LTC Alicia M. Chivers USAR '97
COL Fredrick S. Choi '86
LTC (R) Steve C. Chong '94
Dr. and Mrs. John G. Christie '66 (P)
LTG (R) Daniel W. and Susan B. Christman '65
MAJ (R) Michael V. Ciaramella '96
MAJ John J. Ciccarello '98
Mr. and Mrs. David J. Clappier '68
Honorable and Mrs. Allen B. Clark Jr. '63
Mr. and Mrs. Andrew Clark (P)
LTC and Mrs. Anthony W. Clark '02
COL and Mrs. Jason P. Clark '97
COL Nicholas J. Clark '02
LTC (R) and Mrs. Thomas D. Clark '94
COL (R) and Mrs. Bruce B. Clarke '65
MAJ (R) Timothy M. Clauss '99 and LTC Nancy E. Clauss '01
COL (R) Perry R. Clawson USAR '80
MAJ (R) Ian R. Claxton '99
Mr. Alan B. Clay '72 and Ms. Alice Forgety
CPT James D. Clay Jr. '02
COL (R) and Mrs. John H. Claybrook '52
Mr. Tommy J. Clement '97
COL (R) and Mrs. George P. Coan Jr. '69
Mr. and Mrs. Charles E. Cobb '74
LTC Frankie C. Cochiaosue '99
Dr. and Mrs. Michael F. Cochrane '79 (P)
COL (R) and Mrs. Michael F. Colacicco '69 (P)
COL Faren R. Cole '94
COL Kenneth C. Cole '94
MAJ Matthew J. Cole '01 and Mrs. Elizabeth A. Cole '01
LTC (R) Paul B. Cole IV '97
LTC (R) Steven R. Cole '95
Dr. and Mrs. Craig E. College '78 (P)
Mr. Robert K. Colville
Ms. Kathleen Comtois
COL Jason W. Condrey '97
LTC Nathaniel F. Conkey '00 and COL Kate Conkey
Mr. and Mrs. John R. Conklin '56
LTC Christopher F. Conley '98
Mr. Kevin G. Conlon '81
Mr. Brendan J. Connelly
Mr. Mark Connors '83 and Mrs. Cheryl Z. Connors '83 (P)
COL (R) and Mrs. Roger F. Conover '48
LTC Aaron K. Coombs '97
COL (R) and Mrs. John B. Copley '68
LTC Jose A. Cora '95
MAJ and Mrs. James C. Corbett '01
COL (R) and Mrs. John F. Corbett Jr. '72
Mr. and Mrs. Robert A. Corbett
MAJ Daniel V. Cordaro '99
Mr. Ernest L. Cornell '79
LTC and Mrs. Ernesto A. Cortez '95
COL (R) Thomas E. Courant '52
Mr. Mike T. Cowperthwait '96
Mr. and Mrs. Francis M. Cox III
LTC Matthew D. Cox '01
CPT David F. Coy '97
COL Richard R. Coyle '95
Mrs. Evelyn Crane (P)
Mr. and Mrs. Mark V. Crane '84
LTC (R) Jesse A. Crispino '95
COL Robert E. Croft '96
CPT (R) and Mrs. Donald R. Crosby '69
LTC (R) and Mrs. Chet H. Cross USAR '80
Mr. and Mrs. Roger W. Cross III '70
MAJ Ryan A. Cryer '02
COL Patrick J. Culpepper '00
MAJ (R) Clint H. Cunningham '99
LTC and Mrs. John D. Cunningham '02
Mr. Steven B. Cunningham '98
COL Jason A. Curl '95
Mr. and Mrs. Paul R. Cusack '90
LTC Isaac V. Cuthbertson '02
LTC (R) and Mrs. Michael P. Cyr '84
Mr. and Mrs. Vincent G. Czachorowski
COL Matthew F. Dabkowski '97
Mr. and Mrs. Clark B. Daggett
LTC Jody J. Daigle '02
LTC (R) and Mrs. Grover H. Dailey Jr. '73
LTC Joshua P. Dailey '02
Mr. and Mrs. Bret G. Dalton '80
Gen (R) James E. Dalton USAF '54
COL William R. Daniel II '97
CPT Kirk J. Daniels Jr. '02
LTC Joseph V. DaSilva '02
MAJ Brian M. Davis '97 and LTC (R) Ronnie Park '97
MAJ Heyward H. Davis '99
MAJ Kenneth V. Davis Jr. '02
MAJ (R) and Ms. Kyle A. Davis '00
LTC Christopher P. Dean '02
LTC Ashok K. Deb '01
COL James DeBoer V '96
LTG (R) and Mrs. Joseph E. DeFrancisco '65 (P)
COL Joseph S. Degliuomini '95
COL (R) William B. DeGraf '50
LTC Keith W. DeGregory '97
COL Damon A. Delarosa '98
Mr. and Mrs. Jack De Leon Jr. '79
Mr. John S. DeLong Jr. '99
LTC (R) Suzanne M. Oldenburg-DeLong '90 and LTC Vaugh D. DeLong '94
COL (R) and Mrs. Anthony P. Deluca '53
LTC Richard K. Dembowski III '96
LTC (R) and Mrs. Christopher J. DeMure '00
LTC (R) Richard H. St. Denis '70
Mr. and Mrs. J. M. Denning '92
Mr. Richard A. Dennis '95
Dr. and Mrs. John R. Denton Jr. '60
LTC Travis P. Dettmer '00
LTC Thomas M. Deveans '97 and MAJ JoAnna L. Reynolds '97
Mr. John L. DeWitt III '60
COL and Mrs. Michael G. Dhunjishah '95
LTC (R) Gary F. Di Gesu '80
MAJ Andrew J. Dial '01
MAJ (R) and Mrs. David L. Diedrich '76
LTC Christian N. Dietz P.E. '01
Mr. and Mrs. Garrett L. Dietz '73
LTC (R) Abrahm C. DiMarco '95
LTC (R) Jeffrey P. DiMarzio '99
MAJ (R) and Mrs. Paul B. Dinardo '81
Mrs. Marjorie Sue Dinges Burpo (W '53)
Mr. and Mrs. Allen D. Dingman (P)
Mr. and Mrs. John A. DiNome '81
Mr. Philip DiNonno
Mr. and Mrs. Phillip J. DiRuocco
COL (R) and Mrs. Philip J. DiSalvo '79
Ross and Chris Docksey '73
Mr. and Mrs. Christopher L. Dodd '95
Mr. Michael K. Dodson '83
Mr. Thomas E. Dolan
Mr. John B. Dollison '79
LTC Agustin E. Dominguez '02
Mr. and Mrs. Robert Dondero (P)
LTC and Mrs. Tyler R. Donnell '02
Mr. and Mrs. John R. Dorris Jr. '87
LTC Wilson L. Dos Santos '02
LTC (R) and Mrs. Francis L. Dougherty '73
Mr. and Mrs. Robert C. Dowd
LTC and Mrs. Thomas C. Dowd '01
Dr. and Mrs. R. Michael Dowe Jr. '50 (P)
Mr. and Mrs. Patrick J. Downes (P)
COL (R) Arthur J. Downey Jr. '61
Mr. and Mrs. William J. Doyle III '85 (P)
LTC (R) and Mrs. Joseph J. Drach Jr. '72
COL and Mrs. Jonathan T. Drake '99
Mr. William Dringus
LTG (R) and Mrs. John A. Dubia '66
LTC (R) and Mrs. Joseph J. Duda '78 (P)
Mr. Andrew J. Duffy '79
LTC Brian E. Dugan '97
Mr. Brian W. Dunbar
MAJ Nickolas A. Duncan '02 and CPT Stacey L. Duncan '03
LTC (R) Scott W. Dunkle '01
LTC Jose D. Durbin '99
LTC Justin A. Duvall '01
Mr. and Mrs. David H. Dvergsten '70
CPT (R) Edward J. Dyke III '89
COL John R. Dyke '95
COL (R) and Mrs. Gregory J. Dyson '76
Mr. and Mrs. Joseph W. Dzwilefsky (P)
LTC (R) Brian R. Easley '99
LTC Jeremy W. Easley '01
LTC Joshua A. Eaton '02
LTC (R) James T. Edwards Jr. '00
COL (R) and Mrs. Rudy H. Ehrenberg Jr. '63 (P)
Robert E. Eisiminger '88
LTC (R) and Mrs. Thomas I. Eisiminger Jr. '84 (P)
COL and Mrs. James T. Eldridge IV '98
COL (R) and Mrs. Andrew G. Ellis '74
LTC (R) and Mrs. Michael L. Emerick '63
LTC (R) Brad W. Endres '95
Mr. and Mrs. Richard W. Enners '71
LTC James R. Enos '00
Mr. and Mrs. Stephen B. Epling '84
Mr. and Mrs. Bradley J. Erbes '73
CPT Donald B. Erickson '02 and CPT Kristine L. Conner '02
MAJ and Mrs. Neal R. Erickson '02
Dr. and Mrs. Stanley Erney (P)
Mr. and Mrs. Treavor K. Erney '89
Mr. and Mrs. Roger B. Etherington
LTC and Mrs. Peter M. Everett USAR '85
LTC (R) and Mrs. Richard J. Everson '81
COL and Mrs. Joseph M. Ewers '97
LTC and Mrs. Peter R. Exline '01
LTC (R) and Mrs. Henry F. Faery Jr. '60
CPT Margaret M. Fahy '00
COL Frank J. Fair '99
COL Stephen A. Fairless '97
Mr. Peter A. Falzarano
LTC and Mrs. Matthew N. Fandre '97
LTC Andrew G. Farina '01
MAJ Brett A. Farmer '01
LTC (R) Gregory A. Fend '99 and Dr. Laura Dawson-Fend
Mrs. Laura L. Fenoseff '93 and LTC (R) Thomas B. Fenoseff '95
Mr. David P. Ferguson '90
LTC Benjamin J. H. Fernandes '99
Dr. and Mrs. Arnold A. Ferrando '78
LTC Garret D. Fett '02
Mr. Anthony M. Fields Jr. '99
Mr. Michael L. Figliuolo '93
Mr. James H. Finan (P)
LTC James C. Finocchiaro '99
Mr. William A. Fio Rito '53 (P)
LTC Anthony J. Fiore '85
LTC (R) Nicole E. Fischer '99
LTC (R) and Mrs. Thomas C. Fiser '75
Mr. and Mrs. Jeffery Fisher
Mr. and Mrs. Raymond W. Fisher '59
Dr. and Mrs. Joseph B. FitzHarris '73 (P)
Kenneth P. Fleischer '81 and Catherine Ferrara
LTC Douglas M. Fletcher '97
LTC (R) Tevina M. Flood '97 and MAJ Joseph T. Flood
COL Andrew D. Flor '97
LTC Juddson C. Floris '99
LTC Stanley Florkowski III '99
COL (R) James and Dr. Twila Floyd '71
COL Michael C. Flynn '00 and MAJ Phoebe E. Flynn '00
MAJ Patrick I. Flynn '02
Mr. and Mrs. Timothy J. Flynn '85 (P)
BG and Mrs. David C. Foley '94
COL (R) and Mrs. Thomas R. Folk USAR '72
MAJ Sarah L. Forster '02
COL Chad R. Foster '98 and COL Khanh T. Diep '99
COL (R) and Mrs. Thomas G. Foster III '51
LTC (R) Jordan M. Francis '00
Mr. and Mrs. Paul F. Franke '70
MAJ Nicholas C. Franklin '02
GEN (R) and Mrs. Frederick M. Franks Jr. '59
Dr. and Mrs. Harvey R. Fraser Jr. '64
LTC (R) Adam B. Frederick '97
COL Will B. Freds '97
LTC (R) David E. Freshwater '79
Mr. and Mrs. Roger H. Freudeman
COL (R) and Mrs. Louis C. Friedersdorff Jr. '53
Mrs. Candace Friedman (W 52)
COL Candice E. Frost '98 and CW3 Todd Gage
Col (R) and Mrs. Stephen J. Frushour USAF '68
Mr. and Mrs. Jeff B. Fuchs '88
Mr. and Mrs. James L. Fuehrmeyer Jr. '73
MAJ Douglas K. Fullerton '01
LTC (R) David A. Fulton '01
BG and Mrs. Brett T. Funck '94
COL and Mrs. Joseph A. Funderburke '95
MAJ Reid E. Furman '00
COL (R) and Mrs. Howard M. Gabbert II '54
COL Michael P. Gabel '90
LTC Marc P. Gaguzis '98
Mrs. Marilen S. Galacio (P)
COL (R) Steven E. Galing '80
Mr. Scott T. Gallagher
COL (R) William J. Gallagher '81
LTC Andrew A. Gallo '00
Mr. and Mrs. Jeffrey R. Galloway '94
LTC (R) Jason J. Galui '00
COL (R) and Mrs. Eugene G. Galvin (P)
Mr. Thomas J. Gandolfo '73
Mr. and Mrs. James M. Gardner
Mr. and Mrs. Royal R. Garms '65
COL and Mrs. Randy Garver (P)
Mr. and Mrs. David R. Gass '70
LTC Timothy D. Gatlin '99
MAJ Benjamin T. Gatzke '99
COL Joseph R. Geary '98
Mr. Mark T. Germano '97
MAJ Edward O. Ghelardini '02
Dr. Mark Gibbons '86 and Dr. Janice Gibbons
Mr. and Mrs. Lee F. Gibson '97
LTC and Mrs. James H. Gifford '01 (P)
LTC (R) and Mrs. Todd A. Gile '86
BG Clair A. Gill '94 and Dr. Fran Gill
COL John B. Gilliam '00 and LTC Erin K. Gilliam '01
Mr. and Mrs. Michael C. Gillo (P)
MAJ Nathan D. Ginos '98
MAJ Jeremiah A. Gipson '02
LTC (R) and Mrs. Mark R. Girolamo USAR '75
COL and Mrs. Nicholas H. Gist '94 (P)
BG (R) Robert A. Glacel '69 and Dr. Barbara Glacel
Mr. and Mrs. Sean M. Gladieux '93
Jodie and Sandy Glore '69
MAJ James T. Golby '01
COL (R) and Mrs. William L. Golden '57
MAJ (R) Augustine C. Gonzales Jr. '99
BG (R) and Mrs. John A. Goodale '80
LTC (R) Eugene K. Goodell '61
Mr. John T. Goodrich '99
Mr. and Mrs. William E. Goodrich '73
MAJ Derrick L. Goodwin '01
LTC (R) and Mrs. Mike D. Goodwin '80
COL (R) and Mrs. Thomas R. Gordon '61 (P)
LTC Richard E. Gorini '99
Mr. and Mrs. Alex Gorsky '82
Mr. Neal H. Gouck '98
LTC Katherine M. Gowel '99 and MAJ John J. Gowel '99
Mr. and Mrs. Ramon R. Grado Jr. '78 (P)
LTC Andrew R. Graham '97
LTC and Mrs. Douglas M. Graham '01
LTC Jessica E. Grassetti '01
LTC (R) Steven C. Gravlin '77
LTC Matthew A. Greb '02
LTC Thomas M. Greco '95
Dr. and Mrs. Andrew J. Green '74
COL Michael H. Greenberg '95
MAJ William F. Greene
LTC Eugene J. Gregory III '95
LTC and Mrs. Michael R. Greifenstein '02
COL Jason P. Gresh '97
COL (R) Jeffrey S. Gribschaw '95
LTC (R) Melissa A. Grider '99
BG (R) and Mrs. Robert F. Griffin '67
MAJ and Mrs. William J. Griffith IV '00
LTC Adam M. Grim '00
LTC (R) Marcus W. Grimes '97
LTG (R) and Mrs. William T. Grisoli '76
Mr. and Mrs. John F. Grisoni Jr. (former '61)
LTC (R) and Mrs. Brian Grosner '74
BG (R) and Mrs. John H. Grubbs '64
COL (R) Albert P. Grupper
LTC Jonathan D. Guinn '01
LTC (R) and Mrs. Jack G. Gulden '75
Mr. Michael J. Gunther '02
Mr. and Mrs. Maurice J. Gustin '71
Tony and Michelle Guzzi '86 (P)
MAJ Kevin L. Hadley '02 and Mrs. Kimberly J. Hadley '02
Mr. Samuel J. Hagadorn '94
MG (R) Craig A. Hagan '60
LTG (R) and Mrs. Franklin L. Hagenbeck '71
Mr. and Mrs. Donald W. Hahn
Mr. Gary R. Hall '73
LTC John F. Hall '95
Mr. and Mrs. Leland W. Hall '72
LTC (R) Stephen M. Hall '98
COL Brian P. Hallberg '99 and MAJ Sara M. Hallberg '99
LTC (R) John F. Halstead '73
LTC (R) and Mrs. Robert B. Hamilton '61
COL and Ms. Stephen S. Hamilton '98
COL Alan M. Hammons '99
COL (R) and Mrs. Scott E. Hampton '82
MAJ Pierre N. S. Han '02
MAJ (R) and Mrs. Shepherd N. Han '97
Mr. and Mrs. Thomas U. Hannigan '70
CPT Ryan P. Hanrahan '01
Mr. Brian M. Hansen '98
COL Andrew S. Hanson '94
LTC (R) and Mrs. Stephen A. Hanson '76
LTC Michael A. Harding '97
COL (R) and Mrs. James J. Harmon '61
LTC (R) and Mrs. James S. Harrington '62
COL (R) and Mrs. John B. Harrington '65
Mr. Curtis A. Harris '78
Mr. and Mrs. Jay A. Harris '80
LTC Joseph M. Harrison '01
COL (R) Brian J. Harthorn '94
MAJ (R) and Mrs. Gerhard B. Hartig '77
Mr. and Mrs. Ralph J. Harting Jr. (P)
BG (R) and Mrs. Clarence B. Hartman NYG '64
LTC Michael J. Harvey '97
LTC Keith A. Haskin '01
LTC Ronald C. Hasz '95
LTG (R) and Mrs. Henry J. Hatch '57
LTC Brandon H. Havron '95
LTC Jeffrey D. Hay '01
COL Marcus C. Hay '98
Mr. and Mrs. Brandon C. Hayes '92
COL (R) James P. Hayes '70
COL (R) and Mrs. Guy H. Heath Jr. '59
Maj (R) Robert L. Heaton USAF '70 and MSG Deborah L. Heaton
Mr. and Mrs. Wayne E. Heaton '84
Mr. and Mrs. Ronald J. Hebert '69
Mark W. Hebrank '76
Doug and Pat Heckman '81 (P)
SMSgt (R) and Mrs. Erwin M. Hein Jr. USAF
LTC and Mrs. Wayne C. Heinold Jr. '02
Mr. and Mrs. John E. Heller Jr. '84
COL (R) Josh W. Helms '97
LTC and Mrs. Patrick T. Hemmer '99
Mr. and Mrs. Sherman W. Henderson '89
LTC (R) and Mrs. Thomas L. Hendrix '72
COL (R) John R. Hendry 50
Mr. and Mrs. Matthew P. Hennigan '96 (P)
LTC (R) and Mrs. Joseph R. Henry '68
LTC David W. Hensel '01
COL Bart G. Hensler '97
LTC (R) and Mrs. William R. Hensley Jr. '86 (P)
LTC Adam D. Heppe '02
LTC and Mrs. Michael S. Hequembourg '00
MAJ (R) Douglas E. Herr '80 and COL (R) Jane F. Malsizewski
COL (R) and Mrs. John D. Herren '58
Mr. and Mrs. Glen W. Herrick '85
LTC and Mrs. Douglas C. Hess '99
COL and Mrs. Dustin G. Heumphreus '99
COL (R) and Mrs. John J. Hickey Jr. '62
MAJ and Mrs. Jeffery C. Higgins '02
COL Joshua P. Higgins '95
LTC Justin L. Highley '95
LTC (R) and Mrs. Jeffrey S. Hill '75
Mr. and Mrs. James H. Hillebrand '69
BG and Mrs. Andrew C. Hilmes '95
LTC Robert E. Hilton '01
COL (R) and Mrs. Richard A. Hoefert '75
COL Russell V. Hoff '97
Mr. and Mrs. David C. Hoffman '81 (P)
COL (R) and Mrs. Hugh F. T. Hoffman III '73
COL (R) and Mrs. Martin J. Holland '87
Mr. and Mrs. Richard Holliday
MAJ Jonathan T. Holm '02
Mr. and Mrs. Phillip L. Holst (P)
MAJ and Ms. Dale J. Hommerding '02
LTC (R) and Mrs. Samuel C. Homsy '87
LTC (R) and Mrs. David A. Hoopengardner '76
LTC (R) Roger L. Hoopengardner '69
Mr. and Mrs. Robert E. Hoopes '75
LTC (R) and Mrs. William G. Hoover Jr. '79
LTC (R) and Mrs. Gerald J. Hopkins '80 (P)
COL John C. Hopkins '95
Mr. and Mrs. Thomas H. Hopkins
Dutch and Megan Hostler '68 (P)
COL (R) and Mrs. John C. House '60
COL James C. Howell '02
LTC Christopher L. Howsden '96
MG Heidi J. Hoyle-Cleotelis '94 and Mr. Demetrious Cleotelis
LTC (R) Nathan M. Hubbard '99
Mr. David A. Huchital
LTC Samuel H. Huddleston '98
LTC David M. Hudson '99
LTC (R) and Mrs. John H. Hug '75
Mr. Samuel J. Hughes III '74
COL Timothy D. Hummel '96
LTC (R) Guy C. Huntsinger '97
Mr. and Mrs. David E. Hurley '65 (P)
LTC Jeremiah C. Hurley '02 and CPT Dawn M. Hurley '02
MAJ Donnie J. Hurt '01
COL (R) and Mrs. David S. Hutchison '71
LTC (R) Daniel P. Huynh '99
COL (R) Robert D. Impellizzeri '74
COL Kirk A. Ingold '96
CPT Nathan T. Isaac '02
MG (R) and Mrs. Robert R. Ivany '69 (P)
COL (R) and Mrs. John K. Jaccard '70
LTC Steven E. Jackowski '02
MG (R) Jeffrey A. Jacobs USAR '79
MAJ and Mrs. Benjamin D. Jahn '02
LTC Kevin L. James '99 and LTC Jennifer L. Gurski MD '01
COL (R) and Mrs. Stover S. James Jr. '76
Mr. and Mrs. Antonio R. Janairo '64
Col (R) and Mrs. Jerome T. Janicke USAF '62
BG Ryan M. Janovic '93
LTC Karl D. Jansen '97
Mr. Andrew J. Jaskolski '99
MAJ Adrian F. Jasso '01
LTC (R) and Mrs. John J. Java Jr. '61
Mr. Eric J. Jensen '71
COL (R) David G. Jesmer Jr. '80
LTC (R) Matthew and Dr. Michelle Jesop '95
COL Kyle F. Jette '94
Dr. and Mrs. Thomas K. Jewell '68
LTC Arthur E. Jimenez '01
COL Biji T. John '02
COL (R) and Mrs. Bradley J. Johnson '58
LTC Christopher M. Johnson '01
LTC (R) Dan A. Johnson '79
CPT Hiram R. Johnson '02
COL (R) James M. Johnson 69
Lynn and Charleen Johnson (P)
LTC (R) Matthew K. Johnson '97
LTC (R) James E. Johnston '73 and Dr. Susan Tendy
MAJ Jonathan J. Johnston 99
Ed and Jerry Jones '61
Mr. and Mrs. Richard Q. Jones (P)
COL (R) Steven K. Jones '94
Mr. and Mrs. Michael J. Joyce
Mr. Jong H. Jun '95
LTC Kenton E. Justice '02
LTC (R) Jeffrey C. Kacala '98
Mr. and Mrs. Michael A. Kachure '93
LTC Theodore J. Kaiser '97
COL and Mrs. Jason R. Kalainoff '94
LTC (R) and Mrs. Aaron E. Kalloch '90
LTC (R) David J. Kammen '89 and LTC (R) Peggy M. Kammen
COL (R) and Mrs. Robert P. Kane Jr. '73 (P)
LTC King Y. Kao '94
COL (R) and Mrs. John A. Kardos '79
COL (R) Thomas W. Karr '63
COL (R) Donald Karrer '62
Mr. Jeffrey J. Karsonovich '85
MAJ Jeremy R. Kasper '01
LTC and Ms. Joel R. Kassulke '02
MAJ Patricia N. Kast '02 and LCDR Patrick Minshew
LTC Scott M. Katalenich '02
LTC (R) Sung K. Kato '97
Mr. Laurence B. Katz and Ms. Natalie H. Brooks
LTC Peter J. Katzfey '01
COL Aaron J. Kaufman '00
Kevin and Jessica Kearns '91
LTC (R) James P. Keating 91
COL William R. Keating '97
COL (R) and Mrs. Robert J. Kee '61
LTC Daniel A. Keener '01
Mr. and Mrs. Lyle J. Kellman '82
BG Jason E. Kelly '94
Lt Col (R) Thomas J. Kelly USAF '65
LTC (R) and Mrs. Matthew J. Kemkes '97
LTC (R) James D. Kemter '97
Mr. and Mrs. Daniel P. Kennedy '90
LTC (R) and Mrs. Dennis R. Kennedy '76
COL Joshua C. Kennedy '97
MAJ Walter E. Kent III '97
COL Kevin H. Kerby '95
Mr. and Mrs. Paul Kerwin
COL Matthew F. Ketchum '95 and Mrs. Heidi A. Ketchum '95
MAJ Ryan D. Keys '98
LTC Jennifer S. Kicker '01
COL (R) and Mrs. John A. Kidder '72
MAJ Michael J. Kilbourne '00
COL Thomas J. Kilbride '02
Mr. Richard K. Kildow '88
Mr. and Mrs. Charles W. Kilgore II '76
Caren and Thomas Kilgore '80
Mr. John J. Kilkenny '61 (P)
LTC Peter G. Kilner '90 and Mrs. Catherine C. Kilner '90 (P)
MAJ Joseph Kim '98
Mr. Matthew Y. Kim '01
LTC (R) Jeffrey L. Kimball '69
COL (R) Raymond A. Kimball '95 and COL Mindy A. Kimball '96
Mr. and Mrs. L. Dean Kimbrell (P)
LTC James M. Kimbrough IV '95
MAJ Marvin L. King III '97
LTC and Mrs. Milton L. Kinslow '95
COL (R) and Mrs. Jason A. Kirk '93
COL (R) and Mrs. John S. Klegka 73
LTC Christopher D. Klein '99
LTC (R) and Mrs. Robert E. Klein '60
Mr. and Mrs. Robert J. Klein '64
LTC (R) Larry G. Kleinsteiber USAR '69
Mr. and Mrs. John P. Klepich '75
LTC (R) Joseph A. Kling '97
LTC George P. Kloppenburg '02
LTC Jonathan S. Kluck '00
COL (R) and Mrs. Everett Denton Knapp Jr. '87
Carol and Harold Knapp Jr. (P)
LTC and Mrs. Andrew J. Knight '99
COL (R) and Mrs. Robert J. Knight '78
Dr. and Mrs. Rolf W. Knoll '70
LTC and Mrs. Scott A. Kobida '91
Mr. and Mrs. William P. Koch '67
Mrs. Jeannine M. Koehler '95 and Mr. John A. Koehler '95
COL Matthew D. Koehler '98
LTC (R) and Mrs. Johann R. W. Kohler '62
LTC Daniel L. Kolenda
LTC Kenneth S. Kondo Jr. '99
Dr. and Mrs. John K. Konkel (P)
LTC Kent A. Korunka '94
COL and Mrs. Michael J. Kovacevic '97
Thomas and Marilyn Kovach '65
Mr. and Mrs. Vincent Krauth (P)
LTC (R) Steven L. Kreh '99 and Mrs. Angela N. Kreh '01
Mr. Richard F. Krehel
LTC (R) Christina J. Kretchman '99
LTC Calvin A. Kroeger '01
LTC Joseph P. Kuchan '95
COL (R) Cornelius W. Kugler '95
Mr. and Mrs. Thomas G. Kurkjian '68
Mr. and Mrs. David M. Kutz
LTC (R) Kristofer H. Kvam '99
LTC (R) Brigitte W. Kwinn '84 and Dr. Michael J. Kwinn Jr. '84
Mr. Jeffrey A. La Plante '99
LTC (R) Brian P. Lacey '82
LTC (R) and Mrs. Edward R. Lachey '69
LTC Jeffrey T. Laczek '99
MAJ Thomas E. Lamb '02
CPT David M. Lamborn '01 and Mrs. Angela Y. Lamborn '01
LTC Shoshannah B. Lane '99
MAJ Robert B. Lanier '01
COL and Mrs. Neal J. Lape '01
Mr. Michael P. Larkin '80
COL Jacob J. Larkowich '98
LTC (R) and Mrs. Scott Larrabee '74 (P)
Mr. Andrew J. Lasala Jr.
Mr. Thomas E. Lastoskie '75
LTC (R) and Mrs. George R. Laswell '68
Mr. Zachary C. Lauer '94
LTC (R) and Mrs. Nelson E. Laughton '68
Mr. Nicholas J. Lavigna
Mr. Thomas E. Layton '98
LTC and Mrs. Ryan W. Leary '01
Mr. Robert A. Leathers
LTC (R) and Mrs. Gerald N. Lebel '75
LTC Eddy J. Lee '98
LTC Faith E. Lee '02 and Mr. Jason S. Lee
Mr. Jong U. Lee '99
COL (R) Llewellyn V. Lee '97
LTC Matthew D. Lee '01 and LTC Kacie M. Lee '01
LTC and Mrs. Rance A. Lee '97
Mr. and Mrs. Young C. Lee '94
LTC (R) Jan C. LeKander '75
LTC (R) John C. Lemay '97
MAJ Andrew E. Lembke '01
Dr. and Mrs. John W. Lemza '76 (P)
Mr. and Mrs. John R. Lenart (P)
LTC Richard D. Lencz '97
Mr. Thomas W. Leo Jr. '59
COL (R) and Mrs. Henry A. Leonard '70 (P)
COL (R) John G. Levine '83
LTC Stephen A. Lewandowski '02
LTC Sandra B. Limon '95
LTC (R) Conway Lin '00
Mr. and Mrs. Travis J. Lindberg '95
LTC and Mrs. Samuel E. Linn '02
LTG (R) Michael Linnington Sr. '80 and Mrs. Brenda Z. Linnington '81 (P)
MAJ (R) Christopher A. Linz '97
COL Richard C. Liu '95
LTC (R) and Mrs. Timothy J. LiVolsi USAR '84 (P)
Dr. Stephanie Lofgren and Mr. Craig H. Stinebaugh
Ms. Carol P. Logan (W '46)
LTC John R. Longley III '00
LTC Todd L. Looney '99
LTC and Mrs. Joseph C. Lopez
Mr. and Mrs. John A. Lopiano '60
Mr. and Mrs. Jay C. Loufek '78
COL (R) Frederick C. Lough '70 and Ms. Mary E. Mullin (P)
LTC (R) Matthew J. Louis USAR '91 and Dr. Michelle Y. Louis
MAJ Michael B. Loveall '00
MAJ Jeffrey B. Lovelace '02
Mr. John F. Lucas '70
COL Sean P. Lucas '00
Neil and Virginia Lucey
LTC Fernando M. Lujan '98
LTC Andrew S. Lunoff '98
COL Matthew W. Luzzatto '97
Mr. and Mrs. Robert M. Lyford
Mr. Ian J. Lynch '99
LTC (R) and Mrs. Dan A. Lynn '73
MAJ (R) and Mrs. Michael J. Lyons USAR '83
LTC (R) and Mrs. Michael W. Maasberg '69
Mr. Patrick J. MacArevey '78 and Ms. Jean Baderschneider
LTC Alexander D. MacCalman '95
Mr. and Mrs. James K. MacDermid III
Mr. and Mrs. Donald R. MacLaren Jr. '71
Mr. and Mrs. Scott A. MacPherson '85 (P)
COL Jon-Paul N. Maddaloni '95
Mr. Thomas P. Maginnis '60
Mr. and Mrs. A. John Maher
MAJ Brian and Mrs. Judy Mahoney '88
Robert and Anne Mahowald '72 (P)
COL Michael R. Mai '00
Mr. and Mrs. Robert J. Maiberger (P)
COL John A. Mailman Jr. '98
Mr. Jeffrey F. Maliska '94
Mrs. Dorothy Malizia (P)
Mr. Anthony Maltese
LTC (R) and Mrs. Robert L. Mangels ARNG '53
LTC Chris B. Manglicmot '02
COL (R) Renee L. Mann '94
Mr. and Mrs. Thomas E. Mannle Jr. '71
COL (R) and Mrs. Robert D. Marcinkowski '60
Mr. Stephen J. Marcuccilli '68
LTC Daniel K. Mark '97
Mr. and Mrs. Price H. Marr '86
COL Stephen C. Marr '95 and LTC Katherine A. Marr USAR '98
Mr. Murro M. Martens '72
MAJ Bryan M. Martin '99
David and Suzanne Martin '68
COL (R) Hollie J. Martin '94
LTC (R) and Mrs. Michael W. Martin '97
LTC Phillip G. Martin Jr. '94 and LTC (R) Wendy D. Martin '94
Mr. Shaun L. Marzett '02
LTC (R) Theresa F. Masengale '94
LTC (R) and Mrs. William H. Mattfeld '71
COL Edwin D. Matthaidess III '99
COL Katie E. Matthew '00 and LTC Christopher P. Matthew '00
Mr. and Mrs. Donald C. Matz Jr. '84
MAJ Darwin E. Maull '02
Mr. John P. Maultsby '88
Mr. and Mrs. R. Michael Maus '61 (P)
LTC and Ms. Eric L. Maxwell '95
LTC (R) Lisa M. Maxwell MD '95 and LTC Marianne Delaney
LTC (R) and Mrs. James J. Maye '75 (P)
LTC (R) and Mrs. William J. Mayhew '64
Mr. Louis D. Mayo '89 and Dr. Karen Greenberg PhD
COL Jennifer A. McAfee '95
LTC (R) and Mrs. John A. McAfee '93
LTC Eric P. McAllister '96
LTC Heather N. Gunther '02
LTC and Mrs. Michael R. McBride '97
Mr. and Mrs. Michael J. McCallion
LTC Carrick E. McCarthy '02
LTC Michelle McCassey and Mr. Everett McCassey
CPT Robert S. McChrystal '02
LTC Mark R. McClellan '01
Mr. and Mrs. David M. McCloskey '90
COL (R) and Mrs. Lester F. McConville '73
LTC (R) and Mrs. Robert McCormick
COL (R) and Mrs. Shon A. McCormick '94
LTC (R) Kellie J. McCoy '96
LTC John J. McDermott III '95
Mr. Vincent McDermott '85 and Mrs. Kim McDermott '87 (P)
Mr. and Mrs. Glenn McDonald
Lt Col (R) and Mrs. William L. McDonald Jr. USAF '63
COL (R) and Mrs. William P. McDonough '95
LTC Karolyn M. McEwen '02 and LTC Sean McEwen
Mr. Timothy P. McFadden '84
Mr. and Mrs. Thomas W. McGarry '62
LTC (R) and Mrs. Patrick O. McGaugh USAR '78
Mr. Jay G. McGee '02
MAJ Sean P. McGee '99
COL Steven B. McGunegle '99
LTC (R) and Mrs. John R. McHenry '71
COL Michael E. McInerney '99
COL Travis L. McIntosh '98
COL (R) and Mrs. Graham W. McIntyre '53 (P)
COL and Mrs. Mark J. McKearn '81 (P)
COL Andrew M. McKee '97
Mr. Craig W. McKee '72
MAJ (R) and Mrs. William J. McKemey Jr. '65
LTC (R) Kristian R. McKenney '98
LTC (R) Joseph P. McLaine '97
Mrs. Emily E. McMahan '01 and Mr. Caleb McMahan
Ms. Alice M. McMahon
Mr. Donald McMillan
LTC and Mrs. Thomas A. McNally '95
Dr. and Mrs. Thomas L. McNaugher '68
Col (R) and Mrs. Lawrence F. McNeil USAF '57
COL (R) and Mrs. Joseph M. McNeill '82
LTC (R) and Mrs. Michael L. McNulty '71
LTC (R) and Mrs. David W. McSween '76 (P)
COL Michael T. McTigue '94
LTC Timothy P. Meadors '01
COL Timothy T. Measner '98
BG (R) and Mrs. Michael J. Meese '81 (P)
COL (R) and Mrs. Arthur C. Meier II '63
MAJ Jason R. Melchior '00
COL Richard V. Melnyk '95
COL (R) and Mrs. Dean W. Mengel '84
COL (R) and Mrs. Mark E. Meranda '70
Mr. and Mrs. G. Jerry Merges '65
Dr. and Mrs. Charles E. Merkel Jr. PhD
LTC Gregory J. Merkl '02
COL (R) and Mrs. Paul A. Merritt USAR '82
Mr. and Mrs. Francis J. Messar Jr.
Mr. Robert W. Metz Jr. '82
COL Edward Meyers '96
MAJ and Mrs. Garrett J. Meyers '01
Lt Col (R) and Mrs. Lawrence G. Michalove USAF '55
Mr. and Mrs. Bruce C. Michalowski '70
COL Christopher J. Midberry '99
Mr. William H. Miehe Jr. '50
LTC (R) Robert Y. Mihara '99 and CPT Mary F. Mihara '00
LTC (R) Janis C. Mikits 99
MAJ Benjamin D. Miller '97
Mr. and Mrs. Charles P. Miller III '68
LTC (R) and Mrs. Charles A. Miller '58
LTC Eric A. Miller '02
COL (R) and Mrs. George M. Miller Jr. '63
LTC Jabari M. Miller '97
COL and Mrs. Jacob W. Miller '99
LTC Joel M. Miller '94
Mr. and Mrs. Keith R. Miller (P)
LTC and Mrs. Matthew G. Miller '01
LTC Scott D. Miller '99
COL Zachary L. Miller '97
LTC Craig W. Milliron '01
LTC (R) Nathan A. Minami '97
LTC Matthew R. Minear '02
LTC Joseph S. Minor '01
COL and Mrs. Steven M. Miska '90
LTC Erica M. Mitchell '01
Mr. and Mrs. G. Hurley Mitchell '69
LTC George A. Mitroka III '00
MAJ Jeffrey D. Mix '99
Mr. and Mrs. Timothy E. Mock '84
LTG (R) John H. and Karla F. Moellering '59 (P)
LTC Casey M. Moes '99 and Ms. Laurie A. Morano
LTC Nathan A. Molica '99
COL (R) and Mrs. Gordon K. Moore '74
MG (R) William C. Moore '52
LTC Gary J. Morea '94
Mr. and Mrs. Mark W. Morehouse '83
COL Jarrod P. Moreland '97
COL Andrew R. Morgan '98 and Mrs. Stacey J. Morgan (former '00) (P)
LTC (R) Clay A. Morgan '97
COL Ryan J. Morgan '97
COL (R) and Mrs. William M. Morgan '75 (P)
Mr. Ricardo M. Morillo '87 and Dr. Mitzi N. Morillo
Mr. K. Scott Morley '00
LTC and Mrs. Aaron F. Morris '01
Chach and Diane Morris '70
LTC Daniel C. Morris '02 and Mrs. Meghan M. Morris '02
COL and Mrs. John A. Morris III '99
LTC Louis A. Morris '99
LTC (R) and Mrs. Robert P. Morris Jr. '80
LTC (R) and Mrs. Reginald A. Morrison '70
LTC and Mrs. Sean M. Morrow '01
LTC (R) and Mrs. Christopher T. Morton '00
Mr. James L. Moseley II '00
MAJ (R) and Mrs. Richard L. Moskala '73
LTC (R) David L. Mossbarger '76
COL John B. Mountford '95
LTC (R) James E. Mullin III '98
MAJ Joseph D. Mullins '98
Henry M. and Linda Mumma (former '72)
LTC Zachary J. Mundell '99 and Mrs. Julie L. Mundell '99
Mr. and Mrs. Luis A. Muniz '90
Mr. and Mrs. Richard Murg II '89
Mr. Daniel T. Murphy Sr. '76
LTC and Mrs. Francis X. Murphy '02
Wayne and Mary Ellen Murphy '69 (P)
LTC Ian H. Murray '98
LTC Teresa D. Murray '02
LTC and Mrs. Matthew R. Myer '01
COL (R) Jerome B. Myers '77 and Ms. Lisa M. Amato-Myers
COL Scott A. Myers '96
LTC Betty P. Myrthil '02
LTC William S. Nance '02 and Mrs. Mariann K. Nance '02
Ron and Suzanne Naples '67
Mr. and Mrs. Gennard M. Napolitano (P)
MG (R) and Mrs. Michael J. Nardotti Jr. '69
LTC (R) Walter E. Narramore II '95
MG (R) and Mrs. William L. Nash '68
Mr. and Mrs. Ernest R. Natalini '67
COL and Mrs. Scott C. Nauman '95
LTC (R) Craig A. Nazareth '00 and Mrs. Isabel K. Nazareth '02
Mr. George Nelson Jr.
Mr. Ryan B. Nelson '99
COL Matthew P. Neumeyer '95 and Mrs. Jeanne M. Neumeyer '95 (P)
Mr. and Mrs. Roger A. Newbauer (P)
COL Robert M. Newbert
COL and Mrs. Timothy E. Newsome '87
COL Dana R. Nguyen '97 and Mr. Chuck Nguyen
CPT Karl M. Nilsen '02 and CPT Kathryn M. Nilsen '03
LTC (R) Cecil C. Nix IV '99
LTC (R) Andrew B. Nocks '84
COL (R) Wallace W. Noll '53
COL Margaret A. Nowicki '99 and LTC (R) Robert A. Nowicki '99
COL (R) Frederick L. Nuffer '58
MAJ Alejandro M. Nunez '01
COL Gretchen M. Nunez '95
LTC (R) Lawrence R. Nunn '01
LTC Dennis E. Nutt '97
LTC Frederick I. Nutter '88
LTC (R) and Mrs. Jack J. Oakley '73
Mr. and Mrs. James F. Oaks III '61
LTC and Mrs. Seth D. O'Brien '94
Mr. and Mrs. Christopher J. O'Connor '89
Mr. and Mrs. Shawn M. O'Connor '96
Dr. Terrence J. O'Connor '99
Mr. and Mrs. Michael P. O'Day '91
LTC (R) David O. Odegard USAR '78 and Dr. Susan Odegard
COL (R) and Mrs. Daniel S. O'Dell USAR '78
LTC (R) and Mrs. Charles F. O'Donnell III '65 (P)
Mr. Thomas and Mrs. Kristin O'Donnell '91
LTC (R) and Mrs. Richard C. Oertel '74
COL (R) and Mrs. Paul V. Oettinger USAR '80
LTC (R) and Mrs. Thomas E. Oettinger '70
Mr. and Mrs. John A. Offerman '78
Mr. and Mrs. C. Theodore Ogren '56
LTC (R) Brendan B. O'Hern '01 and LTC Elisa D. O'Hern '01
MAJ (R) Deborah J. Oldfield '02 and Mr. Charles Oldfield
COL and Mrs. Mark P. Olin '94
COL (R) and Mrs. George F. Oliver III '74 (P)
Dr. Norman T. O'Meara II '68
LTC Katherine R. Opie '01
LTC Christopher T. Orlowski '02
COL and Mrs. Timothy S. O'Rourke '82
LTC (R) Danford M. Orr '60
Mr. and Mrs. Joseph H. Orr III (P)
Mr. and Mrs. Anthony M. Orsini '84
Mr. Joseph M. Orzech (P)
MAJ Abraham N. Osborn '02
LTC (R) and Mrs. Larry J. Ostendorf ARNG '94
Mr. and Mrs. Kenneth E. O'Sullivan '63 (P)
COL Timothy R. O'Sullivan '97
Mr. and Mrs. Michael J. O'Toole III '90
LTC Elias D. Otoshi '00
LTC Christopher L. Ott '94
COL (R) LeRoy B. Outlaw '68 (P)
Dr. and Mrs. Brian D. Owens '69
Mr. and Mrs. Michael W. Pace '91
COL Jeffrey S. Palazzini '99
LTC and Mrs. Eric I. Palicia '01
COL (R) and Mrs. Eugene J. Palka '78 (P)
LTG (R) Dave R. Palmer '56
LTC Jason N. Palmer '95
COL and Mrs. Jeremy C. Pamplin '97
Mr. Michael A. Panaro III '00
COL Luis A. Parilli '97
Mr. Earle L. Parker Jr. '66
COL Joseph H. Parker '97
COL (R) and Mrs. Joseph M. Parker '78
COL Matthew L. Parker '00
LTC Rob C. Parmenter '02
CPT Huber R. Parsons III '00
COL William W. Parsons '00
Dr. Paul E. Patterson '96 and Dr. Rebecca D. Patterson '96
MAJ Scott A. Patton '02
LTC and Ms. Eric W. Pavlick '95
Dr. Gregg S. Pearson '82 and Dr. Kathy Pearson
COL (R) and Mrs. Michael A. Pearson '73
Mr. Norman A. Peck
LTC (R) Richard E. Peck
COL Kimberly A. Peeples '94 and LTC (R) John V. Peeples Jr.
COL Carlos Perez Jr. '89
LTC (R) and Mrs. Brett T. Perry '85
LTC (R) Keye E. Perry Jr. '94
LTC Andrew V. Pesature '02
LTC (R) and Mrs. Larry J. Petcu '68
LTC Timothy N. Peterman '00 and CPT Shara L. Peterman '02
Mr. and Mrs. Benjamin J. Peterson '98
LTC Nathanael W. Peterson '02
LTC (R) and Mrs. Stephen T. Peterson '97
LTC (R) and Mrs. Joseph J. Pfanzelter '78
Mr. and Mrs. Richard F. Pfeifer
LTC Andrew R. Pfluger '01
LTC David C. Phillips '95
Honorable Dennis L. Phillips '74 and Dr. Linda J. Phillips
LTC Dwight E. Phillips Jr. '97
Mr. Gregory S. Phillips '79
LTC Michael J. Phillips Jr. '01
Jack Picciuto '84 and MaryEllen Picciuto '86
LTC Jeffrey W. Pickler '01
COL (R) and Mrs. Kenneth L. Pieper '79
LTC (R) and Mrs. William J. Pieper USAR '73
LTC Stephan J. Pikner '02
LTC Derek K. Ping '02
Mr. and Mrs. John J. Pingel '71
Mr. and Mrs. Frederick Pirone (P)
Dr. and Mrs. Howard M. Place '79
Mr. and Mrs. Vernon C. Plack '85
MAJ (R) Mischa A. Plesha USAR '93
Mr. Robert R. Plotts '00
Mr. Dennis S. Pogany '69
Mr. and Mrs. John W. Polanowicz '84 (P)
Mr. and Mrs. Raymond G. Pollard III '65 (P)
LTC (R) Edward F. Polom '74
LTC (R) and Mrs. Grady R. Poole Jr. '73
COL Carl A. Poppe '96
COL Jeffrey A. Poquette '00
COL (R) and Mrs. Elwyn D. Post Jr. '60
CPT Jonathan F. Post '02
LTC (R) Charles G. Powell '78
COL (R) Jeffrey H. Powell II '95
MAJ Paul A. Power '02
MAJ Lewis J. Powers V '95
Mr. Virgil M. Price II
COL (R) and Mrs. James H. Proctor Jr. '66
COL (R) and Mrs. Geoffrey G. Prosch '69
Mr. and Mrs. Donald W. Prosser '60
MAJ Andrew S. Pruett '02
Mr. James F. Pryor '61
LTC (R) Raymond H. Puffer Jr. '68 and Ms. Robin Sachs
Mr. and Mrs. Michael M. Purpura '91
COL and Mrs. Joseph A. Puskas II '96
LTC Jayson H. Putnam '97
Mr. and Mrs. George E. Quillin '73
Dr. and Mrs. James C. Quinn (P)
LTG (R) and Mrs. Leopoldo A. Quintas Jr. '86
LTC Jeffrey S. Rains '95
Mr. Michael D. Rapalje
MAJ Christopher L. Rapp '01
MG (R) and Mrs. William E. Rapp '84 (P)
Mr. and Mrs. Howard Ray (P)
COL Travis J. Rayfield '99
LTC (R) Shelley A. Raymond '96
COL and Mrs. William M. Raymond Jr. '83
Mr. and Mrs. Edward Redman
LTC (R) Heather L. Reed '94
LTC (R) and Mrs. Howard H. Reed '65
LTC Jennifer D. Reed '99
Mr. David M. Reel and Ms. Stephanie L. Wolf
MG (R) and Mrs. Raymond F. Rees ARNG '66
Dr. and Mrs. Eugene P. Reese Jr. '60
MAJ Morgan B. Reese '99
Capt (R) Fred G. Reichard USAF '51
Mr. and Mrs. Paul G. Reiland '85
MAJ Christopher L. Reitsma '97
Mr. and Mrs. Roger J. Rettke '84 (P)
COL and Mrs. Michael A. Reyburn '95
LTC (R) and Mrs. Robert R. Reynolds '75 (P)
Mr. and Mrs. Joseph C. Rhyne '71 (P)
LTC Howard G. Rice '02
COL (R) Douglas J. Richardson Jr. '65
LTC Joshua R. Richardson '00
LTC (R) and Mrs. Robert T. Richardson '70
LTC (R) David M. Richkowski '96
LTC (R) Jon A. Rindfleisch USMC '59
LTC (R) John D. Ring '94
LTC (R) Michael G. Ritchie '71 (P)
LTC (R) Andre G. Rivier '99
CW5 and Mrs. Kenneth D. Roach
Mr. John T. Roberson '98
LTC (R) Walter G. Roberson Jr. '95
Mr. and Mrs. Michael Roberts
Mr. and Mrs. Richard K. Roberts
Mr. Elwood C. Robertson (P)
LTC (R) William A. Robinson '63
LTC Robert R. Rodock '01
1LT Aida Rodriguez
COL Chad M. Roehrman '97
LTC (R) Victor W. Roeske '74
Mr. Carl G. Romani
COL (R) and Mrs. Garret G. Roosma AUS '58 (P)
LTC (R) and Mrs. Robert L. Root '79
LTC Rick K. Roper '95
Col and Mrs. Mark E. Rose USAF '91
LTC Michael D. Rose '97
COL (R) and Mrs. Morgan G. Roseborough Jr. '66
COL Evangeline G. Rosel '97
Mr. and Mrs. David C. Rosenblum '70
MG (R) and Mrs. Robert B. Rosenkranz '61
Dr. and Mrs. Bryon E. Roshong '66
LTC Michael S. Rosol '01
LTC Nadine I. Ross '01 and Mr. Joseph Murray Jr.
COL (R) George W. Rostine '56
Mr. and Mrs. John A. Roth III '72
LTC (R) and Mrs. Michael J. Rounds '88 (P)
Rick and Judy Rowe '71
Ms. Melanie L. Rowland '89
Mr. Dennis T. Ruddy (P)
COL (R) Robert S. Rudesill '60
Mr. Edward J. Ruggero '80 and Ms. Marcia Noa
LTC (R) Michael S. Ruppert '97 and LTC Annmarie D. Ruppert
COL (R) Anthony W. Rush '95
COL (R) Early J. Rush III '53 (P)
Col (R) and Mrs. Thomas A. Rush USAF 57
MAJ (R) and Mrs. Michael E. Rusho '74
MAJ (R) Brandon L. Russell '97
COL (R) and Mrs. Alan M. Russo '64
LTC and Mrs. Timothy D. Rustad '99
MAJ Nicholas D. Ryan '02 and MAJ Lindsay A. Ryan '05
LTC Robertrel A. Sachi '02
LTC (R) and Mrs. Charles R. Sacrison Jr. USAR '73
COL Darcy R. Saint-Amant '98 and CW4 John Covington
Alan and Florence Salisbury '58
LTC and Mrs. Ike L. Sallee '97
LTC Jason V. Sama '99
LTC Marc J. Sanborn '01 and LTC Kathryn P. Sanborn '02
LTC (R) and Mrs. Robert W. Sanders '77 (P)
Dr. Steve R. Sanders '78
MAJ and Mrs. Wayne A. Sanders '02
Mr. and Mrs. Bruce M. Sandison '72
LTC (R) Robert C. Santamaria '94
COL and Mrs. Michael A. Sapp '99
Mr. and Mrs. Charles F. Sargent IV '73 (P)
LTC (R) and Mrs. James J. Satterwhite '59
BG (R) and Mrs. Robert G. Sausser '63
Mr. and Mrs. Daniel P. Sauter Jr. (P)
Mr. Karl R. Savatiel '65
LTC Brian D. Sawser '99
BG (R) and Mrs. Andre H. Sayles '73 (P)
COL Matthew Scalia '95
Mr. and Mrs. Walter P. Schaefer '75
LTC Nicholas C. Schenck '99
LTC and Mrs. Franklin B. Scherra '98 (P)
COL Emily C. Schiffer '94 and COL Thomas E. Schiffer '94 (P)
Mr. Joseph B. Schino '95
Mr. Joel B. Schlachtenhaufen '86
Mr. Gerald R. Schmotzer (P)
Mr. and Mrs. Thomas R. Schmutz '84
COL Darcy L. Schnack '96 and Dr. Troy A. Schnack '96
COL and Mrs. Christopher D. Schneider '94
Mr. and Mrs. John J. Schneider '60
Col (R) and Mrs. Irving B. Schoenberg USAF '48
COL (R) and Mrs. David E. Schorr '57
LTC and Mrs. Charles G. Schretzman Jr. '89 (P)
LTC (R) Todd Schultz '96
Mr. and Mrs. Vincent J. Schultz '78
COL (R) and Mrs. Carl B. Sciple '61
LTC and Ms. Cory N. Scott '02
Mr. Kenneth L. Scott '77
Mr. Thomas A. Scott '97
COL (R) Kenneth C. Scull '69
LTC (R) Fredrick B. Seeger '77
COL Scott B. Seidel '97
MAJ Lance I. Sells '97
LTC (R) Edwin and Mrs. Renee Selman '83
Mr. and Mrs. Jeffrey B. Senft
COL (R) Hubert T. Servis '59
COL (R) and Mrs. Thomas K. Seybold '59
Mr. Roger A. Seymour
COL (R) Wade and Missy Shaddock '57
LTC Marc N. Shafer '96
Mr. Jonathan K. Shaffner '98
LTC Michael B. Shattan '99
COL (R) and Mrs. Charles F. Shaver AUS '78
COL (R) and Mrs. Richard W. Shaw '77
Mr. Ryan L. Shaw '99
Mr. Joseph M. Shea '59 (P)
MAJ Bradley A. Shearer '02
COL Michael A. Shekleton '96
COL Justin R. Shell '98
Mr. Brian G. Shellum '76 and Mrs. Paula DeMuth
LTC (R) and Mrs. Randolph A. Shelton '72
LTC (R) Anthony E. Shepard '95
LTC Benjamin L. Shepherd '01
Mr. Roy B. Sheppard
Mr. and Mrs. John K. Shields '94
Mr. Bradley W. Shike '79 and Mrs. Paula Fricchione
COL (R) Alexander P. Shine '63
Mr. William D. Shirley '88
COL (R) John P. Shock Jr. '59
COL (R) and Mrs. David J. Sholly '62
COL (R) Stephen T. Shore '94
COL and Mrs. Bryan P. Shrank '98
Mr. and Mrs. Kevin J. Shuba '81
Mr. Brian Sichol Esq.
LTC (R) Benjamin F. Siebold '98
LTC Scott F. Siegfried '99
MAJ Kevin W. Siegrist '02
Ms. Judith A. Sienkiewicz
CPT Timothy J. Sikora '02
COL (R) Alexander V. Simmons '95
Mr. Terence A. Sinkfield '99
LTC (R) Richard C. Skaggs '61
LTC (R) Ronald A. Skarupa '62
LTC (R) and Ms. William L. Skimmyhorn '97
Professor and Mrs. Bernard Skown '62
LTC Andrew M. Slack '99
COL (R) William M. Slayton '79
LTC Jonathan P. Sloan '97
Mr. and Mrs. Brett G. Smith '94 (P)
Dr. Christopher M. Smith PhD '97
LTC (R) and Mrs. Daniel R. Smith '93
BG (R) and Mrs. Donald B. Smith '69
Mr. and Mrs. Fred L. Smith '53
COL (R) and Mrs. Grant M. Smith '72
LTC Joseph B. Smith '01
Greg and Colette Smith '69 (P)
Mr. and Mrs. Norman S. Smith Jr. '64
Mr. and Mrs. Scott R. Smith '82
LTC and Mrs. Shawn D. Smith '97
COL (R) Thomas E. Smith '71
COL (R) and Mrs. William D. Smith Jr. '63
COL (R) Charles O. Smithers III '79 and Dr. Maureen Smithers
LTC (R) and Mrs. David B. Snider '83 (P)
Dr. and Mrs. Don M. Snider '62
COL (R) Kathleen G. Snook '80 and COL (R) Scott A. Snook '80 (P)
Mr. Frank H. Snyder
COL Sang Min Sok '98
COL Mike Solis '94
COL (R) and Mrs. Lawrence E. Sommers
COL Phillip D. Sounia '95
COL Phylisha A. South '98
COL and Mrs. Grover R. Southerland II '94
LTC (R) and Mrs. Joseph R. Sowers '95
LTC Michael V. Soyka '02
LTG (R) and Mrs. Harry E. Soyster '57
Mr. Patrick J. Spann '69 and Ms. Patricia Squires
MAJ Neavolia N. Speirs '95
CPT Cole A. Spitzack '02
Mr. Robert J. Spivey '99
Dr. William C. Spracher '70 and Dr. Karen A. Spracher
LTC Christopher J. Springer '97
MG (R) and Mrs. Robert J. St.Onge '69 (P)
COL Megan B. Stallings '95
COL (R) and Mrs. Gregory V. Stanley '76
LTC Matthew C. Stanley '00
BG Paul T. Stanton '95
LTC James K. Starling '02
LTC and Mrs. James T. Startzell '02
LTC Michael H. Starz '00
CPT (R) Thomas A. Stauber '00
LTC (R) Brian P. Steele '97
COL Kevin L. Steele '00
LTC (R) and Mrs. Samuel L. Steele '62
MAJ Scott D. Steele '02
Col (R) Michael J. Steger USAF '49
COL (R) and Mrs. George N. Stenehjem '54
LTC (R) Henry W. Sterbenz Jr. '65
COL (R) Francis R. Stevens Jr. '57
COL (R) Nancy J. (Harman) Stevens '81 and Dr. Dirk E. Stevens '81 (P)
Mr. and Mrs. Todd A. Stevens '89
MAJ (R) John C. Stillwell '99
LTC (R) and Mrs. Joseph W. Stilwell III '60 (P)
MAJ Jeffrey B. Stone '02
Dr. and Mrs. Steven W. Stone '86
Mr. and Mrs. Francis L. Stoudenmire '76
LTC (R) Chad A. Stover '97
Dr. and Mrs. Russell K. Street '59
MAJ Salamasinaleilani T. Strokin '97
LTG (R) and Mrs. Theodore G. Stroup Jr. '62
CPT John B. Stubbs '02
Mr. and Mrs. Randal W. Studer '74
LTC (R) Thomas A. Stumm '51
MAJ Thomas B. Sturm '02
LTC Brian P. Sullivan '95
Shane and Rhonda Sullivan '94
Mr. and Mrs. William J. Sullivan (former '61) (P)
COL (R) and Mrs. Eric M. Sundin '71
LTC Brian E. Supko '99
COL Nathan S. Surrey '98
Mr. Arthur J. Sutton
Mr. Anthony A. Suzzi '97
LTC Andrew D. Swedberg 00
LTC Jerem G. Swenddal '99
Mr. and Mrs. Richard J. Swift '66 (P)
Mr. Michael P. Szczepanski '99
LTC (R) Robert E. Szigethy '68
LTC Gabriel A. Szody '99
Ms. Jenny K. Tam '98
Mr. and Mrs. Ronald S. Tamoschat
MAJ Benjamin A. Taylor '99
MG (R) and Mrs. James B. Taylor '61
Col (R) and Mrs. James W. Taylor USAF '59
MAJ (R) Jonathan C. Taylor '97
COL and Mrs. Mark R. Taylor '97
LTC T G. Taylor '95
LTC (R) William B. Taylor '96
Mr. Jeffrey A. Teach '88
BG Brandon R. Tegtmeier '96
Mr. and Mrs. John S. Telford '89
COL and Mrs. Matthew A. Templeman '97
MAJ Christopher D. Terrill '01
COL Christian G. Teutsch '97
COL (R) and Mrs. Erich R. Then '95
Richard and MaryEllen Thibodeau '70
LTC Aaron M. Thomas '01
LTC (R) Casey Z. Thomas '97
LTC and Mrs. Hans J. Thomas '02
COL (R) and Mrs. John R. Thomas '73
LTC Brandon S. Thompson '01
Mr. Mark A. Thompson '02 and Mrs. Paula J. Thompson '02
LTC (R) Mark W. Thompson '95
LTC Darin J. Thomson '95
COL and Mrs. Derek K. Thomson '95
Mr. Casey H. Thoreen '02
LTC (R) and Mrs. Todd G. Thornburg '97
COL (R) and Mrs. Patrick T. Thornton '70
Mr. and Mrs. Ralph T. Tierno III '77
LTC Travis S. Tilman PhD '00
LTC (R) Howard C. Titzel '01 and Mr. David Gargaro
LTC Michael T. Tobias '01
Mr. and Mrs. Robert W. Todd (P)
Mr. Tim J. Todish
Mr. and Mrs. James R. Tomaswick '65
COL Stacy M. Tomic '98
Mr. and Mrs. Dennis A. Tone '73
LTC (R) Kevin R. Toner '97
Mr. and Mrs. Benjamin D. Torres (P)
Mr. and Mrs. Walter C. Tousey '60
COL (R) and Mrs. James L. Tow '52
MAJ Robert K. Tracy '02
Mr. James P. Trainor Esq. '81 and Mrs. Eileen T. Trainor '83 (P)
Mrs. Jill Troutner '93 and Mr. Stephen F. Troutner '93
Dr. Leo J. Troy Jr. '72 and Dr. Elizabeth A. Kincannon
LTC (R) and Mrs. Dennis R. Trujillo '76
LTC Christopher J. Tucker '00
COL (R) James J. Tuite IV '95
LTC James E. Tully '98
Col (R) Charles F. Turk USAF '69
Mr. Duane A. Turner Jr. '97
LTC (R) and Mrs. Frank L. Turner II '94
LTC Jeremy R. Turner '98
COL (R) and Mrs. Robert A. Turner '59
COL and Mrs. Edward S. Twaddell III '97
COL (R) and Mrs. John M. Uhorchak '75 (P)
LTG (R) and Mrs. Walter F. Ulmer '52 (P)
LTC John J. Ulsamer Jr. '02
COL Robert E. Underwood III '99
LTC Curtis J. Unger '02
LTC (R) and Mrs. Kyle L. Upshaw '00
Ms. Kristine J. Urbauer '86
LTC (R) Nicole E. Ussery '01 and LTC Jeremy J. Ussery '02
LTC David A. Uthlaut '01 and Mrs. Haley D. Uthlaut '04
LTC Jennifer L. Uyeshiro '01
LTC (R) and Mrs. Charles M. Valliant '60
COL James A. Van Atta '96
COL Lance K. Van Zandt '96
Mr. Jeffrey A. VanAntwerp '98
LTC Eric A. Vanek '97
Mr. Benjamin J. VanTassell
LTC (R) and Mrs. Lawrence J. Verbiest '82
COL (R) Robert V. Vermillion '57
Mr. and Mrs. Vito R. Verni
COL John A. Vest '94
Mr. Philip A. Vignola '84
COL (R) and Mrs. Alan G. Vitters '68
LTC (R) Jennifer Voigtschild '93 (P)
COL (R) and Mrs. Theodore B. Voorhees '57
COL William D. Voorhies '95
COL (R) and Mrs. Martin L. Vozzo '78
LTC (R) and Mrs. Charles K. Wagener USAR '70
GEN (R) and Mrs. Louis C. Wagner Jr. '54
COL Russell O. Wagner '00
LTC Neilson W. Wahab '01
LTC (R) Ryan K. Wainwright '99
COL Wendi M. Waits '94
LTC Roger P. Waleski Jr. '99
MAJ Robert W. Walker '99 and MAJ Kirsten L. Walker '99
LTC (R) and Mrs. Sam S. Walker III '75 (P)
COL Douglas R. Walter '95
LTC (R) Keith R. Walters '97
MAJ Kyle M. Walton '01
COL Kenneth M. Wanless Jr. '95
LTC (R) and Mrs. Kenneth M. Wanless '69 (P)
LTC (R) Steven R. Ward USAR '80 and Ms. Martha Ann Sisson
LTC Mark E. Warder '99
Mr. and Mrs. Kevin N. Wardlow '75 (P)
COL (R) Ralph L. Ware '99
Mr. and Mrs. David D. Warns '90 (P)
COL (R) and Mrs. James Z. Wartski '82 (P)
LTC (R) and Mrs. Joseph F. Wartski '77
MAJ (R) Mark G. Washechek '82
MG Todd R. Wasmund '91
Mr. Dennis E. Watson '86 and Dr. Karen Hunter
LTC Jason R. Wayne '01
LTC (R) and Mrs. Kurt E. Webber '79 (P)
COL (R) and Mrs. Edward C. Weckel '58 (P)
Mr. and Mrs. Robert C. Weiden
Dr. and Mrs. Larry J. Wells '69
LTC (R) and Mrs. Michael C. Wells '68
COL Holly E. (Fishburne) West '91 and LTC (R) Mark R. West '91 (P)
Mrs. Amy D. West '96 and LTC Michael R. West '97
MAJ Chad C. Wetherill '01
Mr. Walter Wettje
MAJ Donald S. Whiffen III '02
LTC (R) Jason R. Whipple '98
LTC Andrew A. White '01
COL (R) and Mrs. Lyman G. White Jr. '61
Mr. and Mrs. Wayne L. White '78
LTC Andrew J. Whitford '00
COL Lisa D. Whittaker '94
Dr. and Mrs. William L. Wilby '67
LTC and Mrs. Christopher M. Wilkinson '99 (P)
LTC Bart D. Wilkison '99
Mr. and Mrs. John H. Willauer '60
LTC Dennis G. Wille '95
LTC (R) Edwin A. Williams IV '97
LTC Jamal T. Williams '00
Mr. and Mrs. Richard L. Williams Jr. (P)
LTC (R) Demitra L. Williamson '97
LTC Douglas M. Willig '01
COL (R) John M. Wilson '97
LTC Keith W. Wilson '97
Dr. and Mrs. Robert J. Wilson '69
LTC (R) David G. Winget PE '94
COL (R) and Mrs. Stephen A. Winsor '68
LTC (R) Sheldon C. Wintermute '69
Mr. and Mrs. James A. Witham '95
Mr. and Mrs. Ross P. Witschonke '71
LTC Luke A. Wittmer '02
MAJ Steven W. Wojdakowski '02
MAJ (R) Sarah R. Wolberg '02
LTC (R) Jacob G. Wolf '97
MAJ (R) and Mrs. John L. Wolf '80
MAJ Gabriel M. Wolfe '02
Mr. and Mrs. Robert A. Wolfrum (P)
Mr. and Mrs. Kenneth A. Woltz '66
LTC (R) Jefferson K. Won '83
Robert and Mildred Wong '62
Mr. David H. Wood '84
COL Robyn D. Wood '97 and COL Daniel C. Wood
COL (R) and Mrs. George J. Woods III '80 (P)
COL Patrick E. Workman '97
LTC and Mrs. Ryan L. Worthan '97
LTC Brian K. Wortinger '95
Mr. William K. Wray Sr. '80
MAJ (R) and Mrs. Charles M. Wright '83
LTC (R) Jason P. Wright '97
CPT Matthew E. Wright '02
Mr. Robert A. Wright and Mrs. Charlotte Sallfors
COL and Mrs. Timothy F. Wright '00
Mr. Albert H. Wunsch III Esq.
Bob and Marie Yaap '69
LTC (R) and Mrs. Timothy W. Yahn CTARNG '81
BG (R) and Mrs. Roger F. Yankoupe '64 (P)
LTC (R) and Mrs. George E. W. Young Jr. '56
LTC (R) and Mrs. Mason J. Young III USAR '70
LTC (R) Jennifer R. Zais '99
COL Matthew M. Zais '97
COL (R) William T. Zaldo III '59
LTC (R) and Mrs. Frederick Zilian Jr. '70
LTC David J. Zinn '95
Anonymous (3)
Lt Col (R) and Mrs. John B. Abernathy USAF '58
CPT Christian A. Abney '06
LTC and Mrs. Kyle R. Abruzzese '06
MAJ Jacob P. Absalon '07
LTC (R) and Mrs. Jesse T. Acosta '79
COL (R) Debra M. Lewis '80 and LTC (R) Douglass S. Adams '80
COL (R) and Mrs. Gregory A. Adams '77 (P)
Mr. John A. Adams Jr. '84
MAJ Mark P. Adams '07 and Mrs. Kari M. Adams '09
COL (R) and Ms. William G. Adams '79
Mr. and Mrs. Michael J. Aiello '67
Mr. Joseph F. Albano '71
Paul W. and Leigh Ann Albers '72 (P)
LTC Paul W. Aldaya '05
MAJ (R) Jason M. Alexander '03
MAJ Joseph M. Alexander '07
CPT James I. Alfaro '05
MAJ Daniel J. Alix '05
COL (R) and Mrs. Harry P. Allen '73
COL (R) Lisa Diane A. DiCiro '86 USAR and Mr. Curtis W. Andersen '86 (P)
Mr. Matthew J. Andersen '94
CPT and Mrs. Jonathan G. Anderson '06
CPT Justin N. Anderson '06
COL (R) and Mrs. Steven D. Anderson CTARNG '76
CPT Andrew B. P. Bauder '07
MAJ Anthony E. Andrews '06
Mr. Douglas A. Andrews '86
Mr. Paul M. Angresano '84
COL (R) and Mrs. David R. Apt '76
LTC Alex A. Aquino '03
MAJ Brandon J. Archuleta '06 and Mrs. Tiffany A. Archuleta '06
MAJ Christopher M. Ardohain '05
MAJ Adam W. Armstrong '04
LTC (R) and Mrs. Rolfe G. Arnhym '53
CPT Daniel J. Arnold '07
Mr. and Mrs. James B. Aronow
Mr. and Mrs. David R. Arterburn '84
MAJ Timothy A. Ashcraft '07
LTC Mark C. Askew '05
Mr. and Mrs. Paul M. Astemborski (P)
Mr. Donny Atkins '73
LTC Matthew P. Aubry '04
COL (R) and Mrs. Arthur T. Aylward USAR '77
Mr. Matthew D. Babiarz '05
Mrs. Megan P. Baird '07
MAJ Haileyesus Bairu '03
MAJ Brendon S. Baker '06
CPT Christopher J. Baldwin '04
CPT Kevin S. Balentine '05
CPT Brad R. Ballard '05
MAJ Ashton D. Ballesteros '06 and CPT Leah P. Ballesteros '16
LTC Matthew W. Bandi '04
CPT Brandon M. Bangsboll '06
LTC (R) Gregory T. Banner '79
Dr. Eric W. Bantz '72 and Dr. Heung S. Kim
LTC (R) and Mrs. Stephen T. Baranzyk '72
COL (R) Louis Barisano '57
LTC (R) William J Barkovic '71 and Clare Ericson Barkovic (W '68)
CPT John W. Barlow Jr. '04
Mr. James W. Barnes (former '62)
LTC and Mrs. Michael L. Barnett '04
BG Chris and Lory Barra USAR '89
MAJ John D. Barrington '06
MAJ Nicholas G. Barry '06 and CPT Jennifer L. Barry '07
Mr. and Mrs. John T. Bartocci '78
MAJ Jonathan D. Bate '06
CPT Jonathan J. Batt '07
LTC (R) and Mrs. Bruce W. Batten '79
Mr. and Mrs. J. Gregory Bauleke (P)
Ms. Ann Bayha
BG (R) and Mrs. Robert H. Beahm '68
Mr. and Mrs. Christopher J. Beam '79
Mr. Jim Beam
Mr. and Mrs. David A. Bear Jr. '75
MAJ (R) Michael B. Bearce '74
LTC (R) and Mrs. John H. Beasley '70
LTC David J. Beaudoin '04
MAJ Rachel B. Beck '05
CPT Brenda L. Beegle '07
CPT James H. Belinga-Awomo '06
CPT Daniel R. Bell '05
Mr. Stephen A. Bell '97
MAJ Jordan M. Bellamy '07 and MAJ Jennifer M. Bellamy '07
CPT Curt J. Belohlavek '07
Mr. John H. Bemis '73
MAJ (R) Jessy J. Benavente '78
CPT Steven J. Benedetti '06
LTC and Mrs. Keith W. Benedict '03
Mr. and Mrs. Thomas J. Bennett '74 (P)
MAJ Bixler C. Benson '04
Dr. Charles A. Berg (former '55)
MAJ Lukas B. Berg '05
Gregg and Susy Berman
CPT Jeffrey L. Bernasconi '06
COL (R) and Mrs. B. Hudson Berrey Jr. '72
COL (R) and Mrs. John A. Berry III '60
LTC (R) and Mrs. Lawrence C. Bethel II '74
LTC Andrew P. Betson '04
LTC (R) and Mrs. Vernon M. Bettencourt Jr. '69
LTC Gregory E. Bew '04
LTC (R) James H. Bickford '77 and COL (R) Nancy A. Bickford
Mr. and Mrs. G. Peter Bidstrup '53
MAJ Marjana E. Bidwell '07 and CPT John M. Bidwell Jr.
MAJ Celio S. Biering '05
MAJ Lori L. Bigger '04
CPT Stephen J. Bishop III '04
COL (R) and Mrs. Russell H. Bittle Jr. USAR '86
MAJ Christopher J. Blackwell '06
CPT Kwame O. Boateng '03
MAJ Ryan L. Boeka '05 and Mrs. Pamela V. Boeka '05
COL Mandi L. Bohrer '98
LTC John Q. Bolton '05
Mr. and Mrs. James W. Bonislawski
CPT Bryan J. Bonnema '03
COL (R) and Mrs. Douglas A. Boone '79 (P)
Mrs. Daniel Boone (W '52)
CPT William J. Borath III '06
LTC Rachel Borhauer
MAJ John M. Borland '07
CPT Jameson O. Boscow '07
LTC Brian P. Bosse '04
CPT Timothy L. Boswell '06
CPT Steven R. Bota '07
CPT James C. Bowen '07
LTC (R) and Mrs. Thomas S. Bowen '82 (P)
LTC (R) and Mrs. Francis A. I. Bowers III '77
Lt. Col (R) Alfred C. Bowman USAF '56
Mr. Matthew E. Bowman '07
LTC (R) Robert A. Boxell '53
Mr. and Mrs. Oswald S. Boykin III '86
CPT Brian D. Boyles '06
LTC Jordan G. Bradford '05
LTC (R) Daniel G. Braun '73
Mr. and Mrs. James S. Breen '86
COL (R) and Mrs. Lucas H. Brennecke 70 (P)
COL (R) John F. Brewer '52 (P)
COL (R) and Mrs. Robert E. Brewster Jr. '80
Mr. and Mrs. William W. Britain '72
Ms. Shannon Brodbeck
LTC (R) Thomas T. Brodin '52
COL (R) and Mrs. Nathan I. Broocke '59
LTC (R) Jeffrey C. Brooks '76 and Ms. Suzanne LaComb
Mr. and Mrs. Chad R. Brown
MAJ Daniel R. Brown '06
Mr. LaRue Brown '05
MAJ Matthew L. Brown '07
Mr. and Mrs. Toby A. Brown (P)
CPT Marques A. Bruce '03
CPT Patrick L. Brundage '06
CPT Ryan D. Bruner '06
LTC (R) and Mrs. Scott F. Bruner '86
LTC Craig W. Bryant '04
LTC Paul A. Bublis II '03
LTC Carmen T. Bucci '05
LTC and Mrs. Shawn P. Buck '87 (P)
CPT Jason M. Buckingham '04
MAJ Dane W. Buckley '03
Col (R) and Mrs. Jack P. Bujalski USAF '58
CPT Thomas T. Buller '07
MAJ Herman E. Bulls Jr. '05
Dr. Richard W. Bunch (former '76)
Mr. and Mrs. Christopher C. Burger (P)
MAJ Jefferson D. Burges '03
Mr. Jeremiah R. Burke
COL (R) and Mrs. William J. Burke USAR '69
MAJ Matthew R. Burmeister '06
Mr. and Mrs. Keith N. Burnham '86 (P)
MAJ John P. Burns '06
Mr. and Mrs. Thomas W. Butler III '64
Mr. and Mrs. Johnathan E. Byrd '75
LTC (R) James W. Cain '52
Mr. Adrian Cales and Ms. Annmarie Neri
Mrs. Kimberly A. Calton '03 and CPT Matthew D. Calton
MAJ Christopher R. Calway '05
COL (R) and Mrs. Charles N. Cardinal '75
Mr. Peter Carey '92
CPT Jino I. Caro '05
LTC and Mrs. Douglas A. Carr '87
CPT Beau G. Carroll '06
MAJ Ronald A. Carter II '05
CPT Louis M. Cascino '06
Mr. and Mrs. Scott E. Cassidy Jr. '05
MAJ and Mrs. Philip Castaneda Jr. '06
Mr. and Mrs. William P. Cater '70
Dr. and Mrs. Joseph E. Cauda (P)
Dr. and Mrs. Gerald D. Cavanaugh (former '59)
LTC (R) and Mrs. Gary A. Cecchine '64
MAJ (R) and Mrs. Carl P. Cecil '79 (P)
CPT Adam Cerniglia '04
MAJ Erica L. Chabalko '05 and CPT Justin J. Chabalko '06
LTC Thomas Chae USAR '03
MAJ John R. Chambers '06
Mr. Brandon M. Chapman '03
COL (R) and Mrs. John S. Chappell '75
Maj Gen (R) and Mrs. William M. Charles Jr. USAF '54
LTG (R) and Mrs. Robert D. Chelberg '61
Mr. and Mrs. David L. Chetaitis
Mr. Stephen P. Chiarini
MAJ Marissa F. Chierichella '06
CPT Jason C. Chimchirian '07
CPT Luke T. Chivers '03
COL (R) Andrew T. Chmar '77 and COL (R) Gayle Watkins
CPT Eugene Choi '06
CPT Wei C. Chou '06
CPT Adam R. Christenson '04
LTC Ashlie I. Christian '04
MAJ Norman R. Christie '03
Mr. Anthony J. Ciaffone III '07
MAJ Daniel J. Ciccarelli '03
COL (R) and Mrs. Frederick L. Clapp '77 (P)
Mr. Frederick L. Clapp '04
LTC (R) and Mrs. Philip A. Clark '69
Mr. and Mrs. Andrew D. Clarke '92
LTC (R) and Mrs. Enrico A. Clausi
MAJ Matthew R. Clawson '07
Ms. Lisa A. Cline '94
MAJ Logan G. Cloaninger '06
Dr. and Mrs. Elwood A. Cobey '68
Mr. and Mrs. John V. Cogbill III '70 (P)
CPT Joab H. Cohe '06
CPT Jared D. Coil '05
MAJ Christopher T. Colbert '05
CPT Samuel T. Colby '04
LTC (R) and Mrs. Robert W. Colie '76
CPT Robert N. Collier '03
LTC John T. Collins Jr. '03
MAJ Ryan E. Collins '06
LTC (R) Gary S. Colonna '53
MAJ Austin G. Commons '06
MAJ James M. Comstock Jr. '06
COL (R) William L. Conner Jr. '74 and Ms. Ellen McCraney
Mr. Michael D. Connor '81
MAJ Gennelle L. Conway '03
LTC Chaveso L. Cook '04
Mr. and Mrs. David A. Cook '80
Mr. and Mrs. Gregory Cook (P)
COL (R) and Mrs. Lawrence J. Cook '72
MAJ Michael D. Cookey '03
BG Robert S. Cooley Jr. USAR '89
MAJ Daniel G. Corbett '05
MAJ Alexander B. Corby '04
LTC (R) and Mrs. John A. Corey USAR '74
COL (R) Joseph W. Cornelison '69
Mr. Ray S. Costner '71
MAJ Daniel J. Coughlin '07
MAJ David P. Coulombe '04
Mr. and Mrs. James G. Cox '69
CPT Jeffrey P. Cox '07
MAJ and Mrs. Douglas B. Crandall '95
Mr. and Mrs. Christopher E. Crane '94
COL (R) Gerald E. Crawford '68
MAJ James M. Creason '04
LTC Steven R. Crews '03
MAJ David R. Crigger '06 and MAJ Dana M. Crigger '06
COL and Mrs. Clifford D. Crofford '83
LTC Kevin E. Cronin '03
COL (R) George T. Crosby '60
LTC and Mrs. Michael S. Crowell '99
LTC David M. Culver '03
LTC (R) James P. Cummings '80
COL (R) and Mrs. Alden M. Cunningham '63
MAJ and Mrs. Bryan A. Curran '07
Mr. and Mrs. Robert J. Curran '72 (P)
MAJ Jonathan P. Curtis '03
LTC Steven J. Curtis '03 and LTC Maria T. Curtis '03
LTC Christee S. Cuttino '03
LTC Kevin E. Dagon '03
LTG (R) and Mrs. Dell L. Dailey '71 (P)
Mr. and Mrs. Karl D. D'Amico '78
CPT (R) Abigail L. Daniels '04
CPT David A. Daniels '06
Mr. James E. Daniels '63
Mr. Christopher P. Davis
Ms. Janet C. Davis
Mr. Jason C. M. Davis '06
COL (R) and Mrs. Joe B. Davis '73
MAJ Karl A. Davis Jr. '05
MAJ Mark A. Davis '03
CPT Matthew B. Davis '04
MAJ Matthew D. Davis '05
CPT David K. Dawes '07
Mr. and Mrs. Paul A. De Rosa (P)
GPD Charitable Trust
CPT Adam J. Decker '06
LTC Timothy W. Decker '03
Mr. and Mrs. James F. Dedmon '79 (P)
COL (R) and Mrs. Michael Deegan '72
CPT Alex J. Deep '06
Clay and Cyndy DeGiacinto '95
Mr. Stephen DellaIacono
MAJ Michael E. DeMichiei '06
LTC (R) and Mrs. Douglas P. DeMoss '78 (P)
Mr. and Mrs. Peter A. Dencker '69 (P)
LTC Bradley A. Dengler '05 and CPT Katherine L. Dengler
LTC and Mrs. Michael T. Denison '05
Brig Gen (R) and Mrs. Lee A. Denson Jr. USAF '56
Carol and Peter M. Derrico
MAJ Seth N. Desilets '04
Mr. Timothy B. Dewald
LTC (R) David R. Dinsmore '70 (P)
LTC Thomas P. Dirienzo '04
Mr. and Mrs. Douglas A. Disinger '88
MAJ Charles A. Donley '07
Mrs. Sheri L. Donnelly '94 and LTC John A. Donnelly
LTC Sean P. Donovan '03 and CPT Tania P. Donovan '06
LTC Andrew J. Dornstadter '04
Mr. Paul R. Doud
Mr. John F. Dougherty
Mr. and Mrs. Thurman E. Dow '84 (P)
CPT Timothy J. Downing '05 and CPT Susan B. Downing '07
CPT Stephen N. Doyle '07
MAJ Nicholas W. Drake '07
CPT Denny D. Dresch '03
LTC (R) and Mrs. Robin J. Drescher '76
LTC Brandon R. Drobenak '05
Brig Gen (R) and Mrs. Richard T. Drury USAF '50
CPT Alex J. Duffy '06
Mr. and Mrs. David A. Duke '71
CPT Ryan M. Dunbar '06
CPT Anthony R. Dunkin '06
Mr. and Mrs. Michael C. Dunn '87
MAJ Jason C. Dupuis '05
LTC (R) Edward E. Durham '72 and MAJ Terrie J. Durham
LTC Brian J. Dyer '04
MAJ Michael B. Dyer '06
LTC (R) and Mrs. Andrew A. Dykes '64
CPT Austin S. Dziengelewski '06
MAJ John P. Dzwonczyk '07 and MAJ Elizabeth A. Dzwonczyk '07
Mr. Geoffrey L. Earnhart '03
LTC (R) Jesse L. Easter '94
COL (R) and Mrs. John E. Easterbrook '62
COL (R) and Mrs. John C. Eberle '66
John Edelen '84 and Debbie Edelen '92
LTC (R) and Mrs. John C. Edgecomb '74
Dr. and Mrs. Michael E. Edleson '79
MAJ Dennis J. Edwards '07
Mr. and Mrs. Jerald P. Eichelberger '65
MAJ and Mrs. J. Michael Eisenlohr '07
Mr. and Mrs. James N. Elliot Jr. (P)
Mr. and Mrs. R. Shawn Elliott '93 (P)
Mr. Thomas B. Ellison (P)
MAJ Richard W. Ellsworth '07
MAJ John T. Enderle '07
CPT Alan J. Enke '03
Mr. and Mrs. Daniel J. Enright '82
CPT Vincent P. Enriquez '03 and Ms. Alex L. Glade '03
LTC and Mrs. Andrew T. Erickson ARNG '03
Mr. and Mrs. Chester N. Ernst '70
MAJ Luis A. Etienne Jr. '04
LTC Julie A. Evans '04
Mr. and Mrs. Thomas R. Evans '87
LTC and Mrs. Anthony B. Falcon '03
CPT Dominick V. Falcon '07
Mr. and Mrs. Michael J. Farley '88
LTC (R) Robert P. Farquhar '76
MAJ David R. Farrar '05
Mr. Geoffrey D. Farrell '87
MAJ Daniel M. Ferguson '05
LTC (R) and Mrs. James E. Ferguson '65
CPT Christian Fierro '04
Mr. and Mrs. Kurt A. Filosa '92
SFC and Mrs. Stephen Fine (P)
MAJ Michael C. Fish '04
MAJ Candace N. Fisher '04 and CPT Ari D. Fisher '05
CPT Daniel B. Fisher '07
LTC (R) and Mrs. Samuel H. Fisher Jr. '53
MAJ Margaret J. Fitzpatrick '06 and Mr. John Baker
COL (R) Eugene L. Fitzsimmons '53
MAJ John P. Flach '07
CPT David M. Flaherty '07
Dr. and Mrs. Kenneth W. Fleming '69
LTC (R) and Mrs. Wolfgang A. Fletter USAR '63
MAJ Benjamin R. Flores '07
CPT Carlos D. Flynn '03
John and Nancy Fogarty '71
CPT David L. Ford '04
MAJ Brian G. Forester '04
Mr. and Mrs. R. B. Foster '64
CPT Daniel J. Fox '04
Mrs. James J. Fraher (W '54)
Mr. and Mrs. Robert E. Francis '80
LTC (R) Robert T. Frank '65 and COL (R) Mary E. Frank
MAJ Laura-Jane R. Freeland '04
Mr. James M. Freeze '05 and Mrs. Grace M. Freeze '05
MAJ Matthew L. Friters '06
CPT Mallory A. Fritz '04
MAJ Peter T. Fritz '07
CPT Erin S. Fritzler '06
Mr. and Mrs. Alex M. Frum '97
LTC (R) and Mrs. Richard M. Frykman '69
MAJ (R) and Mrs. George A. Fulton '73
LTC Mindi C. Furnier '04 and Mr. Jim Furnier
MAJ Anthony Fuscellaro '05
Dr. Catherine N. Gaffigan '95
CPT Andrew J. Galdi '04
LTC and Mrs. Cameron G. Gallagher '03
LTC (R) and Mrs. John R. Gallogly USAR '70 (P)
MAJ Zane M. Galvach '04
MAJ Andrew D. Gardner '05
Mr. Thomas Gardner
CPT Ryan T. Garner '04
LTC Thomas N. Garner '04
MAJ David C. Garrison '05
MAJ Garrett T. Gatzemeyer '07
MAJ Trent D. Geisler '04
CPT Dennis M. Genest '07
LTC (R) and Mrs. John A. Geraci '72
LTC (R) Tawofik M. Ghazal '03
MAJ Brandon B. Gilles '07
CPT Andrew P. Gillick '06
George and Maureen Gilmore '71
COL (R) Robert E. Glasgow '53
CPT Jeffrey D. Glick '05
CPT Sean T. Godfrey '07
MAJ Benjamin W. Gong '05
CPT Daniel E. Gonzalez '06
CPT Daniel I. Gonzalez '06
CPT Danielle N. Gonzalez '05
LTC Ellis Z. Gordon '02
Mr. Michael S. Gordon '00
LTC Francesca A. Graham '04
Mr. and Mrs. Michael P. Graham '92 (P)
LTC (R) and Mrs. Thomas E. Graham II '79
Mr. and Mrs. W. George Grandison '66
LTC (R) and Mrs. Johnnie W. Grant Jr. '69
LTG (R) Richard G. Graves '58 and Mrs. Beverly S. Graves (P)
CPT William C. Graves '03
LTC Colin J. Greata '05
LTC (R) John M. Greathouse '69
Mr. Christopher D. Grech '78
LTC Christopher M. Green '03
MAJ Raymond K. Green '07
CPT Kyle L. Greenheck '05
MAJ Gerald W. Greenlee '05
LTC Lester L. Greer '03 and CPT Lauren Greer
MAJ Daniel A. Gregorio '07
MAJ Daniel A. Gregory '03
LTC Robert H. Gregory '03
MAJ Samuel D. Greulich '07
CPT Sean A. Grevious '07
CPT Benjamin S. Griffin '06
MAJ Allen T. Griffith '06
MAJ Randall S. Griggs '04
MAJ Brendan W. Griswold '05
Mr. and Mrs. Paul J. Groce III '86 (P)
CPT James Q. Grossman '06
Mr. George H. Groves '66
MAJ Joshua A. Grubbs '06
Mr. and Mrs. Joseph R. Gruchacz '83
CPT Peter A. Guerdan '06 and CPT Elizabeth C. Kent '06
Mr. and Mrs. Jack Guernsey '69
Mr. and Mrs. Glen J. Haddad (P)
CPT Erin C. Hahn '09 and Mr. Ashley B. Hahn '06
MAJ and Mrs. Michael C. Haith '03
LTC Charles W. Hall '03
Mr. and Mrs. Russell B. Hall '72
Mr. and Mrs. Russell P. Hall III (P)
COL (R) and Mrs. Thomas M. Hall Jr. '69
LTC and Mrs. Jason M. Halligan '05
CPT Thomas M. Halverson '07
Ms. Julia A. Hamacher-Wagner '87 and Mr. Dennis M. Wagner
CPT Sara R. Hamidovic '04
Mr. David M. Hamilton
COL (R) and Mrs. Edward A. Hamilton '62 (P)
LTC Michael A. Hamilton '04
MAJ Daniel W. Hancock III '07
LTC Joseph L. Handke '04
LTC Brian Hanrahan '04
CPT Henry V. Hansen '05 and CPT Lindsay E. Hansen '05
CPT Scott M. Haran '07
MAJ Jesse L. Harden '04
Joe and Beverly Hardin Jr. '67
MAJ Patrick K. Hardin '04
CPT Louis C. Hare III '07 and CPT Alexys M. Hare '08
Mr. and Mrs. John W. Harms '69
MAJ Stephen G. Harnsberger Jr. '05
Mr. Scott J. Harr '06 and Mrs. Kirsten A. Harr '06
Mr. and Mrs. Charles E. Harris '77
CPT Daniel T. Harrison '07
MAJ Benjamin W. Hartig '06 and Mrs. Lindsay N. Hartig '06
LTC Christopher M. Hartley '91
Mr. and Mrs. Jonathan M. Hartley '98
Mrs. Kathryn Harvey (W '41)
MAJ James S. Harvie '07
MAJ Mark R. Haseman '05
CPT Nicole L. Hash '07
CPT Bryan A. Hatcher '06
LTC Brandon J. Hathorne '04
CPT Wade A. Hatzinger '04
CPT Adam C. Haupt '03
MAJ Richard M. Hawkins '04
LTC (R) and Mrs. Stephen C. Hawkins USAR '77
LTC Justin E. Hawthorne '03
LTC (R) Thomas A. Hayden '77
LTC Paul C. Haynsworth '03
LTC Michael G. Hazell '04
MAJ Jessica F. Hegenbart '03
Mr. and Mrs. Charles R. Heindrichs '65
LTC (R) Steven H. Heinecke '77
COL (R) and Mrs. James A. Helis '79 (P)
LTC (R) and Mrs. Dennis E. Helsel '69
CPT (R) and Mrs. Kyle W. Hemminger '04
Mr. and Mrs. Dana P. Hendershott (P)
Mrs. Carissa A. Hendrix '04
CPT Philip G. Hensel '03
CPT Brockton L. Hershberger '03
MAJ and Mrs. Braden J. Hestermann '04
Mr. and Mrs. Robert W. Heun '77 (P)
Dr. and Mrs. Alfred Y. K. Hew Jr. MD '59
COL (R) and Mrs. Leland H. Hewitt '65
COL (R) James R. Hickey '79
LTC Marcel M. Hickman '04
MAJ Matthew S. Hicks '06
CPT Miles S. Hidalgo '06 and CPT Caroline B. Hidalgo '07
Mr. Heston W. Higginbotham III '61
MAJ Steven C. Higgins '06
MAJ Michael J. Hill '07
MAJ Kathryn L. Hillegass '07
Mr. Charles B. Hiller '66
MAJ David C. Hilling '05
LTC Jacob S. Hina '04
CPT Dennis W. Hines '06
LTC (R) Timothy R. Hines '03
Mr. and Mrs. Thomas Hinger
Mr. Michael J. Hoag
CPT Steven M. Hoak '06
Mr. Francis Q. Hoang '95 and Dr. Tracy Kruzick
Mr. and Mrs. Warren Hochlowski
CPT Christian L. Hoempler '06
LTC (R) Mark H. Hogan '07
LTC (R) and Mrs. Jerome W. Holderness '68 (P)
Mr. Thomas J. Holguin '85 (P)
CPT Sean M. Hollars '05
MAJ Neil A. Hollenbeck '03
MAJ Andrew K. Holler '06
CPT Douglas N. Holt '03
Mr. and Mrs. Joseph R. Homa '83
MAJ Karoline M. M. Hood '06
LTC (R) and Mrs. Thomas G. Hood '86 (P)
MAJ Greg C. Hope '06
MAJ David A. Horan
Mr. Charles A. Hornak '89
LTC Clarisa A. Horton '06
CPT Patrick T. Horvat '05
COL (R) Christopher S. Houston '87
MAJ Joshua A. Howard '05 and Dr. Erin Howard
Mr. and Mrs. Martin D. Howard '79
LTC (R) and Mrs. Scott L. Howell '97
MAJ Patrick C. Howlett '06
LTC Ryan A. Howry '04
MAJ and Mrs. Brodie K. Hoyer '03
LTC (R) Ralph M. Hudnall Jr. '90
COL (R) Robert L. Hull '56
LTC (R) Robert L. Hunt '54
LTC (R) and Mrs. Marion M. Hunter '66
Mrs. Janay L. Hurley '03 and Mr. Antonio Hurley
Mr. and Mrs. John S. Hurley '59
MAJ Ryan W. Hutson '07
COL (R) Cuthbert P. Hutton '59
MAJ Peter S. Hwang '06
MAJ (R) Joseph A. Iacchei '71
CPT Ronald Iammartino '03
LTC (R) Donald D. Ingram '59
COL Elijah E. Ingram '05
COL (R) and Mrs. John O. Innes '73 (P)
MAJ Jay A. Ireland '04
LTC Russell J. Isaacs '05
Mr. and Mrs. Frederick M. Isele '81
MAJ Gregory T. Isham '05 and Mrs. Liv K. Isham '05
CPT William E. Ivins '06
LTC James A. Jablonski '04
MAJ Chane R. Jackson '04
CPT Sandra Y. Jackson '06
Mr. Jeffrey N. Jacobson
COL (R) and Mrs. John R. James '67
MAJ Vernon J. James '04
Mr. and Mrs. Michael B. Janke
MAJ Paul L. Janker '06
CPT Jennifer K. Jantzi '06
MAJ Louis L. Jenkins '04
MAJ Brian R. Jenson '05
MAJ Rustin S. Jessup '04
LTC Andrew C. Johannes '03
LTC and Mrs. John K. Johannes '03
Mr. and Mrs. William L. Johnsmeyer '69
MAJ Elizabeth M. Johnson '07
MAJ Elsa L. Johnson '03
MAJ Khali D. Johnson '03
CPT Marcus W. Johnson '06
LTC (R) and Mrs. Scott K. Johnson '75
CPT Victor M. Johnson '04
MAJ Kyle M. Johnston '05
Mr. and Mrs. Mark L. Johnston Sr. (P)
LTC Seth A. Johnston '03
Mr. and Mrs. Briggs H. Jones '50
Mr. Michael A. Jones '85
CPT Trevor M. Jones '06
LTG (R) and Mrs. Larry R. Jordan '68
Mr. and Mrs. Martin H. Joyce III '74 (P)
Mr. Robert F. Joyce
COL (R) and Mrs. Thomas F. Julich '76 (P)
MAJ Richard W. Juten '06
LTC Patrick H. Kaine '03
CPT Michael J. Kaiser '05
CPT Tara A. Kaiser '03
CPT Nathaniel M. Kaminski '07
LTC (R) John B. Kampfer '61
MAJ Daijiro Kanase '04
LTC Kevin P. Kane '03
Mr. Steven M. Karan '81
CPT Brian C. Karhoff '06
CPT Adam M. Karr '05
Mr. Mark S. Kaschenbach '01
MAJ Matthew C. Kasprenski '05
Mrs. Yolanda Kastner (W '84)
LTC (R) Kim T. Kawamoto '92
Dr. Nakizito N. Kazigo '95
LTC Robert A. Kazmarek '04
Mr. Stephen Keehn '72
MAJ James B. Kelly '07
MAJ Joshua T. Kelly '07
MAJ Ryan V. Kelly '04
MAJ Michael P. Kendall Jr. '05
MAJ Sean K. Keneally '03
CPT Brandon M. Kennedy '06
Mr. Thomas J. Kenny Jr. '07
CPT Cameron M. Keogh '05
LTC Phillip J. Kerber '03
Mr. and Mrs. Kevin G. Kern
LTC Elijah S. Kern-Ruesink '05
CPT Neil E. Kester '06
CPT Daniel K. Kilgore '03
LTC (R) Michael A. Killham '75
CPT Jeffrey A. Killian '07
Mr. Glenn T. Kim '95
CPT Michael B. Kim '05
MAJ Steve Y. Kim '05
MAJ (R) and Mrs. N. W. Kimata '80
CPT Kiel W. King '04
CPT Matthew P. King '05
MAJ Valton L. King II '06 and Mrs. Dariam M. King '06
LTC Robert M. Kinney '03
LTC (R) and Mrs. John M. Kirby '76
Tim and Pam Knight '86
MAJ Donald D. Koban '04 and MAJ Lauren A. Koban '04
MAJ William L. Koch '04
MAJ Justin J. Koenig '07
MAJ Robert J. Kolb Jr. '04
BG (R) and Mrs. Thomas A. Kolditz
MAJ Michael S. Kolton '05
Mr. Donald F. Kopinski Jr. '79 and Ms. Kimberly Howard
Mr. and Mrs. Timothy J. Koprowski
Mr. and Mrs. Jay Kopstein
COL (R) Donald and Nancy Kotchman '79
MAJ Jason M. Kowrach '06
CPT Gregory J. Kozlowski '07
CPT Liam J. Kozma '07
MAJ John G. Krampien '06
COL and Mrs. Paul T. Krattiger '97
MAJ Bradley J. Krauss '05
MAJ Michael A. Krayer '03
MAJ Steven D. Kreeger '04
Ms. Linda S. Krogdahl
MAJ Daniel W. Krueger Jr. '06
Dr. Kevin F. Krupski '05
LTC (R) and Mrs. Martin R. Kuhn '85
LTC Hitoshi Kumagai '04
Mr. and Mrs. David L. Kumlien (P)
Mr. and Mrs. Paul D. Kure '74
LTC Michael C. Kurtti '03
Mr. and Mrs. Dale L. Kurtz '73
Mr. and Mrs. Spencer T. Kympton '94
Mr. and Mrs. Robert F. La Raia '67
MAJ Ryan S. Labio '05
Mr. John J. Lacek III '74
Ralph and Patricia LaGuardia
LTC Thomas A. Lainis '03
COL (R) and Mrs. Daniel F. Lally '72
CPT Jason P. Lam '07
CPT Alexander V. Lamolinara '06
Mr. and Mrs. David W. Landers (P)
LTC Britton A. Landry '04
Mrs. Sharon M. Lane (W '62)
LTC (R) and Mrs. Henry S. Langendorf '66 (P)
Dr. and Mrs. Jimmy L. Langley (P)
MAJ Steven M. Lanni Jr. '05 and LTC Abby E. Lanni '07
MAJ Cherise T. Lao '05
LTC Kevin S. Larrabee '03
Mr. Kevin S. Lauterjung '86 and Dr. Sally Lauterjung
COL (R) Thomas S. Lavender '87 and Mrs. Gina M. Lavender PE '88
LTC Timothy J. Lawrence '04
LTC (R) and Mrs. James E. Lawson II '76 (P)
CPT Colin L. Layne '05
Mr. Joseph and Mrs. Margo Lazzari (P)
Mr. and Mrs. Geoffrey W. Lea '80
CPT Andrew C. Lee '03
LTC Christopher S. Lee '04
CW5 (R) James M. Lee AUS '72
CPT Katherine A. Leidenberg '04
LTG (R) and Mrs. Edwin S. Leland Jr. '61
MAJ Matthew J. Lensing '07 and CPT Julia C. Lensing '07
LTC Timothy J. Leone '04
LTC Waiman Leung '04
LTC (R) Joel J. Levesque '89
Mr. and Mrs. Norman Levin
LTC Charles D. Lewis '04 and Mrs. Marie C. Lewis '04
MAJ Lawrence J. Lewis Jr. '03
LTC Mary Theresa A. Lewis '03
MAJ Justin A. Liesen '05
LTC Christian A. Lightsey '04
LTC (R) David L. Linder '66
CPT Ehren A. Linderman '06
MAJ and Mrs. Patrick A. Linford '07
MAJ Michael S. Linnington '05
MAJ Nicholas R. Linse '06
Mrs. John C. Loberg (W '57)
CPT Michael E. Loconsolo '03
Mr. Frank G. Lodato
Mr. Kenneth R. Long
CPT Elizabeth L. Lopez '06
CPT Preston E. Lopez '06
LTC Thomas J. Loux '04
Mr. William S. Love '83
MAJ Ryan M. Loviner '07
MAJ Ashley T. Lubecke '07
Mrs. John P. Lucas (W '43 Jun)
CPT Gabriel A. Lucero '06
COL (R) William J. Luk '76
Mr. and Mrs. Joseph E. Lundy
LTC and Mrs. Paul A. Lushenko '05
COL (R) and Mrs. Patrick J. Lusk '76
MAJ (R) Michael W. Luttmann '80
CPT Matthew C. Luyster '06
Mr. Matthew P. Lynch '91 and LTC (R) Ingrid W. Lynch USAR '92 (P)
CPT Timothy B. Lynch '03
Mr. and Mrs. William E. Lyons '65
COL Adam E. MacAllister '03
Mr. and Mrs. Robert B. MacChesney (P)
Mr. and Mrs. Kendall S. MacGibbon '79
MAJ William A. MacKenzie IV '07 and CPT Jennifer M. MacKenzie '07
LTC (R) and Mrs. James W. Madden '59
CPT John F. Madden '05
LTC (R) and Mrs. Brian W. Magerkurth '81 (P)
CPT Justin M. Magula '07
CPT Daniel P. Mahoney IV '06
LTC Tara A. Mahoney '03
CPT Todd A. Mainwaring '07
LTC Dylan W. Malcomb '03 and Mrs. Katherine J. Malcomb '03
LTC (R) and Mrs. Richard R. Manahan '57
MAJ Ember S. Maniego '05
Mr. Sloan C. Mann '97
Mr. and Mrs. Charles B. Manula Jr. '81
LTC (R) and Mrs. Herman S. Marmon '60
Mr. Christopher J. Marshall PE '84
Mr. and Mrs. Edward T. Martin '82
Mrs. Williams S. Martin (W '60)
COL (R) John R. and Marsha A. Martin '74
MAJ and Mrs. Timothy E. Martin '03
MAJ Ari M. Martyn '04
John T. Marzak Sr.
MAJ Robert P. Massey '04
LTC Raymond A. Maszarose '03
MAJ David W. Mathew '05
LTC (R) Jill A. Maurer '83
MAJ Joshua B. May '03
CPT Eric S. Mccall '03
Mr. Brendan J. McCarthy '07
MAJ Matthew M. McCarthy '06 and Mrs. Erica D. McCarthy '04
CPT William D. McCary '07
Mr. and Mrs. William W. McClung '56 (P)
MAJ Andrew L. McCollum '03
Dr. and Mrs. James K. McCollum '60
LTC and Mrs. Wilson H. McComas
MAJ Adam F. McCombs '04
CPT Ian M. McCormack '05
LTC and Mrs. Michael D. McCoy '97
CPT James S. McCray '07
LTC (R) and Mrs. William M. McDaniel '72
CPT Ryan E. Mcdonald '06
LTC (R) and Mrs. Brian R. McEnany '62
LTC Sean D. McEntee '04
MAJ Mary E. McGovney '04
CPT James M. McKay '05
MAJ Sarah E. McKay '07
MAJ Casey McKenna '04
Mrs. Patricia A. McKinley '81 and Mr. Herbert McKinley (P)
Mr. David L. McLaughlin '99
MAJ Sean R. McMahon '06
Mr. and Mrs. Dennis E. McMichael '78
Mr. and Mrs. Robert W. McNally '84
LTC Shawn P. McNicol '04
Mr. Scott V. McPherson
LTC (R) and Mrs. Richard D. Measner '70 (P)
CPT Brian J. Meister '03
MAJ Haley E. Mercer '06 and Mr. Jake Lohr
MAJ Brian M. Merkl '03
MAJ Clayton C. Merkley '07
Mrs. Virginia B. Meyer (W '48)
Tom and Diane Middaugh '62
Dr. Dan M. Milanesa '85 and Dr. Stacey C. Hanlon-Milanesa (P)
MAJ Ronald D. Mildren '03
Mr. and Mrs. Edward L. Milinski '68
MAJ Bre G. Millard-Washburn '03 and Mr. Geoffrey Washburn
MAJ Aaron-James W. Miller '04
MAJ (R) and Mrs. Carl D. Miller '60
CPT (R) and Mrs. David A. Miller
MAJ David T. Miller '05
LTC Jason C. Miller '04
MAJ Mark E. Miller '07
MAJ Matthew O. Miller '04
Mr. Ryan D. Miller '05
MAJ Sean N. Miller '06
Mr. Troy T. Miller '05
Mr. and Mrs. William D. Miller '73 (P)
CPT Lyle R. Milliman '06
Mr. and Mrs. Allan B. Miner (P)
MAJ Nicole R. Miner '05
MAJ Edwin L. Minges III '05
CPT Michael R. Mingler '06
CPT Justin A. Mishler '07
Mr. and Mrs. Gerald S. Misurek '67
Mr. and Mrs. Aaron W. Mitchell '94
MAJ Brian D. Mitchell '04
COL (R) and Mrs. Charles J. Mitchell '73
CPT Daniel W. Mitchell '06
MAJ Timothy M. Mitroka '04
MG (R) and Mrs. Robert W. Mixon '74 (P)
MAJ Wesley A. Moerbe '04
MAJ Barron J. Moffitt '04
LTC April D. Moncrief USAR '01 and Mr. Richard J. Moncrief
LTC Chad A. Monroe '05
LTC and Mrs. Brian A. Montgomery '04
CPT Scott R. Montoya '03
Mr. and Mrs. James C. Monty (P)
MAJ and Mrs. Alexander P. Moore '03
COL (R) Joanne C. Moore '91 and Mr. Kenneth C. Moore '91 (P)
LTC (R) Maria A. Moreno '85
MAJ Andrew R. Morgan '07
LTC Brian F. Morgan
Mr. Louis F. Morin '52
MAJ Shigenobu T. Morinaga '04
1LT (R) and Mrs. William J. Morrison '97
MAJ and Mrs. John R. Morrow '04
MAJ Allison N. Morse '05
LTC (R) and Mrs. James P. Moye '78
Mr. and Mrs. Robert C. Mueller '89
Mr. and Mrs. Scott Mulcahy (former '92)
Mr. and Mrs. Gerard P. Mullane '80
Dr. and Mrs. Charles R. Mulligan Jr. '83
CPT David Mun '04
CPT Jonathan V. Munson '06
Mr. and Mrs. Gustave H. Murby '75
LTC (R) Craig S. Murphy '76
Mr. and Mrs. Daniel H. Murphy (P)
Mr. and Mrs. Michael K. Murphy
LTC (R) and Mrs. Thomas E. Murray II '62
Mr. Matthew C. Myllykangas '95
COL (R) and Mrs. Ross L. Nagy '68
LTC Robert W. Nahabedian '03
MAJ Shawn C. Naigle '05 and CPT Laura A. Naigle '06
CPT Andrew M. Narcum '06
Mr. and Mrs. Michael C. Nason '90
CPT Paul B. Neal '04
LTC Jamey D. Nealy '04
LTC Ryan M. Neely '05
CPT Craig J. Nelson '06
Mr. and Mrs. Paul A. Nelson '73
Mr. and Mrs. Charles J. Nesbitt III '69
LTC Jesse M. Nesbitt '04
Mr. and Mrs. Patrick L. Neuschwanger '91
Mr. and Mrs. Robert A. Newman '70
CPT Kha M. Nguyen '05
Ms. Barbara Nickels
Mr. David S. Niekerk '78 and Dr. Elaina Rose
MAJ and Mrs. Jonathan C. Nielsen '07
CPT Gilberto A. Nieves '07
Mr. and Mrs. John W. Noble Jr. '86
LTC Sean K. Nolan '04 and Dr. Melody R. Nolan '04
COL (R) and Mrs. Thomas R. Noreen '75 (P)
LTC Michael A. Normand '04
MAJ William K. North '06
COL (R) John and Mary Northrop '72 (P)
Mr. and Mrs. Frank Nucaro
LTC Ryan R. Nugent '04
CPT Robert J. Nussbaumer '05
MAJ Colleen K. O'Brien '03
Mr. John L. O'Brien '83
MAJ Adam T. O'Donnell '06
Mr. and Mrs. Michael J. O'Donnell
MAJ Patrick C. O'Donnell '06
Dr. and Mrs. Timothy O'Donnell (P)
CPT Gerald M. O'Dowd '03
Mr. and Mrs. Christopher L. O'Keefe '87
MAJ Trevor P. O'Malley '05
CPT Jude C. Onwuanumkpe '06
Maj (R) Robert E. Opatovsky USAFR '70
Mr. Richard E. Orr Jr. '79
Mr. and Mrs. Patrick O. Ortland '82
MAJ Ethan M. Orwin '07
MAJ David J. Orzech '03
CPT and Mrs. Ian P. O'Sullivan '06
Mr. James W. Ott
MAJ Robby R. Otwell '06
Mr. and Mrs. John R. Ouellette '67
CPT Nicolas G. Ouimet '06
CPT Adrian B. Outlaw '03
CPT Pablo A. Valerin '07
Mr. and Mrs. Victor J. Paci '72
MAJ Brent J. Pafford '04
CPT Maxwell B. Pappas '06
Mr. Jeffrey R. Pardo '04
Mr. Matthew G. Pareti '03
Mr. and Mrs. Jeffrey M. Park '72
LTC Aaron G. Parks '03
Mrs. John W. Parks (W '53)
COL (R) and Mrs. Gregory H. Parlier '74
CPT Jeffrey C. Paruszewski '07
LTC Greg A. Pasquantonio '05
Mr. and Mrs. Vishnubhai V. Patel (P)
Ms. Kristina M. Patt '97
Mr. and Mrs. Lynne M. Patten '63
MAJ Tyler J. Patterson '05
MAJ Michael S. Patzkowski '04
Mr. Jared T. Pauling '06
COL (R) and Mrs. Gary L. Paxton '62
MAJ and Mrs. John G. Paxton '03 (P)
CPT Jonathan L. Paynter '06 and CPT Julie Paynter '06
MAJ Joseph W. Payton '05
LTC Stuart H. Peebles '03
Mr. and Mrs. Joaquin J. Perez '68
CPT Joseph D. Perry '05
CPT Daniel P. Pesature '05
CPT Andrew A. Pfeiffer '05
MAJ Stephanie L. Pfeiffer '06 and Mr. James Pfeiffer
Mr. Breehan D. Phillips
MAJ Caleb G. Phillips '06
Mr. Clinton L. Phillips '91
CPT Saythala Phonexayphova '04
1LT Daniel A. Pickett '05
Mr. and Mrs. Nathan J. Pickup '97
CPT Clinton E. Pierce '05
CPT Ronald D. Pierce '07
Mr. Mark F. Piggott
Dr. Daniel W. Pillasch '71
LTC (R) and Mrs. Mark J. Pincoski '87
CPT Jack C. Pinney '07
Mr. and Mrs. Carmen J. Pino '88
CPT Matthew J. Piosa '05
Ms. Margaret (Peg) Piro (P)
Mr. Robert W. Pitulej '86
LTC and Mrs. James Plumlee II USAR '94
MAJ Aaron M. Poe '04
MAJ (R) and Mrs. Michael W. Porch '80
LTC Michael A. Porges '05
MAJ Stoney L. Portis '04
LTC David T. Powell '05
MAJ Michael A. Powell '04
MAJ and Mrs. Kevin M. Power '07
MAJ Jennifer R. Powers '07
CPT Michael R. Prather '07
CPT Luis E. Preciado '03
LTC (R) and Mrs. Richard J. Preece '74
MAJ Adrienne M. Prem '03
Mr. and Mrs. Christopher S. Prentice '92
Mr. Gary E. Preston II '05
Mr. Daniel A. Priatko '84
LTC Matthew D. Pride '06
CPT James B. Prisock '04
MAJ Kurt A. Pryor '04
COL (R) and Mrs. Joseph F. Puett III '82
Dr. Fred B. Pugh DO
MAJ William C. Pyant III '05 and CPT Jayana S. Pyant '06
MAJ Preston G. Pysh '03
CPT Gary T. Quach '07
LTC Benjamin L. Quimby '03
Mr. Russell G. Quimby '74
CPT Mark S. Quint '07
MG (R) John C. Raaen Jr. '43 Jan
MAJ Joel D. Radunzel '06 and Mrs. Jill S. Radunzel '06
MAJ Bobbie L. Ragsdale III '07
CPT Jill M. Rahon '06
MAJ Juan C. Ramos '06
LTC Ramon A. Ramos '05
MAJ Renee E. Ramsey '03
COL (R) and Mrs. Charles M. Rankin '67
CPT Christopher J. Rankin '05
Mr. and Mrs. Jeffrey S. Rano
COL (R) and Mrs. Darrell S. Ransom '80
Mr. and Mrs. David F. Ray Jr. '87
LTC Terry F. Redd II '04
LTC (R) and Mrs. Podge M. Reed Jr. '64
Dr. and Mrs. Donald B. Reid '63
CPT Mark A. Reid '04
Mr. Christopher D. Reilly '86 and Mrs. Jill S. Reilly '86 (P)
LTC (R) and Mrs. Vincent E. Reilly '70
GEN (R) and Mrs. Dennis J. Reimer '62
Mr. and Mrs. Brad A. Reisinger '97
Mr. and Mrs. Gary L. Reiter (P)
MAJ Andrew K. Rember '06
LTC (R) Lawrence J. Remener '62
Col (R) and Mrs. Alan B. Renshaw USAF '56
Mr. and Mrs. Matthew E. Resnick '94
LTC Jose-Antonio Reyes '04
BG (R) and Mrs. Richard L. Reynard '58
MAJ Douglas W. Reynolds '05
Mr. and Mrs. Martin A. Reynolds
LTC and Mrs. Robert R. Reynolds Jr. '04
LTC Andrew M. Rhodes '04
LTC John R. Rhodes '03
Mr. James D. Richards '69
MAJ Donald J. Riddle '04
MAJ Ashley M. Ritchey '06
Mr. and Mrs. Anthony Rizzo Sr.
John and Patricia Robb '91
CPT Brian J. Roberts '06
CPT Erich K. Roberts '05
COL (R) and Mrs. Bruce H. Robertson '51
CPT (R) Marvin D. Robertson Jr. '04
MG (R) Bruce E. Robinson '70
CPT Joshua D. Roby '06
MAJ Elpidio Rodriguez '03
LTC Julianna M. Rodriguez '03
Mr. and Mrs. Charles C. Rogers '87
Mr. and Mrs. David E. Rogers '74
COL (R) and Mrs. Jeffrey C. Rogers '68 (P)
Bill and Sandy Rollins '74
COL (R) and Mrs. Mark J. Romaneski '76 (P)
LTC Pete Roongsang '04
Mr. Edward J. Rose Jr.
MAJ Sam J. Rosenberg '06
Dr. Donald J. Ross II '95
COL and Mrs. Randolph R. Rotte Jr. '85 (P)
MAJ Jeffrey W. Rottenberg '03
Mr. and Mrs. John W. Ruch Jr. '01
COL (R) Alfred S. Rushatz '62
Mr. and Mrs. Andrew G. Russell '91
Mr. and Mrs. William K. Russell
LTC (R) and Mrs. Randall C. Rutler '70 (P)
BG (R) and Mrs. Kevin T. Ryan '76
MAJ Michael J. Rybacki '04 and Mrs. Bridget Rybacki '04
CPT Jacob T. Rykken '07
LTC Joshua B. Rykowski '04
COL (R) Richard R. Ryles '76
CPT Gregory A. Sablan '06
Mr. and Mrs. Keith J. Sabol '87
LTC Douglas J. Sackett '03
CPT Joseph L. Sagisi '07
MAJ and Mrs. Philip P. Sakala '06
MAJ and Mrs. Jeffrey S. Salem '08
Mr. and Mrs. Jeffrey S. Salerno '94
LTC Peter S. Salfeety '04
LTC Raul Salinas III '04
Mr. William J. Sandbrook '79
Mr. and Mrs. Frederick Sandri
CPT Stephen J. Sapol '04
CPT Jonathan D. Sauer '06
LTC and Mrs. Adam M. Sawyer '00
LTC Adam A. Scher '04
CPT Kevin P. Schieman '03
MAJ Jonathan M. Schloicka '03
Mr. and Mrs. Bryce A. Schlosser '97
CPT Donald A. Schmidt II '07
MAJ Aaron T. Schmutz '06
COL Andrew K. Schober USAR '81
MAJ William B. Schreiner '06
MAJ (R) and Mrs. Joseph M. Schuessler '76
MAJ Fritz J. Schultes '04
COL (R) and Mrs. Joseph H. Schwar Jr. '58
LTC (R) and Mrs. Albert A. Sciarretta '73
MAJ Jeremy D. Scott '03
CPT Donald E. Sedivy III '05
MAJ Nicholas S. Seidel '03
MAJ Charles M. Seitz '07
MAJ Christopher S. Sexton '04
Mrs. Birgitt Seymour (W '60)
Mr. and Mrs. David G. Seymour '86
MAJ Jason M. Shafer '04
CPT Justin S. Shafer '04
Mr. Kerry K. Shafer '88
Mr. and Mrs. Stuart F. Shapiro '94
MAJ Aaron J. Shattuck '07
Mr. John W. Shaw III '06
Mr. Daniel Sheehan
LTC (R) Jeffrey A. Sheehan '97
RADM (R) and Mrs. Michael W. Shelton USN '67
LTC William W. Shelton '04
MAJ Matthew G. Sherburne '07
Mr. and Mrs. Aaron Sherman '51
LTC (R) and Mrs. George B. Shoener '68
MAJ Leah C. Shubin '03
Dr. Warren B. Shull '61 and Dr. Martha S. Shull
CPT Robert I. Sickler III '05
MAJ Joshua M. Sider '07
Mr. and Mrs. Richard G. Sider (P)
MAJ Brian J. Silva '04
CPT Joshua I. Silver '05
COL and Mrs. Joseph A. Simonelli Jr. '87
CPT Douglas S. Sims '04
Mr. Michael C. Sims '07
MAJ Daniel A. Sjursen '05
CPT Matthew T. Skeen '06
MAJ Dennis M. Skelton Jr. '03
CPT Matthew A. Smalley '06
Mr. and Mrs. Alan B. Smith '90
CPT Andrew D. Smith '04
Mr. Andrew F. Smith '92
MAJ Anthony D. Smith '04
CPT Eric C. Smith '06
MAJ Kevin G. Smith '03
CPT Kevin R. Smith '07
LTC Landgrave T. Smith '03
Col (R) Mark E. Smith III USAF '56
Ms. Nicole Smith
COL (R) and Mrs. Tony G. Smith '78
Mr. Walter L. Smith
MAJ Anthony J. Snipes '06
CPT Christian M. Snyder '07
LTC and Mrs. Robert A. Solano '04
COL (R) and Mrs. Charles J. Sollohub '61 (P)
CPT Jason L. Song '06
MAJ Philip Song '06
Mr. and Mrs. Wayne W. Y. Song '88
LTC John T. Soron '03
CPT Katherine A. Spannagel '06
CPT Daaron L. Spears '05
LTC Kenton E. Spiegler '03
MAJ Charles A. Staab II '06
MAJ Thomas L. Stall '06
LTC Michael P. Stallings '05
CPT Meghan E. Starr '07
Julie N. Staudt-Ochs (P)
MAJ Patrick R. Stauffer '05
CPT Joseph P. Steadman '06
MAJ Raven B. Stein '03
CPT Paul A. Stelzer '03
MAJ Gregory J. Stevens '07 and MAJ Jayne R. Stevens '08
COL (R) and Mrs. John G. Stevenson '71
MAJ Warren B. Stewart '03
CPT Margaret G. Stick '03
LTC Jacqueline K. Stilwell '04
MAJ (R) Brian J. Stoffer '06
Mr. Kyle R. Storjohann '07
Mr. and Mrs. Samuel G. Storrer '00
Mr. and Mrs. Charles T. Stowers Jr. '66
CPT Kevin P. Stramara Jr. '06
Mr. Daniel C. Stredler '86
MAJ (R) David M. Stroud '05
CPT Travis B. Stutes '06
MAJ Tyrek N. Swaby '04
CPT Jacob A. Swann '07
LTC Howard M. Swanson Jr. '04
MAJ Justin J. Swanson '04
CPT Joshua D. Swartsel '07
LTC (R) Michael Z. Swisher '76
Mr. and Mrs. Kurt T. Switala '85
MAJ Benjamin M. Symonette '03 and MAJ Sierra A. Symonette '04
CPT Michael J. Syvertsen '04
LTC Paul F. Tanghe '04
MAJ Barton L. Tate '03
COL (R) and Mrs. Christopher P. Tate '63
MAJ and Mrs. Gill T. Tatman-Tyree Jr. '04
MAJ Jesus A. Tavares Jr. '03
LTC (R) and Mrs. Clarence E. Taylor Jr. '79 (P)
Mr. Brian H. Tebrock '91
LTC (R) and Dr. Charles C. Teising Jr. USAR '76
MAJ Megan E. Tenpenny '05
1LT Thomas J. Tepley '05
CPT Christopher R. Thielenhaus '05
LTC James H. Thomas '03
MAJ John C. Thomas '05 and MAJ Joy L. Thomas '05
LTC Russell B. Thomas Sr. '03 and Mrs. Erin M. Thomas '04
LTC Mark E. Thompson '04
CPT Michael R. Thompson '03
CPT Justin P. Thorkildsen '07
CPT Michael N. Tiffany '06
Mr. and Mrs. Dennis W. Tighe '69
Mr. and Mrs. Richard R. Timboe '72
Ms. Mary L. Tobin '03
CPT Mark D. Tomola '03
MAJ Sara M. Tracy '05
LTC John R. Trahan '04
Mr. and Mrs. Kerry J. Trahan '88
BG (R) Timothy E. Trainor '83 and COL (R) Donna M. Brazil '83 (P)
MAJ Ryan T. Travis '05 and MAJ Lindsey N. Travis '06
COL (R) and Mrs. James A. Treadwell '76 (P)
Mr. and Mrs. James F. Trout Jr. '75
Mr. Abel A. Trujillo
CPT Tad T. Tsuneyoshi '03
MAJ Cameron P. Turner '06
MAJ Ricardo A. Turner '03
Mr. Timothy C. Tyson '74 and Mrs. Amy J. Tyson
Mr. and Mrs. Robert B. Uhler '68
MAJ Andrew J. Underwood '06
Mr. Thaddeus L. Underwood '96
LTC Michael J. Urso '04
Mr. and Mrs. Carl D. Van Demark
LTC Alan E. Van Saun '04
MAJ Bradley R. Vance '04
LTC Robin W. VanDeusen Jr. '03
Mr. and Mrs. Nathan H. Van Duzer '91 (P)
CPT Lorin D. Veigas '05
CPT David W. Veney II '05
CPT Ravi S. Venkataramani '04
MAJ Elizabeth S. Verardo '07
LTC (R) Douglas L. Verdier
MAJ Robert C. Vietor III '06 and MAJ Nicole O. Vietor '06
LTC (R) Francisco B. Villanueva '84
Maj Juan P. Villasenor USAFR '97
MAJ Abigail L. Vincent '05 and Mr. Bryon A. Vincent '05
COL (R) and Mrs. Mark E. Vinson '78
Vinnie and Teresa Viola '77
CPT Thomas C. Visel '03
LTC (R) Christine J. Voisinet Bender '87 and LTC Michael A. Bender
MAJ Kyle B. Vonderheide '07
LTC (R) and Mrs. John D. Vosilus '75
LTC (R) John F. Votaw '61
CPT Andrew M. Wade '07
MAJ Linda C. Wade '04 and Mr. Gary P. Wade '04
MAJ Brendan P. Wadsworth '07
MAJ Daniel J. Wagner '07
MAJ Jesston R. Wagner '04
Mr. and Mrs. John H. Wagner (P)
LTC Amber M. Walker '04 and MAJ Michael S. Walker '04
Mrs. John W. Walker (W '39)
CPT Cory W. Wallace '04
LTC (R) Roy V. Wallace Jr. '62
LTC (R) and Mrs. Steven H. Wallace '75
GEN (R) and Mrs. William S. Wallace '69
MAJ Christopher J. Wallgren '07
MAJ Liam P. Walsh '06
MAJ Travis R. Walter '04
Mr. and Mrs. John S. Wamboldt
LTC (R) Michael L. Wamsted '71
CPT Stuart P. Warders '06
MAJ Scott D. Warnke '06
LTC (R) and Mrs. Stanley L. Warrick '77
LTC Adrian N. Watts '04
Mr. and Mrs. Robert L. Weathers Jr. '64
CPT Annah M. Weaver '05
MAJ Andrew C. Webb '06
CPT Justin R. Wegner '05
LTC Laura R. Weimer '03
Mr. Robert G. Welch '85
MAJ Ryan P. Welch '05
LTC Joseph Z. Wells '04
Mr. and Mrs. Michael W. Wells '96
LTC Simon P. Welte '04
Mr. Frank S. Weston Jr. '82
MAJ Terron O. Wharton '05
Mr. and Mrs. Thomas R. Wheelock '69
MAJ Jeremy S. White '07
Dr. Shirley and Mr. Christopher Wick (P)
MAJ Aaron B. Wilcox '06
Ms. Natalie Wilcox (W '55)
CPT Shaun M. Wild '04
Mr. and Mrs. Patrick B. Wilkison '92
COL (R) Bristol W. Williams Jr. '70
LTC John M. Williams II '04
Mr. Mark D. Williams '03
MAJ Michael M. Williams '06
CPT Thomas M. Williams '04
LTC Yolanda G. Williams '05 and MAJ Eric Williams
Mr. Ronald F. Williamson '64
COL (R) and Mrs. Lynnford S. Wilson Jr. '66 (P)
CPT Bradley J. Winn '05 and Mrs. Tina L. Winn '05
Mr. and Mrs. Joseph B. Wismann '72 (P)
CPT Isaac J. Wisniewski '06 and CPT Jillian M. Wisniewski '06
MAJ Benjamin C. Wisnioski '04
CPT Michael M. Wisser '06
LTC (R) George K. Withers III '79
LTC Scott E. Wohlford '04
LTC Cecil E. Wolberton '05
MAJ Evan L. Wolf '06
MAJ Michael P. Wolk '07
MAJ Christian R. Wollenburg '03
MAJ Elizabeth A. Womble '05 and CPT Thomas P. Womble '05
MAJ Joseph T. Woods '07
MAJ Jason T. Woodward '03
MAJ Clinton R. Woody '04 and MAJ Susan K. Woody '04
MAJ Shannon R. Worthan '03
LTC Erik J. Wright '03
LTC Mathis F. Wright '04
Shaun '87 and Victoria Wurzbach (P)
MAJ Gregory X. Wynn II '07
Mr. David J. Wysocki
CPT Andrew T. Yakulis '06
CPT Andrew K. Yang '03
Mr. and Mrs. Edward M. Yeterian '74
Mr. and Mrs. Ken Yoshitani '65 (P)
CPT Christopher T. Young '06
Dr. and Mrs. Richard S. Young '73
COL Robert E. Young '94
MAJ Christopher J. Zagursky '06
CPT Andrew P. Zapf '04
LTC Philip T. Zapien '03
LTC John M. Zdeb '04
CPT Luke A. Zeck '05
MAJ John D. Zehnpfennig II '04
MAJ Alexander M. Zerio '06
LTC Michael E. Ziegelhofer '04
CPT Jason R. Zuniga '06
Anonymous (4)
CPT Antuan X. Aaron '12
Mr. and Mrs. Derek C. Abbott '87
Mr. Timothy F. Abbott '89
Mr. Clifford Ackerson
CPT Adam M. Nicholson '11
CPT David C. Adamic '12
CPT Elissa J. Adams '08
MAJ Mark P. Adams '10
Mr. Lloyd S. Adams Jr. '46
MAJ David R. Addams '08
Mr. and Mrs. John R. Ahern '63
COL Adam K. Ake USAR '97 and COL Julie A. Ake (P)
Dave Alberga '84 and Christine Cernosia
CPT Albert G. Leddy III '09
CPT Omar M. Alens '11
CPT (R) Brent Alexander '93 and and Ms. Renee Ryckman
Mr. and Mrs. Brian J. Alexander '85
MAJ Nicholas D. Alexander '10
MAJ (R) and Mrs. Robert M. Alexander '68
CPT Alexander B. Corbins '12
CPT Alfred P. Holtz '09
COL (R) Curtis J. Alitz '78 and Mrs. Debra Alitz (W '74)
Mr. and Mrs. Bruce Allbright (P)
Mr. and Mrs. Robert W. Allbright '72
COL (R) and Mrs. Charles M. Allen Jr. USAR '76
LTC (R) and Mrs. William T. Allen '83 (P)
Mrs. Marene N. Allison '80 and Mr. John H. Allison (P)
CPT William B. Allsup '08
GEN (R) and Mrs. Daniel B. Allyn '81 (P)
Lt Col (R) and Mrs. Robert J. Almassy USAF '64
Ms. Bridget D. Altenburg '95 and Dr. Colleen P. Doody
CPT Aaron W. Amacker '09
MAJ Craig L. Aman '09 and Mrs. Alison E. Aman '09
CPT and Mrs. Joseph G. Amoroso '12
COL (R) Robert M. Amrine '64 and Mrs. Heike Gottler (P)
CPT Jacob M. Amsden '09
Col (R) and Mrs. B. C. Anderson Jr. USAF '56
Mr. Charles W. Anderson '69
COL (R) and Mrs. David E. Anderson '86
Mr. and Mrs. Raymond W. Anderson '64
Ms. Sarah E. Anderson '09
Mr. Scott J. Anderson '90
CPT Andrew J. Uhorchak '11
MAJ Adam R. Angerami '10
Dr. and Mrs. Gregory L. Angstman (former '78) (P)
Mr. and Mrs. Thomas W. Anthony Jr. '70 (P)
CPT Anthony J. Segura '12
CPT Nicholas A. Antonio '09
MAJ Luis A. Arauz '10 and MAJ Annie M. Arauz '11
CPT and Mrs. Michael Arcangelo '11
COL and Mrs. Rocco A. Armonda '86
COL (R) and Mrs. Joseph C. Arnold '64
Eugene D. Atkinson '66
CPT Kevin J. Atwell '08
Mr. William T. Ault '02
BG and Mrs. William W. Austin (P)
LTC (R) and Mrs. Michael A. Babb '76
CPT Randell J. Babcock '11
COL and Mrs. Christopher H. Bachmann '98
CPT Colin J. Baggs '09
Ms. Briana J. Bailey '12
LTC (R) and Mrs. Bruce B. Bailey II '74
CPT John D. Bailey '11
Mr. William R. Bailey III '94
Mr. Francis C. Baker Jr. '75
CPT Paul E. Baker '11
MAJ Elijah B. Bales '11
CPT William E. Balogh '11
LTC (R) and Mrs. Lawrence A. Baltezore '72
CPT Travis R. Barker '08 and CPT Cathleen B. Barker '08
Honorable Rhesa H. and Claire Barksdale '66
CPT Stephen A. Barnes '09
Col (R) Arthur D. Barondes USAF '48
Mrs. Reid A. Barrett (W '56)
LTC (R) John S. Barrington '86
CPT Alexander C. Barron '08 and CPT Sarah A. Barron '08
Lt Gen (R) Edward P. Barry Jr. USAF '61
Mr. and Mrs. Robert M. Barry '59
Mr. Samuel J. Barry '87
CPT James N. Bashford Jr. '12
MG (R) and Mrs. John P. Basilica Jr. ARNG '78
Dr. Michael S. Baskin '02
Mr. and Mrs. William W. Basnett Jr. '86 (P)
Mr. and Mrs. Timothy Bass
MAJ John F. Bassette Jr. '10
COL Chad T. Bates '95
COL Philip F. Battaglia '83 and COL Diane H. Battaglia USAR '83
Mr. and Mrs. Michael Battenfeld
Mr. Anthony P. Battle
COL (R) Kevin M. Batule '83 and Mrs. Laura L. Batule (former '83) (P)
MAJ Peter C. Bauleke '10
LTC (R) and Mrs. Robert A. Bauman '70
MAJ Caitlin A. Beal '11
Dr. and Mrs. Kevin M. Beam '78
Mr. Justin C. Beck
CPT Michael R. Beck USA '11
CPT Andrew G. Beckwith '09
MAJ Chris and Sarah Beckwith '08
MAJ James M. Beebe '10 and MAJ Laura B. Beebe USAR '10
LTC (R) Robert J. Beecher '74
Dr. and Mrs. John M. Beehler (P)
COL (R) and Mrs. David R. Belcher USAR '79
Mr. David F. Belden '69
MAJ Carter P. Bell '10 and MAJ Elizabeth M. Bell '10
COL and Mrs. David G. Bell '95
Mr. and Mrs. George T. Bell '65
LTC (R) and Mrs. Michael L. Belter '78
CPT Benjamin C. Wideman '12
CPT Benjamin W. Niehoff '09
MAJ Nathan A. Bennett '10
CPT Nadege E. Benoit '12
Tim and Julie Bensley '81
CPT Brandon J. Benson '11
Mr. and Mrs. Harold B. Benson (P)
MAJ Jordan E. Benson '10
LTC (R) and Mrs. Stephen R. Benton '74
Annie and Daniel Berce (P)
Mr. Joseph C. Berenato '69
CPT Rachael L. Berkoff '11
Mr. and Mrs. Larry S. Berman (P)
COL (R) Gregory L. Berry USAR '79
COL (R) and Mrs. Thomas M. Besch '82
CPT Russell L. Bettencourt '12 and CPT Kaitlin A. Bettencourt '12
MAJ Elizabeth A. Betterbed '10
Mrs. Roberta W. Betts (W '34)
MAJ Lisa H. Beum '09
MAJ Michael N. Beum '10
Mr. Gerald F. Beyrer
CPT David A. Bierbrauer '12
Mr. and Mrs. Richard P. Bifulco '76
CPT Andrew J. Billisits '12
Mrs. Mark Bilodeau (W '72)
MAJ David R. Black '09
Mr. Marvin C. Blackburn '79
Mr. and Mrs. Joseph F. Blackgrove IV '63
Dr. Jean R. Blair and Mr. Bruce P. Blair
Mr. and Mrs. William J. Blair '96 (P)
Mr. and Mrs. William C. Blake '98 (P)
Mr. and Mrs. John J. Blanc Jr. (P)
Dr. and Mrs. Michael W. Blaney '90 (P)
CPT Kaleb S. Blankenship '09
LTC (R) Dennis J. Blasko '74
Mr. and Mrs. John M. Blevins '68
Dr. Sonya Blevins (W '94)
Dr. and Mrs. Robert A. Blewett (P)
CPT Andrew J. Blik '09
Mr. Darrin C. Bliler '11
Mr. and Mrs. Patrick Bliss (P)
CPT Emily E. Bobenrieth '11
LTC (R) and Mrs. Marc E. Boberg '92
Mrs. Mary H. Boberg (W '45)
Mr. Steven J. Bock 80
Mr. and Mrs. Edward Bodnar
CPT Rachel L. Boehme '11
BG (R) Daisie D. Boettner '81
COL (R) and Mrs. Bruce E. Boevers '73
CPT Jason A. Bogardus '09
Mr. Dennis E. Bogdan '93
Mr. and Mrs. Vincent C. Bohn (P)
Mr. John M. Bohnen '00
COL (R) John M. Bolchoz '78
Mr. and Mrs. Keith D. Bombaugh '77
MAJ and Mrs. Brent M. Bond '09
COL (R) and Mrs. Kevin W. Bond '73
LTC (R) Joseph C. Bonnet III '74
CPT Weston S. Boose '12
Mr. and Mrs. Charles Borchelt
LTG (R) and Mrs. Thomas P. Bostick '78
MAJ Tylor D. Bott '09
CPT Matthew A. Bourdeau '12
MG (R) Guy M. Bourn '74
Ms. Nichola L. Bourque
Mr. and Mrs. William M. Bowden '70
Mr. and Mrs. Martin L. Bowling Jr. '68
Mr. Bret R. Bowser '94
Mrs. Cindy M. Boyd '92 and CW4 Samuel J. Boyd
Mr. Carl Boyhan
CPT Joshua L. Boyle '09
LTC (R) and Mrs. Gregory J. Bozek '79 (P)
CPT Ronald W. Braasch III '09
MAJ (R) Joshua C. Bracher '08
Mr. and Mrs. Monte W. Bradford '83
Lawrence and Shannon Bradley '87 (P)
Mrs. Joanne C. Bradna (P)
Mr. and Mrs. Craig Brady
Mr. Thomas J. Brady Jr. '96 and Ms. Nicole Neeman
Mr. and Mrs. William T. Brady
CPT Joseph E. Bramer '11
LTC (R) and Mrs. Philip J. Brandli '78
CPT Brandon M. Boxler '10
CPT Brandon M. Podojil '11
CPT Brandon R. Counts '09
CPT Brandon R. Rule '10
Mr. Richard R. Brantley '12
COL (R) John W. Brau Jr. '86
CPT Neal J. Bray '12
CPT Jay M. Brend '09
CPT Brendan P. Mahoney '12
Mrs. Margaret Brennan and Mr. Michael Flynn
Mrs. Nuong Le Brennan (W '69)
Benjamin F. Breslauer '54
Mr. Peter L. Breton '74 and Dr. Gail Breton
CPT Brett A. Schuck '12
LTC (R) and Mrs. Dennis W. Brewer '65
CPT Brian J. Haley '09
CPT Brian R. Kent '09
CPT Brian W. Hewko '08
Mr. and Mrs. Robert A. Briant (P)
MAJ Thomas M. Brinker '10
CPT (R) Desiderio A. Britton II '09
CPT Brock A. Chavez '11
Mr. and Mrs. Kenneth E. Brockman '72
COL (R) and Mrs. Charles R. Broderick Jr. '68
Mr. and Mrs. Stanley A. Brodka '66
Mr. and Mrs. Kenneth Broeking (P)
Mr. and Mrs. Robert T. Broemmel (P)
Mr. and Mrs. Roy W. Bromfield '76
Lt Col (R) and Mrs. Joseph G. Brooks USAF '61
BG (R) Leo A. Brooks Jr. '79 and Mrs. Debbie R. Brooks
GEN (R) Arthur E. Brown Jr. '53
LTC (R) Clayton E. Brown '83
MAJ and Mrs. Derek P. Brown '07
MAJ Derek T. Brown '09
Mr. Howard L. Brown (P)
Lt Col (R) and Mrs. James D. Brown USAF '64
Ms. Kyndal K. Brown
Ms. Leann Brown
Mr. Morris E. Brown Jr. '62
Mr. Parker Brown
Ms. Sandie K. Brown
Mr. and Mrs. Steven G. Brown '85 (P)
COL (R) William C. Brown '49
John '90 and Kristin Bruellman
CPT Ryan M. Brunn '11
COL (R) John M. Bryant Jr. '70 and LTC (R) Linda S. Bryant
Mrs. Sarah E. Bryant '09 and Mr. Marcus Bryant
CPT Bryson W. Shipman '08
MAJ Brent T. Bubany '09
CPT Philip S. Bucci '08
LTC (R) and Mrs. Stephen D. Buck '79
Mr. John L. Buckheit Esq. '84 and Ms. Cheryl A. Reilly
LTC (R) and Mrs. John B. Buczacki '66
CPT Austin J. Buettgenbach '12 and CPT Tanya J. Buettgenbach '12
Mr. and Mrs. Man Bui (P)
Mrs. Sharon E. Bull '91 and Mr. Patrick C. Bull
CPT Lauren M. Bullis '11
CPT Mario D. Bullock '08
CPT (R) and Mrs. Jonathan M. Bulls '11
Mr. Thomas Burger
Mr. Craig Burnham
Mr. Patrick A. Burns
Mr. and Mrs. Scott A. Burns '95
Mr. and Mrs. Stephen C. Burrell '65
LTC (R) and Mrs. Thomas F. Burrell IV '96
MAJ David K. Burris '08
Mr. Ronald D. Bush '08
CPT Bradley D. Buss '12
COL (R) and Mrs. Brian J. Butcher '83 (P)
Dr. Corydon B. Butler Jr. (P)
Mr. and Mrs. Gary S. Butler '79
Mr. and Mrs. Jerry L. Butler '79
LTC (R) Samuel J. Butler '76
Mr. Dennis Buttacavoli
LTC (R) James F. Byrne Jr. '74
CPT Molly C. Byrnes '09
Mr. James Caccavale
Mr. and Mrs. Enrico J. Cacciatore '92
CPT John D. Caddell '08 and CPT Jessica C. Caddell '08
MAJ Michael J. Caddigan Jr. '11
Mr. James M. Cadet '96
COL (R) Steven D. Cage '78
Mr. and Mrs. Michael F. Cahalan (P)
Mrs. Gretchen G. Cahill '98 and Mr. Paul Cahill
MAJ Jesse C. Cain '08
Mr. and Mrs. Louis E. Caldera '78
MAJ Brigid K. Calhoun '11
CPT Shaun F. Callahan '12
LTC (R) and Mrs. Thomas M. Callaway '69
COL (R) and Mrs. Harry D. Callicotte USAR (former '79)
CPT Samuel R. Calvert '11
MAJ Andrew M. Cammack '09
COL (R) and Mrs. Greg C. Camp '68
LTC (R) and Mrs. Brian C. Campbell '70
Dr. Dale G. Campbell Jr. '61
Mr. James D. Campbell Jr. '80
1LT Kevin P. Campbell '11
Kim and Sally Campbell '76 (P)
CPT Matthew S. Campbell '11
Mr. and Mrs. Russell A. Campbell Jr. '65
MAJ Douglas R. Cannon '09 and CPT Laura E. Cannon '11
Mrs. Barbara A. Cantrell (W '76)
MAJ Michael C. Capomaggi '10
CPT Anthony D. Capozzi '09
CPT and Mrs. Anthony D. Caracio '01
Mr. and Mrs. Donald Carbone (P)
MAJ Eric L. Carbone '08
Mr. Andrew V. Carfang '09 and Mrs. Stephanie Marr
CPT Michael F. Carillo '12
CPT Carl R. Grantham III '12
COL (R) and Mrs. Timothy S. Carlin '82
CPT Brian R. Carlson '12
MAJ Steven J. Carlson '10
LTC (R) and Mrs. James W. Carman '68
Mr. Gary Carnes (P)
Ms. Patricia A. Carney
MAJ Lauryn D. Carr '08 and Mr. Aaron M. Carr
Mr. and Mrs. Richard L. Carr Jr. '64
1LT Thomas P. Carr '12
MAJ (R) and Mrs. Salome A. Carrasco '78 (P)
Mr. Patrick J. Carroll Jr. '61
MAJ and Mrs. Matthew P. Carstensen '10
Marshall N. Carter '62
1LT Matthew W. Carter '12
LTC (R) Robert A. Carter '53
Mr. George A. Carver Jr. '64
LTC (R) Andrew B. Casani '61
CPT Casey A. Tuggle '11
Mrs. Carole Cass (P)
Mr. and Mrs. Scott D. Caswell
MAJ Nathan R. Catching '09
COL (R) and Mrs. Robert B. Cato '65
LTC (R) and Mrs. Alan D. Catron '68
John and Deborah Cavalier '72
CPT Omar M. Cavalier '09
Dr. and Mrs. Donald Cavallini (P)
MAJ Tristan M. Cavanaugh '10
Mr. and Mrs. Stephen J. Cavoli '92 (P)
Mr. and Mrs. Peter Celona (P)
Mr. and Mrs. Ernest G. Chachere Jr. '74
MAJ Jon M. Chachula '09
LTC (R) and Mrs. Wayne F. Chalupa '75
Mr. John A. Champagne '69
Ms. Teresa I. Chanatry (W '48)
Mr. and Mrs. Gregory P. Chandler '89
MAJ Christine S. Chang '09
LTC (R) Alan A. Chapman '63
COL Douglas T. Charney
CPT Christopher W. Chatellier '09
MAJ and Mrs. Christopher J. Chavez '09
CPT Fernando Chavez '11
LTC (R) and Mrs. Thomas J. Chegash Jr. '79
Mr. and Mrs. Daniel M. Chen '96 (P)
Dr. and Ms. Tom S. Cheng '90
Mr. and Mrs. Joseph J. Chickey
COL (R) John H. Chiles '71
Mr. Anthony Chimenti
LTC (R) Darryl K. H. Ching '78
LTG (R) and Mrs. Dana K. Chipman '80
Mr. and Mrs. Charles B. Chitty '66
Mr. and Mrs. Jeffrey J. Chludzinski '81
1LT Ivan N. Cho '11
Mr. and Mrs. Shin H. Cho (P)
CPT Charles W. Christensen '12 and CPT Julianna C. Christensen '13
Dr. and Mrs. Kevin P. Christensen '76
MAJ (R) John K. Christian '69
CPT Christopher C. Kieschnik '11
CPT Christopher J. Carnes '09
CPT Christopher J. Manta '12
CPT Christopher J. Nelson '12
CPT Christopher M. Arnett '12
MAJ Anthony L. Chung '09
CPT Andrew M. Clark '09
LTC (R) Joseph P. Clark '91 and Dr. Jennifer Clark
CPT Karyn M. Clark '11
CPT Nathaniel A. Clark '09
Mr. Scott A. Clemenson '91 and Dr. Carmen Clemenson
CPT Sean A. Clement '09
Mr. and Mrs. Daniel E. Clements (P)
LTC (R) and Mrs. Francis D. Clepper Jr. '79
Mr. and Mrs. Mark A. Clouse '90
COL (R) and Mrs. Kenneth H. Clow '70
CPT and Mrs. Brian C. Clymer USAR '02
Mr. Dominic Coccodrilli
CPT Sean M. Cockrill '08
CPT Joshua E. Coffie '09 and Mrs. Whitney K. Coffie (former '09)
Mr. and Mrs. Miles G. Coffman (P)
Mr. and Mrs. William A. Cofield '82
COL (R) and Mrs. Samuel J. Colella '79 (P)
COL (R) and Mrs. Charles M. Coleman '72
CPT Joshua A. Coleman '12
CPT Colin J. O'Brien '10
CPT Colin O. Mahon '12
LTC (R) Edward C. Collazzo USAR '83 and LTC (R) Leanne M. Collazzo ARNG '86
LTC (R) and Mrs. Willis C. Collett Jr. '58
CPT Andrew T. Collins '08
1LT Christopher J. Collins '12
CPT Devon C. Collins '08
COL (R) Michael K. Collmeyer '66
Mr. Claudius M. Colombo
Mr. and Mrs. Michael J. Colon '95
MAJ Alan S. Colvin '08 and Mrs. Lindsey R. Colvin '10
LTC Marcus H. Colyer '00
Mr. Vincent D. Commisa
MAJ DeAnna M. Comstock '09
Ms. Rosemary Condit (P)
Mr. Arron H. Conley '10
MAJ Jonathon B. Conley '10
Dr. Ronald P. Conley '75
Col (R) and Mrs. Richard P. Conniff Jr. USAFR '75
Mr. John Consentino Jr.
1LT Abigail P. Constantino '12
Mr. and Mrs. Michael J. Conway '64
MAJ (R) Charles H. Cook (former '80)
COL (R) and Mrs. Stephen K. Cook '70
LTC (R) and Mrs. Earl A. Cooper III '73
CPT Jean-Pierre R. Cooper '12
Mr. and Mrs. Roy A. Cooper
Mr. J. D. Corcoran
Mr. Robert G. Cormier '90
CPT Nicholas J. Coronato '12
MAJ Thomas C. Correll Jr. '09
CPT William N. Corson Jr. '08
CPT Emmett M. Cosgrove '12
Mr. Robert W. Cover
MAJ Gilbert J. Coyle '10
Mr. and Mrs. Brent A. Crabtree '91
Mr. Robb D. Craddock '91
CPT John L. Craig-Lee '12
LTC (R) and Mrs. Maury S. Cralle Jr. '56
Mr. Michael E. Crane '97
Mr. Michael C. Crimmins '12
Mr. and Mrs. Daniel K. Croak '76
Mr. Thomas L. Croak '65
Mr. and Mrs. Michael S. Crocker '74
Dr. and Mrs. Vernon B. Crocker Sr. '76
CPT Richard J. Crockett '09
CPT Henry J. Crofoot '09
Dr. Douglas T. Cromack '73
LTC (R) and Mrs. Lloyd C. Crosman
LTC (R) and Mrs. John R. Crouse '72
CPT Edwin G. Cruz '12
CPT Mitchell T. Cucinotta '12
LTC (R) and Mrs. James M. Cullem '66
Mr. Curtis G. Cullen '09
Mr. and Mrs. George F. Cullen Jr. '71
CPT Daniel P. Cunningham '11
LTC (R) Roger D. Cunningham '72
Ms. Theresa M. C. Cunningham (W '46)
MAJ Grant E. Cuprak '10
CPT Jonathan T. Curran '12
Mr. Patrick C. Curran '97
CPT Curtis D. Jones III '11
Mr. Michael W. Cygan Jr. '01
CPT Joseph A. Cymerman '08
Dr. Robert Czwalina
CPT Lucas J. Dahl '10
Mr. and Mrs. Joseph S. Dahle '61
Mr. and Mrs. James M. Daly Jr. '64
CPT Jonathan D. Damalouji '08
CPT Daniel O. Davison '08
CPT and Mrs. Daniel R. Rowe '09
CPT Daniel S. Bader '11
CPT Daniel T. Burrow '12
CPT Daniel W. Baughman '12
CPT Daniel W. Culver '11
Mr. Jay F. Daniels '78
Mr. and Mrs. David L. Danielsen '84 (P)
Mr. John Dannemiller
MAJ Robert A. Darket '09
CPT Darrell J. Guthrie '12
Mr. John H. Darrow '64
Mr. and Mrs. Jim R. Darsey (P)
CPT David K. Niblick '10
CPT David T. Matoi '10
CPT Anthony R. Davila '12
CPT Colin R. Davis '12
Mr. and Mrs. Garrett M. Davis '65
MG (R) and Mrs. Gordon B. Davis Jr. '81
CPT Kyle C. Davis '09
CPT Ryan C. Davis '12
Mr. and Mrs. William M. Davis '74
Mr. Bruce H. Davison '84
1LT Anthony M. Day '12
Mrs. Valencia A. de la Vega-Maslonka '99 and Mr. Casey Maslonka
Ms. Kathleen M. Deans
COL (R) and Mrs. Joseph P. DeAntona '84 (P)
LTC (R) Joseph M. DeChant '58
CPT Jonathan A. DeCosta '12
LT Matthew T. Dedmon USCG '09
CPT Catherine R. Deeter '12
Mr. Thomas J. Deierlein '89
Mr. David A. del Cuadro-Zimmerman '07
Mr. John K. DeLee '12
MAJ Liliane Delva '08
Nick and Martha DeMiro '89
Mr. and Mrs. Robert L. DeMont '84 (P)
MAJ Andrew G. Demoss '11 and CPT Victoria C. Prohoda '11
Mr. and Mrs. Levon F. Dempsey Jr. (P)
CPT Derek P. B. Stanley '12
CPT Derek R. Turner '12
Mr. Tom DeStefano
CPT Devin P. Dornbush '11
Mr. and Mrs. Donald C. Devine '81
Mr. Russell DeVries Sr. '62
Mr. Michael N. Dewey '08
CPT Marissa M. Dey '08
MAJ Alexander C. Diaz-Martinez '09
MAJ John J. Dibble '09
Mr. James C. Diermeier
Mr. Matthew Dieterich '11
LTC (R) Richard H. DiGiovanni '81
Mr. and Mrs. John M. DiMarsico '85
COL (R) and Mrs. David L. Dimick '54
LTC (R) Jerome J. Dittman '77
Mr. Henry P. Dobbelaar Jr.
MAJ Cassidy T. Dobbins '08
Mr. Mark W. Dodgson
Mr. and Mrs. Charles O. Dodson '01
Mr. and Mrs. Francisco O. Dominguez Jr. '73
CPT Spencer W. Donaldson '12
Charles and Catherine Donley (P)
CPT Timothy D. Donohue '08
Mr. and Mrs. Edmund T. Donovan (P)
Mr. Joseph T. Dooley
Mr. and Mrs. Ted A. Dore (P)
Mr. Sean L. Dorfman '90
COL (R) and Mrs. John M. Dorr '61
MAJ Brandon N. Dotson '10
CPT Meagan E. Doucette '12
COL Paul D. Dougherty USAR '84
CPT Douglas J. Ausenbaugh '11
MAJ Jeffrey T. Dow '10
Mr. and Mrs. Robert S. Dow (former '66)
COL (R) Michael E. '88 and Mrs. Kristin L. Doyle (P)
MG (R) and Mrs. James L. Dozier '56
CPT Nathaniel M. Drake '09 and CPT Maxine A. Drake '09
Mr. and Mrs. John A. Dube (former '83)
Mr. Tom Dubrosky
Mr. R. Alan Dudley '71
LTC (R) and Mrs. Brian T. Duemling '83
Mr. and Mrs. Richard F. Duffy '69
John and Julia Dugan '91
Mr. and Mrs. Martin Dugan
1LT Joshua D. Dulaney '09
COL (R) and Mrs. George R. Duncan '62
Dr. Jeffrey A. Duncan '86
Mr. and Mrs. Thomas B. Durkin Jr. '79
Mr. and Mrs. Frank D. Durrum Jr. '71
COL (R) Joseph A. Durso '77
COL (R) and Mrs. Harry V. Dutchyshyn '52 (P)
Mr. Alexander P. Dyer '54
MAJ Nathan B. Dyer '08
Mr. Joe Dzikas
COL (R) James D. Dzwonchyk '93
COL (R) and Mrs. Mark C. Easton '82
Mr. James C. Eberle '71
Mr. and Mrs. William E. Eckert Jr.
COL (R) and Mrs. Eric Eckhardt (P)
Mr. and Mrs. Christopher J. Eddy '94
COL (R) Robert D. Edgerly ARNG '85
MAJ Phillip M. Edmondson '08
LTC (R) William H. Eggering '67
MAJ (R) Richard L. Ehrenreich '67
COL (R) and Mrs. Michael D. Eiland '61
Mr. and Mrs. Gene Eklund (P)
LTC (R) and Mrs. Richard A. Ekman USAR '72
LTC (R) and Mrs. William J. Ekman '70
Mr. Archie Elam '76
MAJ Cassandra M. Ellington '10
1LT Tyler J. Elliot '12
LTC and Mrs. Charles B. Elliott IV '90
CPT Megan C. Elliott '11
Col (R) and Mrs. Stephen H. Ellis USAF '62
Mrs. John V. Ello (W '60)
Mr. and Mrs. John B. Ende '92
Mrs. Cheryl A. Ennis (W '54)
BG and Dr. Robert W. Enzenauer USANG '75
CPT Jeffrey L. Epps '08
Dr. Jonathan A. Epstein
Mr. and Mrs. Christopher R. Erikson '97
LTC (R) Phyllis R. Erkins '86
BG (R) and Mrs. Dean R. Ertwine '72
MAJ Marc A. Eskew '08
CPT Ariel M. Espinoza-Levy '12
Mr. Howard S. Etheridge '72
LTC (R) Surry P. Everett '68
Mr. Donald C. Exelby '65
MAJ Jason R. Fabijanowicz '08
COL (R) Robert C. Faille Jr. '80
CPT Alexander N. Farmer '12
Mr. and Mrs. Dennis A. Farmer Jr. '87
CPT Christopher Z. Farrington '08
COL (R) and Mrs. Ivan R. Farris '63
CPT James M. Fasone '09
MAJ Jesse A. Faugstad '10
LTC John I. Faunce '01
CPT Matthew E. Faust '11
Mr. John Feiter
Mr. and Mrs. Craig W. Fellman '95
CPT Christina J. Fenstermaker '09
Mr. and Mrs. John D. Ferguson '72
COL (R) and Mrs. Jude C. Fernan '83
Mrs. Elaine M. Fernandez (W '45)
Mr. Paul Ferrari
MAJ Sarah A. Ferreira '09 and CPT Andrew G. Ferreira '09
Mr. Paul J. Ferrigno '96 and Dr. Lisa A. Mills
CPT Daniel J. Ferry IV '09
Mr. and Mrs. Thomas J. Fezza Sr. (P)
Mr. Thomas J. Fezza '96
CPT Brian D. Fiallo '11
Mr. and Mrs. Francis F. Figliola '83 (P)
LTC Jennifer P. Finch '95 and LTC Kevin E. Finch '95
CPT Jillian M. Findlay '11
Dr. and Mrs. Bertram P. Finn '62
LTC (R) and Mrs. Milan J. Fischer USAR '71
Mr. Stephen E. Fischer
Mr. Ronald V. Fisco
MAJ (R) Thomas E. Fish '83
Mr. and Mrs. Judson L. Fisher (P)
LTC (R) and Mrs. Michael J. Fisher '68
CPT Briana D. Fisk '09 and Mr. Bradley A. Fisk
Mr. Brian P. Fitzgerald '91
CPT and Mrs. Michael V. Fitzgerald '12
Mr. James R. Fitzgibbon III '92
Mr. and Mrs. Lawrence J. Fitzkee (P)
Mr. and Mrs. Matthew R. Fix '96
Patrick M. Flachs '72 and Lorraine Flachs (P)
MAJ (R) and Mrs. Michael D. Flannery '73
Mr. Thomas Flannery
COL (R) Henry A. Flertzheim Jr. '53
Charlie and Dale Anne Fletcher '72 (P)
MAJ (R) David J. Fletcher '77
1LT George C. Fletcher '12
CPT Chloe M. Flores '11
Mr. and Mrs. Rolando B. Flores (P)
Mr. and Mrs. Sean C. Flynn '95
Mr. Stephen Flynn
MAJ Timothy A. Flynn '10
Mr. Edward G. Foley
LTG (R) and Mrs. Robert F. Foley '63 (P)
Mr. and Mrs. William C. Ford
MAJ Stefanie N. Forgione '10
1LT Anthony M. Formica '09
CPT Chelsey N. Fortner '08
Mr. James D. Foss '69
Mrs. Peter J. Foss (W '51)
Mr. and Mrs. Bradley S. Foster Jr. '01
CPT Samy Fouda '08 and CPT Theresa F. Fouda '08
COL (R) and Mrs. Donald E. Fowler II '71
Mr. Charles P. Franck
Mr. and Mrs. Douglas R. Frank '85
COL (R) Lawrence J. Frank '74
CPT John E. Franklin '09
CPT Brittany J. Fraser '11
CPT Andrew J. Frazier '09
LTC Jeanine L. Frazier '04
Mr. and Mrs. Kent P. Fredrickson '82 (P)
CPT Cora E. Freeman '08
CPT Mark H. Freeman '12 and CPT Haley J. Freeman '12
Mr. Norman E. Fretwell '66 and Ms. Beverly A. Haskins
COL (R) and Mrs. Robert M. Frey '65
LTC and Mrs. Steven P. Friedel '85
LTC (R) Thomas M. Froneberger '74
MAJ Robert I. Frost '11
CAPT (R) Paul K. Fuhrmeister MD USPHS '74
Mr. and Mrs. Michael B. Fuller '66
CPT William L. Fuller '09 and CPT Sarah P. White '09
CPT Adam J. Fulling '12
Mark and Barbara Fullmer
Mr. Douglas M. Gafney '96
Mr. George D. Gagaris '78
COL Mark C. Gagnon '90 and Mrs. Kristin M. E. Gagnon '90 (P)
CPT Douglas S. Gain '12
CPT Eric M. Gallagher '12
Mr. John M. Gallagher '72
CPT Michael J. Gallow '09
LTC (R) and Mrs. Donald A. Galvanin '74
COL (R) and Mrs. James J. Galvin Jr. '83
CPT Jeffrey B. Gamez '09
MAJ (R) and Mrs. Franklin M. Garabato '73
MAJ Alisha M. Garcia '09 and Mr. Josue Garcia
CPT Richard L. Garcia Jr. '11
CPT Rafael A. Garcia-Menocal '11
Lt Col (R) and Mrs. George F. Garey USAF '53
CPT Francis P. Gargin '11
CPT Jacob T. Garrett '09
Mr. and Mrs. Thom P. Garrett '66
Mr. Brian P. Garrison '90
MAJ Mark D. Garrison Jr. '10
MAJ Spencer G. Garrison '09
Mrs. Marlene K. Garvey (W '62)
CPT Oscar A. Garzon Jr. '12
Mr. and Mrs. Jack Gatesy '66
COL (R) and Mrs. Jeffrey W. Gault '70
Kevin C. Gaynor '66
COL (R) and Mrs. Stephen J. Gayton Jr. '87
CPT Shawn M. Gee '09
MAJ (R) and Mrs. Ralph E. Gehrki '76
Mr. David D. Geiger
CPT Joseph L. Gelinas III '11
Mr. Daniel Gelman
CPT Christian A. Genao Martinez '11
Mr. and Mrs. Jonathan D. Gensler '00
CPT Geoffrey D. Ross '10
CPT Charles H. Georgi II '09
Angus and Mary Stuart Gephart (P)
COL (R) and Mrs. Mark H. Gerner '73
MAJ Meghan C. Gerrity '08 and Ms. Jessica A. McKinney
Mr. Tommy Giannopoulos
Mr. and Mrs. Joseph V. Giardina (P)
COL (R) Joy A. Gibbon '83 and Ms. Julie A. Chapman
CPT John C. Gibson '10
CPT Shaun L. Gilbert '08
Mr. and Mrs. Terence P. Gilroy '97
MAJ Dana M. Gingrich '09
CPT Robert L. Gipson II '11
LTC (R) and Mrs. Peter J. Gizzi '67 (P)
Mr. and Mrs. Richard L. Glassen '66
Mr. Charles C. Gleichenhaus '74
CPT Andrew J. Glubzinski '09
Mr. and Mrs. Raymond E. Goins (P)
COL (R) and Mrs. Glenn H. Goldman '84
MAJ Cristina C. Gomez '09
Mr. Carlos G. Gonzales '00
CPT Justin L. Good '12
CPT Kaitlin R. Goodall '12
COL (R) and Mrs. William S. Goodhand III '74
Mr. and Mrs. Robert L. Goodman '85 (P)
Mr. and Mrs. Alan R. Goodrich '85
Mr. and Mrs. Jeffrey G. Goodrich (P)
MAJ John C. Goodwill '09
MAJ John A. Goodwin '10
Mr. and Mrs. Justin C. Gordon '99
Dr. Margaret M. Gordon '84 (P)
Mr. Charles A. Gorske (P)
COL (R) and Mrs. Richard V. Gorski '66
LTC (R) and Mrs. Greg A. Gorzelnik '77 (P)
LTC (R) and Mrs. Stephen M. Gouthro Sr. '77 (P)
Mr. and Mrs. Edward P. Gower Jr. (P)
CPT Walter Gradzik Jr. '08
CPT Jeremy Graham '08
Mr. and Mrs. John M. W. Graham '67
CPT Adam J. Grant '09
Mr. Gregg A. Grant (P)
Mr. and Mrs. Scott A. Grant (P)
MAJ Wiley W. Grant '09
Mr. Lee R. Grasfeder '64 (P)
Mr. Joseph A. Gratton '07
CPT Alex H. Graves '11
Bill and Jamie Graves '82 (P)
Mr. John P. Gravina
CPT Michael J. Grdina '12
COL (R) and Mrs. Norman D. Greczyn '72
COL Wayne A. Green '87 and Mrs. Tara A. Green '94 (P)
Mr. Marius A. Greene '00
CPT and Mrs. Matthew J. M. Greene '12
Mr. and Mrs. Michael T. Greene '80 (P)
COL (R) Paul S. Greenhouse '85
Mr. and Mrs. Kevin P. Gregoire '90
CPT Gregory A. Wheeler '08
LTC Alfred J. Grein '87
CPT Samantha K. Griesinger '12 and Mr. Terry A. Griesinger
CPT Kristen M. Griest '11
Mrs. Brigid T. Griffin
Mr. and Mrs. Charles S. Griffin '78
Joseph and Marilyn Griffin
CPT Sean D. Griffin '09
Mr. and Mrs. Robert C. Grim (P)
COL (R) and Mrs. Myron J. Griswold '73 (P)
Ms. Barbara L. Grofic '82
LTC (R) and Mrs. Christopher J. Grose '94 (P)
CPT Ellyn E. Grosz '12
Mr. and Mrs. Thomas R. Grubbs '75
CPT Ehren M. Gruber '11
LTC (R) and Mrs. Carl D. Grunow '84
Mr. and Mrs. Alan C. Guarino '82
CPT Guice R. Moore '11
LTC Richard B. Gussenhoven '94 and Mrs. Elisabeth A. Gussenhoven '94
COL (R) and Mrs. Steven G. Guthrie '75
LTC (R) Glenn E. Guyant '83
Michael and Jennifer Guzman '99
LTC Gregory J. Haack USAR '88
MAJ John A. Hackmann '09
Mr. and Mrs. Hiram Hagio (P)
COL and Mrs. Joel D. Hagy USARNG '88
MG (R) and Mrs. Daniel A. Hahn '73
LTC (R) and Mrs. David B. Hahn '71
Mrs. James S. Hahn (W '59)
COL (R) Barrett S. Haight '59 and Dr. Barbara K. Haight (P)
COL William H. Haight III '81 and COL Catherine G. Haight '81 (P)
CPT Travis A. Haigler '09
CPT Nicholas R. Haines '08
MAJ Edward R. Halinski III '08
Mr. Joseph H. Hall III '80
Millard and Lynette Hall Jr. '78
Mr. and Mrs. Ronald M. Hall '78
Mr. Samuel L. Halliday '54
COL (R) and Mrs. Brian S. Halloran '91
BG (R) Rebecca S. Halstead '81
Mr. and Mrs. Kevin A. Hamel
Mr. Marcus K. Hamilton '83
Mr. Patrick R. Hammond Jr. '12
1LT Matthew D. Hanes '09
Mr. Thomas Hannigan
Mr. and Mrs. Clarence W. Hannon '54
CPT Thomas L. Hansen II '09
Mr. and Mrs. David L. Hanson (P)
CPT McKinsey R. Harb '11
CPT Christopher D. Hardee '12
Mr. E. Davisson Hardman Jr. '71
CPT Christina L. Harjo '10
Mr. and Mrs. John Harker
CPT Eric D. Harleman '12
CPT Alexander W. Harris '12
CPT Charles L. Harris '10 and CPT Margaret C. Harris '10
MG (R) and Mrs. David C. Harris (P)
Mr. David D. Harris Jr. '82
Mr. Nicholas S. Harris '02
COL (R) and Mrs. Stuart G. Harrison '83 (P)
Mr. and Mrs. Michael R. Hart '68
Mr. and Mrs. James M. Harter '68
LTC (R) and Mrs. Robert L. Harter '65
Mr. and Mrs. Mark A. Hartman '79
Mr. and Mrs. Jeffrey T. Hassman '87
Dr. and Mrs. Marvin S. Haswell '74
1LT Joseph A. Hathcock '12
Dr. and Mrs. Craig T. Hatton '72
Mr. Henry W. Haunss Jr.
CPT Shaye L. Haver '12
Mr. Jon C. Haveron II '12
CPT Christopher M. Hawkins '11
Dr. and Mrs. David C. Hawkins (P)
Mr. and Mrs. James P. Hayes '99
CPT John A. Haynes '11
Ms. Roxanne Hayward
Mr. John T. Head III '92
LTC (R) and Mrs. Michael G. Headly '74
Mr. and Mrs. William J. Heady
Mr. John A. Healy
Mr. and Mrs. Robert P. Healy '86 (P)
CPT Cortney R. Heaps '11
LTC (R) and Mrs. Jeffrey J. Heckel '79
MAJ Kathryn J. Hedgecock '11
CPT Nathan C. Hedgecock '11
LTC (R) Roy R. Hedtke '71
LTC (R) and Mrs. Peter Heesch Jr. '69
CPT Hannah M. Smith '12
Mr. and Mrs. William C. Heiny (P)
CPT Lindsay G. Heisler '12
Mr. and Mrs. Philip E. Helbling '85 (P)
CPT Nathan J. Held '11
Mr. Dennis Heller (P)
MAJ (R) Frederick C. Hellwig '81
COL (R) and Mrs. Paul T. Hengst '77
Mr. Thomas R. Henneberry '65
Mrs. Erin and Mr. Edward Hennessey
CPT Jacob M. Henry '12
COL (R) William A. Henry '64
Dr. and Mrs. Garth S. Herbert '95
MAJ Sarah S. Hermida USAR '03
MAJ Brent D. Hermiller '09
LTC (R) and Mrs. Juan J. Hernandez '82
LTC (R) Manuel J. Hernandez '78
Mr. Gilbert V. Herrera (former '81)
MAJ Joshua P. Herrera '10
CPT Mark S. Herrick '09
CPT Ann P. Hershey '11
Mr. Edward P. Hetrick '73 and Ms. Ellen Johnson
Mr. and Mrs. Michael A. Heyne '67
CPT Brendan T. Hickey '12
COL (R) James L. Hickey '72
CPT Daniel J. Hickok '08
MAJ Nathan M. Hicks '09
Mr. and Mrs. Steve A. Hicks '72
Andee Hidalgo-Ott '87 and Rosanne Hidalgo-Ott '88
Mr. and Mrs. William G. Higgs '74
LTC (R) and Mrs. Terry N. Hilderbrand '70
COL (R) and Mrs. Orland K. Hill '58
Mr. Robert J. Hill III '65
LTC (R) Richard L. Hinojosa '76
COL (R) and Mrs. Richard M. Hirata '58
Mr. Peter Hitt
Mr. and Mrs. Alfred L. Hobbs (P)
Mr. and Mrs. Barry T. Hodge '73
Mr. and Mrs. Howard H. Hoege Jr. '69 (P)
Mr. and Mrs. David F. Hoel (P)
Mr. and Mrs. Erik A. Hoempler '12
CPT Daniel J. Hogan '09
Mr. and Mrs. Francis P. Hogan '72
MAJ Steven C. Hojnicki '09
LTC (R) and Mrs. Robert C. Holcomb '73 (P)
LTC (R) and Mrs. John F. Holecek '58
COL (R) and Mrs. JB Holeman '64 Jr. (P)
Mr. Gregg Holgate
COL (R) Hershel L. Holiday Sr. '84
COL (R) and Mrs. Kenneth N. Hollander '63
CPT Sophia M. Hollenbeck '11
Ms. Kelly A. Holleran '09
Dr. and Mrs. Marvin E. Hollowell Jr.
Mr. Charles L. Holzinger '77
CPT Carson K. Homme '11 and 1LT Kaytlin L. Homme '12
Mr. and Mrs. Aaron F. Hood '94
Mike Hood '67
CPT Anna J. Cruickshank '12
LTG (R) Reynold N. Hoover ARNG '83 and Ms. Kathryn Kirmayer
Dr. and Mrs. Donald H. Horner Jr. '81
LTC (R) and Mrs. Leonard B. Horning Jr. '76
Mr. Thomas R. Horrobin '96
Mr. and Mrs. Walter V. Horstman '77
COL (R) and Mrs. James R. Hougnon '72
BG (R) John D. Howard '64 and COL (R) Mary Brooke Myers '83
MAJ Robert B. Howell '08
Mr. Thomas F. Howley
COL (R) and Mrs. Dale E. Hruby '58 (P)
CPT Trevyn J. Hubbs '12
Mr. and Mrs. Leonard S. Huff '88
CPT Jessica L. Huggins '11
LTC (R) Randall L. Hughes '74
Mr. and Mrs. Richard S. Huh '94
Mr. Jason T. Hull '95
MAJ Nathan S. Humbert '10
MAJ and Mrs. Alexander M. Humes '09
1LT Craig J. Hunninghake '11
CPT Hunter M. Williams '10
CPT Stewart J. Huntoon '11
MAJ Kyle B. Hurst, '08
Mr. and Mrs. Michael J. Huston '65
1LT Chisom C. Hutchins '12
CPT Michael K. Hutchins Jr. '12
CPT Sean P. Hutchison '12
COL (R) and Mrs. Heyward G. Hutson '58 (P)
MAJ (R) and Mrs. Richard J. Hyde '79
Mr. Anthony Iannone
COL (R) Paul M. Ingram USAF '50
Mrs. Glenn P. Ingwersen (W '43 Jun)
LTC (R) and Mrs. Robert D. Irving '90
CPT Donald W. Irwin '08
Mr. and Mrs. Harry R. Irwin '72
Mr. and Mrs. James R. Isaacs '75 (P)
CPT Melissa A. Ivanco '11
COL (R) and Mrs. Michael E. Ivy '77 (P)
MAJ Ashian M. Izadi '09
CPT Jacen P. Lanclos '10
LTC (R) Bruce V. Jackan '76 and Ms. Beth A. Simmons
MAJ David A. Jackson '08
CPT Robert E. Jackson Jr. USAR '02
COL (R) and Mrs. Jonathan A. Jacobsen '72
Dr. and Mrs. John M. Jacocks '79
MAJ Matthew J. Jadrnak '10 and MAJ Rebekah M. Jadrnak '10
CPT Robert K. Jahn '08
LTC (R) Robert A. James '00 and CPT Brandi James
Dr. and Mrs. William D. James '72
CPT James D. Whitler '11
CPT James I. Minshew '08
CPT James R. Baldwin '12
CPT James R. McCarthy '11
Mr. Peter A. Janhunen Jr. '89
Lt Col (R) and Mrs. Jack M. Jannarone USAF '65
1LT John D. Jantzen '12
Mr. Tate A. Jarrow '04
Mr. Steven Jason
CPT Jason D. Borchik '10
CPT Jason R. Landis '11
CPT Jason S. Trump '11
CPT Heather A. Jebb '12
CPT Makeba L. Jeffcoat '12
CPT Jefferson G. Kent '10
CPT Patrick J. Jeffrey '09
Mr. and Mrs. Christopher P. Jenkins '90
CPT Jeong H. Hong '11
COL (R) and Mrs. Gary D. Jerauld '76
CPT Jeremy A. Martini '12
CPT Jeremy B. Singer '08
MAJ Derrick D. Jerke '10
CPT Kelley Y. J. Jhong '11
MAJ Edwin Jimenez '10
CPT John J. Adams '10 and CPT Tiffany L. Adams '10
CPT John R. Valitutto '12
CPT Abraham J. Johnson '12 and CPT Ashley V. Johnson '12
CPT and Mrs. Benjamin A. Johnson '12
CPT Christina C. Johnson '12
Mr. and Mrs. Edward C. Johnson Jr. '73
Mr. Jace R. W. Johnson '81
Mr. Jeffrey W. Johnson '84 and Ms. Sherri Goldstein
Mr. and Mrs. Lloyd H. Johnson
Mr. and Mrs. Michael J. Johnson (P)
CPT Reanna B. Johnson '12
Mrs. Jane K. Jollota '83 and CW5 Daniel R. Jollota (P)
CPT Jonathan B. Traczyk '12
CPT Jonathan D. Meier '08
CPT Jonathan M. Cohen '12
CPT Aaron F. Jones '12
CPT Christopher L. Jones Jr. '12 and Mrs. Emily K. Jones '15
Mr. and Mrs. Derek A. Jones '90
CPT Ian T. Jones '09
Keith R. Jones '72 and Stephanie Marx Jones
MAJ Lynn N. Jones '09
Mr. and Mrs. Randy L. Jones '72
MAJ Rhiannon E. Jones '09
Mr. Wilbur S. Jones Jr. '67 and Ms. Joyce Jefferson
Brooke Jones-Chinetti '09
Mr. and Mrs. Richard Jordan (P)
Mr. Robert R. Jorgensen '89 and Dr. Jennifer E. Jorgensen (P)
CPT Justin J. Lopez '09
CPT Justin K. Kwon '08
Mr. and Mrs. Stanley Kaczmarek
Dr. James J. Kainec '82
MAJ Matthew M. Kalin '09
Mr. and Mrs. Stephen P. Kalish '82
CPT Nicholas E. Kalitka '08
CPT Nicholas G. Kanakis '09
1LT Neil D. Kanneberg '12
Mr. Brian Kanner
Mr. Nikesh D. Kapadia '09
Mr. and Mrs. Michael J. Karaman '79
Mr. Kenneth B. Karhuse '71
CPT Karl E. Tappert '12
Mr. and Mrs. Michael C. Karsonovich '89 (P)
MAJ Conlan Joseph O. Kastanias '10
CPT Cory T. Kastl '08
COL (R) Thomas and Pamela Kastner '82 (P)
BG (R) and Mrs. Daniel J. Kaufman '68
CPT Philip E. Kautz '09
Ms. Janette L. Kautzman '99
Mr. and Mrs. Stephen R. Kaye (P)
CPT John A. Kearby '09
MAJ Michael R. B. Kearnes '09
1LT Kevin M. Keating '12
BG (R) and Mrs. Daniel J. Keefe '76 (P)
Mr. and Mrs. Stephen L. Keefe '95
COL (R) and Mrs. Robert E. Keener '54
CPT Timothy J. Keilty '09
BG (R) and Mrs. Edwin C. Keiser '54
CPT Keith E. Major '08
CPT Kelcee L. Capurs '09
Mr. Edward Kellogg
Mr. Daniel M. Kelly
COL (R) John J. Kelly '62
CPT Patrick R. Kelly '12
COL (R) and Mrs. John S. Kelsey '66
Mr. and Mrs. John C. Kelton (P)
CPT Ryan A. Kelton '11
COL Ilean B. Keltz '88 and Mr. Michael Kucharczk
Col (R) Nicholas B. Kemp USAF '64
Mr. Ronald J. Kemperle
Mr. Kurt and Mrs. Cintia Kempkes '94
CPT Kempton C. Greenwood '12
MAJ Dereck N. Kennedy '09
Mrs. Mary H. Kennedy (P)
CPT Olin H. Kennedy '11
CPT Kenneth A. Wolfe '08
Dr. Patricia M. P. Schaeflern '82 and Mr. James T. Kenney '82 (P)
Mr. and Mrs. Richard A. Kent (P)
CPT Kenton L. Brown '11
COL David J. Keppel USAR '93
CPT Matthew J. Kern '05
Dr. and Mrs. Mark A. Kester (P)
CPT Kevin P. McFerrin '10
CPT Kevin Z. Lumpkins '12
CPT Joshua M. Kezele '12
Mr. Wesley E. Kidd II '57
COL (R) Thomas M. Kiehne '69 and Mrs. Pamela J. Mathison
CPT Kier M. S. Elmonairy '11
LTC and Mrs. Mathew D. Kilgore '02
MAJ David Kim '08
Ephesians 2:10 – Kim Family Fund '88
MAJ Paul D. Kim '10
Dr. and Mrs. James F. Kimball '68
Mr. and Mrs. Charles B. King III '94
CPT Erin S. King '08
Mr. Richard Kingman
Mrs. Karen M. Kinzler Strang '80 and Mr. John R. Strang
Mr. Ed Kipp
Mr. Mark C. Kirby '90
COL and Mrs. Howard C. Kirk IV '92 (P)
Mr. and Mrs. William M. Kirtley Jr. '66
CPT James C. Kite '12
Mr. and Mrs. James A. Kitz '85
CPT Nathan A. Klein '08
MAJ and Mrs. Steven S. Klement USAR '85
Mrs. Carol A. Kler '87 and Mr. Michael F. Kler
CPT Alexander G. Kline '08
Mr. and Mrs. Christopher J. Klinkmueller '84 (P)
Mr. and Mrs. John P. Knieriem IV '89
CPT Christopher P. Knittle '12
Reverend Ernest J. Knoche Jr. '65
Mr. and Mrs. Donald A. Knowles '76
LTC (R) Collyon S. Koehler '76
Mr. and Mrs. Kevin J. Koger '00
CPT Michael J. Kohne '12 and CPT Maighdlin Q. Shea '13
Mr. and Mrs. Theodore J. Kohnen
CPT and Mrs. Scott J. Komaromy '05
CPT Cody T. Kopowski '11
MAJ Erik B. Korn '09
Mr. and Mrs. Richard A. Kornacki '74
Mr. and Mrs. Daniel F. Korzym '76
COL (R) and Mrs. Robert G. Koval '78
Mr. Stephen E. Kraheck '07
Dr. Benjamin M. Krainin '08
MAJ Jonathan E. Kralick '09 and Mrs. Alison M. Kralick '06
Mr. and Mrs. David E. Krall '85
Mr. Charles W. Kranitzky '73
Dr. and Mrs. Mark J. Kransdorf '69
LTC (R) and Mrs. Karl L. Kraus '76
MAJ (R) and Mrs. James E. Krause '62
CPT (R) Samantha C. Krehel '11
Mr. John T. Kreitler '09
Ms. Lynette Krienke
CPT Kristofer L. Hartvigsen '12
CPT Christine C. Krueger '08
CPT David G. Krueger '08
Mrs. Robert F. Krueger (W '57)
Mr. Joseph P. Krug (P)
CPT Matthew V. Krupski '09
MAJ Leo T. Krystof '08
CPT Richard D. Kubu '09
MAJ (R) Joseph S. Kulik '71
Mr. and Mrs. Norman D. Kulpa '68
MAJ Kevin C. Kumlien '09
COL (R) and Ms. Keith C. Kurber II '81 (P)
CPT Kyle L. Lindell '12
Mr. Howard W. Kympton III '68 (P)
Dr. and Mrs. David F. La Rochelle '65
Mr. John S. LaBella '76
Mr. Michael Lachant
Mr. and Mrs. Gregory E. Ladeveze '00
Mr. and Mrs. Charles Laetsch (P)
Mr. John Daniel and Mrs. Carla Joy Lafayette '77
MAJ Bryan A. Lagasse '10
COL (R) William G. Lake Jr. '78
MAJ Eric J. Lamb '10
Chaplain and Mrs. Samuel P. Lamback Jr. '64
Mr. Clark E. Lambert
Mr. and Mrs. Eddie J. Lambert (P)
Mr. and Mrs. Michael E. Lamke '94
LTC (R) Linda M. Lamm '92 and LTC Gregory A. Lamm
J. Lammie '53
CPT Justin T. Lanahan '11
MAJ Christopher D. Landers '08
LTC (R) and Mrs. John K. Langhauser '77 (P)
MAJ Jonathan E. Lanier '10
LTC (R) and Mrs. Jackson L. Lansford '78
Mr. and Mrs. William G. LaPerch '77
MAJ Joseph M. Lapointe '08 and Mrs. Anna C. Lapointe '08
CPT Nathan A. Larsen '09
COL (R) and Mrs. Norman R. Larson '82
Mr. Tod J. Larson '94
COL (R) Scott D. Lathrop '90 and Dr. Susan G. Lathrop
Mr. Lynden Latiak '98
LTC (R) and Mrs. Luke P. LaValle Jr. USAR (P)
Dr. and Mrs. Milton L. Lawney DDS (P)
Mr. and Mrs. John P. Lawrence II '76
Mr. Douglas B. Layman '87
Mr. Donald Lazina
1SG (R) Alec Lazore and Ms. Dawn S. Hammer
CPT Elizabeth F. Lazzari '09
CPT Sean P. Leary '12
Mr. Sean T. LeBlanc
Ms. Felicia Lecce
CPT Manuel A. Ledezma Vera '11
COL (R) and Mrs. Emmett C. Lee Jr. '50
CPT Ha N. Lee '12
CPT James R. Lee '09
1LT Jeffrey H. Lee '12
CPT Jihye Lee '11
Mr. Timothy P. Lee
CPT Andrew J. Leeman '08
MAJ Kathleen M. LeForte '09
CPT Jason P. Leh '12
Mr. Jeremy F. Leiting
LTG (R) Bob and Jenny Lennox '77 (P)
Ms. Jessia N. Leonard
Mr. and Mrs. John R. Leone '69
Dr. and Mrs. Salvatore J. Leone (P)
CPT Loris F. Lepri II '09
CPT Mark C. Lesak '09
Mr. and Mrs. James R. Lesko (P)
Mr. and Mrs. Stephen L. Lessar III '95
MAJ and Mrs. Daniel J. Lessard '08
MAJ Harold W. Lessner IV '08
Ms. Andrea F. Letkeman '88
MAJ Jaridd N. Leute '10
Mr. Jay E. Levine '71
Mr. John R. Lewis '70
MAJ Nicholas S. Lewis '08
CPT Lewis C. Forero '12
Mr. Michael M. Leyland '80
Mrs. Judith Y. Lee '11
CPT Artur V. Liamin '12
Mrs. Bernadette Libretta (P)
Ms. Susan Lichtenbaum
Mr. and Mrs. Michael S. Lichtenberg
Scott and Lucy Lichtenberg
Mr. and Mrs. Charles R. Lieb '68
Mrs. Sachi Liebergesell
CPT David M. Liem '11
1LT Megan J. Liesenfelt '11
LTC (R) and Mrs. Steven R. Lindberg '73 (P)
Mr. Alfred A. Lindseth Jr. '66
LTC (R) Fred S. Lindsey '54
LTC (R) and Mrs. Winston D. Ling ARNG '80
LTC (R) and Mrs. Phillip J. Linn '70
LTC (R) and Mrs. John A. Little '73
CPT Cole J. Livieratos '08
CPT Bryce E. Livingston '11
COL (R) Jose-Ramon G. Lobaton AFP '88
MAJ (R) Priscilla M. Locke '80 and COL (R) Michael P. Locke (P)
COL (R) and Mrs. Jon W. Loftheim '66
Mr. Burt A. Logan Jr. '76
COL (R) Jack R. Logan '54
Mr. and Mrs. Kevin P. Logan '81
Mr. Richard J. Lohne '78
CPT Lon C. McBride '09
MG (R) and Mrs. John E. Longhouser '65
Mr. and Mrs. Ruben S. Lopez '84 (P)
COL (R) and Mrs. Edward J. Lorentzen '68
Mr. Frank P. Loria Jr. '93
CPT John P. Loscheider '09
LTC (R) and Mrs. James F. Love '69
LTG (R) and Mrs. James J. Lovelace Jr. '70 (P)
CPT Dennis A. Lowe '12
LTC (R) Eric M. Lowy USAR '85
CPT Donna M. Loyer '12
Mr. Kevin M. Lucas '12
Mr. Kenneth Luck
Mr. Ryan L. Lundberg '00
Mrs. Louise H. Lunn (W '50)
Mr. Edward Lykins
CPT Devin J. Lynch '12
CPT Scott A. Lynch '08
Mr. Thomas Lynch
LTC (R) and Mrs. William H. Lynch Jr. '89
Dr. and Mrs. Anthony J. Macchiavelli '83
MAJ Kelly E. MacDonald '11
CPT Theodore B. MacDonald '12
CPT Philip S. MacFarland '12
Mr. and Mrs. Neil D. Mackay (P)
LTC (R) Scott W. MacKay USAR '76 and Ms. Elizabeth Meyer
LTC (R) and Mrs. Robert MacMullin '73
Col (R) and Mrs. John A. Madia USAF '65
Mr. and Mrs. Michael F. Magajne '94
MAJ Mathew W. Magliozzi '10
LTC (R) and Mrs. Patrick G. L. Magras '90
Mr. and Mrs. John J. Maguire (P)
Mr. Matthew M. Maher
Mr. Daniel P. Mahoney '74
CPT Evan K. Mair '09
Mr. Michael E. Major '99
MAJ Markus A. Makowski '10
Mr. and Mrs. John W. Maksim (P)
CPT Jesus E. Maldonado '09
MAJ Thomas P. Malejko '10
Mr. John Malik Jr.
Mr. Saleem A. Malik '92
CPT Aaron G. Mallory '12
CPT Edward P. Mallue Jr. '07 and CPT Natalie A. Mallue '09
CPT Joseph P. Maloney III ANG '92
CPT Galen T. Mandes '11
CPT Jeremy S. Maness '12
Mr. and Mrs. August C. Manguso '72
Mr. Michael J. Manley
Dr. and Mrs. William F. Mann III '81 (P)
CPT Manuel G. N. Prieto '12
Mr. and Mrs. Stephen J. Mapa Jr. '89
MAJ Zachary S. March '10 and CPT Megan E. March '12
Mr. and Mrs. Thaddeus Marciano (P)
Mr. Dario U. Margve '78
CPT Mark A. Kloiber '09
CPT Mark M. McFeaters '12
CPT Mark V. Drouillard '12
Mr. and Mrs. Gerard R. Markham '74
COL (R) Allan D. Marple '70
Mrs. Cecile J. Marro
Mr. and Mrs. Andres R. Martin '87
CPT Cameron J. Martin '12
MAJ (R) and Mrs. James D. Martin USAR '74
CPT Jordan L. Martin '11
1LT Tyler S. Martin '09
CPT Martin C. Harris '11
CPT Fernando E. Martinez '08
COL (R) and Mrs. William J. Martinez '74 (P)
CPT and Mrs. Xavier A. Martinez '12
Mr. George A. Martschenko
Mr. and Mrs. John B. Marvin '72 (P)
CPT Whitney M. Marx '10
Mr. Chad D. Marzec '06
CPT Joshua T. Mashl '09
Mr. and Mrs. Joseph P. Mastrucci Jr. '73
CPT Joshua N. Mathews '12
CPT Jonathan H. Mathis '09 and CPT Diane M. Mathis '11
MAJ (R) Jerry F. Matson '79
Mr. Alan M. Mattei
CPT Matthew E. Longar '12
CPT Matthew J. Mitchell '11
CPT Matthew P. Saunders '12
CPT Matthew R. Schlesinger '09
CPT Matthew S. Thimble '11
Mr. Ryan D. Matulka '96 and Ms. Evelyn Lee
LTC (R) and Mrs. Kenneth M. Matwiczak '71
LTC (R) and Mrs. Stephen T. Mauro '76
Mr. and Mrs. Vincent J. Mauro '74
Ms. Nicole Maxwell (W '50)
CPT Maxwell B. Love '12
LTC (R) and Mrs. Thomas L. Mays USAR '73
CPT Luke G. Mazgaj '08
James and Barbara McAree '83
COL (R) and Mrs. William S. McArthur Jr. '73
Mr. and Mrs. Robert L. McCabe '63
Mr. and Mrs. Peter B. McCall '70
Mr. David A. McCann '79
Mr. Joseph J. McCann Jr. '61
COL and Mrs. Daniel J. McCarthy '90 (P)
Mrs. James M. McCarver (W '63) (P)
COL (R) and Mrs. Charles C. McCloskey III '65
LTC (R) Ricky D. McClure '75
1LT Josiah D. Mccoy '11
Mrs. Mary Lu McCoy (P)
Bob F. McCoy '64
CPT Corey J. Mccrury '12
CPT Alfred McDaniel III '11
CPT Patrick M. McDonald '08
Mr. James R. McDonnell and Dr. Linda J. Margulies (P)
Mr. James K. McDonough Jr. '97
COL (R) and Mrs. James R. McDonough '69
Mrs. Annah M. McDowell '94 and Mr. Christopher McDowell
LTC (R) and Mrs. Michael P. McElrath '93
MAJ Daniel F. McGee '10
Mr. James McGinnis
CPT Matthew J. McGoffin '12
Mr. and Mrs. Patrick McGovern (P)
CPT Patrick R. McGrath '09
CPT Kevin B. McGrew '09
Honorable Richard McHugh (P)
Mr. and Mrs. Eugene L. McIntyre '79
Mr. and Mrs. Daniel P. McKenrick Jr. '84
COL (R) and Mrs. Michael J. McKinley '64
Mr. and Mrs. Donald J. McLane '68
Mr. and Mrs. Shawn A. McLaughlin (P)
Mr. and Mrs. Barton J. McLellan '68
CPT Christopher T. McMahon '11
Mr. William H. McMakin Jr. '64
Mr. Edward J. McManus '92
Mr. and Mrs. Gale McMurray (P)
CPT Erin E. McQuarrie '09
Mr. and Mrs. George W. Mears (P)
CPT Ronald R. Medina Jr. '11
COL (R) and Mrs. Frank L. Meier '65
CPT Michael J. Meier '12
LTC (R) Hans N. Meinhardt '83
CPT Bradley G. Mejean '11 and CPT Courteney A. K. Green '11
LTG (R) and Mrs. David F. Melcher '76 (P)
Dr. and Mrs. Harold Melleby Jr.
CPT Phillip D. Mellon '12
CPT Cidny S. Menjivar '11
Dr. Emil J. Menk '75
COL (R) and Mrs. Will G. Merrill '58 (P)
CPT Michael J. Meszaros '12
COL (R) and Mrs. Douglas H. Metcalf '71
LTG (R) and Mrs. Thomas F. Metz '71
CPT Marc K. Meybaum '12
LTC (R) Charles R. Meyer II '67
Mr. and Mrs. Samuel S. Meyer III '62
CPT Vaughn A. Michael '12
CPT Michael A. Manzano '12
CPT Michael F. Sheehan '10
CPT Michael J. Ecklund '11
CPT Michael R. Griffin '09
CPT Michael S. Schumacher '09
COL (R) Martin J. Michlik '64
CPT Tara L. Middlebrooks '11
Mr. Zachary S. Mierva '09 and Mrs. Drew M. Mierva '09
Ms. Susann M. Miguel '84
CPT Neil A. Milchak '09
LTC (R) and Mrs. David F. Miles '75
MAJ Joshua A. Miles '10
COL (R) Carmelo P. Milia '50 (P)
Dennis and Patricia Miller '74
Mr. and Mrs. Fredrick D. Miller '85
Mr. John E. Miller '49
MAJ Richard A. Miller '10
Robert and Rose Miller '73 (P)
Mr. and Mrs. Robert G. Miller (P)
Mr. Thomas J. Miller
CPT Zachary P. Miller '08
Mr. and Mrs. Frank C. Mills III (P)
Mr. and Mrs. Sam and Nancy Millward
Mrs. Bridget Minihane '90 and Mr. Neil Minihane '90
Mr. James A. Minor Jr. '69
Dr. and Mrs. Myron E. Mintz (P)
Mr. and Mrs. Joseph W. Mislinski '78 (P)
Mr. Robert F. Mizell
Mr. and Mrs. James L. Mohney '72
COL (R) and Mrs. Francis J. Monaco '70 (P)
Ms. Jacqueline Monroe
LTC and Mrs. Joseph A. Montanaro Jr. USAR '88
CPT Jennifer L. Montgomery '08
CPT Steven S. Moody '11
1LT Andrew J. Moon '11
MAJ Duncan W. Moore IV '10
Mrs. Otis C. Moore (W '48)
CPT Thomas E. Moore '12
CPT Timothy A. Moore '08
CPT Ryan P. Moravec '11
MAJ James R. Moreno '10
Lt Col (R) Donald E. Morgan USAF '59 and Dr. Carol S. Morgan
CPT James T. Morgan '09
1LT Kyle J. Morgan '12
Mr. Thomas Morgan Jr. '83 (P)
Mr. Dennis M. Morgenstern '73
LTC (R) and Mrs. Mark F. Morgida '80
Mrs. Carl R. Morin Jr. (W '62)
CPT Matthew L. Morrell '11
LTC (R) Harris L. Morris III '91
Jim and Kai Morris '86
LTC (R) and Mrs. Robert W. Morris USAR '77
Mr. and Mrs. John T. Morrison '71
MAJ and Mrs. Steven T. Morse '08
Mr. and Mrs. Gary T. Morton '84
CPT Shawn M. Mosley '07
Mr. Mark Motler
Mr. and Mrs. Ronald J. Mouw '91
LTC (R) Timothy S. Muchmore '75
Mr. Daniel L. Muchow '72
CPT Cort A. Mukina '11
Mr. and Mrs. Brian F. Munsey (P)
COL (R) and Mrs. George J. Murati '72
Mr. Michael F. Murphy '08
COL (R) Thomas J. Murphy '83
Mr. and Mrs. Bryan J. Musk '12
COL (R) and Mrs. Steven H. Myer '72 (P)
CPT Mark A. Myers Jr. '11
1LT Mitchell C. Myers '12
LTC (R) Robert S. Myers '76
COL (R) and Mrs. Ramon A. Nadal II '58
MAJ Charles Nadd '11
CPT Richard O. Naseer '11
MAJ Anthony M. Nash '10 and CPT Lindsey M. Kozuch '11
CPT Nathaniel P. Martins '12
Mr. and Mrs. Larry T. Neal '65
CPT Joanna L. Neekonov '10
CPT Kendal A. Nelson-Edwards '12
Mr. and Mrs. Joseph A. Neveau (P)
Mrs. Albert R. Neville Jr. (W '45)
Mr. Kenneth J. Nevor
MAJ Daniel J. Newell '08
COL (R) and Mrs. Donald D. Newlin '72
MAJ Andrew J. Ng '10
CPT Nicholas A. Reisweber '10
Mr. and Mrs. Scott J. Nichols (P)
1LT (R) James G. Nicholson
COL Suzanne C. Nielsen '90
Mr. Arthur J. Nigro '69
Ms. Victoria L. Nilles '83 and Dr. James T. Hardy
LTC (R) Dennis T. Nishida USAR '69
MAJ Terrence R. Nolan '08
LTC (R) and Mrs. Bruce B. Nolte USAR '70
1LT Beverly L. Nordin '12
COL (R) and Mrs. James A. North '83
Mr. Anthony Notaro
Mr. Michael Nowakowski
Mr. James P. Nymark '77
Dr. David M. Oaks '83
MG (R) and Mrs. Michael L. Oates '79
COL (R) John J. O'Brien '84
COL (R) Robert D. O'Brien Jr. '81
Mr. and Mrs. William G. O'Brien '91
Dr. and Mrs. Joseph P. O'Connor Jr. '68
CPT Roderic M. O'Connor '09
Mr. and Mrs. Dennis O'Donnell (P)
Mr. and Mrs. Robert J. Oehlers '89
LTC (R) and Mrs. John W. Ogren '71
MAJ Albert W. Oh '10
Mr. and Mrs. Daniel J. Oh '87
MAJ Katheryn M. OKonsky '08
CPT Sean F. Oldknow '11
CPT Ashley R. Olds '09
COL (R) and Mrs. Randall G. Oliver '71
MAJ Bo B. Olsen '08
MG (R) and Mrs. Eric T. Olson '72
Mr. George E. O'Malley '70
Mr. Daniel J. O'Neill Jr.
Mr. and Mrs. James P. Orchard '83
CPT Ryan S. Ordway '09 and CPT Sarah M. Ordway '10
Mr. and Mrs. Donald Oren (P)
Mr. John C. O'Rourke
CPT Ryan J. Orsini '11
Lt Col (R) and Mrs. Edward A. Osborne Jr. USAF '60
LTC (R) and Mrs. Michael T. Ostrom '75
CPT Matthew M. Otterstedt '12
CPT Charles A. Owen '09
Mr. and Mrs. Ray Owen III '94
Mr. and Mrs. Gasper V. Pace Jr. '98
Mr. and Mrs. Gerald D. Pace '77
MAJ Kelsey N. Page '10
MAJ (R) and Mrs. Michael W. Page '77 (P)
Mr. Andrew Palkewick
Mr. and Mrs. Walter Palmieri (P)
Mr. Joseph J. Palya
Mr. James S. Pappafotis '78 (P)
Dr. Stacey Pappas
Mrs. Harold R. Parfitt (W '43 Jun)
CPT Youngmin Park '08
Mr. and Mrs. Ellis J. Parker III (former '57)
Mr. Kenneth A. Parker '57
LTC (R) Norman S. Parlier '78
Dr. Nathan H. Parrish '01 and Dr. Theresa Kim
MAJ William R. Partin '09
Mr. Bernard E. Pasierb '72
Mr. and Mrs. Edward T. Pason
Mr. and Mrs. Eric S. Paternoster '74
Mr. Philip J. Patrick (former '87)
CPT Patrick A. Smith '11
CPT Patrick S. McGee '09
CPT Erik M. Patton '08
CPT Paul B. Park '11
CPT Paul D. Erickson '11
CPT Paul L. Knudsen '09
CPT Paul M. Kearney '09
CPT Augustin D. Paulo '11 and CPT Hannah J. Paulo '11
Mr. Brian W. Pavlick '96 and Mrs. Stephanie G. Pavlick '96
LTC (R) and Mrs. William S. Pavlick '72 (P)
COL (R) and Mrs. Thomas J. Pawlowski III '72
MAJ Abe L. Payne '09
Mr. and Mrs. Thomas C. Payne (P)
CPT Richard M. Pazdzierski '09
MAJ and Mrs. Ryan E. Peacock '09
LTC (R) Edward L. Pearce '94
CPT Taylor S. Pearce '11
MAJ Robert H. Pecha '09 and MAJ Jamie M. Pecha '09
Mr. and Mrs. William C. Peck '81 (P)
LTC (R) and Mrs. Richard F. Pendleton
MAJ Ryan M. Pensyl USAR '05
CPT Brianna C. Perez '12
MAJ Joseph C. Perez '10 and Mrs. Kelsey N. Perez
Mr. Robert S. Perkin
CPT Nicholas T. Perkins '12
Mr. Robert P. Perkins (former '73)
MAJ Kyle D. Pernelli '10
Dr. Robert A. Perrotta
LTC (R) and Mrs. Edwin M. Perry '74
Mr. Michael N. Perry '85
Mr. and Mrs. Randy M. Perry '78
CPT Peter D. Thompson '09
CPT Peter L. R. Kerkhof '11
COL (R) and Mrs. Michael P. Peters '68
Mr. Paul M. Peterson '11
LTC (R) and Mrs. Raymond E. Peterson '74
CPT David M. Pevoto '08
Mr. and Mrs. Ronald H. Pfenning '71
CPT Philip J. Hayward '11
CPT Philip J. Steenstra '08
CPT Phillip D. Schmedeman '11
Mr. Erik W. Phillips '09
Mr. Geoffrey P. Phillips '09
CPT Jeremy M. Phillips '09
CPT John A. Piccione II '09
LTG (R) and Mrs. John M. Pickler '65 (P)
Mr. and Mrs. Joseph Picone
LTC (R) and Mrs. Scott C. Pierce USAR '86
Mr. Tyler M. Pigg '12
Mr. and Mrs. John S. Pirog
Mr. Walter H. Placzek
COL Christiane L. Ploch '92 and Mr. Joseph Wawro
MAJ Andrew F. Plucker '08
CPT Daniel F. Plumb '08
Mr. Richard E. Plymale '64
Mr. and Mrs. Richard S. Poirier '86
Mr. Joseph M. Poletynski
Mr. and Mrs. Joseph D. Pollhein '87
COL (R) Patrick J. Pollock '95
CPT Aaron W. Pool '12
Mr. William J. Poole Jr. '87
Mr. Alex Popov
COL (R) Jon E. Porter '56
Mr. William H. Porter
Mr. and Mrs. Douglas E. Portrey '93
CPT Joshua D. Post '12
CPT Benjamin J. Poth '12
LTC (R) and Mrs. Steven J. Powers '72 (P)
CPT Sean B. Poyner '12
LTC (R) and Mrs. William J. Prantl '81
MAJ Michael B. Pratt '10
CPT Travis M. Prendergast '11
MAJ (R) and Mrs. Stephen D. Presley '72
MAJ (R) and Mrs. James D. Price '70
COL (R) Ronald E. Prier '72 and Dr. Deborah Prier
CPT Danny R. Priester Jr. '08
MAJ Paul A. Proios '09
CPT Emille K. Prosko '09
CPT William H. Prosko '12
Mrs. Lisa H. Pruett '90 and Mr. Raymond N. Pruett '90
Mr. Donald E. Pruitt Jr. '90
COL (R) and Mrs. Paul E. Ptasnik '68
Mr. and Mrs. John A. Pugliese
CPT Andrew J. Pulaski '09
CPT Alexander W. Purdy '12 and CPT Barbara L. Lodwick '12
Lt Gen (R) Robert E. Pursley USAF '49
CPT Robert E. Pushard III '09
Mr. Etna M. Pyle IV (P)
BG and Mrs. Mark C. Quander '95
COL (R) and Mrs. Michael M. Quinlan '63
MAJ Branden L. Quintana '09
COL (R) Floyd A. Quintana '80
Mr. and Mrs. Thomas W. Rabaut '70
1LT Stephen P. Radacinski
CPT Chrispin N. Rainford USAR '97
Mr. and Mrs. David R. Ralph '72
CPT Kevin Ramirez '08
CPT Randy J. Shed '08
MAJ Phillip J. Rangitsch '10
Dr. Scott M. Ransom '92
Mr. John S. Raszcewski
MAJ Eric R. Rathbun '09
Dr. and Mrs. Gerald A. Ravitz (P)
SA Steven M. Ray '95
MAJ James D. Raymond '10
Mrs. Holly A. Rebelez '88 and Mr. Darren M. Rebelez '88 (P)
CPT Wade M. Redenius '12
Mr. and Mrs. Randall K. Reece (P)
LTC (R) and Mrs. Stephen S. Reed '87
CPT Reed G. Timme '09
Mr. Brian M. Reidy '97
CPT and Mrs. Caleb M. Reilly '11
Mr. Scott K. Reily '12
Mr. and Mrs. Gilles P. Reimer
Mrs. Mary L. Reinhalter (W '52)
COL (R) and Mrs. Timothy J. Reischl '71
Mr. and Mrs. Kevin D. Releford '95
Ms. Lillian Remers (W '53)
LTC (R) Richard M. Renfro '54
COL (R) and Mrs. Harry G. Rennagel Jr. '61
Mr. and Mrs. Earl W. Renner '69
Mr. Paul T. Rennie '64
MAJ Kurt N. Reynolds '09
Mrs. Robin L. R. Reynolds '95
Mr. Jed and Mrs. Meredith Richard '04
CPT Richard M. Anez II '10
CPT Richard M. Niedbala III '10
Mr. Raymond J. Richards
CPT Thomas D. Richardson '11
LTC and Mrs. Christopher F. Riemer '94 (P)
COL (R) and Mrs. Thomas J. Rini '71
Mrs. Michael W. Riordan (W '58)
MAJ Brian C. Riser '09
MAJ Brandon C. Ritchey '09
Mr. Omar T. Ritter III '00
MAJ (R) and Mrs. Walter O. Rittger '00
Mr. Garner L. Rivard '00
CPT Pablo M. Rivera '12
LTC (R) and Mrs. Christopher J. Rizzo '84
CPT Ashleigh N. Roberds '12
LTC (R) and Mrs. Mark A. Robershotte '72 (P)
CPT Robert Q. Deppa '09
Mr. Vincent G. Roberto Jr. (P)
CPT Casey M. Roberts '12 and CPT Lara S. Roberts '14
MAJ Clinton J. Roberts '10
MAJ James L. Roberts '07
CPT Lee H. Roberts '07
CPT Patrick S. Roberts Jr. '12
CPT Amber S. Robertson '11
CPT Kenneth M. Robertson III '12 and CPT Christopher J. Whipple '15
COL Michael L. Robertson USAR '93 and Mrs. Robin J. Robertson '93
CPT Samuel M. Robertson '11
CPT Robin A. Swan '10
Mr. and Mrs. Fredrick E. Robinson (P)
COL (R) Karl W. Robinson '64
MAJ Michael A. Robinson '09
COL (R) John M. Rocco '73
CPT Brett M. Rocha '12
LTC (R) Alan J. Rock '71
CPT Samuel C. Roddy '11
1LT (R) and Mrs. Todd A. Rode '02
MAJ Evan E. Roderick '09
Mr. and Mrs. Benjamin C. Rodgers '96
Mr. and Mrs. Frederick A. Rodgers Jr. '91
LTC (R) and Mrs. Richard A. Rodrigues '73
CPT Andrew S. Rodriguez '12
MG (R) Charles G. Rodriguez '75
CPT Michael D. Rodriguez '12
Mr. Timothy D. Roepke '01
Mr. and Mrs. Stanley C. Rogacki (P)
Mrs. Bernard W. Rogers (W '43 Jun)
MAJ Susan K. Rogers '10 and CPT Robert M. Rogers '10
COL (R) John C. Roggow '72 and Ms. Cheryl Parente-Roggow
MAJ Matthew T. Rohe '10
LTC (R) Ronald L. Rold '70
MAJ Philip C. Roll '08
Lt Col (R) Raymond S. Rollings USAFR '72 and Dr. Marian Rollings (P)
COL (R) and Mrs. Michael M. Romash '68
A.J. and Giselle Rooney '08
Mr. and Mrs. William P. Rooney (P)
MAJ Brennan T. Roorda '10
Mr. Joseph Rosa Jr.
Mr. and Mrs. Michael W. Rose (P)
Mr. and Mrs. Bobby Ross (P)
MAJ and Mrs. Larry H. Ross (P)
Mrs. Michelle M. Roth '85 and COL Thomas J. Roth Jr. '87 (P)
1LT Michael B. Rothenberger '12
CW5 Ryan J. Rothmeyer '97
CPT Randolph R. Rotte III '12 and CPT Nichole L. Rotte '12
Mr. Cyril Rottkamp
Mrs. Richard G. Rowe (W '74) (P)
Mr. and Mrs. Robert F. Ruck '82
Mr. and Mrs. Robert T. Ruckman '98
CPT Blake A. Rulison '12
Mr. Max E. Rumbaugh Jr. '60
CPT Glenn S. Rumph '10
Mr. Michael R. Rundle '70
CPT Nicholas M. Runyon '09
CPT Pamela M. Rusinko '08
Mr. Christopher A. Russo '92
CPT William G. Rust '12
Mr. and Mrs. Bradley J. Ruther '98
1LT Akeem E. Rutherford '12
Maj Gen (R) and Mrs. George W. Rutter USAF '48
LTC (R) and Mrs. Harry M. Ryan III '70
COL (R) and Mrs. John B. Ryan '70 (P)
Mr. and Mrs. Martin F. Ryan '64
Mr. and Mrs. Thomas K. Ryan '72
CPT Ryan N. Mannina '09
CPT and Mrs. Ian F. Rymer '09
Dr. and Mrs. Stephen K. Rymer (P)
Mr. John J. Sabia III '04
MAJ William J. Sack II '10
Dr. and Mrs. Robert W. Sadowski '86
Mr. and Mrs. Scott M. Sajer '83
LTC (R) and Mrs. Nicholas C. Salamone '72
Ms. Nancy R. Salinas (P)
CPT Christopher M. Salisbury '10
COL (R) and Mrs. John L. Salomone '65 (P)
Mr. Michael E. Salz
LTC (R) James O. Sammons '53
Mr. and Mrs. William Sampson (P)
CPT Samuel C. Van Kopp '10
CPT Melvin J. Sanborn '08
Dr. Luis T. Sanchez MD '63
LTC (R) Joseph R. Sanders Jr. '76
COL (R) Donald M. Sando '81 and Judge Julia W. Sando
MAJ Alexander R. Santiago '10
Mr. and Mrs. Pablo E. Santiago
Mrs. Larry W. Sapper (W '60)
Mr. and Mrs. Charles F. Sargent V '01
CPT Jeremiah M. Sasala '08
CPT Kenton B. Satterwhite '08
Dr. and Mrs. Paul Satwicz
MAJ and Mrs. Patrick E. Saxby '10
Ms. Tereh A. Sayles '01
COL (R) Richard J. Scaglione '68
CPT Thomas D. Scaife '01
Dr. and Mrs. Darrell K. Scales '84 (P)
Mr. and Mrs. Joseph F. Scalo '75
LTC (R) Michael T. Scanlin USAR '86
Mrs. Ethel M. Scarlett (P)
COL and Mrs. Richard A. Schaefer '81
Mr. and Mrs. Joel S. Scharf
LTC (R) and Mrs. Fred W. Schaum '63
LTC Michael E. Schauss '98
Richard and Marcia Scheiner
Mr. John Schettle
COL Lee Schiller
Mr. and Mrs. James G. Schleck '91
LTC (R) James S. Schlesinger '71 (P)
CPT Benjamin J. Schmidt '09 and Mrs. Allyson N. Schmidt '09
1LT John C. Schmidt '11
LTC (R) Klaus D. Schmidt '87 and Dr. Lynda Dougherty '87
Mr. and Mrs. Russell M. Schneider
Mr. Karl K. Schoch '11
LTC and Mrs. Eric D. Schourek '92
Mr. Robert R. Schramm '97
Mr. and Mrs. James B. Schultz (P)
CPT Scott J. Schultz '09
Mr. and Mrs. Eric K. Schuster '88
MAJ Mary Katherine Schuster '08
COL (R) Harry J. Schute Jr. USAR '85
Mr. Francis J. Schutte '88
MAJ Adam K. Schwartz '10
Mr. Blake D. Schwartz '09
CPT Brandon C. Schwartz '09
CPT Nathan M. Schwartzbauer '12 and Mrs. Paige K. Ford '10
CPT Adam C. Scott '12
COL (R) and Mrs. Harry D. Scott Jr. '77
COL (R) and Mrs. Mark W. Scott ARNG '74
LTC (R) and Mrs. Michael R. Scott '80
CPT Scott A. MacChesney '11
Mr. Peter R. Scovill '72
1LT Benjamin A. Scrivner '08
CPT Matthew T. Scrivner '10
CPT Shelton L. Seaborn Jr. '12
CPT Sean C. Williams '08
Mr. and Mrs. Douglas A. Seaworth '93
Mr. and Mrs. George H. Seaworth '65 (P)
CPT Justin B. Sedlak Jr. '08
MAJ (R) and Mrs. Donald C. Seeber '74
Mr. and Mrs. Bruce R. Seidel Jr. '61
Mr. William E. Seltz '61 and Ms. Lois Lindauer
Mr. Andre W. Senenko '98
Ms. Judith Senft (P)
CPT Dominic A. Senteno '09
MAJ James R. Sessions III '09
Mr. and Mrs. Robert D. Setzer Jr. '69
CPT Jessica P. Sexauer '12 and Ms. Alex Eggers
Mr. Glenn G. Seymour '85 and Mrs. Tracy S. Seymour '85
CPT Emily G. P. Sfeir '09
LTC (R) and Mrs. Michael J. Shadell '71
COL (R) Jack O. Shafer Jr. '72
CPT Daniel J. Shaffer IV '12
CPT Nathan A. Shaffner '11
CDR (R) James T. Sharp USN '74
Mr. and Mrs. Jeffrey D. Sharp '80
Mr. Mark D. Shattan '91 and Mrs. MyLinh B. Shattan '91 (P)
Mrs. Katherine W. Shattuck '96 and Mr. Anthony Shattuck (P)
Mr. and Mrs. Harry L. Shedd Jr. '58
Mr. and Mrs. Alan T. Sheinwald '87
Dr. and Mrs. Daniel L. Shekleton '91 (P)
Jose and Julianne Shelzi (P)
CPT Ryan D. Shepherd '12
Mr. Robert H. Sherry '10
Mr. and Mrs. Michael Shershin
MAJ Terrence H. Shields '10
Ms. Sharon E. Shiflet '83
LTC (R) and Mrs. Dale W. Shipley '61
Mr. and Mrs. Stanley J. Shipley '73
Dr. Raymond L. Shoemaker III '64
Mr. John H. Shuford '65
LTC (R) and Mrs. John F. Shull '70
Thomas and Dorothy Shull '73
Mr. and Mrs. Robert L. Shults Jr. '92
Mrs. Helen T. Shultz
Mrs. Stanford W. Shutes Jr. (W '62)
LTC (R) and Mrs. Jerome B. Sidio '70
1LT Alan D. Siegle '12
Mr. Louis F. Sill Jr. '63
MAJ Michael L. Simmons '09
LTC (R) and Mrs. Richard L. Simmons '69
MAJ (R) Steven J. Simmons '79
MAJ (R) Henry F. Simon '66
CPT Joseph A. Simon II '11
CPT Simon Chung '08
CPT Richard M. Simpson '12
CPT William Simpson '09
CPT Stephen M. Sittnick '12
MG (R) Joseph J. Skaff '55
COL (R) Steven J. Skoog '72
Mr. and Mrs. Joseph A. Sladewski '79
LTC (R) Thomas J. Slaggie '62
Mr. Tyler S. Slater
Mr. and Mrs. Thomas D. Slear '73
Bill and Annie Slenker '69
LTC (R) James M. Slone USAR '72
MAJ William R. Small '10
MAJ Samantha L. Smay '08
Mr. Adam M. Smith '00
1LT Angela K. Smith '12
Mr. Douglas M. Smith Jr. '95
LTG (R) and Mrs. Edwin P. Smith '67
Mr. Frank B. Smith '52
Mary Ellen and Frederick J. Smith '65
Mr. John H. Smith Sr.
Mr. and Mrs. Kevin M. Smith '93
LTC (R) and Mrs. Milton D. Smith '69
Mr. Phillip R. Smith '69
Mr. and Mrs. Rodney B. Smith '92
CPT Sarah J. Smith '09
Mr. and Mrs. Sean M. Smith '95
COL and Mrs. Thomas P. Smith '84 (P)
Ms. Brenda Snider
CPT Thomas J. Snukis '12
COL (R) and Mrs. Karl S. Snyder '66
LTC (R) Wilbur R. Snyder '72
MAJ Garrett E. Sobalvarro '09
Mr. and Mrs. Arnold H. Soeder Jr. '68
Ms. Kimberly R. Sokol '89
Ms. Barbara Sokolofsky
Mr. Jose I. Solera '78
Mr. Edward J. Solomon '78
CPT Douglas I. Somoza '12
Mr. Bill C. Song '98
Mr. and Mrs. Richard R. Sonstelie '66
LTG (R) and Mrs. Jeffrey A. Sorenson '73
Mr. Blaze H. Sosnowski
Mr. Robert Sosnowski
CPT John R. Sowder '08
The Reverend Susan R. Sowers '82
LtCol David W. Spangler USMC '97
Mr. James L. Spano (P)
Mr. and Mrs. James Spaulding
LTG (R) and Mrs. Gary D. Speer '72
CPT Caroline Spencer '11
Mr. Edward J. Spencer III '73
CPT Spencer P. Wilhelm '12
CPT Markus D. Spicer '12
COL (R) and Mrs. Robert M. Spillers '79
William and Diane Spurgeon '81 (P)
COL (R) and Mrs. William H. Squires Jr. '70
Mr. Thomas F. Stacey '85
CPT John M. Stahmer '12
Mr. Jon C. Stanat '90
Mr. John Stanley Jr.
CPT Nicolas G. Starck '12
Dr. Robert E. Steckler (P)
MAJ (R) Leland B. Stedge Jr. '72
MAJ (R) Danton G. Steele II '71
COL (R) and Mrs. Gary R. Steele '70
COL Jenness F. Steele '95 and CW4 Scott J. Bostic
LTC (R) and Mrs. Robert M. Steele '63
Mr. Mitchell P. Steidl '93
CPT Jason R. Steimel '12
Mr. and Mrs. Christopher M. Steiner '95
COL (R) Ralph R. Steinke '78
LTC (R) and Mrs. Ronald L. Stenstrom '66
Mr. and Mrs. Gregory B. Stephens '80 (P)
COL (R) Stephanie L. Stephens '86
Mr. and Mrs. Reginald H. W. Sterns III '72
Mr. and Mrs. Thomas J. Sterr (P)
CPT Steven H. Galbreath '10
CPT Steven J. Demetriou III '11
CPT Steven W. Cragg '09
MAJ Jake E. Stewart '09
COL (R) and Mrs. John N. Stewart '67
Mr. and Mrs. Jon D. Stewart (P)
Mr. and Mrs. Terry G. Stewart '77
MAJ (R) and Mrs. Thomas J. Stokowski '82
Mr. and Mrs. Mark T. Strang (P)
Mr. and Mrs. Paul Strein (P)
Mr. William H. Stroh '54
Dr. and Mrs. Joseph S. Strong (P)
Mr. Marvin P. Strong '68
CDR (R) Donald K. Strother USCG '72
Mr. and Mrs. Todd B. Strubbe '85
LTC (R) and Mrs. Frank D. Sturek '89
COL (R) and Mrs. James M. Stuteville '81
Mr. and Mrs. C. Joseph Styles
Mr. Alexander W. Sudyk '09
LTC (R) Richard H. Sugg '54
CPT Daniel J. Sullivan '12
Mr. and Mrs. Darren J. Sumter '88
COL (R) and Mrs. John E. Sutton '49
LTG (R) and Mrs. Guy C. Swan III '76 (P)
Mr. and Mrs. Danny L. Swancey Jr. '97
COL (R) and Mrs. Patrick J. Sweeney '82 (P)
Ms. Danielle E. Sweet and Mr. Silento Thomas
Mr. Gregory L. Szczesny '94 and Mrs. Denise Donnell
Mr. and Mrs. Michael D. Szody (P)
LTC (R) John D. Szoka '76 and COL (R) Laurie K. Szoka
MAJ (R) Gerald L. Tabin '79
MAJ Joshua R. Taft '08
1LT Theodore O. Taggart '12
Mr. and Mrs. Neville P. Tai '84
COL (R) and Mrs. Donald K. Takami '73
Mr. Aaron E. Talbert '95
MAJ Benjamin D. Talbot '10
Mr. James M. Tanski '68
MAJ James F. Tartaglia '10
CPT Tate G. Husemann '12
COL (R) and Mrs. Douglas E. Taylor '69 (P)
LTC (R) Frank D. Taylor '75
CPT Haleigh E. Taylor '11
CPT and Mrs. James J. Taylor '11
Dr. William J. Taylor Jr.
COL Edward B. Teague IV '95 and Professor Frances A. Teague '96
CPT Lauren N. Teal '08
CPT Tejay M. Espe '12
Mr. and Mrs. Gerald Templeman (P)
Mr. and Mrs. Kevin J. Terrazas '99
Kevin Terrell '90
Ms. Beth Terry
MAJ Thomas J. Terry '09
LTC (R) John W. Thames Jr. '65
MAJ and Mrs. Chad A. Thayer '10
LTC (R) and Mrs. David A. Thomas '75
Mr. and Mrs. Hubert Thomas
LTC (R) and Mrs. Robert F. Thomas '73
CPT Thomas R. Johnston '12
CPT Bryan W. Thompson '11
Mr. and Mrs. C. Gerard Thompson
Mr. and Mrs. Cleve Thompson (P)
LTG (R) and Mrs. James M. Thompson '50
Mr. John Thompson
CPT Kyle J. Thompson '10
LTC (R) Thomas G. Thompson '57
Mr. and Mrs. Thomas N. R. Thompson (P)
LTG (R) and Mrs. John C. Thomson III '86
Ms. Heather M. Throne '94 and Mr. Thomas Throne
MG (R) and Mrs. Harold L. Timboe '68 (P)
CPT Timothy J. Newlin Jr. '09
COL (R) Adalbert E. Toepel Jr. '52
MAJ Patrick A. Toffler Jr. '09
LTC (R) and Mrs. Lenobio S. Toledo Jr. USAR '78
LTC (R) and Mrs. Michael M. Toler '72
MAJ Jennae M. Tomlinson '10 and Mrs. Stacy Tomlinson
MAJ Erik J. Tomsen '09
CPT John C. Tonetti '12
MAJ James J. Torrence '08
LTC (R) William M. Toskey '59
CPT Marianne R. Tovo '11 and CPT Michael K. Tovo '11
Maj (R) and Mrs. Richard A. Townsend USAF '53
COL (R) and Mrs. Ronald F. Trauner '60
CPT Travis J. Coffey '12
Mr. Jason Tremper
Ms. Eleanor M. Triem (W '50)
MG (R) and Mrs. Edward L. Trobaugh '55 (P)
COL (R) and Mrs. Hugh H. Trumbull Jr. '58
MAJ Neal J. Trump '09
CPT Patrick T. Tuffy '09
LTC Scott K. Tufts '90
Mr. Donald W. Tunstall '69
Mr. and Mrs. Jose V. Tuquero (P)
Mr. Robert M. Turkington (P)
MAJ Jonathan M. Turnbull '10
COL (R) and Mrs. James W. Tyler '61
MAJ Luke A. Tyree '08
Mr. and Mrs. Roger M. Ueda '72
MAJ Nicholas M. Uhorchak '08
CPT Lauren N. Ulmer '12
COL (R) and Mrs. Michael E. Urette '61
Mr. and Mrs. Harry J. Ustler (P)
COL (R) and Mrs. George B. Utter III '66
Mr. Christopher C. Valentine '87
MAJ Joseph C. Van Dusen '10
Mr. Stephen A. Van Duzee '98
CPT Kirk B. Van Everen '11
LTC (R) Thurston Van Horn '79
MAJ Dirk K. van Ingen '09
MG (R) and Mrs. Jan A. Van Prooyen '66 (P)
Mr. and Mrs. Thomas P. Van Riper '60
CPT Antony V. Vargas '08
Mr. Michael W. Vargo '96
COL (R) and Mrs. VeLoy J. Varner '57
MAJ (R) and Mrs. Robert L. Vasta '79
MAJ Kendrick B. Vaughn '08 and Mrs. Seneca R. Vaughn '05
LTC (R) and Mrs. Stephen D. Vaughn USAR '71
1LT Carlos A. Velez '11
LTC (R) and Mrs. Carlos R. Velez Jr. '70
CPT Danielle L. Villanueva '09
Mr. Christopher A. Villarreal '09
CPT and Mrs. Christopher M. Villerot '10
CPT Vincent A. Shaw '12
CPT Vincent R. Wiggins Jr. '08
CPT Walter R. Vogel '08
Mr. and Mrs. Gregory A. Voigt '82 (P)
Mr. and Mrs. Joseph J. Volpe '88 (P)
Mr. and Mrs. Randall L. Vonderheide (P)
Mr. and Mrs. Mark G. Voss '83
Mr. Benjamin P. Wackerlin '08
Mr. Chaka Wade '92
CPT and Mrs. Douglass B. Waggoman '12
Mr. and Mrs. Michael L. Wakeman '82
CPT Robert E. Wald '08
CPT Derek L. Wales '10
LTC (R) Scott Wales and Dr. Debra Wales (P)
LTG (R) and Mrs. Keith C. Walker '76 (P)
MAJ Nicholas R. Walker '10
LTC (R) and Mrs. Nathaniel F. Wallace Jr. '92
Mr. Marshall F. Wallach
Mr. and Mrs. Robert Walls (P)
Dr. and Mrs. James P. Walsh (P)
CPT John T. Walsh '12
Mr. and Mrs. Michael E. Walsh '63
CPT Brian M. Walter '12
Mr. and Mrs. Conrad K. Walter (P)
MAJ Clifford C. Walters '08
COL (R) and Mrs. Mark L. Walters '88 (P)
Dr. and Mrs. Donald C. Walton Jr.
LTC (R) Robert A. Walton '70
Mr. Thomas J. Walton '10
Mr. and Mrs. Richard A. Ward (P)
COL (R) and Mrs. Jerry B. Warner '76
Mr. Kevin J. Warner '94
MAJ Steven L. Warner '08 and Ms. Melissa A. Mistretta
CPT Warren T. Beck '11
Mr. Warren S. Waters
LTC (R) Joseph F. Watt '61
CPT Benjamin N. Wearin '08
1LT Andrew N. Webster '12
LTG (R) William G. Webster Jr. '74 (P)
CPT Justin C. Weeks '12
Mr. and Mrs. Dennis J. F. Weese '85
Mr. Kendal K. Weidinger '86
COL (R) and Mrs. Glenn R. Weidner '71
CPT Rudolph G. Weisz '12
CPT (R) John-Thomas W. Wells '12
Mr. and Mrs. Walter J. Wells Jr. '65
CPT Joshua J. Welte '09
CPT Adam F. Werner '09
Maj (R) and Mrs. Mark E. West USAF '79
CPT Sean M. Wester '12
Mr. and Mrs. Matthew Westervelt (P)
CPT Marydell V. Westman '08
Jill and Jim Whaley '90
Mr. and Mrs. Lawrence G. Whalley '84
CPT Kenneth T. Wheeler III '09
Dr. Kenneth T. Wheeler (P)
CPT Anthony R. White '12
Mr. and Mrs. Michael P. White '82 (P)
LTC (R) and Mrs. William T. Whitesel '75
CPT Steven M. Whitham '09
Dr. David J. Whitney '75 and Dr. Elaine F. Whitney
MAJ (R) and Mrs. James A. Whitt '79
Mr. Robert G. Wiggins '86
Ms. Donna L. Wiik
Mr. Andrew B. Wild '01
CPT Joshua S. Wiley '10
COL (R) and Mrs. Rick D. Wilkerson '73
CPT Ashley G. Wilkins '11
LTC (R) and Mrs. John R. Wilkinson '83
CPT Willem J. Pretorius '11
Mr. and Mrs. L. Gene Willets Jr. '82
CPT and Mrs. William B. Turner '12
CPT William H. Liggett '08
CPT Adam K. Williams '09
MAJ Brian T. Williams '08
MAJ Erin E. Anthony '11
CPT Evan D. Williams '08
LTC (R) and Mrs. Howard M. Williams '76 (P)
COL (R) and Mrs. Jeffrey N. Williams '80
Mr. and Mrs. John T. Williams '00
MAJ Justin D. Williams '08
MAJ Kyle A. Williams '09
1LT Reginald J. Williams '11
LTC (R) Robert B. Williams '66
Lt Col (R) and Mrs. Shon P. Williams USAF '94 (P)
MG (R) and Mrs. Robert J. Williamson '73
CPT Ashley B. Wilson '11
LTC (R) and Mrs. Bruce M. Wilson '66
COL (R) and Mrs. Robert C. Wines '72
COL (R) Gregory S. Winston '89
MAJ and Mrs. Todd J. Wisman '06
MAJ Alexander T. Withenbury '10
CPT Caitlin M. Withenbury '12
Dr. and Mrs. Brent V. Witherington '93
MAJ Thomas J. Witkowski '11
Mr. and Mrs. Mark Wittkamper (P)
MG (R) and Mrs. Walter Wojdakowski '72 (P)
MAJ (R) and Mrs. James M. Wolfe '78 (P)
LTC (R) Robert Wolff PhD USAR '65 and Mrs. Phyllis Wolff
CPT Kyle J. Wolfley '09
MAJ and Mrs. Jonathan P. Wood '09
Mr. and Mrs. Robert B. Wood
Mr. Dana J. Woodall '90
Mr. Alan C. Woodmansey P.E. '94
LTC (R) William H. Woodson Jr. '77
MAJ Parker S. Woolwine '10
Mr. and Mrs. Keith W. Workman '73
Mr. and Mrs. Michael C. Worthington (P)
Mr. and Mrs. James M. Wright '69
MAJ Jonathan L. Wright '09
COL (R) and Mrs. Richard K. Wright '68
Mr. Gerard Wroblewski (P)
Reverend Robert Wubbenhorst
Mr. Thomas A. Wuchte '82 and Mr. Peter Tan
Mr. and Mrs. Joseph L. Wyszynski
MAJ Hazumu Yano '10
Mr. and Mrs. Charles Yao (P)
Mr. Michael C. Yarmie '12
LTC (R) James G. Yentz '86
Mr. and Mrs. Peter K. Yi '91
CPT Judy M. Yoo '08
CPT Sam M. Yoo '11
Mr. and Mrs. Anthony J. Yorlano
CPT Tamara N. Young '09
Dr. and Mrs. S. E. Yuliano (P)
Ms. Barbara S. Yurkshat
CPT Zachary D. Palmieri '12
CPT Zachary P. Lankford '12
Mr. and Mrs. Stephen J. Zachensky Jr. (P)
Mr. John H. Farris '73 and COL (R) Kelly L. Zachgo '80
MAJ Andrew M. Zapcic Jr. '10
LTC (R) and Mrs. Frederick A. Zapka '73
CPT Daniel L. Zeller '12
MAJ (R) Phillip J. Zeller III '78
CPT Kevin Zhang '12
CPT Mark J. Ziegler '10
Col (R) and Mrs. John J. Zielinski USAF '73
Mr. and Mrs. William G. Zielinski '05
BG (R) and Mrs. John G. Zierdt '66 (P)
Dr. and Mrs. Larry A. Zieske '74
Mr. and Mrs. Scott J. Zigmond '88
MAJ Devon P. Zillmer '10
MAJ and Mrs. Jeb S. Zoller '95
Anoymous (7)
Mr. and Mrs. Edward Abdul (P)
Mr. Matthew D. Abel '99
COL (R) and Mrs. Julian L. Abell '56
COL (R) and Mrs. David S. Abrahams '93
Mr. and Mrs. Robert Abshire (P)
LTC (R) William E. Acheson '90 and Dr. Felisa A. Lewis '90
Mr. Kenneth H. Achiron
Mr. and Mrs. Craig A. Achtzehn '94
Mr. and Mrs. R. C. Ackerman '92
Mrs. Jean Ackerman (W '56)
CPT and Mrs. Mitchell F. Acosta '13
CPT John D. Adair '12
COL (R) and Mrs. Joseph W. Adamczyk '72 (P)
1LT Andrew S. Adams '18
Mr. Angelo A. Adams '01
CPT Anthony B. Adams III '15
Mr. and Mrs. Christopher J. Adams '82
COL (R) Eric D. Adams '86 and Dr. Kristin K. Adams (P)
Mr. Harry B. Adams IV '94
1LT James V. Adams '18
LTC (R) and Mrs. James W. Adams USAR '69
Mr. Jesse B. Adams '73
COL Joseph F. Adams '85
LTC Martin F. Adams '91 and MAJ Colleen C. Adams USAR '91
Mr. Matthew H. Adams '84
Mr. and Mrs. Jimmy C. Adams Sr. (P)
Mr. and Mrs. Ralph W. Adams '65
Mr. and Mrs. Rex M. Adams '83
COL and Mrs. Steven J. Adams '94
BG (R) and Mrs. Walter E. Adams '50
LTC (R) and Mrs. William F. Adams '81
LTC (R) Henry K. Adamson III '59
1LT Joseph A. Affronti '18
COL (R) and Mrs. Eugene W. Agnew Jr. '66
Mr. and Mrs. Joaquin D. Agsalud '88 (P)
1LT Alejandro M. Aguilar '15
COL (R) Jose L. I. Aguilar '91 and Mrs. Suzanne C. Aguilar '91
Mr. and Mrs. Maynard C. Ahner II '88
CPT Dillon M. Aiken '15
CPT Zachary R. Akes '13
LTC and Mrs. Marc Alacqua (P)
1LT Christopher O. Aladesuru '14
Mr. Joseph Alagna
CPT Darrin G. Alba '15
MAJ (R) Daniel K. Alberico '77
COL (R) Donna Alberto '83 and COL (R) Ron Alberto '83
Mr. Arnaldo C. Albornoz '03
MAJ (R) George W. Albrecht '69
Mr. Michael D. Alch '08
Mr. and Mrs. Steven T. Alch '93
LTC (R) Wayne F. Alch '53 (P)
Mr. Michael V. Aldinger '91
Mr. Joseph E. Aldrich '70
LTC (R) and Mrs. B. Joseph Alexander '70
Mr. and Mrs. James M. Alexander '80
CPT Jon R. Alexander '17
1LT Justin M. Alexander '18
GEN (R) and Mrs. Keith B. Alexander '74
Mrs. Madelyn Alfano and Dr. Jeffrey Tucker (P)
Mr. Christopher E. Alfaro '18
Mr. Ovidio Alfaro '91
Mr. Philip L. Alibrandi '84
Stephen O. Allaire '69 and Mary R. Connolly
CPT Crystan M. Allan '03
Mr. and Mrs. Jeffrey S. Allar '87
CPT Sarah L. Allbright '14
COL (R) Daniel R. Allemeier USAR '71
Mr. and Mrs. David R. Allen (P)
Mr. Dylan T. Allen '18
David Allen and Elizabeth Mack (P)
Mr. and Mrs. Eugene Allen
MAJ Kimberly N. Allen '03
Mr. Mark R. Allen '99
CPT Timothy B. Allen '07
CPT Wade E. Allen '15
CPT William T. Allgood '13
Mr. and Mrs. Michael J. Allibone '87 (P)
Mr. Aaron A. Allison '01
Mr. Robert K. Allison '93
Honorable and Mrs. James F. Almand (P)
1LT Paulo O. Almeida '18
CPT Jennifer E. Alonso '14
1LT Alexander W. Alpert '13
MAJ Robert F. Alsfelder III '07
Mr. James E. Altmeyer '61
LTC (R) and Mrs. James E. Alty Jr. '81
Mr. and Mrs. Michael E. Alverson '67
COL (R) and Mrs. Edward J. Amato '89
LTC (R) and Mrs. John W. Amberg II '88 (P)
CPT Francis J. Ambrogio III '15
LTC (R) David T. Ambrose '93
2LT Jessica V. Ambrose '19
Mr. Gregory E. Ambrosia '05
Mr. James P. Amey '82
Mr. Jon H. Amis '90
CPT Kirby W. Ammons '15
James E. Amundsen P.E. '84
LTC (R) and Mrs. Kevin P. Anastas '76
Mr. Felipe J. Anciola '13
1LT Ricardo Anciola '17
MAJ (R) Eric C. Andersen '80
1LT Samuel A. Andersen '16
Dr. and Mrs. Brian B. Anderson (P)
CPT Caitlin T. Anderson '15
1LT Cory J. Anderson '17
Mrs. Delores B. Anderson (W '53)
MG (R) Dorian T. Anderson '75
Mr. Edgar L. Anderson Jr. '72
COL (R) and Mrs. Erik N. Anderson '93
LTC (R) and Mrs. Gary J. Anderson '74 (P)
Mr. Gregory L. Anderson '89
MAJ (R) and Mrs. John C. Anderson '72
1LT Joseph B. Anderson '18
Mr. Joseph B. Anderson Jr. '65 and Dr. Rochelle Anderson
LTC Joseph E. Anderson '99
LTC (R) Karen W. Anderson USAR '85
CPT Lena Anderson '17
MAJ (R) Mark D. Anderson '78
1LT Matthew C. Anderson '18
LTC (R) and Mrs. Norman L. Anderson '64 (P)
MAJ (R) Peter C. Anderson '75
CPT Rachel L. Anderson '15
MAJ (R) and Mrs. Robert C. Anderson '74
1LT Tyler H. Anderson '17
LTC (R) and Mrs. William F. Anderson '81
LTC (R) William F. Anderson '71
Mr. William W. Anderson '14
Maj Gen and Mrs. John C. Andonie NYARNG '89
LTC Sibylla M. Andrean '85 and Mr. Clark M. Andrean
Mr. Harry and Dr. Tetyana Andress (P)
Mrs. Anne C. Andrews
COL (R) Donald A. Andrews '55
Mr. John F. Andrews Jr. '91
LTC (R) and Mrs. Roger C. Andrews '62
Mr. and Mrs. Thomas G. Andrews
Mr. Bruce D. Andrise '66
1LT Walter J. Ange '14
Mr. and Mrs. Marc R. Angle '99
COL (R) and Mrs. David M. Annen '75
LTC (R) Richard C. Anshus '69
MG (R) and Mrs. Douglas P. Anson USAR '79
Mr. and Mrs. Michael D. Anthony '81
Mr. and Mrs. Steven T. Antoch '86
CPT Vincent D. Antoniotti '02
Mr. Steven T. Antrobus '82
Donatus O. Anusionwu '02
CPT Donald J. Aponte '17
MAJ Michael D. April MD '05
COL and Mrs. Kevin V. Arata '87 (P)
Prof. William A. Arbaugh '84
CPT Sean Ryan B. Arcilla '17
Mrs. Laura V. Arduna (W '53)
Ms. Kristen L. Argus '95
COL (R) and Mrs. Gregory J. Argyros '83
CPT and Mrs. Patrick S. Arlantico '11
Mr. Aaron M. Armstrong '97
Mrs. Angela P. Weston '95 and Mr. Dylan A. Armstrong (P)
COL (R) Donald G. Armstrong '63
Mr. Loren G. Armstrong '94
Dr. Lynette M. Arnhart '89 and Mr. Coby R. Arnhart
Mr. Todd W. Arnold '02
Mr. Michael J. Arntson '92
1LT David B. Arrowchis '14
1LT Marcos J. Arroyo '18
COL Joseph E. Artiaga USAR '87
Mr. and Mrs. Ralph Artigliere '69
Mr. William M. Artigliere '92 and Ms. Cara M. Crownover
Mr. Larry J. Arvay
CPT Benjamin A. Asare '11
1LT Shaun A. Asaro '14
Mr. Manuel J. Asensio Esq.
LTC (R) Robert W. Ash '72
Drs. David and Joan Ashcraft (P)
Mr. Fred Ashraf
Mr. Lance A. Ashworth '91
1LT Simone M. Askew '18
1LT Jonathan A. Astashinsky '17
Mr. Charles J. Atcitty '79
Mr. and Mrs. Herbert A. Aten '84 (P)
Mr. Richard L. Atha '73
CPT (R) Aaron S. Attermann '04
Mr. and Mrs. Walter R. Atwell (P)
Mr. Lawrence A. Aubrecht '72
Mr. David D. Auge '84
Mr. and Mrs. David R. Auman '84
Mr. Andrew V. Auns '98
MAJ (R) Michael D. Austin '79
MAJ (R) Thomas R. Austin '80
Mr. David K. Avedisian
Mr. Donald H. Aven '91
Mr. and Mrs. David W. Averett '96
Mr. and Mrs. Alan W. Avery '83
Mr. Russell V. Avolio
Mr. and Mrs. Robert J. Axley '65
Mr. Edward C. Ayers III '04
LTC (R) Douglas S. Aykroyd '69
Honorable and Mrs. Thomas E. Ayres '84 (P)
LTC (R) and Mrs. Rodney S. Azama '72
Mr. Bruce A. Babbitt '83
Mr. and Mrs. William W. Babic '71
Mr. Antonio Bacchetta
COL (R) Andrew J. Bacevich Jr. '69
Mr. and Mrs. Jeffrey A. Bache '02
Mrs. Gretchen P. Backer '94 and Mr. Daniel J. Backer
Dr. and Mrs. John S. Backof DDS '75
Mr. Robert R. Backof
Mr. Donald J. Backys
CPT Geoffery E. Bacon '15 and CPT Yomanda K. Bacon '15
Dr. and Mrs. Terry R. Bacon '69
Mr. Joseph L. Bader '97
Mr. and Mrs. Kevin Bae '97
CPT Kevin S. C. Baek '16
Mr. and Mrs. Troy M. Baer '87
Dr. Durwood R. Bagby '63 and Dr. Janet H. Bagby
Dr. Michael D. Bagg '85
CPT Terrance A. Baggett '15
CPT Andrea L. Bagley '14
LTC (R) and Mrs. James D. Bagwell '81
Mr. and Mrs. William J. Bahr '69 (P)
Mr. Benjamin O. Bailey '03
Mr. Brian K. Bailey (former '07)
LTC (R) Brodrick J. Bailey '90
Mr. David B. Bailey '95
Col (R) Gene W. Bailey II USAFR '72
Ms. Phyllis Bailey (W '58)
CPT William B. Bailey '17
LTC (R) and Mrs. Thomas H. Baird '61
1LT Devonte L. Baity '17
Reverend Brian N. Baker '83 and Chaplain Andrea A. Baker '84 (P)
Mr. Christopher M. Baker '94
Mr. Eugene A. Baker '86
LTC (R) and Mrs. George H. Baker III USAR '81
Mr. Keith A. Baker '84
Mr. Lewis D. Baker '91
LTC (R) Philip J. Baker Jr. '75
Mr. Francis Bal
Mr. and Mrs. David A. Balan '92
LTC (R) and Mrs. Michael D. Balderman '72
Mr. James S. Baldree '88
Mr. Alan W. Baldwin '59
COL (R) and Mrs. Stephen H. Bales '91
COL (R) Edmund K. Ball '46
LTC (R) James A. Ball '69
Mr. William W. Ballew '74
Mr. Y. Andrew Bang '92
Dr. David C. Bangert PhD '65
Mr. Dennis K. Banks '98
Mr. and Mrs. John J. Banks
COL (R) James B. Bankston '85
1LT Seamus J. Bann '15
1LT Shireen Baqer '10 and Mr. James A. Kimbell
Mr. Kenneth C. Baran '92
LTC (R) and Mrs. Ballard C. Barker '92
Mr. Bradford J. Barker '73
Mr. and Mrs. William E. Barker '73
Mr. and Mrs. Joseph R. Barkley '65
MAJ Bruce W. Barnes III '08
BG David M. Barnes '90
CPT Jacob M. Barnes '14
Mr. Kenneth Barnes
LTC (R) William C. Barnes Jr. USAR '88 and Mrs. Kelly D. Barnes '90 (P)
1LT John R. Barnett '16
CPT Robert J. Barnett '13
Mr. and Mrs. Herbert D. Barnhart '72
Mr. and Mrs. Thomas J. Barnhorst (P)
Mr. and Mrs. Terrence J. Barno '85
COL Laureen M. Barone '83 (P)
COL (R) and Mrs. Martin J. Barr '91
1LT Gabriela C. Barrera '17
CPT Dustin L. Barrett '15
1LT Lyndi E. Barrett '15
Mr. Robert J. Barrett '99
Mr. and Mrs. Joseph A. Barretto (P)
Mr. Jonathan M. Barrow '94
Mr. and Mrs. Robert A. Barry (P)
Mr. Jeffrey S. Barson '91
CPT Kristen A. Barta '15
Mr. and Mrs. Sidney Barteau (P)
Mr. and Mrs. Brent B. Barth '69
COL (R) and Mrs. Thomas H. Barth '83
Carl Barthelson '75
COL (R) and Mrs. James B. Bartholomees '70 (P)
Col (R) and Mrs. Rodney A. Bartholomew USAF '61
Mr. Phillip A. Bartlett '94
MG (R) John R. Bartley '76
Mr. and Mrs. Myles K. Bartley '90
Mr. and Mrs. Charles J. Bartolotta '78 (P)
Mrs. Roger Bartos (P)
Mr. and Mrs. Daniel D. Barulli '88 (P)
Col (R) and Mrs. Ronald W. Bashant USAF '66
COL and Mrs. John C. Baskerville Jr. '90
Ms. Elisa M. T. Basnight '91
CPT Janelle N. Bass '16
Ms. Miranda L. Bass '18
Mr. Willie C. Bass Jr. '02
Mr. M. Eric Bassel '88
COL (R) Richard C. Bassett '82
Mr. and Mrs. Joseph M. Bassil '83
LTC (R) John A. Basso '90
Mr. Ben J. Bateman '05 and Mrs. Cresta L. Bateman '06
1LT Brenden J. Bateman '16
COL Archie L. Bates III '96
CPT Jacob Bates '15
Mr. Timothy L. Bates '75
Mr. Alan M. Batey '75
1LT Casey D. Batley '17
Mr. and Mrs. Nicholas C. Batta (P)
Dr. Peggy A. Battalora (P)
Mr. Donavan Baucum
CPT Hunter P. Baudoindajoux '13
Mr. and Mrs. R. Chadd Bauer (P)
LTC (R) and Mrs. Gary D. Bauleke '75
Mr. Aivars Z. Baumanis '77
CPT Jurgen R. Baumgarten '13
Mr. Raymond E. Baumgarten (P)
Mr. Nicholas S. Bayer '12
COL (R) Peter J. Bazzel '69
Mr. and Mrs. Dwight E. Beach III '84
BG (R) and Mrs. Steven R. Beach '84
Mr. James M. Beamesderfer '91
Mr. and Mrs. Jeffrey J. Beamon '94 (P)
Dr. Dustin Beard
Mr. and Mrs. Joseph A. Beard '96
Mrs. Michelle A. Beasley '90 and Mr. Kevin Beasley
CPT Christopher J. Beatty '13
1LT Jessica J. Beatty '16
1LT Luke D. Beaulieu '18
Mr. and Mrs. Ryan B. Beaver '96 (P)
MAJ Kevin A. Beavers '08
BG (R) and Mrs. Leslie E. Beavers '60
1LT Nicholas T. Beavers '17
Mr. Gary A. Bechard '81
Mr. Peter B. Bechtel '86 and Ms. Ann Loew
CPT Andrew T. Beck '16
CPT Daniel C. Beck '16
Mr. Edward J. Beck '67
CPT John L. Beck '15
Mr. and Mrs. Philip J. Beck (P)
Mr. and Mrs. Dean B. Becker III '68
Ms. Tamara Beckham (P)
Mr. and Mrs. Michael J. Beckman '88 (P)
LTC (R) Damon A. Becknel '95
Mr. and Mrs. Jeffrey M. Bedard '83
Mr. Matthew R. Bednar '14
1LT Ian F. Bedo '16
Mr. Timothy J. Beeck
Mr. Mark Begley (P)
COL Beth A. Behn '94 and Ms. Julianna Shappy
LTC (R) Robert H. Behncke '69
Mr. Christopher B. Behnke-Nead '94
CPT Joseph S. Behrendt '14
LTC (R) James J. Beierschmitt '64
Mr. Adolf J. Beil '98
COL (R) and Mrs. Alan L. Beitler '77
MG Kris A. Belanger USAR '91
LTC (R) Gerald J. Belcher '77
Mr. and Mrs. Gregory R. Beliles '81
MAJ (R) and Mrs. William J. Belknap '81
Mr. and Mrs. Brian D. Bell '91
Mr. and Mrs. Cedrik D. Bell '16
Mrs. Charles H. Bell (W '60)
LTC (R) and Mrs. William R. Bell '74 (P)
Mr. and Mrs. Jeffrey A. Belles '83
Mr. Michael W. Belzile '90
BG Peter N. Benchoff '93 and Dr. Theresa A. Benchoff '94
COL (R) David J. Bender '80
Dr. Michael E. Benefield '68
MAJ (R) and Mrs. Joseph A. Benevento USARNG '88
CPT Patrick D. Benevento '13
CPT Bratton A. Benfield '15 and CPT Stephanie B. Benfield '16
1LT Matthew A. Benjamin '18
Mr. Brian M. Benko '94
Mr. and Mrs. James R. Benko '72 (P)
Mr. Steve S. Benko '94
LTC (R) Steven J. Benkufski '75
1LT David S. Bennett '16
Dr. Dennis R. Bennett '62
CPT Jacob T. Bennett '14
Dr. Jennifer M. Bennett '93
MAJ Peter K. Bennett Jr. '07 and CPT Adam J. Harmon '07
Mr. John J. Benning '83
Mr. Eric E. Benson '85 and Mrs. Macaire B. Benson '85 (P)
Mr. and Mrs. Norman G. Benson II '75
Mr. and Mrs. Eric T. Benting '99
Col (R) David P. Bentley USAF '75
COL Edward J. Benz III USAR '90
1LT Sarah L. Beougher '18
Mr. and Mrs. Jon S. Berberian
Mr. Brian G. Bergen '01
CPT Brian L. Berger '15
Mr. Michael R. Berke '90
Ms. Deanna Bernard '88
CPT Michael J. Bernier '13
Mr. and Mrs. Charles F. Bernitt '62
Mr. Joel E. Bernstein '60
Mr. Joseph O. Berrios '15
COL (R) Luis Berrios
1LT Ian X. Berry '17
LTC (R) Kevin K. Berry '85
COL (R) and Mrs. Michael A. Berry '73
Mr. and Mrs. Kevin P. Bertelsen (P)
CPT Tyler S. Bertles '15
Mr. Timothy J. Bertocci '99
CPT (R) Eric C. Besch '84
Mr. Andrew P. Bessmer '86
1LT Caison A. Best '16
Mr. Laurence J. Best '72 and Dr. Linda Best
MG (R) and Mrs. Steven P. Best '76
1LT Connor S. Bestwick '16
Mr. and Mrs. David J. Bethune (P)
CPT Claire P. Betterbed '13
1LT Ian M. Betzel '17
CPT Aaron G. Beyer '15
Ms. Jennifer T. Bhalla '94
COL (R) and Mrs. Niels P. Biamon '66
COL and Mrs. Anthony J. Bianchi '97
COL and Mrs. James W. Bibb (P)
Mr. James D. Bick '51
Mr. John W. Bickel '69
Mr. and Mrs. Peter B. Bickford '88
1LT Katie E. Biddle '18
COL Mark D. Bieger '91
CPT Georgina A. Biehl USAR '94
Mrs. Victoria Bieler (P)
COL (R) and Mrs. Robert N. Bierly Jr. '60
COL (R) and Mrs. Paul A. Bigelman '67 (P)
Mr. and Mrs. Philip M. Biggs '86 (P)
LTC Jude P. Bilafer '89
Mr. and Mrs. Martin F. Bilafer '62 (P)
1LT Helena M. Bilbrey '18
Mr. and Mrs. James Bilbrey (P)
Mr. and Mrs. Richard H. Bilello '90
CAPT and Mrs. Willie Billingslea USN (P)
Mr. Chester Billingsley (former '74)
Mr. and Mrs. Courtney L. Billington '87
LTC (R) Denis P. Bilodeau '77
CPT Ryan A. Bilyeu '14
1LT Christopher D. Bingham '18
CPT T.J. A. Binkowski '16
Mr. Rex A. Binns '94
Mr. Christopher J. Birchard '94
Mr. and Mrs. William R. Birchfield '86 (P)
CPT Nicole R. Bisacchi '99 and SFC Todd Bisacchi
LTC (R) and Mrs. Gary M. Bishop '75
1LT Jonathan P. Bishop '18
Mrs. Cleo M. Bishop (W '43 Jan)
1LT Anastasia M. Bistrow '18
1LT Sarah M. Bitner '16
Honorable Timothy Bitsberger and Ms. Cheryl Crispen (P)
LTC (R) Michael J. Bittrick '82
Ms. Debra Black (P)
COL (R) and Mrs. Frederick H. Black Sr. (P)
LTC Frederick H. Black Jr. '94
LTC (R) and Mrs. James A. Black '68
1LT Jason C. Black '18
LTC (R) and Mrs. John R. Black '83
Mr. John H. Blaha '95
CPT Alexis C. Blair '15
Mr. Bryan W. Blair '01
Mr. Christopher J. Blair '08
COL (R) Philip W. Blair Jr. '72
1LT Simeon E. Blakely '15
Mr. and Mrs. James A. Bland '97
CPT Justin T. Bland '14
CPT (R) Megan E. Blaney '17
Dr. and Mrs. Howard Blank (P)
COL (R) and Mrs. William J. Blankmeyer Jr. '75
Mr. Benjamin A. Blas '84
Mr. and Mrs. James C. Blastos '85
Mr. and Mrs. Michael J. Blatz '87
LTC (R) Robert E. Bleimeister '79
Mr. and Mrs. Mark Blejwas (P)
Mr. and Mrs. Bruce W. Blevins '73
Mr. Kenneth A. Blewett '05
Mr. and Mrs. Alan Block
Mr. and Mrs. Kirk A. Block (P)
Mr. Timothy A. Block '96
1LT Maria A. Blom '18
Mr. Edward A. Blomstedt (P)
Mr. and Mrs. Ed Bloom '99
CPT Michael C. Bloom '13
Mr. Carl M. Bloomfield '99
Ms. Lorie F. Blount '86
CPT David A. Blum '14
Mr. Roy Blumenthal
Mrs. Jennifer L. Boardman '01 and MAJ Ben Boardman
Mr. and Mrs. Richard Boardman (P)
COL (R) and Mrs. Michael E. Boatner '79
Mr. and Mrs. James W. Bobb (P)
Mr. Martin G. Bobroske '83
Mr. Gregory P. Bock '01
COL (R) Brian F. Bocklage '79
Mr. John W. Bockstanz '08
Mr. and Mrs. James D. Bodenhamer '68 (P)
COL and Mrs. Jonathan A. Bodenhamer '00
MAJ Kurt H. Boehm '08
Mr. Matthew Boerschig
Mr. Gene W. Boesch '71
Mr. David J. Boettcher '96
Mr. Laszlo J. Bogar '15
1LT James T. Bogman '17
MAJ Addison W. Bohannon USAR '09 and CPT Gina R. Bohannon '12
Mr. Craig E. Bohn, Esq. '84
Mr. Douglas J. Bohrer Jr. '93
LTC (R) Lawrence R. Boice '71
Dr. and Mrs. John A. Bojescul MD '92
Mr. Bruce A. Boldon '79
COL and Mrs. Thomas R. Bolen '92 (P)
COL (R) and Mrs. John T. Bolger III 69
1LT Logan W. Bolitho '14
MAJ (R) and Mrs. Michael D. Bollinger '73
Mr. Al Boltze
Ms. Janice Bonacio
Mr. Nicholas A. Bonarrigo '70
COL (R) and Mrs. George W. Bond '86
LTC Richard K. Bond '88
LTC (R) Marcus Bonds '79
Mr. and Mrs. Dana R. Bondy '74
MAJ (R) Charles O. Bonebrake III '69
LTC (R) Ronald M. Bonesteel '79
Mr. Guido Boniello
COL (R) and Mrs. John A. Bonin '72
1LT Alexander R. Bonnecaze '16
1LT Trudy A. Bonner '18
Ms. Ann E. Withun '98
COL and Mrs. Todd M. Bookless NYANG '94
COL (R) and Mrs. Randall D. Bookout '72 (P)
CPT (R) Bradley A. Boone '09
1LT Jackson T. Boone '16
Mr. Lewis A. Boore VI '81 and Ms. Danna Demetre
1LT Christopher J. Booth '17
Mr. and Mrs. Timothy J. Booth '97
LTC (R) and Mrs. Otis D. Borcheller '71
Mr. Brian T. Borders Esq. '72
COL (R) and Mrs. John Bordes (P)
1LT Andrew J. Borer '16
Mr. and Mrs. Christopher N. Borgerding '86
Mr. and Mrs. James F. Borneman Jr. '90
COL (R) Stewart H. Bornhoft '69
CPT Hernan M. Borunda '15
Mr. Raymond J. Bosse '77
Mr. Duane W. Boswell '72
Mr. Frederick C. Bothwell III '62
Mr. Andy F. Bouckley '84
1LT Ariyana M. Boulden '17
COL John R. Boule II '86 (P)
1LT Brendon C. Bourne '18
Mrs. Heather A. Bouton '94 and Mr. David J. Bouton
Mr. James A. Bowden '72
Mr. and Mrs. Bradley J. Bower '82
1LT Brandon P. Bowers '17
1LT Tate M. Bowers '18
1LT William N. Bowers '17
LTC (R) Kevin L. Bowles '79
1LT Bailey O. Bowlin '18
Mr. Bryce H. Bowman '00
1LT Matthew G. Bowman '17
Mr. Quinton V. Bowman '78
CPT Melissa R. Box '15
LTC (R) John I. Boxberger '72 and Ms. Eileen Riordan
COL (R) and Mrs. Wayne W. Boy '72
1LT Ian N. Boyce '15
CPT Olivia M. Boyce '16
Mr. and Mrs. Cary S. Boyd (P)
Dr. and Mrs. Craig W. Boyd (P)
COL (R) and Mrs. Hugh F. Boyd '64 (P)
Mr. Hugh F. Boyd IV '88
CPT Zachary A. Boyd '15
Mr. Brian M. Boyer '99
Mr. Leonard C. Boyer II '90
COL Gregory L. Boylan '94
1LT Joshua N. Boylan '18
Mr. Peter J. Boylan III '84
COL Christopher Boyle '90
1LT Christopher M. Boyle '17
Mr. and Mrs. David M. Boyle '80
CPT Sean C. Boyle '14
Mr. Latinus and Dr. Terri Boylston (P)
CPT Orion K. Boylston '17
COL (R) and Mrs. John G. Boynton '72
Mr. Norman C. Boyter '65
MAJ (R) Hugh M. Bracey '71
Ms. Jennifer A. Bradac '92
Mr. and Mrs. Randall R. Braden '76
Mr. William K. Bradford '93
Mr. Zeb Bradford
Mr. Joseph F. Bradley Jr. '93
Mr. Stephen D. Bradley '86
Ms. Alison J. Bradley-Thoman '94 and Mr. Derek Thoman
MG (R) and Mrs. Jack O. Bradshaw '58
Ms. Dominique N. Braggs Esq. '94 (P)
Mr. and Mrs. Robert C. Braggs '94 (P)
Mr. Artem P. Braginetz '85
1LT William C. Braman Jr. '17
GEN (R) and Mrs. David A. Bramlett '64
COL (R) Larry J. Bramlette '64
CPT and Mrs. Jason R. Brandt USAR '96
Lt Col (R) John D. Brandt '75
COL Terry D. Brannan '95
Mrs. Martha A. Brasek '93 and Mr. Donald A. Brasek
COL (R) Ronald W. Brass '59
Mr. and Mrs. Todd R. Brattan (P)
Ms. Ashley N. Bratton '03
1LT Samuel W. Braunseis '18
CPT Michael J. Breen II '16
COL (R) and Mrs. Patrick J. Breheny
Mr. Tom Breithaupt
1LT Brent M. Bremer '17 and 1LT Emily S. Beecher '17
LTC (R) and Mrs. Kevin F. Brennan Jr. '71 (P)
Dr. and Mrs. Michael J. Brennan '68
Dr. and Mrs. Michael W. Brennan '66
Mr. and Mrs. Thomas P. Brennan Jr. '96
Mr. and Mrs. Richard D. Brenneman (P)
Mrs. John C. Brenner Jr. (W '70)
LTC (R) Kenneth M. Bresnahan '78
LTC (R) Terry A. Bresnick '69
LTC (R) David M. Bresser '94
CPT (R) and Mrs. Adrian B. Brian '49
1LT Tyler A. Brians '17
Mr. Mark F. Brick '86 and Mrs. Yolanda E. Arts-Brick '86
COL Jonalan Brickey '91
LTC (R) and Mrs. William L. Brigadier '67
Mr. and Mrs. Anthony D. Briggs '89
1LT Mickey J. Briggs II '17
Mr. Stephen S. Brightman '10
CPT Jeremy O. Brill '15
Mr. Stephen J. Brink
Mrs. Megan N. Brister '01
Mr. Christopher A. Britt '99
Mr. William G. Britton '52
Dr. Tamara S. Broadnax '89
Mr. and Mrs. Jason M. Brocke '91
Mr. and Mrs. Brian M. Brockson '84
Mrs. James R. Brokenshire Jr. (W '55)
Mr. Charles P. Brooks III '00
MAJ and Mrs. Eric A. Brooks '00
1LT John F. Brooks '18
Mr. Kenneth Brooks
Mr. William B. Brooks '04
Mr. Michael F. Broski '84
BG (R) and Mrs. Charles F. Brower IV '69
Mr. Mark Brower
Mr. and Mrs. Alan Brown (P)
1LT Audrey K. Brown '15
1LT Cale A. Brown '16
Mr. Caleb A. Brown '04
Mr. and Mrs. Carl T. Brown '64
Mr. Darrell C. Brown Jr. '03
CPT David A. Brown '15
Dr. and Mrs. David L. Brown '70
CPT David M. Brown '15
Mr. David M. Brown
Mr. David R. Brown
Ms. Deborah A. Brown '90
1LT Derek A. Brown '14
COL (R) and Mrs. Harry D. Brown '72
Mr. and Mrs. James E. Brown III '88
Mr. and Mrs. James G. Brown Jr. '84
CPT Jena E. Brown '14
Ms. Junko Brown (W '81)
CPT Kelsey B. Brown '17
Mr. and Mrs. Marianne Brown (P)
COL (R) Matthew J. Brown '79
Dr. Patrick A. Brown '89
Mr. and Mrs. Robert A. Brown '73
1LT Robin L. Brown '17
CPT Steven K. Brown '15
CPT (R) Trent E. Brown '13
CPT Wil C. Brown '14
Mr. William N. Brown '93
COL (R) and Mrs. Todd A. Browne '85
Mr. William S. Browne '09
1LT Eliza M. Brownfield '18
1LT Drew M. Brozovich '16
1LT Michael S. Bruce '18
CPT Zachary A. Brune '14
Mr. Kyle M. Bruner '92
Mrs. Diane Brunn '84
Mr. Bruce E. Bruno '84
CPT Nicholas M. Bruno '15
Mr. and Mrs. Edward L. Brunot '86
LTC (R) Eric B. Bruns '88 and Mr. Terry Sharp
1LT Carter M. Bryan '17
Mr. Douglas M. Bryan '90
Mr. and Mrs. George S. Bryan Jr. (P)
CPT Jesse R. Bryant '14
Mr. and Mrs. Richard L. Bryant '65
Mr. Robert L. Bryant '72
COL (R) Vincent D. Bryant '85
MG (R) and Mrs. Walter J. Bryde Jr. '62
Maj Bruce Bublick USAF
LTC (R) Joseph P. Buccolo Sr. '50
Mr. and Mrs. Paul W. Bucha '65
Mr. Sean P. Buchholtz '92
LTC (R) and Mrs. William S. Buchly '58 (P)
Mr. and Mrs. Andrew W. Buck (P)
CPT Emily C. Buck '15
Mr. and Mrs. William E. Buck (P)
Mr. and Mrs. William H. Buck '81
Mr. Richard J. Buckalew '58
Mr. Robert L. Buckman Jr. '80
COL (R) and Mrs. Allan L. Bucknell (P)
Mr. Sean M. Buckner '02
Mr. John K. Buehler '94
MAJ (R) Patricia M. Buel USAR '85 and Mr. Larry V. Buel
Mr. Jonathan D. Buell '90
Mr. Keith G. Buell '14
Mr. Edward T. Buffa '01
Mr. James C. Bull '90
Col (R) Stephen D. Bull III USAF '73
Mr. and Mrs. Thomas W. Buller (P)
CPT Eric A. Bullock '14
Mr. and Mrs. Lee A. Bulman '76 (P)
LTC (R) Jonathan D. Bulseco '94
CPT Jefferson G. Bunce '03
1LT James E. Bunch '13
Mr. and Mrs. Jeffrey Bundrum
CPT Wilhelm P. Bunjor '16
Mr. and Mrs. Andy K. Bunn '86
Mr. and Mrs. Edward C. Buntz '72
Mr. and Mrs. Michael K. Burba '94
Mrs. Wendy C. Burch '94 and Mr. Gary Burch (P)
BG (R) Margaret W. Burcham '82 and LTC (R) Jay M. Burcham
Mr. and Mrs. Michael Burgener (P)
LTC (R) Eric C. Burger '90
COL (R) and Mrs. Anthony P. Burgess '90 (P)
Mr. and Mrs. Geoffrey S. Burgess '99
LTC (R) and Mrs. Louis G. Burgess '76
COL (R) Rene G. Burgess '84
CPT and Mrs. Richard H. Burgess '03
Mr. David L. Burget '74
Mr. Stephen P. Burke '93
Mr. and Mrs. Thomas E. Burke '91 (P)
1LT Justin T. Burmahl '18
COL (R) and Mrs. Scott H. Burner USAR '72
1LT Evan G. Burnham '16
Mr. and Mrs. Timothy H. Burnham '91
MAJ James Burns (P)
CPT Michael J. Burns '14
LTC (R) Philip J. Burns '62
Mr. and Mrs. Thomas F. Burrell III '71 (P)
LTC Benjamin J. Burris '00
Dr. and Mrs. Howard A. Burris III '81
Mr. Ward L. Bursley '72
Mr. Daniel J. Burton '02
Mr. Josh A. Burton '00
CPT Nicholas G. Burton '13
Mr. Patrick G. Burton '91
COL (R) and Mrs. Paul J. Burton '72
Mr. Tony M. Burtt (P)
Mr. Andrew R. Burzumato '91
CPT Aaron C. Bush '14
Mr. and Mrs. James H. Bush Jr. '93
Mrs. Kathleen A. Bush (W '78)
MAJ (R) Stephen R. Bush USAR '78
1LT Jacob D. Bushart '14 and 1LT Megan C. Bushart '14
Mr. and Mrs. Steven J. Bushold (P)
LTC (R) and Mrs. John J. Bussa '68
CPT Thomas P. Busterud '13
CPT Matthew C. Butcher '16
CPT Cameron J. Butler '14
Mr. and Mrs. Steven J. Butler '90 (P)
LTC (R) and Mrs. William J. Butler '97
1LT Dominique M. Butts '17
Mr. C. C. Buzan '81
Mr. James T. Byall '87
1LT Matthew D. Byers '17
LTC (R) Markus S. Bynum '84
Mr. and Mrs. J. Douglas Byrd '70
Mr. James A. Byrd '99
Mr. Melvin L. Byrd Jr. '98
Mr. Donald G. Byrne '63 and Mrs. Cornelia C. Tully-Byrne (W '59)
CPT (R) Kevin J. Byrne '93
MAJ (R) and Mrs. Michael W. Byrne '76
LTC (R) Peter C. Byrne '58
Mr. Sean D. Byrnes '99
Mr. Guillermo R. Cabacungan III '84
1LT Jennifer Cabanas '18
Brig Gen (R) Charles P. Cabell Jr. USAF '58
Mrs. Edith C. Cable (P)
CPT Desiree R. Cabrera '13
CPT Connor S. Cabrey '15
1LT Gonzalo F. Cacho '17
MAJ Catherine D. Caddell USAR '88 and MAJ (R) Lyle J. Caddell '88
Mr. William Cadigan
COL (R) Jack H. Cage '75
1LT Brendon J. Cagney '17
Mr. Andy L. Cahoy '09
CPT Mariah L. Caid-Loos '16
Mr. Richard V. Cain '90
MAJ Nerea M. Cal '06 and MAJ Richard S. Kirby USAR
Ms. Darleen M. Calarco
LTG (R) William B. Caldwell IV '76 and Reverend Stephanie H. Caldwell (P)
COL (R) and Mrs. Paul Cale (P)
1LT Clark M. Cali '17
Mr. Robert M. Caliva '79
CDR David N. Calkins USN '77
CPT Jackson R. Callaghan '14
Lt Col (R) and Mrs. William S. Callaghan Jr. USAF '59
1LT Christopher R. Callahan '18
Mrs. Elizabeth D. Callahan '03 and Mrs. Meredith Callahan
1LT Gage D. Callahan '18
Dr. and Mrs. John M. Callahan '86 (P)
1LT Steven W. Callas '18
Mr. and Mrs. William Callas (P)
CPT Richard L. Calvin '14
Mr. and Mrs. Jared D. Cameron '01
CPT Ryan M. Cameron '10
CPT Josephine H. Cammack '11 and Mr. Andrew Cammack
LTC (R) and Mrs. James T. Camp '72
Mr. Joseph A. Campano '83
Ms. Anna L. Campbell '03
Mr. and Mrs. James H. Campbell IV '01
Lt Gen and Mrs. James L. Campbell
GEN (R) and Mrs. John F. Campbell '79
Mr. Michael R. Campbell '77
Dr. Paul V. Campbell '70
CPT Peter M. Campbell '10
Mr. Richard M. Campbell II '91
LTC (R) and Mrs. Terrence C. Campbell '75
CPT Alexander G. Canacci '14
LTC (R) and Mrs. Patrick L. Canary '62
Mr. Gene R. Canavan '66
MAJ (R) and Mrs. Mark L. Cannady '79
Lt Col (R) and Mrs. Howard R. Cannon USAF '56
Mr. Louis Canonico '72
CPT Alexander S. Cansler '14
COL (R) and Mrs. Raymond P. Canton Jr. '72
COL (R) and Mrs. Michael E. Cantor '80
1LT Drake A. Cantu '17
Mr. and Mrs. Joe M. Cantu '80
COL (R) Gregory L. Cantwell '84 and LTC (R) Maureen C. Cantwell '85
1LT Christopher E. Canty '16 and 1LT Brianna R. Nicholas '18
Mr. Louis J. Capezzuto '86
LTC (R) Paul A. Capofari '72 (P)
Mr. and Mrs. James Capp (P)
CPT Daniel J. Cappello '05
Mr. and Mrs. Brook W. Capps '93
LTC (R) Francis G. Caputo '75
COL (R) and Mrs. Dominic J. Caraccilo '84 (P)
Mrs. Magdaline C. Caradimitropoulo '81 and Mrs. Victoria Robinson
COL Argot Carberry '94
Mr. and Mrs. Luther E. Carden (P)
Mr. and Mrs. Jeffrey D. Carello (P)
CPT Marco E. Caress '13
Mr. Kelly J. Carew '79
Ms. Briah L. Carey '00
Mr. Daniel M. Carey '93
Dr. and Mrs. Thomas M. Carhart III '66
Mr. and Mrs. Robert M. Carini '65
CPT Craig T. Carlisle '14
COL (R) and Mrs. Calvin T. Carlsen '83
CPT Ashli N. Carlson '13
COL (R) and Mrs. Bruce W. Carlson USAR '77 (P)
LTC (R) David A. Carlson '72
MAJ David T. Carlson '10
COL and Mrs. Ken Carlson USAR (P)
Mr. and Mrs. John W. Carlson Jr. '70
Mr. and Mrs. Neal D. Carlson '98
LTC (R) Richard I. Carlson '62
MG (R) and Mrs. Robert D. Carlson '82
Dr. Terry A. Carlson '65
COL (R) Clayton H. Carmean Jr. '60
Mr. Shannon C. Carney '94
Mr. Howard J. Carpenter '72
LTC (R) James N. Carpenter '69
1LT Kayla S. Carpenter '17
Bob Carpenter '67
Mr. Shawn E. Carpenter '94
Mr. Andrew C. Carr '97
LTC (R) and Mrs. Michael H. Carr '91
CPT Michael S. Carr '14 and 1LT Asia C. Hernandez '14
CPT Alexander W. Carrier '14
1LT (R) and Mrs. William H. Carrier '90
CPT Michael A. Carrion '13
COL (R) Chad G. Carroll '94
Mr. and Mrs. William A. Carroll (P)
Mr. John B. Cartafalsa Jr.
Mr. and Mrs. Benjamin F. Carter Jr. '62
Mrs. Nicole A. Carter '99 and Mr. Eric Carter
Mr. and Mrs. Richard M. Carter '73
Mrs. Teresa F. Carter (W '70)
Mr. and Mrs. Wilbert B. Carter III '93
Mr. and Mrs. Thomas G. Carulli '72
COL (R) and Mrs. Curtis A. Carver Jr. '83
COL (R) and Mrs. John R. Cary Jr. '64
Mr. Christopher Casa Santa
LTC (R) Lewis M. Casbon '51
Mr. Christopher W. Casey '85
MG (R) and Mrs. John T. D. Casey '69
Mr. and Mrs. Joseph C. Casey '67
COL (R) Kenneth R. Casey '90
Mr. and Mrs. Thomas J. Casey
MAJ (R) William M. Casey '69
LTC (R) Roger A. Casillas II '89
Mr. Joseph Casillo '69
Mrs. Kerri K. Casino '94 and Mr. Jakob C. Casino
LTG (R) and Mrs. Robert L. Caslen Jr. '75 (P)
Mr. Stephen H. Cass '76
Mr. Mark Cassas
Mr. and Mrs. Edward M. Castellini (P)
Mr. Robert A. Castillo '97
Mr. Roderick M. Castillo '94
COL (R) and Mrs. Edward P. Castle '79 (P)
MG (R) Randal R. Castro '75
CPT Daniel B. Cate '14
Dr. Charles D. Cathey '98
Mr. and Mrs. Christian Catron '01
LTC (R) and Mrs. William H. Cattley USAR '84 (P)
LTC (R) Robert G. Caudle '81
1LT Alexandra G. Caudullo '18
Mr. J. Bryan Cavallaro
Mr. Mark D. Cazalas (former '90)
COL (R) Gerald T. Cecil '66
Mr. Jose A. Cecin Jr. '85
LTC (R) Gregory J. Celestan '84
1LT Brett J. Celona '16
Mr. and Mrs. Michael C. Centers '82
Mr. John W. Cephas '87
CPT Lucas T. Cerami '15
Mr. Frank S. Cerchia
Dr. and Mrs. George J. Ceremuga '84
LTC (R) and Mrs. Anthony J. Cerri '75
Mr. Donald D. Cersovsky '84
LTC (R) and Mrs. Joseph L. Chabot '71
COL (R) Benjamin Chacko and Dr. Rosemary Chacko (P)
1LT Zachary A. Chaikin '17
MAJ (R) William E. Chalk III '72
Mr. and Mrs. Steven J. Chaloult '92
Mr. Benjamin Chambers III '86
Mr. and Mrs. Frederick Chambers (P)
Mr. and Mrs. Lance F. Chambers '92
1LT Justin P. Chamblee '18
Mr. and Mrs. Jon T. Chambless '85
CPT and Mrs. Craig A. Champlin '13
MAJ (R) and Mrs. John M. Chaney '72
LTC Mark A. Chaney '99 and Dr. Keri S. Chaney
COL (R) Dean I. Chang USAR '84
CPT Jonathan E. Chang '14
Mr. Winston W. Chang '05
LTC Alicia R. Chapman '05
Mrs. Christine C. Chapman (W '54)
Mr. and Mrs. Kenneth E. Chapman '90 (P)
Mr. Robert D. Charleston '85
Mr. James R. Charlton '79
COL (R) and Mrs. Joe F. Charsagua AGR '80
COL Antionette C. Mulholland USAR '99
Mr. and Mrs. Irving M. Chase
Mr. and Mrs. Joe Chavara '71
Mr. Andres F. Chaves '97
Mr. Rafael Checa '83
Mr. David A. Cheek '98
MAJ William N. Cheesborough '82
CPT Frank H. Chen '15
LTJG Alexander H. Cheng USN '13
MAJ Lane M. Chereskin ARNG '03
Mr. Brian V. Chernauskas '96
LTC (R) George T. Cherolis '75
Mr. James E. Chew '83
Mr. and Mrs. Carl E. Chickedantz '63
Mr. David B. Chiesa '93
Mrs. Dixie Chilcoat (W '64)
1LT Austin R. Child '17
LTC Cynthia Y. Childress '94
Mr. Gary W. Chippendale '87
1LT Michael J. Chiu '16
1LT Bradley P. Cho '18 and 2LT Lauren E. Karbler '20
CPT Ellen Cho '17
BG (R) and Mrs. John M. Cho '84 (P)
Mr. Sahm D. Cho '11
Mr. Moohoon Choa '04
CPT Joseph P. Choban '14
Mr. Yong Gu Lee and Mrs. Youn Hee Choi (P)
Mr. and Mrs. Henry Chol
Ms. Colleen E. A. Chorak '85
LTC (R) and Mrs. Donald E. Chrans '79
Mr. Kent Christian
MAJ (R) Paul A. Christiani '78
Mr. Robert P. Christiansen '57
Mr. Michael R. Chritton '77
Mr. and Mrs. Benedict J. Chu '90
Mr. and Mrs. Benson L. Chu '88
MAJ Andrew W. Chung '04 and CPT Grace H. Chung '04
Mr. James C. Chung '97
COL (R) and Mrs. Michael L. Church USAR '77
1LT Joshua M. Ciarlante '17 and 2LT Samantha N. Polen '19
MAJ Daniel C. Cicero
Mr. Mark D. Cieplinski '94
Mr. David A. Ciesinski '90
Mr. Frederic S. Claghorn Jr. (former '72)
1LT Alexander F. Clamp '16
Mr. Samuel A. Clare '97
1LT Michael Jeremy D. Clarion '17
Mrs. Beverly D. Clark '91 and Mr. Rick Clark
Mr. and Mrs. Bruce C. Clark '72
Dan and Eileen Clark '80
Mr. Edward D. Clark '77
1LT Elliott W. Clark '18
1LT Floyd S. Clark II '16
Mr. Geoffrey D. Clark and Mrs. Shelly Clark (P)
Mr. Geoffrey R. Clark '85
CPT Jacob L. Clark '14
CPT James D. Clark '13
Mr. Jason R. Clark '92
Mr. and Mrs. Kevin E. Clark '90
1LT MacKenzie L. Clark '18
Ms. Marie Clark
CPT Micah M. Clark '15
1LT and Mrs. Michael W. Clark '17
CPT Langston D. Clarke '13
COL (R) and Mrs. Robert B. Clarke '68
CPT Catherine D. Clarke-Pounder '13
Mr. Ronald E. Clary '71
Mr. and Mrs. Clifford O. Clausen '74
Mr. and Mrs. Donald W. Clayton (P)
LTC Jon S. Cleaves '84
LTC (R) William H. Cleckner IV '75
CPT Jackson M. Clemens '13
Mr. and Mrs. Carl J. Clemente (P)
LTC (R) and Mrs. Charles W. Clements II '72
Mr. Donald E. Clemons Jr. '91
Mrs. Mary L. Clermont '85 and Mr. Christopher M. Clermont
LTG (R) and Mrs. Charles T. Cleveland '78
LTC Daniel W. Clevenger '91
1LT Dayna M. Cline '15
Mr. and Mrs. David M. Clolinger '94
Mr. Aaron P. Close '99
Mr. Ryan P. Close '99
Mr. Alexandre S. Clug '91
LTC (R) Charles H. Coates Jr. '57
Dr. Stephen D. Coats '73
MAJ Thomas Y. Cobb '81
COL and Mrs. and Mrs. Mark A. Cobos '00
CPT Jarvis W. Coburn Jr. '14
Mr. Leo R. Coddington '97
GEN (R) and Mrs. Richard A. Cody '72
CPT Rozier N. Cody '14
Mr. and Mrs. Daniel W. Coester '84
CPT Sean M. Coffey '13
LTC (R) Valerie G. Coffey USAR '85 and Mr. Douglas A. McSwain
Mr. Charles L. Coggins '00
Mr. Barak Cohen '92
Maj Gen (R) William A. Cohen USAF '59 and Dr. Nurit Cohen (P)
COL (R) and Mrs. Donald M. Cohick (P)
Mr. James M. Coker '05
Mr. and Mrs. Joseph Colamedici
Mrs. David L. Colaw (W '46)
Mr. and Mrs. Christopher P. Colbert '99
LTC (R) and Mrs. Michael W. Colbert USAR '73
LTC William G. Colbert '96
LTC (R) and Mrs. Anthony H. Colby '72
CPT and Mrs. Jacob M. Cole '16
LTC (R) and Mrs. Mark G. Cole '72
Mr. Louis J. Colella '67
1LT Eugene J. Coleman III '16
COL (R) and Mrs. Gary S. Coleman '74
MAJ (R) Joe T. Coleman '79
Mr. Paul D. Coleman '81
Mrs. Carolina Coll '92 and Mr. Brian E. Coll (former '92)
Mr. and Mrs. Dennis R. Coll '65 (P)
COL and Mrs. Thad L. Collard (P)
CPT Andrew G. College '14
Mr. Joseph Collery
Mr. Eugene A. Collett '82
LTC (R) Francis A. Colletti Jr. '79
Ms. Ann Marie Collier '80
Mr. Johnathan J. Collier '97
COL (R) Kenneth S. Collier '77
1LT Adam F. Collins '18
Mr. Christopher J. Collins '91
LTC (R) Dennis P. Collins '90
Mrs. Maureen L. Collins '85 and Mr. Brooks Collins
COL (R) Robert E. Collins Jr. '85
CPT Jose A. Colon II '15
Mr. Michael A. Colotti '75
Mr. Robert M. Colson '67
Mr. William B. Colson Jr. '70
Mr. and Mrs. James A. Combs Jr. '83
Dr. Todd E. Combs '94
COL (R) Robert F. Comeau '57
1LT James L. Comer '18
CPT Devon J. Compeau '14
1LT Kimberly R. Comstock '18
Mr. and Mrs. Brian J. Conjelko '91
Ms. Donna Conklin
Mr. Jacob T. Conley '16
LTC (R) and Mrs. Shaun S. Conlin '72 (P)
CPT and Mrs. Lincoln B. Connell '17
Mr. and Mrs. Christopher L. Connelly '97
Ms. Dawn E. Conniff '94
Dr. and Mrs. James C. Connolly II '61
Mr. Christopher D. Connor '01
Mr. Jason M. Connor '02
LTC (R) and Mrs. William M. Connor Jr. '64
Mr. and Mrs. John T. Connors '70 (P)
Mr. and Mrs. Timothy Connors (P)
COL and Mrs. Timothy P. Connors USAR '88
LTC (R) and Mrs. Gregory B. Conover '73
LTC (R) and Mrs. William B. Conrad '80 (P)
Mr. Mark F. Conroe '86
1LT Christian H. Considine '16
Mr. and Mrs. William Constantine
LTC (R) and Mrs. Robert D. Conte '70
Mr. Nicholas E. Conti (P)
Mr. and Mrs. Jorge Contogonas (P)
1LT Diana I. Contreras '17
CPT Mario A. Contreras Jr. '17
CPT Jack F. Conway '13
COL (R) and Mrs. George S. Conwill '79
COL (R) Arthur C. Coogler Jr. '68
Mr. and Mrs. Ambrose F. Cook Jr. '73
1LT Andrew J. Cook '16
Mr. Edwin A. Cook '93
Mr. Jacob N. Cook '07
COL (R) and Mrs. John R. Cook '91
Ms. Rhonda K. Cook '88 and Ms. Amy Carroll
1LT Robert W. Cook '17
COL Thomas Cook
Mr. and Mrs. Jennings B. Cooksey III '83 (P)
Mr. Jason G. Coon '94
Mrs. Robert P. Coonan (W '72)
Mr. Jimmy B. Cooper Jr. '93
LTC (R) Mauro A. Cooper '79
Mr. Milton E. Cooper Jr. '60
CPT Shawn P. Cooper '15
Mrs. Sorrel B. Cooper '97 and Mr. John M. Cooper
Mr. Troy A. K. Cooper '84
1LT Jarred L. Cope '18
COL (R) and Mrs. John A. Cope '64
COL and Mrs. Jeffrey C. Corbett '85
COL (R) and Mrs. Bruce A. Cordelli Sr. '83
1LT Caleb F. Cordero '17
Dr. Adrian A. M. Cordovi '92
Mr. and Mrs. Robert C. Cordray III '97
COL (R) and Mrs. James E. Corfman '70
Mr. Vincent C. Corica '69
Ms. Susanne E. Corlett '97
COL (R) Florian O. Cornay '50
COL (R) John C. Cornelson '61 (P)
Mr. Charles K. Cornett '84
Mr. and Mrs. Richard W. Cornman Jr. '86
Mr. and Mrs. Charles C. Correll Jr. '89
1LT Ian P. Correll '17
Mr. and Mrs. Richard A. Corson '74
LTC (R) Jeffrey J. Corton '94
1LT Cooper J. Cosby '18
COL (R) William N. Cosby '84 and Ms. Kelley Hecky-Cosby
Mr. Raymond P. Cossette '70
CPT Jacob D. Costa '14
CPT Charles B. Costanzo Jr. '14 and CPT Regina A. Costanzo '14
LTC Albert M. Costello '94 and LTC Ashley H. Costello USAR '94
Mr. and Mrs. Neil F. Costello '86
Dr. Wanda M. Costen '86
Mr. and Mrs. Robert G. Coston (P)
Mr. and Mrs. John J. Cote (P)
Mr. Dino S. Cotilletta '03
Mr. and Mrs. Thomas G. Cotner (P)
Mr. Michael B. Cotter '83
MAJ (R) and Mrs. J. Robert Cotton '73
1LT Joseph R. Cotton '14
Mr. Daniel J. Cottone '84
Mr. and Mrs. Brian D. Couch (P)
MAJ Jonathan S. Couch '05
LTC (R) and Mrs. David P. Coughran '75 (P)
Mr. Thomas Coulouris
Mr. and Mrs. Brian Coulson (P)
COL (R) and Mrs. Edward T. Counts '61
Dr. and Ms. John W. Coursey '88
MAJ and Mrs. Peter N. Courtois '81
COL (R) and Mrs. Michael P. Courts '81
Mrs. Amanda (May) Coussoule '97 and Mr. Justin A. Coussoule '97
CPT David D. Covell '13
Mr. Scott C. Covington '08
COL (R) David E. Covolesky '93
Mr. James B. Cowart '67
Mr. and Mrs. Robert Cowen (P)
Mrs. Jennifer L. Cowley '89 and LTC (R) Shawn W. Cowley '91 (P)
Mr. Brian A. Cox '95 and Mrs. Casey L. B. Cox '96
COL (R) Daniel J. Cox Jr. '69
Col (R) David B. Cox USAF '90 and Mrs. Sharon L. Cox '90
MG (R) and Mrs. Kendall P. Cox '79 (P)
Honorable and Mrs. Ronald E. Cox '66
1LT Tyler A. Cox '18
Mr. and Mrs. Dale E. Coy (P)
1LT Craig J. Coyle '15
LTC (R) and Mrs. Philip V. Coyle '69
Mr. Curtis W. Cozart Jr. '84
LTC (R) and Mrs. Frank D. Cozza '73
Mr. Paul J. Cozza '84
1LT Benjamin M. Crabtree '17
COL (R) and Mrs. Brent A. Crabtree '73
COL (R) and Mrs. Thomas R. Crabtree '82
Mr. Alan J. Craft '87
COL (R) Douglas W. Craft '69
LTC John C. Craft '00
CPT Joshua T. Crafton '17
Mr. Wayne T. Crafton '76
LTC (R) James R. Craig '93
Mr. Mark T. Cramer '91
Mr. Randy O. Crane '78
LTC Richard T. Cranford '96
Mr. and Mrs. Horace I. Crary Jr. (P)
MG (R) and Mrs. Albert B. Crawford Jr. '50
1LT Barret T. Crawford '15
COL (R) Bobby G. Crawford '85
COL (R) Danny L. Crawford 66
Mr. and Mrs. Kevin A. Crawford '97
Mr. Mark F. Crawford '82
LTC (R) and Mrs. Raymond R. Crawford Jr. '72
Mr. and Mrs. Wesley Creel
COL (R) James L. Creighton Jr. '82 and LTC (R) Tamasine N. Wood-Creighton
Mrs. Lynn Creighton (W '60)
LTC (R) Charles T. Crenshaw III '73
Mr. Timothy Crill
1LT Madelyn J. Crimmins '18
Mrs. Kristen L. Crino '90 and LTC Scott Crino (P)
LTC (R) Roberta Crissy '82 and Mr. Paul Crissy
LTC Jon R. Crist '91
Mr. and Mrs. Hugo W. Croft '68
LTC (R) and Mrs. Gordon W. Crom '78
Mr. and Mrs. David J. Cronin '74
Mr. Joseph P. Croskey II '87
MG Telita Crosland '89
Mr. Joaquin M. Croslin '94
1LT Hayden G. Cross '18
LTC (R) and Mrs. John D. Cross '93 (P)
CPT Triada D. Cross '13
COL James W. Crossley '93
Mr. and Mrs. Lloyd Crossley (P)
Mr. Donald L. Crouch (former '57)
1LT Keaton Crowder '18
Mr. and Mrs. Tobin M. Crowder '92
LTC (R) David V. Crowell '66
Mrs. Mary Barbara Crowell and Mr. Robert R. Reuter (P)
1LT Sean A. Crowley '16
Mr. William J. Crowley '83
MAJ (R) Ted A. Crozier Jr. '76
CPT Jonathan N. Crucitti '14
MAJ Iain J. Cruickshank '10
Col (R) William P. Crum USAF '56
1LT Samuel A. Crump '18
Mr. William B. Crumpler '63
Mr. Richard A. Crusan '88
Mr. and Mrs. Edward Crutchfield (P)
CPT Adam J. Cucchiara 07
MG (R) Anthony A. Cucolo III '79
Mr. Rodolfo Cuellar '91
Mr. Andre M. Cuerington '84
Mr. Kenneth P. Cullen '84
Mr. William E. Cully Jr.
Lt Col (R) and Mrs. William T. Cumiskey Jr. USAF '70
Dr. and Mrs. Craig P. Cummings '93
COL David Cummings
COL and Mrs. Edward H. Cummings Jr. USAR '86
LTC (R) and Mrs. Terrence Cummings '83
Mr. and Mrs. David F. Cunningham '68
COL Paul E. Cunningham II '94
Mr. and Mrs. Paul E. Cunningham '70 (P)
CPT Thomas L. Cunningham '13
Ms. Joanne Cuomo (P)
COL (R) Louis J. Curl III '69
COL (R) Richard L. Curl '56 (P)
1LT Mark C. Curley '17
Mr. Anthony K. Curran '69
Mr. and Mrs. Michael J. Curran '86
Lt Col (R) Paul T. H. Currie USAF '73
Mr. and Mrs. William M. Currie '71
BG Joy L Curriera '90
BG (R) and Mrs. Stephen J. Curry '72
1LT Annamarie H. Curtin '16
Ms. Daphne D. Curtin '98
CPT Michael W. Curtin '15
CPT Dillon R. Curtis '15
LTC (R) Howard G. Curtis II '69
Mr. and Mrs. Scott R. Curtis '90
Mr. Steven E. Curtis '72
Mr. and Mrs. Thomas R. Curtis (P)
Mr. and Mrs. Matthew G. Cusack
Ms. Krista Cushing (P)
LTC Kevin R. Cutright '96
COL (R) and Mrs. Paul J. Cutting '83
MAJ (R) Joseph A. Czuberki '61
CPT Michael W. Dabeck '13
Col (R) John W. Daberkow USAF '93 and Lt Col Bernadette Steele USAF
COL Philip J. Dacunto '95
Mrs. Caroline J. D'Agostino '98 and Mr. Tim D'Agostino
Mr. and Mrs. John M. Dahl (P)
Mr. and Mrs. Steven S. Daigle (P)
Mr. Jerry R. Daily '85
Mr. and Mrs. Paul M. Daily '78
Dr. and Mrs. Louis A. Dainty '87 (P)
Mr. Peter L. D'Alessandro Jr. '64
COL (R) John M. Daley '58
Mr. and Mrs. Richard M. Dallaire '73
LTC (R) and Mrs. John A. Dallen Jr. '68
MAJ (R) and Mrs. Robert T. Dalton '76
Mr. David B. Dalum '69
COL (R) and Mrs. Stephen C. Daly '72
Richard L. and Kathryn W. Dalzell '79
1LT Murphy P. Danahy '16
1LT Patrick W. Dancer '17
COL (R) Shawn L. Daniel '93
Senator Warren T. Daniel '91
CPT Daniel J. Thueneman '11
Mr. Philip K. Daniels III '71
Mr. and Mrs. Dean L. Danielson '71
MAJ (R) and Mrs. Edward M. Dannemiller II '75
Mr. Nelson N. D'Antonio II '06
LTC (R) Kimberly L. Darby '90 and COL Eric J. Sloughfy
Mr. and Mrs. Michael Darby (P)
CPT Brett G. Darden '13
Mr. Glen O. Dare '96
LTC (R) and Mrs. John W. Dargle '62 (P)
MAJ (R) Douglas A. Darling USAR '74
Mr. Douglas D. Datka '89
Mr. and Mrs. William A. Dauer '81
COL (R) William F. Daugherty '62
CPT Kathryn A. Davel '13
1LT Emma H. Davenport '18
Mr. Brad W. Davey '97
1LT Moise David '18
LTC (R) Neil B. Davids '95
1LT Jacob C. Davies '17
LTC (R) Alfrazier Davis Jr. '83
1LT Brian T. Davis '18
LTC (R) and Mrs. Chadwick G. Davis '94
1LT Dajah E. Davis '15
Mr. and Mrs. F. Kenneth Davis '72
Mr. John L. Davis Jr. '69
MAJ and Mrs. and Mrs. John R. Davis '07
Ms. Kristin E. Davis (W '70)
Lt Col (R) and Mrs. Louis S. Davis USAF '68
CPT Madison C. Davis '17 and 1LT Tyler H. Pham '18
COL (R) and Mrs. M. Thomas Davis '72
COL (R) Mark A. Davis '83
Mr. Neil A. Davis '94
MAJ (R) and Mrs. Russell A. Davis '73
Dr. Scott Davis and Judge Wendy Davis (P)
LTC (R) and Mrs. Ted E. Davis '74 (P)
Mr. and Mrs. Thomas E. Davis '86 (P)
Mr. Walter W. Davis Jr. '64
LTC Joseph M. Davison USAR AGR '01
Mr. Mark J. Dawes '79
BG (R) and Mrs. Peter M. Dawkins '59
Mr. Jeffrey A. Daws '89
MAJ (R) Denise I. Dawson '80 and Mr. David R. Boid
Mr. Samuel R. and Dr. Laura K. Dawson (P)
Mr. and Mrs. John W. Day Jr. '86
Mr. and Mrs. Thomas W. Dayvault '72
COL (R) Richard P. De Fatta '78
CPT John W. De La Chapelle '15
LTC (R) and Mrs. Robert A. de Laar '65 (P)
MAJ (R) and Mrs. Dionisio A. de Leon III '74
Mr. Anthony R. DeAmico '62
Mr. Judson D. Dean '97
Mr. and Mrs. Stephen J. DeBerardino '87
Mr. and Mrs. Kevin Debruyne (P)
Mr. and Mrs. Peter J. Decareau (P)
Mr. and Mrs. T.D. Decker '81
LTC (R) and Mrs. Tony L. Dedmond '72 (P)
COL (R) Shad H. Deering '93
LTC (R) and Mrs. David B. Deeter '76 (P)
LTC (R) Michael R. Deets '77
Mr. Stanley A. Defilippi '69
Mr. William DeFrancesco
Mr. and Mrs. Dale G. Degen '95
CPT Nathan R. Degen '15
LTC (R) George C. DeGraff Jr. '63
Mr. and Mrs. Matthew J. DeHaven '81 (P)
Mrs. Dori DeJong (W '91)
MAJ (R) and Mrs. Michael Del Rosario '83
1LT Marco Jose C. Dela Cruz '16
Mr. Patrick J. Delaney '85
LTC (R) Gregg M. Dellert '93
LTC and Mrs. Matthew A. DeLoia '97
Mr. Maurice J. Delorey '78
Mr. Douglas L. Delp '96
COL (R) and Mrs. Ralph C. DeLuca '84
Mr. Matthew C. Delvaux '06
Mr. Charles DeMarco
Mr. Kenneth H. Demarest Jr. '85
CPT Matthew J. DeMartino '13
CDR Katherine A. Demers '93
Ms. Kelly M. Demers '90
Mr. and Mrs. Donald J. DeMetz Jr. '74
Sean Demeule '95
CPT Austin R. Demeuse '17
Mr. Thomas Deming
1LT Noah J. DeMoes '18
LTC (R) and Mrs. Jason K. Dempsey '93
GEN (R) and Mrs. Martin E. Dempsey '74 (P)
1LT Jonathan B. Dencker '17
1LT Kieran T. Denehan Jr. '16
Mrs. Tiffany L. Deng '05 and Mr. Chuol Deng
Ms. Gretchen M. Denk (P)
MAJ Daniel I. Denn USAR '08
LTC (R) Joseph S. Dennehy '72
Mr. and Mrs. Gary J. Dennis '72
Mr. Joseph D. Dennis '09
Mr. David J. Dennison '94
Mr. David V. DeParle '71
Mr. Stephen C. DePew '81
Mr. and Mrs. Barry G. Depot '88
1LT Austen W. Deppe '18
CPT Heather N. Deppe '13
1LT Mitchell H. DeRidder '17
LTC (R) and Mrs. William K. Dermann USAR '72
Mr. Gerald A. Derrick '95
Mrs. Frances F. Desantis (P)
LTC (R) and Mrs. Donald A. DeSapri '62
Mr. and Mrs. Louis A. DeScioli '70
CPT Peter C. DeSimone III '15
CPT Andrew B. DeSplinter '13
COL (R) and Mrs. Rolland A. Dessert Jr. '72
Mr. Michael J. Detore '74
Mr. Benjamin P. DeTrempe '13
Mr. and Mrs. Christopher J. Detrempe (P)
COL (R) John W. Devens '58
Mr. Thomas E. Devens '84
LTC (R) Raymond A. Devereaux
COL (R) Gregory H. DeVoe '74
Mrs. Michelle M. Dewey '01 and Mr. Matthew D. Dewey
COL (R) and Mrs. James E. DeWire '63
Mr. John D. DeWitt '84
LTC (R) and Mrs. Richard P. Dexter '64
CPT Johnathan D. Dial Jr. '17 and CPT Madison T. Dial '17
Mr. and Mrs. George E. Dials '67
Mr. Robert R. Dickerson '69
Mr. Jason S. Dickie '96
Mr. Douglas L. Dickinson '84
Mr. David R. Dickison '92
Mr. Richard D. Dickson '96 and Mr. Luis Morales Lopez
Mr. Robert A. Dickson
CPT Tyler C. Dickson '14
Mr. Stanley S. Diddams Jr. '16
MAJ (R) and Mrs. David M. DiDonato '80
MAJ (R) Larry A. Diekema '70
Mr. and Mrs. John B. Dierkes Jr. '71
Mrs. Derin M. Dietz '08
Mr. and Mrs. Henry E. Dietz '66
LTC (R) and Mrs. Joseph F. DiGangi '79 (P)
Mr. and Mrs. George A. Dikeman '90
SGM and Mrs. Denver D. Dill
Dr. Robert J. Dillard '00
LTC (R) and Mrs. John H. Dilley Jr. '62
Mr. and Mrs. Paul R. Dillman Jr. '81
Mr. and Mrs. Brian E. Dillon '72
CPT Julie E. Dillon '15
Mr. Mark E. Dillon '69
CPT Mauri T. DiMeo '13
CPT James M. DiMilia '14
COL James E. Dimon '94
Mr. and Mrs. Anthony J. DiNallo Jr. '88 (P)
1LT Jack Dingle '17
Mr. and Mrs. James F. DiOrio '86
1LT Jett A. DiPalma '17
COL (R) and Mrs. Barry S. DiRuzza '86
LTC (R) Benjamin E. Dishman '59
Mr. and Mrs. Charles R. Ditchendorf (former '62)
Mr. and Mrs. Mark C. DiTrolio '86
1LT Nicholas DiVito '17
2LT Caneel J. Dixon '20
CPT Chelsea R. Dixon '14
LTC (R) Deirdre P. Dixon '84 and Mr. Paul A. Dixon (P)
Mr. Douglas C. Doan '79
COL and Mrs. Minh Luan N. Doan '94
Mr. John J. Dobise Jr. '66
Mr. Reginald M. Dobson '94
Mr. Thomas C. Dockery '70
Mr. James W. Dodd '62
1LT Kasandra E. Dodd '16
COL Darrell D. Dodge '91
Mr. and Mrs. Dirk L. Dodson (P)
LTC (R) and Mrs. William W. Doe III '74
Ms. Kelley H. Dolan '83
Mr. Michael E. Dolan '04
Mr. Brady J. Dolim '07
1LT Gustave A. Doll '18
COL (R) Christopher C. Dolt USAR '84
MAJ (R) Joseph W. Dombi '81 and COL Janice L. Dombi
Albert and Natasha Dombrowski '88
Mr. and Mrs. Juan M. Dominguez '89
CPT Maurice P. Dominguez '07
COL (R) and Mrs. Michael R. S. Donaghy USAR '72
Mr. Nathan P. Donahoe '94
Mr. Thomas M. Donahue '81
COL (R) Jeffery L. Donald '72
Mr. and Mrs. Alfred W. Donaldson Jr. '94 (P)
LTC (R) Jeffrey M. Donaldson '69
COL Daniel G. Donelin USAR '90
Mr. and Mrs. Moir P. Donelson '90 (P)
Mr. and Mrs. Robert S. Donnelly '81
1LT Christopher K. Donohoe '17
Dr. and Mrs. Hugh J. Donohue Jr. '69
LTC Kevin S. Donohue '81
Mr. William J. Donohue Jr. '67
COL (R) Dennis P. Donovan ARNG '78 and LTC (R) Karla H. Donovan '84
1LT Matthew W. Donovan '18
Mr. Thomas E. Donovan '84
Mr. and Mrs. Kenneth J. Donze (P)
1LT Courtney R. Dooley '18
LTC (R) and Mrs. Matthew A. Dooley '94 (P)
COL (R) and Mrs. Paul L. Doppel '72
1LT Justin A. Doreck '17
Mr. and Mrs. Dean E. Dorman '86 (P)
Mr. Stephen Dorochovich
Mr. Thomas J. Dorozynski
Mrs. Nancy D. Dorris (W '59)
Mrs. Evelyn J. Dorsey (W '60)
1LT Sydney E. Dossett '18
Mrs. Amber B. Dossey '95 and Mr. Matthew D. Dossey '95
Mr. Thomas F. Dougall '77
Mr. Bryan P. Dougherty '04
1LT and Mrs. Daniel J. Dougherty '18
LTC Edward W. Dougherty III '86
Mr. Patrick Dougherty
Dr. Glenn R. Doughty Jr. '65
Mr. and Mrs. Samuel R. Douglas (P)
Ms. Lisa Dowd
Mr. Ryan J. Dowd '09
CPT Samuel R. Dowd '16
Mr. George S. Dowell '77
LTC (R) and Mrs. Edmund A. Dowling '79
LTC (R) and Mrs. Patrick M. Downes '93
Mr. and Mrs. Edward E. Downey Jr.
Mr. Shane K. Downey '86
CPT Sara M. Downing '14
1LT Christian N. Doyle '17
BG and Mrs. David S. Doyle '93
LTC (R) and Mrs. Edward J. Doyle '69 (P)
Mr. and Mrs. Francis X. Doyle '85
Mr. James M. Doyle '14
LTC (R) John P. Doyle '71
COL Jonathan H. Doyle '95
CPT Robert P. Doyle '13
COL Seamus K. Doyle USAR '94
Mr. Sean D. Drake '90
LTC (R) and Mrs. Timothy E. Drake '82
Mr. and Mrs. John M. Draper '74
COL Mary O. Drayton '96 and Mr. Rodney Drayton
Mr. Luke C. Dressman '16
COL (R) Christopher T. Drew '92
Mr. and Mrs. John L. Drew '78
CPT Natalia M. Drew '15
COL (R) Albert A. Drewke Jr. '76
CPT Nathan L. Drewry '14
MAJ (R) and Mrs. John W. Driscoll '83
Mr. Michael J. Driscoll '76
Mr. Michael D. S. Drisko '90
Mr. Charles J. Drobny Jr. '72
Mr. Ford C. Droegemueller '71
Mr. Jacob M. Drozd '15
Mr. and Mrs. Alec L. Drummond (P)
Mrs. James E. Drummond (W '55)
CPT Alyssa H. Drummond '15 and CPT Joseph A. Drummond '15
Mr. Stuart P. Drury '78
Mr. and Mrs. Llewellyn F. Dryfoos III '86
LTC Brian M. Ducote '99
Mr. Keenan Duddy
Mr. Joe G. Dudzinski (P)
Mr. and Mrs. William J. Dueker '02
MAJ Tanja C. Duester '07
Mr. and Mrs. Jeffrey J. Dufault '72
Mr. Alan D. Duff '80
Dr. Scott R. Duffin '79
Mr. John Duffy
Mr. and Mrs. Joseph Duffy (P)
Dr. Ronald L. Dufresne PhD '94
Mr. John M. Duhamel '88
Ms. Leeann Duhoski '90
1LT Haley E. Duke '18
Ms. Carol Dulaney (W '52)
1LT Olivier M. Duler '17
Mr. James M. Dulong '76
COL (R) John E. Dumoulin Jr. '83
LTC Richard E. Dunaway USAR '94
Mr. Laurence L. Duncan III '72
Ms. Marlinda Duncanson
Mr. Che P. Dungan '97
LTC (R) James W. Dunmyer '62
Ms. Jennifer Dunn '93
COL and Mrs. Jonathan S. Dunn '96
Mr. Peter C. Dunn '89
Mr. and Mrs. Robert T. Dunn Jr. (P)
Mr. Richard Dunning
1LT Jordan D. Duran '16
Mr. Merritt T. Durham '79
Ms. Pam Durham
Mr. and Mrs. David Durkin (P)
LTC (R) J. Keller Durkin '96
LTC (R) Richard S. Durost '90
1LT Andrew J. Dutch '17
CPT Mitchell B. Dutton '16
Mr. and Mrs. Ryan W. Dutton '97
Mr. and Mrs. William D. Duvall
Mr. Dale A. Dvorak '75
Mr. Frank E. Dwyer '93
Mr. Carl E. Dye '64
LTC Jason R. Dye '00
COL (R) and Mrs. Gregory J. Dyekman '84
Tom and Paige Dyer '67
Mr. Joseph D. Dyess
MG (R) and Mrs. Robert M. Dyess Jr. '82
LTC (R) James P. Dyke '93
Mr. and Mrs. Marvin J. J. Dyke '94
Mr. James C. Dywan '01
Ms. Holly A. Dzwilefsky '98
1LT John W. Eagen '16
MG Matthew P. Easley '88
Mr. and Mrs. Jamal A. Eason '04
Mr. and Mrs. Timothy L. East (P)
Mr. and Mrs. Timothy L. East '10
CPT Geoffrey K. Easterling '13
LTC (R) John L. Easterwood Jr. '57
Mr. William G. Easton Jr. '68 and Ms. Lisa Coppola
Mr. David G. Eaton '61
LTC (R) William E. Ebel Jr. '79
Mr. John C. Eberly '72
Mrs. Loris M. Ebner (W '50)
Mr. and Mrs. Daniel A. Echeveste (P)
MG (R) and Mrs. Donald E. Eckelbarger '59
CPT Christian G. Eckhardt '15
Mr. and Mrs. Jeff Eckland (P)
COL David C. Eckley '00
CPT and Mrs. Justus A. Eckstrom '16
LTC (R) John A. Econom '80 and LTC Shelley Econom (P)
COL (R) and Mrs. A. Tommy Economy III '81 (P)
Mayor and Mrs. Jerry B. Edelen '71
1LT Maggie R. Edens '14
BG (R) and Mrs. Timothy J. Edens '81 (P)
Mr. Darrell W. Edge '75
1LT Charles J. Edrington '16
Mr. and Mrs. Bruce N. Edwards (P)
1LT Christopher J. Edwards '17
MAJ Curtis L. Edwards '00
COL (R) Fred H. Edwards '69
Mr. James B. Edwards '71
Mr. and Mrs. James M. Edwards (P)
Mr. John A. Edwards
Mr. Keevin B. Edwards '86
Mr. and Mrs. Kip C. Edwards '76
Mrs. Amy E. Edwards '97 and Mr. Michael S. Edwards '97
Mr. and Mrs. Robert C. Edwards '72
LTC (R) Sebastian A. Edwards '94
Mr. John J. Egan '69
Mr. Sean D. Egan '94
COL and Mrs. Steven F. Egan USAR '94
COL (R) and Mrs. Darryl J. Egler USAR '75
Ms. Kimberly A. Ehrlund '87
Mr. Gary S. Eiber '69
LTC Scott A. Eichelberger USAR '97
LTC (R) David G. Eichenberger '66
Mr. and Mrs. Mark A. Eidem '78
Mr. and Mrs. Mark Eischer (P)
Mr. and Mrs. Christopher J. Eisenberg (P)
1LT Ikenna C. Ejekam '18
COL (R) Raymond K. Elderd USAR '88
CPT Dakota J. Eldridge '15
COL (R) and Mrs. Mark E. Eldridge USAR '72
CPT Neal D. Eldridge '14
CPT Stephanie M. Eldridge '15
1LT Daniel J. Elfman '18
1LT and Mrs. Nathaniel W. Eliasen '13
Ms. Samara R. Elledge '99
Mr. and Mrs. Robert Eller (P)
MAJ Benjamin J. Elliott '07
Mr. and Mrs. James C. Elliott IV '99
LTC Jonathan M. Elliott '04
1LT Jordan D. Elliott '18
CPT Jordan E. Elliott '15
LTC (R) Kent M. Elliott Jr. '84
Mr. Robert R. Elliott '01
COL (R) Robert V. Elliott '71
Mr. Andrew Ellis
COL Deborah M. Ellis '92
Mr. and Mrs. L. N. Ellis Jr. '70
Mr. Michael D. Ellis '93
BG Patrick J. Ellis '94
CPT Spencer M. Ellis '17
Mr. Stephen C. Ellis '75 and Ms. Maria Bozzuto
1LT Meredith S. Ellison '18
CPT Patrick F. Ellison '15
1LT Garrick Ellwood '17
Mr. and Mrs. Daniel J. Elmlinger (P)
The Reverend Wesley B. Elmore '82
Mr. Olaf L. Elton '75
Dr. and Mrs. Erik Emblem (P)
Mr. and Mrs. Michael Emerald
LTC Charles J. Emerson Jr. '89 and LTC Kay Linda G. Emerson '90
CPT Victoria E. Emerson '13
CPT Ian W. Emory '13
Mr. Anthony J. Encarnacao '94
CPT Taylor K. Endres '17
Mrs. Heather M. England '84 and Mr. Jerry England
1LT Taylor R. England '18
Mr. and Mrs. Timothy J. Engling '88
Mr. Joseph F. English '92
MAJ (R) Walter R. Ennaco '72
Mr. George J. Ennis Jr. '85
Mr. and Mrs. Michel A. Enos '96
LTC (R) Allyn B. Ensign '57
CPT Daniel J. Eo '14
CPT Kevin W. Epp '14
Mr. John G. Erb (former '64)
Mr. and Mrs. Cornelius J. Ergonis '72
COL Jeffrey M. Erickson '93 and Mrs. Stephanie Erickson '93
Mr. Jon V. Erickson '02
1LT Linda M. Erickson '17
COL Reed G. Erickson '93
Mr. and Mrs. Stein B. Ericsson '96
Ms. Kristian Eriksson
Dr. and Mrs. Thomas W. Erndt '73
Mr. G.L. Ervin '73
Mr. and Mrs. Todd A. Esh '94
Mr. Jon R. Eshelman '82
MAJ (R) and Mrs. Frank D. Espanto Jr. USAR '83
1LT Austin C. Espey '17
COL (R) and Mrs. Curtis V. Esposito '63
MAJ (R) Richard M. Esposito Jr. '80
CPT Kyle P. Esquibel '13
CPT Clinton L. Essary '13
Mr. William D. Esselstein '61
1LT William C. Estes '17
Mr. and Mrs. William J. Estes '83
MG and Mrs. Pablo Estrada Jr. USARNG '88
CPT Nels K. Estvold '13
Mr. Anthony P. Etnyre '91 and Ms. Brooke Murray-Etnyre
1LT John W. Etringer '18
Mr. and Mrs. Joshua A. Etzel '97 (P)
LTC (R) Norman W. Etzler II '70
LTC Michael J. Euperio '03
LTC and Mrs. John Evangelista '01
LTC and Mrs. Daniel E. Evans '87 (P)
Mr. and Mrs. James A. Evans '83 (P)
Mr. and Mrs. Jeffrey S. Evans '90
Mr. and Mrs. Michael Evans (P)
Mr. Jeffrey N. Evenson '90
O. George and Nancy Everbach '60
Mrs. Charles B. Ewing (W '51)
LTC James A. Ewing '96
Mr. and Mrs. William H. Ewing '71
CPT Chiazo A. Ezekannagha '13
COL (R) Morris R. Faber '66
Ms. Jacqueline E. Fabrizzio '87
LTC (R) and Mrs. Reginald J. Fadden Jr. USAR '74
Mr. and Mrs. John H. Fagan Jr. '62
COL (R) Thomas W. Fagan '69
Mr. Joseph V. Faiella Jr. '00
MAJ (R) and Mrs. Leigh C. Fairbank III '63
1LT Elliot L. Fairbrass '17
LTC (R) James B. Fairchild '60
CPT Christiana M. Fairfield '14
LTC (R) and Mrs. Jonathan M. Faith '72
Mr. Dale S. Fakkema '86
CPT Joyce A. Falck '16
Mrs. Dianne L. Falk '89 and Mr. Matthew N. Falk
Mr. Joseph E. Fallon '81
Mr. Dominick Famulare
Mr. Bryan R. Fangman '94
1LT Andrew R. Fanko '14
LTC (R) David J. Farace '81
COL (R) Gerald L. Farber '84
Mr. Douglas G. Farel '69
Mrs. Kearson L. Farishon '99
Mr. Steve Farlese
Mr. Kevin A. Farmer '00
LTC (R) and Mrs. William J. Farmer '72
COL (R) and Mrs. Jerry L. Farnsworth II '91
Mrs. Henry R. Farrell (W '66)
BG (R) and Mrs. Billy D. Farris II '83 (P)
Mrs. Robert G. Farris (W '56)
1LT Michaela R. Farris '18
Mrs. Rebecca A. Farris '99 and Mr. Travis Farris Sr.
Mr. Paul F. Fasi Jr. '71
CPT Grant S. Fath '13
MAJ Anthony S. Fatula '07
COL (R) and Mrs. Joseph R. Faucett '84
MAJ (R) John W. Faulconbridge '78
LTC (R) Robert W. Faulkender '57
Mr. and Mrs. Timothy A. Faulkner '86
Mr. and Mrs. Thomas C. Fauvell (P)
1LT Lucas D. Fazzari '17
Mr. and Mrs. Steve E. Featherstone '74 (P)
1LT Karlos E. Febus Traphagen '14
Mr. Gary M. Fechter '78
Mr. and Mrs. Raymond L. Federici '72
CPT (R) John E. Fee '62
COL (R) and Mrs. Stephen C. Fee '72
LTC (R) John F. Feeley Jr. '73
Sean and Kate Feeney '80
CPT Antonia L. Feffer '13 and The Honorable Samuel E. Feffer
COL (R) Emery B. Fehl '84
MAJ (R) Robert P. Feliu '85
1LT Robert H. Felix III '16
Mr. Lloyd E. Fellenz Jr. '69
COL (R) and Mrs. Michael H. Fellows '68 (P)
Mr. and Mrs. Edward C. Fenske '71
1LT Robert D. Fenton III '18
Mr. and Mrs. Robert D. Fenton Jr. (P)
LTC (R) and Mrs. Roland D. Fenton '60
CPT Craig T. Fentress '14
Mr. John F. Ferguson '84
COL (R) Robyn E. Ferguson '91 and COL Kevin P. Wolfla
MAJ (R) and Mrs. Thomas K. Ferguson '71
LTC (R) William E. Ferguson '66
Mr. Ronald A. Ferlazzo '95
1LT Daniel A. Fernquist '16
Mr. Anthony R. Ferrara '82
COL Marcus M. Ferrara '97
LTC (R) and Mrs. Daniel J. Ferrari '76
Mrs. Pamela J. Ferreira (P)
1LT Angus M. Ferrell '18
Ms. Kathryn Ferrero
LTC (R) Frederick R. Ferrin '72
Mr. Michael S. Ferris '89
Mr. Robert S. Ferro '84
Dr. Linda L. Fetko '86
1LT Edward L. Fetla '17
COL (R) Dennis W. Feuge '69
Mr. Randall L. Fewel '71
Mr. Scott H. Fewin '83
COL (R) Charles J. Fiala Jr. '78
Mr. and Mrs. Mark A. Fichten '81
CPT Benjamin T. Ficke '15
CPT Daniel A. Fickel '94
CPT Alec M. Fiebig '15
Mr. Richard H. Fields '84
1LT Matthew M. Filbert '17
CPT Scott G. Filbert '15
COL (R) David P. Filer '91
COL (R) Frank R. Finch '69
1LT Jacqueline G. Finch '18 and 1LT Aaron E. Finch '19
Mr. Alaric G. Fine '75
Mr. Phillip M. Fine '84
LTC (R) and Mrs. Francis A. Finelli '79
CPT Kevin D. Finerty '14
CPT Frank Y. Fink '14
Mr. George B. Fink Jr. '77
LTC (R) Keith A. Fink USAR '82
Mr. and Mrs. Peter A. Finken '88 (P)
LTC (R) John D. Finlayson '62
Dr. and Mrs. David D. Finley '55
CPT Lyle D. Finley III '15
Mr. and Mrs. Terrence P. Finley '86
Mr. Kevin E. Finn '73
LTC (R) Joel W. Finnell '87
Mr. and Mrs. John D. Fio Rito '94
Mr. and Mrs. Robert Fiore (P)
Mr. Peter K. Fiorey '75
Mr. Stephen Fischer
Mr. and Mrs. William S. Fischer (P)
LTC (R) James E. Fiscus '55
LTC (R) and Mrs. James W. Fishback '74
Mr. Elliott G. Fishburne IV '94
COL (R) Francis J. Fishburne Jr. '61
Mr. Joseph N. Fisher '91
LTC (R) Michael J. Fisher '85
1LT Nathan L. Fisher '15
Mr. Robert J. Fisher '95
Mrs. Charles L. Fisher Jr. (W '62)
Mr. Jeremy C. Fisk '99
Mr. and Mrs. Alan Fitz
Mr. John E. FitzGerald III '69
Mrs. Julianne W. Fitzgerald (W '69)
CPT Sean M. Fitzgerald '13
Mr. and Mrs. William E. Fitzgerald '77
Mrs. Joan FitzGibbon (W '64)
COL (R) Brian D. Fitzpatrick '75
Mr. and Mrs. John L. Fitzpatrick '83
CPT Matthew T. Fitzpatrick '13
COL (R) David G. Fivecoat '93
Ms. Rita C. Flaherty '94
Mr. John C. Flanagan '94
LTC (R) Kevin Flanagan '71
CPT Maxwell H. Flanagan '14
COL (R) and Mrs. Michael P. Flanagan '86
Mr. Vincent T. Flavia '83
Mr. Jeffrey W. Fleece '94
MAJ (R) Jeffrey Fleetwood
Ms. Jennifer Fleming '90
1LT Kyle C. Fleming '16
CPT and Mrs. Joshua L. Flemings '14
BG (R) James E. Fletcher ARNG '76
Mr. and Mrs. Michael D. Fletcher '75
Mr. David E. Flieg '92
LTC (R) Amanda H. Flint '96
COL (R) Charles K. Flint III 64
Mr. Jon P. Fliss '87
Mrs. Kathleen S. Fliss '87
CPT Harrison P. Florence '14
COL (R) and Mrs. Hayward S. Florer '72 (P)
1LT Ryne A. Flores '16
Mr. and Mrs. Ross H. Florey '83
CAPT John A. Florio USNR '75
1LT Nicholas A. Flowerday '17
COL (R) Eric P. Flowers '90
Mr. and Mrs. Charles B. Flynn (P)
LTC Jason A. Foerter '98
COL (R) and Mrs. John P. Fogarty '71 (P)
LTC (R) Frederic J. Fogh '56
Mrs. Lynda P. Fogle (W '69)
1LT Benjamin A. Foley '15
CPT Jacob A. Fong '17 and 1LT Stephanie R. Fong '18
Dr. Mark and Dr. Christy Fontana (P)
Mr. and Mrs. Ashby M. Foote III '74
COL Michelle P. Foote USAR '88 and LTC Troy B. Foote USAR '84
Mr. and Mrs. Preston L. Forchion II '87 (P)
CPT Alex D. Ford '13
CPT Andrew N. Ford '15
Mr. David P. Ford '68
COL (R) and Mrs. James D. Ford USAR '71
LTC (R) John A. Ford Jr. '66
COL and Mrs. Joseph M. Ford (P)
Ms. Carol Forkiotis
1LT Erica J. Forktus '18
CPT John D. Formica '17
COL (R) Christopher F. Fornecker '72
1LT Daniel J. Forquer '17
CPT Samuel T. Forrer '14
COL (R) Ernest T. Forrest '79
Mr. Steven Forrest
LTC Ryan H. Forshee '01
Mr. Andrew J. Forssell '90
CDR Karyn S. Forsyth USCG '99
Ms. Lisa M. Fortin '89
John and Deirdre Fortson '89
Mr. and Mrs. Louis P. Fortunato Jr. '91
Mr. and Mrs. Mark Foss (P)
1LT Andrew R. Foster '16
Mr. and Mrs. Corbett A. Foster '94 (P)
LTC (R) Joseph E. Foster USAR '88 and Ms. Janet Locascio
Mr. and Mrs. Mark A. Foster (P)
Dr. and Mrs. Raymond T. Foster Sr. '85
LTC (R) and Mrs. James T. Fouche Jr. '69
1LT Steven R. Fowler '14
LTC (R) Thomas M. Fowler '86
MAJ (R) Essex Fowlks V '79
LTC (R) Jonathan M. Fox '91
Maj (R) Kim E. Fox USMC '61
1LT Matthew J. Fox '16
Mr. and Mrs. William L. Fox '78
Mr. Sean Foye
Mr. Gary V. Fraaza '71
COL (R) and Mrs. Arthur K. Fracker (former '77)
Mr. Joseph P. Fragnito '95
Mr. and Mrs. Mark D. Frakes '82 (P)
Mr. and Mrs. Louis J. Francis '83
LTC and Mrs. Marc J. Franciszkowicz '97 (P)
CPT Patrick F. Franco '14
COL Douglas T. Frank MONG '00
CPT Jude A. Frank '03
LTC (R) Robert A. Frank '67
LTC (R) and Mrs. Walter L. Frankland III '77
Mrs. Constance Franklin (W '55)
Mr. Lawrence J. Franks Jr. '08
Mr. and Mrs. Steven M. Franz '84
Mr. and Mrs. Michael Franzino '71
Mr. and Mrs. Paul Franzoni (P)
Mr. John Frattini
MAJ Thomas C. Frawley '08
COL (R) and Mrs. Donald C. Frazer '70
COL Francis V. Frazier IV '85
Mr. Kevin Frazier (former '97)
1LT Michael S. Freas Jr. '16
Mr. Jacob J. Frechette '10
LTC (R) and Mrs. Edwin L. Frederick III '87
CPT Amanda K. Frederickson '15 and CPT Kyle P. Fredrickson '15
CPT Daniel R. Freeman '14
LTC (R) Stephen E. Freeman '73
Mr. Tracy H. Freeman '79
1LT Ralph C. Freibert IV '17
LTC (R) and Mrs. Kent M. Freise IANG '73
BG (R) Kristin K. French '86 and LTC (R) Richard L. French '86 (P)
1LT Kyle J. French '16
Mr. Richard French
Mr. Seth M. Freshly '09
LTC (R) and Mrs. Edward A. Freund IV USAR '72
Dr. Norman G. Freund '87
Col (R) and Mrs. Gustav J. Freyer III USAF '54
Mr. Jeffrey R. Friedel '81
Col (R) and Mrs. Gregory O. Friedland USAF '88
Brig Gen (R) Charles D. Friedlander USAFR '50
Mr. and Mrs. Karl M. Friedman '82
CPT Caleb S. Friel '13
LTC (R) William F. Friese Jr. '69
CPT Cecil A. Frink '13
Mr. William Frioni (P)
LTC (R) Dennis J. Frisco '74
Mr. and Mrs. John A. Fritchman '85
LTC and Mrs. James J. Fritschi '87
Dr. and Mrs. Robert E. Fromm '54
1LT Devin A. Froseth '17
Mr. Clenn M. Frost '04
MG (R) Malcolm B. Frost '88
Mrs. Kristin L. Raymer Fuhr '85 and COL (R) Daniel J. Fuhr
Mr. Mark C. Fuller '79
1LT Edward A. Fullerton '18
LTC Brandon M. Fulton '05
Mr. Charles R. Funderburke '69
CPT Michael W. Fung '14
Mr. and Mrs. Albert Funk (P)
Mr. Carl A. Funke '70
Mr. and Mrs. Mark Funke (P)
Mr. Donald G. Fuqua '53
Dr. Carolyn S. Furdek '00 and Mr. Joseph P. Furdek
Mr. Alexander W. Fyfe '00
CPT Richelbert I. Gaas '15
COL (R) Paul W. Gaasbeck '84
CPT Miles R. Gabrielson '13
Mr. Marcus A. Gaccione '93
Col (R) and Mrs. Robert F. Gadd III USAF '57
Mr. Patton J. Gade '94
LTC (R) Craig A. Gaetzke '77
Mr. William C. Gagnaire '69
Ms. Stephanie R. Gailey
Mr. Michael B. Gaines '73
Mrs. Joseph J. Gal (W '58)
Mr. Michael Galek
Lt Col (R) and Mrs. John C. Galen USAF '58
LTC (R) and Mrs. Peter E. Galgay '72
Mr. and Mrs. James J. Galioto '72
Mr. and Mrs. John R. Gall
LTC John P. Gallagher '94 and Ms. Julie Gallagher '94
Mr. Logan P. Gallagher '03
1LT Ryan N. Gallagher '16
Mr. Kevin F. Galligan '99
CPT Malissa M. Gallini '10
COL (R) and Mrs. Frederick M. Galloway '54
Mr. Graham W. Galloway '82
Mr. Scotty Galloway '98
Dr. Stephen S. Galloway '86 and Dr. Melanie Galloway
1LT Patrick J. Gallucci '18 and Ms. Nicolette M. Jimenez '17
MAJ (R) Gerald P. Gallup USAR '78
Mr. Gary A. Galyean (P)
1LT Ty M. Galyean '18
Mrs. Francoise Y. Gamble '85 and Mr. Robert Gamble
COL (R) Martin L. Ganderson '61
Ms. Ashling T. Ganes-LaSalla '01
CPT Michael J. Gann '10
Mr. and Mrs. Dennis C. Gansen '95
CPT Alexander N. Ganz '15
LTC (R) Matthew Gapinski USAR '84
Mrs. Christine Garbien
LTC (R) Alberto L. Garcia '77
COL Anthony D. Garcia '84
CPT Danny A. Garcia Jr. '14
Mr. and Mrs. Jacob L. Garcia '92
MG (R) Marion Garcia USAR '87
Mr. and Mrs. Ralph R. Garcia '93
COL (R) Vinaya A. Garde '94 and Mr. Kevin Worth
CPT Curtis P. Gardner '16
BG David W. Gardner '94
1LT Jacob L. Gardner '16
SMSgt (R) and Mrs. James G. Gardner USAF (P)
COL (R) and Mrs. Jason T. Garkey '93
Mr. Paul W. Garland '86
MAJ Christian A. Garner '07
COL and Mrs. Damien T. Garner USAR '97
LTC (R) James R. Garrett USAR '87
1LT Michael J. Garrett '18
COL (R) and Mrs. Stephen F. Garrett '70
MAJ (R) Buckner L. Garrison '73
John and Janet Garrison '82
Mr. and Mrs. Ronald C. Garrison '76
Mr. and Mrs. Martin M. Garrity '83 (P)
LTC (R) and Mrs. Joel M. Gartenberg '66
Mr. Randall E. Garver '00 and Mrs. Kathleen A. Garver '01
LTC Jean L. Gaslin '84
Mr. Miguel S. Gastellum '02
Lt Col (R) and Mrs. Christopher J. Gaston USAF '75
LTC (R) and Mrs. John B. Gately '73
LTC (R) James A. Gates USAR '81
COL (R) and Mrs. Kermit H. Gates Jr. '57
MAJ (R) Robert E. Gates '83
Dr. Robert D. Gatliff Jr. '94
CPT Dominic T. Gatti '16 and Mrs. Emily D. Flatt
MAJ (R) and Mrs. Joseph P. Gatti Jr. '72
LTC Kristin J. Gatti '03 and Mr. Brian M. Gatti
Mr. Richard M. Gaudio '74
Mr. Eric G. Gautier '00
LTC (R) John C. Gay '73
COL Rocky H. Gay III '82 (P)
COL (R) Christine M. Gayagas '84
Mr. and Mrs. Robert R. Gaydos '78
Cary and Ann Gaylord '69
Capt. and Mrs. Daniel L. Gaynor USMC '17
LTC (R) and Mrs. Joseph F. Gaziano '73
Col (R) and Mrs. Glenn S. Geary USAF '72
CPT Scott J. Geary '13
COL (R) and Mrs. George Geczy III '83
1LT Duke R. Gee '14
1LT John N. Geiger '16
COL (R) and Mrs. John W. Geiger AUS '66
Mr. Michael J. Geissler '17
Lt Col (R) and Mrs. Lawrence N. Geist USAF '60
Mr. and Mrs. Joseph C. Gelineau Jr. '69
Mr. Douglas J. Gels '89 and LCDR Rebecca Gels USN
Mr. and Mrs. Christian D. Gemar '98
1LT Leonard A. Genders '17
Dr. and Mrs. Blake P. Gendron '72
CPT Michael J. Geneser '15
Mr. and Mrs. Michael D. Gengler '90 (P)
Mr. and Mrs. William J. Georgas '84
Mr. Derek R. George '11
Mr. Edward L. George '81
1LT Ethan W. George '19
BG and Mrs. Omuso D. George '91
1LT and Mrs. Patrick M. George '17
Mr. and Mrs. Brian R. Gephart '90 (P)
1LT Timothy B. Gephart '18 and 1LT Megan B. Gephart '18
Dr. Matthew J. Geraci '94
1LT Ciara A. Gerald '17
Mr. Donald T. Gerard
CPT Charles H. Gerber '13
Mr. and Mrs. James Gerber (P)
Mr. and Mrs. C. G. Gerblick
1LT Griffin C. Gerchman '17
Mr. and Mrs. Mark Gerchman (P)
COL (R) Tad L. Gerlinger '90 (P)
1LT Patrick J. Gerrity '17
MAJ Sarah M. Gerstein '07
COL (R) and Mrs. Jer D. Get '73 (P)
Mr. Daniel Giachin (P)
Mrs. Fred B. Giacometti (W '74)
Mr. Charles Giacomini
Mr. Fred D. Gianakouros '75
COL (R) and Mrs. Guillermo Giandoni '72
CPT Jessica L. Gianessi '14 and CPT Samson J. Gianessi '14
CPT Seth C. Gianessi '14
Ms. Sharron M. Gianessi '13
Mrs. Sybil C. Gibbons (P)
BG Kirk E. Gibbs '94
CPT Ryan R. Gibeley '15
Mr. Thomas B. Giboney III '72
COL (R) and Mrs. Hise O. Gibson '97
Sloan and Margaret Gibson '75
LTC (R) Thomas W. Gibson '84
Mr. and Mrs. William W. Gibson '72
CPT Kyle W. Gicewicz '15
CPT Joseph G. Giffin '15
LTC (R) Chris G. Gigicos '60
LTC (R) Craig T. Gilbert USAR '78 and Ms. Gretchen R. Braunschwerger
1LT Cameron J. Giles '18
CPT Keegan A. Giles '15
LTC (R) Americus M. Gill '65
Mr. Charles Gill
MG (R) and Mrs. Clair F. Gill '65 (P)
LTC (R) Dennis J. Gillem '64
Maura A. "Mo" (O'Brien) Gillen '86 and Mr. Henry S. Gillen IV '78
MAJ (R) Mark F. Gillespie '77
Mr. and Mrs. Gregory A. Gilley '90 (P)
COL (R) and Mrs. Kennon S. Gilliam '94
Dr. Jeffrey R. Gillig '75
Mr. and Mrs. Jeffrey T. Gilling '79
CPT Robert S. Gillis '13
COL (R) and Mrs. Wesley G. Gillman '84
Mr. Bradley D. Gillund '76
1LT Exter G. Gilmore '18
MAJ (R) Allan D. Gimian '66
MG (R) Louis H. Ginn III '54
CPT Jeffrey A. Ginther '13
COL (R) and Mrs. Jeffrey R. Ginther '74 (P)
Mr. and Mrs. Carl L. Giordano (P)
COL (R) Alfred F. Girardi '62 (P)
1LT Thomas Girardot '16
Mr. and Mrs. Thomas W. Girouard '82 (P)
Mr. Lance M. Giroux '72
1LT Ekaterin Gjonaj '18
Mr. Samuel K. Gladney '07
Mr. and Mrs. Alfred L. Glaeser '86
CPT (R) Charles E. Glass '80
CPT Matthew T. Glavin '14
1LT Gabriel S. Glazer '18
Mr. Daniel J. Gleason '87
1LT Matthew F. Gleason '18
CPT Justin T. Gleeson '13
CPT Stewart M. Glenister '11
CPT and Mrs. Ethan H. Gleue '15
Mr. Joel D. Glockler '94
Mr. Joel R. Glover '05 and Mrs. Julie Stephenson
Mr. Christian S. Glowe '97
Mrs. Benedict E. Glyphis (W '57)
CPT Mitchell T. Gocke '13
COL Bryan S. Goda '82
Mr. and Mrs. Gary M. Godbee '95
Mr. and Mrs. Joseph F. Godchaux (P)
1LT Blake C. Goddard '18
CPT Justin B. Godes '14
Mr. and Mrs. Richard Godfrey '84
Mr. Douglas N. Godshall
CPT Charles C. Godwin '15
Mr. and Mrs. Andrew C. Goehring '05
1LT Christian A. Goei '18
Ms. Melanie R. Goering
Dr. and Mrs. John K. Goertemiller '92
COL (R) and Mrs. John L. Goetchius Jr. '76
Mr. Frederick C. Goeth III '70
1LT Matthew B. Goettelman '18
COL (R) John C. Goetz II '88
COL Joseph C. Goetz II '97
Ms. Laurie A. Goetz '87
Mr. Johnny L. Goff Jr. '99
MG (R) Leroy R. Goff III '69
Mr. and Mrs. Geoffrey D. Gohlich
1LT Sarah R. Gold '16
LTC (R) Joseph Goldberg '75
Mr. Ronald D. Golden '72
COL (R) Richard H. Goldsmith '63
Mr. Julian M. Goldstein
Mr. and Mrs. Scott Goldstein
Mr. and Mrs. John T. Golitz (former '57)
Mr. Kent M. Gonser '94
COL (R) and Mrs. Kent R. Gonser '69 (P)
CPT Anthony R. Gonzalez '12
CPT Gerardo V. Gonzalez Jr. '14
Mr. and Mrs. Brian K. Good '89
Mrs. Terra Good (W '98)
CPT Jonathan B. Goodin '13
1LT Daniel J. Goodman '16
LTC (R) Jon R. Goodman '70
CPT Sarah V. Goodman '15
Mr. Derrill M. Goodson '77
Mr. and Mrs. Michael W. Goodwin '82
Mr. Christopher M. Gordon '83
Mr. and Mrs. David G. Gordon '85 (P)
Mr. and Mrs. Kenneth E. Gordon '71
Mr. and Mrs. Michael J. Gorman '97
Mr. James A. Gorske '83
Mr. John C. Gorske '83
LTC (R) Joseph M. Gorski USA (former '81)
LTC (R) John A. Goshorn Jr. '72 and Dr. Regina C. Goshorn
LTC (R) and Mrs. Karl A. Gossett '91
CPT Samantha H. Gottlieb '17
LTC (R) Denise A. Goudreau '82
Mr. Ryan T. Gould '00
CPT Stephanie D. Gower '14 and CPT Olivia L. Schretzman '15
Mr. Anthony M. Gowgiel III '84
LTC (R) and Mrs. Donald C. Graesser '56
Mr. Andrew J. Graham '99
COL and Mrs. Philip E. Graham '94
CPT Victoria A. Gramlich '13
CPT Christopher P. Gramling '15
Mr. Stuart Granitz and Ms. Paulette Sheridan
CPT Jacob E. Grant '15
Mrs. Wendell F. Grant (W '54)
1LT Shelby L. Grant '17
Mr. and Mrs. Carl R. Grantham Jr. '79 (P)
Mr. Richard J. Grasfeder '97
Mr. Frederick R. Grates '65
COL David L. Graves USAR '98
Mr. and Mrs. David R. Graves '97
Mr. Phillip J. R. Graves '94
BG (R) and Mrs. Thomas C. Graves '86 (P)
COL (R) William G. Graves '78
LTC Charles B. Gray '97
Mr. Christopher L. Gray '94
LTC (R) and Mrs. Dennis L. Gray '72
1LT Sophia M. Gray '18
Mr. Gerren S. Grayer '84 and Mrs. Tangelique Williams-Grayer
Dr. James M. Grayson '75
COL (R) Mark S. Grazier USAR '74
COL (R) George T. Greco '72
Mr. and Mrs. Alex N. Green '92
Mr. and Mrs. Daniel E. Green (P)
MAJ and Mrs. Jeffrey W. Green (P)
Mr. Jerry R. Green '84
Mr. Kevin L. Green '85
Ms. Nancy Green (former '91)
CPT Nathaniel K. Green '15
Mr. Richard A. Green '93
Mr. Ronald J. Green '90 and Ms. Cheryl George
LTC (R) Robert K. Greenawalt III USAR '78
Ms. Adria L. Greene
CPT Bryce E. Greene '13
Mr. Charles A. Greene
LTC (R) and Mrs. Gaylord W. Greene '93
Mr. and Mrs. Jeffrey A. Greene '73
Mr. and Mrs. Kurt B. Greene '87
Ms. Priscilla B. Greene '82
Ms. Stephanie Greene
Mr. Thomas D. Greenhouse '77
Mr. James C. Greenwell III '83
1LT Ian A. Greer '18
Mr. Joseph C. Greer '74
LTC (R) and Mrs. Warren A. Greer '71 (P)
Mr. Robert E. Gregg '69
CPT Trevor J. Gregory '14
Mr. Timothy D. Grein '94 and Ms. Luisanna Arismendi
Dr. and Mrs. Robert L. Grete '58
CPT Coleman T. Grider '15
Mr. Donald H. Grier Jr. '85
Mr. Timothy P. Griesmer '02
Mr. and Mrs. Darryl C. Griffin '90
Mr. and Mrs. David L. Griffin '81 (P)
Mr. James A. Griffin, Jr.
Mr. James L. Griffin '72
Mr. and Mrs. Lance Griffin (P)
Mr. Robert W. Griffin '69
1LT Tyler L. Griffin '17
Mr. John G. Griffith III '78
Mr. and Mrs. Kevin L. Griffith '82 (P)
Mr. and Mrs. Rease L. Griffith '83
Mr. and Mrs. Neil S. Grigg '61
LTC Randall D. Grigg Jr. '94
Mr. Christopher G. Grill '10
LTC (R) Benjamin K. Grimes '96
Mr. Garrett C. Grimm '85
Mr. and Mrs. Henry F. Grimm III '69
Mr. Michael Grimm and Mrs. Elise Corbett
Mr. and Mrs. Philip J. Grimm '74
Mr. and Mrs. John M. Grimshaw '62
Mr. Karl G. Grizio '88
Dr. Brandon R. Grogan '95
Mrs. Susan D. Grogan (W '80)
COL (R) David C. Grohoski (P)
MAJ Miles G. Grooms USAR '09
Mr. Franklyn W. Gross '57
CPT Katherine B. Gross '14
BG (R) and Mrs. Richard C. Gross '85
Dr. and Mrs. Scott Grosse (P)
Mr. David J. Grossman '97
Mr. Jeffrey M. Grosso '93
Mrs. Noelle M. Grosso '94 and Mr. Edward P. Grosso
1LT Teresa E. Groton '18
Mr. and Mrs. Michael L. Grove '70
MAJ David A. Groves '08
BG (R) and Mrs. Allen F. Grum '53 (P)
LTC (R) Karl G. Grunwald '76
LTC (R) Jimmy R. Grussmeyer '71
Mr. Adam P. Gryglas '94
MAJ Guillermo J. Guandique '07
Mr. and Mrs. William C. Guarino '72
Mr. and Mrs. Joseph Gudorf (P)
CPT Anthony J. Guerrero '13
Mr. Christopher C. Guerriero '93
Mr. Joseph C. Guerriero '93
Mr. Robert Guevara '85
LTC (R) Kent G. Guffy '93
Mr. Michael Guido
LTC and Mrs. Daniel J. Guilmette '81
Mr. William H. Guinn '84
CPT Vladimir Guirand '15
Ms. Ginni Guiton '85
LTC (R) Denis E. Gulakowski '69
1LT Emanuel Gulley V '15
COL (R) and Mrs. Gasper Gulotta '81 (P)
Mr. Gary A. Gulyas '80
1LT Danielle M. Gunderman '17 and 1LT Ryan B. Gunderman '17
Mr. Baris M. Guner '96
COL (R) Erik O. Gunhus '87
Mr. Thomas H. Guntrip '90
COL (R) Jeffrey D. Gunzenhauser '79
Mr. Xiao P. "Tim" Guo '97
1LT Michael G. Gusek '17
Hon. Jarred W. Guthrie '02
MG (R) John S. Guthrie Jr. '59
COL (R) Michael J. Guthrie '78
1LT Quinn B. Gutierrez '18
Mr. Howard L. Guy '70
Mrs. Athena C. Guy Malloy '88 and Mr. Christopher M. Malloy '89
1LT Allen M. Guzman '17
COL Joseph E. Guzman '94
1LT Jennifer K. Guzowski '15
Ms. Ann Gventer (P)
1LT Sung Ju Ha '17
Mr. Arnold J. Haake II '69
CPT Conor W. Haaser '15
MAJ (R) Ned E. Hacker '80
MAJ (R) and Mrs. Mitchel E. Hadad II '83
Mr. and Mrs. William C. Haddad '91 (P)
Mr. and Mrs. Gregory S. Hadjis '85
Ms. Margaret L. Haenn '99
CPT Cody L. Haff '15
Dr. Michael P. Hagan '69
CPT Troy J. Hagen '13
Dr. Joseph H. Hagood MD
Mr. and Mrs. Thomas W. Hagstrom '84 (P)
Mrs. Carol M. Hahn (W '52)
Mr. and Mrs. Michael S. Hahn '06
Mr. and Mrs. Kurt J. Haider (P)
David and Mary Haight '94
COL (R) and Mrs. Timothy A. Haight '84
Mr. and Mrs. Darwin L. Haines 86
Mr. and Mrs. Robert W. Haines '69
LTC (R) and Mrs. William L. Haines '67
LTC Decker B. Hains '94
COL Terry H. Hake
CPT Ryan T. Hale '15
MAJ Ashley U. Hall '06
Mr. and Mrs. Bradley C. Hall '75
BG and Mrs. David L. Hall ARNG '95 (P)
Ms. Dawn P. Hall '88
Mr. Derek E. Hall '94
CPT Derrick R. Hall Jr. '14
Mr. Jeffrey D. Hall '85
COL John W. Hall '94
Mr. Lewis Hall
Mrs. Mary E. Hall (W '58)
Mr. and Mrs. Peter M. Hall '63
LTC Whitney P. Hall '03
LTC (R) William R. Hall '83
Gil and Mary Hallenbeck '61
Mr. and Mrs. John Haller '88
BG (R) Fred N. Halley '60
Mr. Dimitri and Mrs. Juliet Haloulos '96
Mr. Charles S. Haltiwanger '93
Mr. and Mrs. Darnell Halverson (P)
LTG (R) and Mrs. David D. Halverson '79
LTC David T. Hamann '94
COL (R) and Mrs. Milton H. Hamilton '46
Mr. and Mrs. Robert W. Hamilton III '78
Dr. Roger M. Hamilton '75
Dr. Scott R. Hamilton '84
Mr. and Mrs. Robert M. Hammond III '89
CPT Glen R. Hampton III '94
COL (R) Frank R. Hancock '72
Mr. Erik F. Hand '02
LTC (R) Robert W. Hand '84
COL (R) Craig B. Hanford '75
CPT Garrison E. Haning '09
Mr. Peter Hanisch
LTC (R) and Mrs. Brian D. Hankinson '91 (P)
1LT Christopher F. Hanley '17
CPT Dylan C. Hanna '13
VADM John G. Hannink USN
Mr. Christopher H. Hannon '88
COL (R) and Mrs. Joseph M. Hanratty '72
COL and Mrs. Thomas D. Hansbarger '92
BG (R) and Mrs. Charles R. Hansell '61 (P)
COL (R) and Mrs. John T. Hansen '84
COL (R) and Mrs. Louis J. Hansen '68
Mr. Michael C. Hansen '89
CPT Mitchell R. Hansen '15
CPT Robert S. Hansen '13
Mr. and Mrs. Adam M. Hansinger '08
CPT and Ms. Douglas D. Hanson USAR '93
1LT Landon L. Hanson '16
COL (R) and Mrs. Mark D. Hanson '79
Col (R) and Mrs. Charles C. Hansult USAF '58
Dr. Kevin and Dr. Margaret Harbol (P)
CPT Seth M. Harbol '14
Dr. and Mrs. Howard T. Harcke Jr. '60
Mr. Quentin M. Hardage (former '71)
Mr. and Mrs. Thomas J. Hardin '92
Mr. Garth Harding
Mr. and Mrs. Rush F. Harding III (former '76)
Mr. Charles T. Hardman '93
CPT Arnold G. Hardy Jr. '14
COL (R) Harry C. Hardy '75
Mr. Kevin M. Hare '96
Mr. and Mrs. Edward J. Hargadon (P)
Mr. Steven J. Hargan '74
CPT Evan R. Harkins '16
Mr. and Mrs. Robert J. Harkins (P)
COL (R) William E. Harlan Jr. '72
Mr. and Mrs. Paul J. Harlow II '72
Mr. Tommy W. Harman '64
Dr. Lisa Harmon '96
CPT Clay H. Harmon '17
Mr. and Mrs. John C. Harmon (P)
Mr. Jonathan P. Harmon '87 (W '85)
1LT Drew R. Harner '17
CPT Zachary D. Harnish '14
Mrs. Amy S. Harper '92 and Mr. Ron Harper
LTC (R) Joseph N. Harper Jr. '69
COL (R) Robert R. Harper Jr. '69
COL (R) and Mrs. Stephen J. Harper '68
Mr. and Mrs. James C. Harren '85
Mr. Nathan S. Harrigan '94
Mr. James A. Harrington '89
LTC (R) William C. Harrington Jr. '76
Mrs. Boyd M. Harris (W '54)
Mr. and Mrs. Craig Harris (P)
Chaplain Joel C. Harris '72
Mr. and Mrs. Bradley C. Harrison '94
1LT Brian L. Harrison '17
Mr. and Mrs. Robert M. Harrison (P)
COL (R) Edward A. Hart PE '78
Mrs. Kerrie E. Hart '94 and Mr. Dan Hart
Mr. Devin W. Hartfield '94
LTC (R) and Mrs. Charles W. Hartford '89 (P)
1LT Samuel K. Hartford '16
MAJ (R) and Mrs. Richard Y. Hartline '71
Mr. Arthur L. Hartman '84
COL (R) and Mrs. David L. Hartman '72
Mr. Larry K. Hartman '70
LTC (R) and Mrs. Frederick R. Harvey '75 (P)
Mr. and Mrs. Sidney E. Harvey '72
Mr. and Mrs. Jeffrey J. Harwell (former '76)
Mr. and Mrs. Paul B. Haseman '67 (P)
Ms. Diane Haslett
Ms. Sandra J. Hassett '89
COL (R) and Mrs. Donald J. Hassin Jr. WIARNG '71 (P)
LTC (R) and Mrs. Charles A. Hastings '69
CAPT (R) Thomas C. Hastings Jr. USCG '80
LTC (R) Wallace H. Hastings Jr. '52 (P) and Dr. Maida B. Hastings
Mr. Christopher M. Hasty '94
Mr. and Mrs. Guy T. Hatch '82
LTC (R) and Mrs. Jay A. Hatch Jr. '78
CPT Jonathan M. Hatch '13
Mr. Kenneth C. Hatcher '94
Mr. Kenneth R. Hathaway '93
COL (R) and Mrs. Kenneth W. Hauck '68
Mr. and Mrs. Fritz J. Hausmann '70
Dr. Timothy G. Havenhill '90
LTC (R) Charles B. Haver USAR '75
Mr. Robert A. Haviland '75
CPT Daniel W. Hawbaker '15
LTC Bradley B. Hawkins '92 and Mrs. Jennifer L. Hawkins '92 (P)
CPT Frankiesha S. Hawkins '15
CPT Amy K. Hawkins USAR '89 and Mr. Frederick B. Hawkins '89
1LT Sydney A. Hawkins '18
Mrs. Carol S. Hay (P)
COL (R) and Mrs. David L. Hayden '76
MAJ Richard A. Hayden USAR '82
MAJ (R) James C. Hayes
Ms. Nakonia Hayes
Mr. Philip J. Hayes '88
Mr. Donald Ufford and Mrs. Rebecca Hayes (P)
Mr. and Mrs. Robert L. Hayes '68
Mr. Malcolm G. Haynes '98
Mr. and Mrs. Gerald R. Hayton '69
Mr. Edward W. Hazel '81
1LT Cory T. Hazelbaker '18
1LT Brian G. Hazen '17
Mr. Robert H. Hazen '86
Mr. Daniel T. Head '95
Mr. and Mrs. Jonathan B. Heald (P)
Mrs. Bess K. Healy '94 and Mr. James E. Healy '94
COL (R) Richard W. Healy Jr. '60
CPT Rhys A. Hearn '11
Dr. and Mrs. Warren E. Hearnes II '89
Mr. and Mrs. Ralph C. Hedden '79
Mr. and Mrs. Keith R. Hedgspeth '93
Mr. Steven B. Hedrick '93
COL (R) and Mrs. H. M. Heffelfinger '70
CPT Aubin J. Heffernan '14
Mr. Robert M. Heffron '71
Mr. and Mrs. Kevin P. Hegarty '98
Dr. and Mrs. George S. Hegedus '93
CPT Lauren E. Heiliger '13
Mrs. Helen Heimerl (W '45)
Mr. and Mrs. Timothy J. Hein '86
Mr. and Mrs. Kurt M. Heindrichs (P)
Mr. David E. Heineman '70 and Ms. Sally Ganem
CPT Andrew J. Heiny '14
LTC (R) and Mrs. John E. Heisel '68
MAJ (R) Bruce J. Held Jr. '80
Mr. Woitto N. Helenius Jr. '76
Mr. Scott G. Helgeson '72
Mr. Glen L. Heller Esq.
COL (R) Karl D. Heller '78
CPT Thane R. Heller '16
Mr. and Mrs. William T. Heller '65
Mr. and Mrs. Jason Hellman (P)
MAJ (R) Gustaf A. Hellzen III '78
Mr. Eugene H. Helmich '70
LTG (R) Frank G. Helmick '76
LTC (R) Bryan S. Helsel USAR '94 and Dr. Shasta B. Helsel
COL and Mrs. Michael D. Helton '98
1LT Tyler T. Helton '18
Mr. Mark W. Hemenway '73
Mr. John M. Hemmans Jr. '89
Mr. R. Ross Hempstead '84
1LT David J. Henderson Jr. '17
COL (R) James B. Henderson '81 and Mrs. Deborah W. Henderson '81
LTC (R) Roger G. Henderson '93
LTC (R) Alan A. Hendricks '86
Mr. Edwin S. Hendricks '86
Mr. Michael A. Hendricks '03
LTC (R) David N. Hendrickson '85
Mr. and Mrs. Jeremiah S. Heneghan '88
Mr. Lonnie D. Henley '78 and Ms. Sara P. Hanks
CPT Victoria C. Henley '14
Mrs. Larry L. Henly (W '70)
Mr. and Mrs. Daniel B. Hennebry '72
LTC (R) and Mrs. Michael J. Hennelly (P)
COL (R) and Mrs. Kim J. Henningsen '68 (P)
Lt Col (R) Matthew T. Henrikson USAF '50
Mr. and Mrs. Benjamin J. Henry '02
CPT Kimberly T. Henry '98
MAJ Patrick W. Henson '05
CPT Christian P. Herberger '14
1LT Michael T. Herbert '18
COL (R) Paul H. Herbert '72
Mr. and Mrs. Peter N. Herbert (P)
Mr. and Mrs. Stephen L. Herbert '69
Mr. and Mrs. Mark Herbrich (P)
Mr. Marc L. Herdegen '97 and Mrs. Randie L. Herdegen '97
Mr. and Mrs. William J. Herdrich '72
COL (R) David M. Hergenroeder '79 and LTC (R) Melanie Hergenroeder (P)
Mr. James J. Hermacinski '90
MAJ Ernesto J. Hernandez '97
Mr. and Mrs. Guillermo Hernandez (P)
LTG (R) Rhett and Pat Hernandez '76
CPT Heather N. Hernandez-Yencho '13
1LT Matthew W. Herrera '18
CPT Rafael Herrera '13
Mr. Curtis J. Herrick III '88
CPT Kelsey J. Herridge '14
CPT Taylor R. Herrington '14
Mr. and Mrs. William M. Herrington '01
CPT Ryan C. Herrmann '13
Mr. and Mrs. Allen S. Herron (P)
Mr. Larry Hershberger
Mr. Roger D. Hershman '72
Mr. Christopher C. Herstrom '80
1LT Johnathan R. Hertenstein '17
LTG (R) and Mrs. Mark P. Hertling '75 (P)
Mr. Peter D. Hesford '94
Mr. and Mrs. John W. Heslop Jr. (P)
Mr. David C. Hess (P)
CPT William S. Hess '14
LTC (R) James R. Hester '79
1LT Luke N. Heun '17
Ms. Carol T. Hewett-Doyle (W '67)
LTC (R) Richard and Kelly Hewitt '84
Mrs. Jenny K. Heyns '94
LTC (R) and Mrs. George W. Heyworth '72
Mrs. Amanda M. Hiatt '86 and Mr. Dan J. Hiatt
Mr. Charles R. Hiatt Jr. '72
Mr. and Mrs. L. James Hickey
LTC (R) Suzanne C. Hickey '84
1LT Isaiah E. Hickman '15
Mrs. James N. Hickok II (W '71)
Lt Col (R) and Mrs. Dan W. Hickox Jr. USAF '72
Mr. Kenneth M. Hicks '77
CPT Drew T. Hidalgo '16
Mr. and Mrs. Jorge F. Hidalgo '81 (P)
LTC (R) Manuel A. Hidalgo Jr. '60
Mr. Peter A. Hidalgo Jr. '82
Mr. and Mrs. Gregory D. Hiebert '81
Mr. and Mrs. Robert P. Hieronymus Jr. '72
COL Daniel L. Higgins USAR '90
MG (R) and Mrs. George A. Higgins '72 (P)
Mr. and Mrs. John R. Higgins '87
1LT Madeline C. Higgins '18
Mr. and Mrs. Mark M. Higgins (P)
Mr. Michael S. Higgins Jr. '90
Ms. Sophie S. Hilaire '09
CPT Domingo J. Hilario '15
COL and Mrs. Aaron T. Hill Jr. '97
Mr. and Mrs. Brian T. Hill '04
CPT Corey G. Hill '14
MG and Mrs. David C. Hill '90 (P)
LTC (R) Jerry K. Hill '77
Mr. Michael H. Hill '94
Maj (R) and Mrs. Philip W. Hill USAF '73
COL (R) and Mrs. Timothy P. Hill '83
Mr. and Mrs. Steven C. Hilliker '87
Ms. Jacqueline Hillyer (W '54)
Mr. Charles Hilsky
Dr. Liesl K. Himmelberger '03
1LT Thomas J. Hinds '16
Mr. and Mrs. Robert T. Hines '73
1LT Benjamin K. Hinkle '18
Mr. and Mrs. Matthew S. Hinkle '86
Mr. and Mrs. Wallace Hinman (P)
Mr. Gerald Hipp
Mr. Glen T. Hirabayashi '69
COL (R) and Mrs. Stacey K. Hirata '77
Mr. and Mrs. Benjamin Hirsch '05
CPT Parker D. Hite '15
Mr. Barry G. Hittner '68 and Dr. Kathleen C. Hittner
LTC Stephen E. Hitz '86
LTC (R) and Mrs. John A. Hixson '60 (P)
COL (R) John D. Hixson '94
LTC (R) Robert A. Hixson '67
LTC (R) George S. Hluck USAR '84
LTC (R) Jeffrey K. Hoadley '84
COL (R) Clyde R. Hobby III '73
LTC Randall W. Hoberecht '96
MAJ (R) Karen J. Hobson '80
MAJ (R) Michael W. Hobson '70
COL (R) and Mrs. Ambrose R. Hock '74
LTC (R) and Mrs. Frank M. Hock Jr. '66
Mr. William Hodes and Mrs. Constance S. Hepburn (P)
Mr. and Mrs. Clifford A. Hodge '88
1LT William G. Hodge '16
Ms. Jennifer S. Hodges '94
COL (R) Thomas J. Hodgini '73
1LT Bradley T. Hodgkins '15
Mrs. Julianne T. Hodsden '90 and Mr. Scott L. Hodsden '90 (P)
Mr. Daniel P. Hoeh '78
MAJ William B. Hoelscher III '08
Dr. and Mrs. Scott A. Hoffinger (P)
Mr. Herbert L. Hoffman III '87
Mr. and Mrs. Daniel Hogan (P)
Mr. and Mrs. Joris M. Hogan '72
LTC (R) and Mrs. Mark N. Hogan USAR '81
CPT (R) Nancy L. Hogan '95
LTG and Mrs. David R. Hogg '81 (P)
Mr. Allan E. Hogue Sr. '89 (P)
1LT Tyler A. Hohn '17
GEN and Mrs. Daniel R. Hokanson ARNG '86 (P)
1LT McKinnon S. Hokanson '17
Lt Col (R) Franklin E. Hoke Jr. USAF '72
Col (R) and Mrs. Albert H. Hokins USAF '61
1LT Joshua L. Holan '15
MAJ (R) John W. Holbert '77
MAJ Emily B. Holcomb '95
COL (R) James F. Holcomb Jr. '72
Mr. and Mrs. Robert C. Holcomb Jr. '98
1LT Andrew B. Holden '18
Ms. Vanessa L. Holden '98 and LTC Stephen J. Burr
CPT Alexander N. Holland '13
COL (R) Frank E. Holland III '75 and Ms. Michelle S. Huang
COL (R) Gary J. Holland '72
Mrs. Isabel Holland (W '57)
COL (R) and Mrs. Robert F. Holland '72
CPT Andrew W. Hollar '14
Mr. Russell Holley
COL (R) Thomas P. Holliday Jr. '92
Mr. James P. Hollis '06
Mr. Eric D. Holly '11
MG (R) and Mrs. John W. Holly '73
Mr. Christopher J. Holm '94
Mrs. Joan Holmberg (W '61)
COL (R) Brent L. Holmes '78 and Mrs. Karen A. Holmes '88
1LT Henry C. Holmes '17
Mr. Joshua L. Holst '00 and 1LT Marcia Holst USMC
Mr. Kenneth E. Holt '94
CPT Nathan C. Holt '15 and CPT Rachel A. King '15
Mr. and Mrs. Roger B. Holt '83
Ms. Monica W. Holvey '03
1LT Robert C. Hooley III '14
Mr. and Mrs. Douglas M. Hoon '72
COL (R) Scott G. Hooper '91
1LT Michaela A. Hoover '17
LTC (R) Larry B. Horacek '70
Dr. and Mrs. Douglas E. Horaist '05
Mr. and Mrs. Andrew J. Horan (P)
Mr. and Mrs. Mitchell S. Horan
COL (R) Carl W. Horn '76
Mr. Harry A. Horn '73
1LT William H. Horner '17
CPT Lucas O. Hornick '13
1LT Rachel J. Hornick '18
COL John P. Horning '94
Mr. and Mrs. Brian J. Hornung '94
CPT Scott A. Horras '15
LTC (R) Michael L. Horstman '64
Mr. and Mrs. Edward C. Horton '72
Mr. Jordan T. Horvath '18
COL (R) John R. Hostettler '70
Dr. and Mrs. Christopher J. Hostler '07
CPT Michael R. Houghton Jr. '14
CPT Bryan K. Houp '15
Mr. and Mrs. Mark W. House '80
Mrs. Joseph W. House (W '57)
Mr. and Mrs. David R. Houston '86 (P)
CPT Erik A. Houston '14
Mr. Benjamin J. Howard '96
LTC (R) and Mrs. Charles C. Howard '77
MAJ (R) and Mrs. David L. Howard '73
Mrs. Eileen Howard (W '71)
COL James A. Howard '86
1LT Kieran Howard '17
CPT Quintin Howard Jr. '15
BG Stephanie Q. Howard USAR '94 and COL Jonathan Howard
1LT William Howard Jr. '17
CPT Darin G. Howe '03
CPT Jarred W. Howell '15
1LT Matthew B. Howell '16
COL Patrick V. Howell '92
Mr. and Mrs. Paul P. Howell '85 (P)
LTC (R) and Mrs. Russell B. Howell '71
COL (R) and Mrs. Richard A. Howley '81
Dr. and Mrs. Jeffrey A. Hoyle (former '77)
Mr. Tedd J. Hoyt '79
CPT Thomas Hoyt '16 and CPT Sarah R. Hoyt '16
Mrs. Elizabeth Hramiec (P)
LTC and Mrs. Robert S. Hribar '91
Mr. and Mrs. Dale E. Hruby II '83
1LT Eric Hsu '18
Dr. Joseph Hsu '94 and Dr. Kassie Hsu
1LT Michael J. Huang '18
Mr. Jianbin Peng and Ms. Wenyan Huang (P)
1LT Margaret A. Hubbell '18
1LT (R) and Mrs. Jeffrey L. Hubsch '71
Mr. Ryan A. Hudak '94
LTC (R) Dale E. Hudson '85
CPT Devon G. Hudson '15
Mr. and Mrs. Samuel F. Hudson '95
1LT and Mrs. Evan A. Huelfer Jr. '16
Lisa M. Benitez '88 and Gus Huerter '90 (P)
Mr. Jay T. Huffman '98
1LT Jason S. Hug '18
1LT Matthew W. Hugenberg '16
Mr. and Mrs. Wayne Huggler (P)
Ms. Carolyn M. Hughes '92
MAJ (R) Charles S. Hughes '72
LTC (R) Edward L. Hughes '82
LTC (R) and Mrs. James A. Hughes Jr. '72
LTC (R) and Mrs. James K. Hughes '73
Mr. and Mrs. Stephen M. Hughes '74 (P)
Dr. and Mrs. William F. Hughes '66 (P)
1LT Grantham H. Huguley IV '18
COL (R) and Mrs. Beaver L. Huh '90
CPT Christopher J. Huhn '17
COL (R) Frank R. Hull '79
CPT Nicholas R. Hulm '13
1LT (R) and Mrs. James R. Hulsman
Mrs. James D. Hume (W '45)
LTC (R) and Mrs. Jack T. Humes '60
LTC (R) and Mrs. Harvey M. Humphrey USAR '79
LTC (R) and Mrs. Jeffrey W. Humphrey '82
CW4 Ronald L. Humphreys '81
CPT Blake H. Hunnewell '14
Mr. Jack C. Hunnicutt '94
CPT Benjamin K. Hunt '14
Ms. Dea B. Hunt '81
Mr. and Mrs. Wesley M. Hunt '97
Mr. and Mrs. John Hunter (P)
Mr. Michael H. Hunter '93
LTC (R) John P. Huntingdon '59
Mr. Daniel M. Hurley '97
LTC Esther Hurtt '00
Ms. Mary Husen
LTC (R) and Mrs. William S. Husing '85
Mr. Michael J. Hustead '90
CPT Beirne C. Hutcheson '14 and CPT Clare C. Moser '14
LTC (R) and Mrs. Samuel Hutchins IV USAR '80
Mr. Steven E. Hutek '79
Mr. Wayne J. Hutt Jr. '88
COL (R) and Mrs. Paul C. Hutton III '58
1LT Siun Hwang '18
Mr. Michael Hyatt
1LT Colby M. Hyde '16
COL (R) Lee D. Hyder AGR '91
Mr. Patrick J. Hynds '88
1LT Niccolo A. Iacovelli '17
Mr. Greg Iannuccilli '97
1LT Matthew W. Ibsen '14
Mr. and Mrs. David C. Im '93
LTC Sean P. Imbs '97
Mr. and Mrs. Stephen A. Ingalls '82
Mr. Michael S. Ingham '84
1LT Cade M. Ingleson '15
Mr. Lowell B. Ingwersen '70
Mr. Thomas J. Innamorato '72
CPT Pierce J. Ippolito '17
Mrs. Susan C. Irons '89 and Mr. Keith W. Beachler (P)
Mr. Darrell J. Irvin '85
Mr. Timothy Irving
Mr. Jeffrey D. Irwin '82
CPT Kaileen E. Irwin '16 and 1LT Richard C. Irwin
Mr. John M. Isakson '91 and Dr. Marcia J. Isakson '92
Mr. Robert K. Isburgh
1LT Jordan A. Isham '18
1LT Matthew J. Isnardi '18
CPT Theodore T. Ivanco '14
Ms. Elena Ivanova '99
CPT Ivan O. Ivashchenko '14
LTC Benjamin F. Iverson '01 and Dr. Christine A. Iverson '00
COL (R) and Mrs. James M. Ives '76
Mr. Joseph A. E. Ivey III '72
CPT Jacob B. Jacke '16
Ms. Ann Jackson
Mr. Brad Jackson '72
Mr. David R. Jackson '73
1LT Grant R. Jackson '18
LTC (R) Jerry D. Jackson Jr. '83
Mr. and Mrs. Lee A. Jackson '77 (P)
Mr. Matthew D. Jackson '97 and Mrs. Sherri L. Jackson '97
Mr. Matthew W. Jackson '83
Mr. Peter J. Jackson (former '74)
Mr. Richard L. Jackson '83
CPT Shelby L. Jackson '14
Ms. Shelby M. Jacob '18
Mr. Donald D. Jacobovitz '77
LTC and Mrs. Brian A. Jacobs '99
LTC (R) Karl H. Jacobs '67
Mr. and Mrs. Robert C. Jacobs '81
COL and Mrs. Ronald Jacobs Jr. '85
Mr. Thomas J. Jacobs '92
CPT Aaron P. Jacobson '13
Mr. Marc J. Jacobson '77
LTC (R) and Mrs. Robert M. Jacobson '71
CPT Charles H. Jacoby '13
LTC Jeffrey S. Jager '00
LCDR Sara A. Jager '00
Mr. Jeffrey P. Jagielski '92 and Dr. Caroline N. Jacobs PhD '93
Mrs. Barbara A. Jagrowski (W '57)
Mr. Marvin Jalnos
CPT Benjamin F. James '15
1LT Bruce N. James '18
SSG Frederick James
Mr. and Mrs. John F. Jamieson '53
Col (R) Lewis M. Jamison USAF '49
Mr. Anthony J. Jamora '94
CPT Kelsey H. Jang '15
Mr. Christopher A. Jannace '05
Mr. and Mrs. Henry L. Jannace (P)
Mr. Mark F. Janosy '89
Mr. William J. Janowski '78
Mr. Steven H. Jansson and Mrs. Elizabeth A. Kuehne (P)
MAJ and Mrs. Jeffrey W. Jarabek '83
LTC (R) Abel Jarell '93
1LT Margaux M. Jarka '14
Mr. and Mrs. Richard S. Jarman '69
1LT James A. Jaroscak '17
CPT John V. Jarreau '15
CPT Dairen R. Jean '14
1LT Benjamin G. Jebb '13
CPT Matthew G. Jedras '13
Ms. Sharon A. Jefferies '95
CPT Thomas J. Jeffers '14
CPT (R) Raymond M. Jefferson III '88
Mr. Douglas J. Jeffrey '69
1LT Rebecca F. Jeffrey '17
Ms. Erica L. Jeffries '98 and Mr. Derek Purdo
MG (R) Michael K. Jelinsky USAR '73
1LT Hayden P. Jenkins '17
COL and Mrs. James H. Jenkins III '86 (P)
Mr. Jason M. Jenkins '92
Mr. Robert M. Jenkins '12
COL (R) and Mrs. Michael M. Jenks '63
CPT Brian T. Jennings '15
1LT Tucker E. Jennings '14
Mr. James E. Jenz '61
1LT David S. Jeong '18
1LT Mingu Jeong '18
LTC (R) Loren B. Jerlow '94
CPT David S. Jerome '14
LTC Aurelia L. Jeter '85
COL (R) John R. Jeter Jr. '55
Mr. Christopher Jewell
Mr. and Mrs. Ricardo A. Jimenez (P)
CPT Shawn Jimenez '15
Mr. Michael Jioia
Mr. Jason A. Joerg '93
COL (R) and Mrs. Alan E. Johnson '60
LTC (R) and Mrs. Anthony E. Johnson '94
LTC (R) and Mrs. Bradley R. Johnson USAR '82
Mr. Calvin V. Johnson '85
1LT Carl L. Johnson '18
1LT Carl W. Johnson '13
CPT Christopher A. Johnson '13 and CPT Carolina Y. Johnson '13
Ms. Dana J. Johnson '92
Dr. and Mrs. Daniel Johnson (P)
1LT Eric D. Johnson '16
Mr. and Mrs. Harold B. Johnson
CPT Harry M. Johnson Jr. '94
Mr. Hiram N. Johnson '81
COL (R) and Mrs. Jay D. Johnson '68
Mr. and Mrs. Jay K. Johnson '84
LTC (R) Jeffrey H. Johnson '92 and Mrs. Lisa M. Johnson '93 (P)
1LT Jessica A. Johnson '18
CPT Joseph D. Johnson '15
COL (R) Karl W. Johnson '72
Mr. Kenneth Johnson
Linda and Ken Johnson '69
Dr. Marcus L. Johnson '80
Mrs. Ronald A. Johnson (P)
LTC (R) and Mrs. Mark W. Johnson '86
Ms. Marlene Johnson (P)
Dr. Martie Johnson Jr. (former '88)
LTC (R) Matthew A. Johnson '84
LTC (R) Michael C. Johnson '89 and Ms. Francene Basalyga
Mr. Michael H. Johnson '94
Mrs. Patricia G. Johnson '85 and Mr. Russell Johnson
LTC (R) Paul J. Johnson '72
Mr. and Mrs. Robert Johnson (P)
Mr. and Mrs. Ronald G. Johnson '88
Mrs. Rosalynn G. Johnson '92
Mr. Royce E. Johnson '86 and Mrs. Marcie M. Johnson '88
1LT Timothy A. Johnson '18
Mr. and Mrs. Todd L. Johnson '99
1LT Vaughn W. Johnson '18
CPT Jeffrey R. Johnston '15
1LT Erin M. Jollota '17
Mr. Alan R. Jones '90
Mrs. Alexis E. Jones '07
Mr. and Mrs. Brad A. Jones (P)
Mr. Clayton M. Jones '94
Mr. Douglas F. Jones '08
Reverend and Mrs. Emmett C. Jones '82
Mr. Jeffery S. Jones '89
Mr. Jeffrey C. Jones
Mr. Jeffrey G. Jones '86
COL (R) and Mrs. Kermit C. Jones '82
CPT Kevin A. Jones '13
Mr. Kevin Jones '84
LTC (R) Leon Jones '85
CPT Lisa M. Jones '16
CPT Margaret Joanne H. Jones '14
COL (R) and Mrs. Mark W. Jones '78
COL (R) Melvin Jones Jr. USAR '85
Col (R) and Mrs. Michael D. Jones USAFR '72
COL (R) and Mrs. Philip M. Jones Jr. '72
Mrs. Richard A. Jones (W '67)
MAJ (R) and Mrs. Sean C. Jones USAR '93
Mr. and Mrs. Todd B. Jones '94
Mr. and Mrs. William D. Jones (P)
1LT Danielle L. Jordan '17
CPT Garrett A. Jordan '14
1LT Kieffer G. Jordan '17
Mr. Richard A. Jordan '79
Mr. and Mrs. John P. Joseph '80
COL (R) and Mrs. Paul F. Joseph '68
Lt Col (R) Jay S. Josephs USAF '48
1LT Ajay A. Joshi '18
Mrs. Susan Baird-Joshi and Mr. Sanjaya Joshi (P)
LTC (R) and Mrs. Wade R. Jost '86
GEN (R) and Mrs. George A. Joulwan '61
LCDR and Mrs. John M. Joyce USN '08
Mr. Samuel E. Joyner Jr. '94
1LT Thomas E. Joyner '17
LTC (R) Randolph F. Judd '91
COL (R) Anthony G. Judge '93
COL (R) and Mrs. Kenneth G. Juergens '82
LTC (R) and Mrs. Robert H. Julian '58
Mr. Alexis C. Jung '01
Craig and Teri Jung '75
CPT Samuel Jung '16
CPT Seok Hun Jung '16
Mr. and Mrs. Dennis Junguzza (P)
Mr. Michael Jurkowski
Lt Col Aaron S. Justice USAFR '03
Mr. and Mrs. Taylor R. Justice '06
Mr. Todd A. Justman '93
COL (R) and Mrs. Kerry C. Kachejian USAR '82
Mrs. Andrea A. Kagel '95 and Mr. Lucas D. Kagel '95
Dr. Kendrick N. Kahler '85
COL (R) and Mrs. George F. Kaiser '60
Mr. Anthony A. Kajencki III '94
COL (R) John P. Kale '72
1LT Marae A. Kalian '18
CPT Joseph L. Kalinka '14
Mr. and Mrs. Richard Kalnins (P)
1LT Noah H. Kambili '18
Mr. and Mrs. Charles B. Kamide (P)
Mr. Christopher Kammler (P)
MG and Ms. Kenneth L. Kamper '89
CPT Justin M. Kan '13
1LT Adam R. Kanavos '17
Paul And Emily Kandel
Mr. and Mrs. Loren L. Kandra (P)
1LT Andrew W. Kane '16
Mr. and Mrs. Brian P. Kane (P)
Mr. Christopher Kane '72
CPT Conor E. Kane '15
COL (R) Edward P. Kane '66
COL Gregory C. Kane '84
Mr. James B. Kane '91
Mr. John F. Kane '94
Mr. and Mrs. Kevin G. Kane (P)
Mr. Kurt A. Kane '94
CPT Matthew K. Kane USAR '15
1LT Thierno M. Kane '18
Mr. and Mrs. Keith A. Kanneberg (P)
Mr. and Mrs. Mark E. Kannenberg '69
Dr. and Mrs. Paul J. Kantrowich '65
Mr. Matthew A. Kapinos '01
Mr. Adam C. Kapolka '91
CPT Joshua F. Kappes '13
Mr. and Mrs. John H. Karagosian
LTC (R) John H. Karaus '82
1LT John A. Karber '17
LTG Daniel L. Karbler '87 and MAJ (R) Leah L. Karbler (P)
Mr. and Mrs. Andrew M. Karczewski '96
Mr. and Mrs. Dariusz Karpinski (P)
Honorable and Mrs. Bruce E. Kasold '73
Mr. Michael D. Kasun '76 and Ms. Christina A. Perfetti
1LT Carly M. Katalinic '17
Mr. Robert A. Katz
Mr. Damien C. Katzenmeyer '96
1LT Aaron S. Katzman '18
1LT Aleksandr C. Kauffman '18
Mr. Matthrew Kaufman
CPT (R) and Mrs. Francis B. Kaufmann '79
LTC Paul M. Kavanaugh ANG '03
CPT Chelsea L. Kay '15
CPT Warren D. Kay '16
COL (R) William J. Kay II '75
CPT Jared C. Kayajan '13
Dr. Leslie F. Kayanan '77
Mr. and Mrs. Randy J. Kazmer (P)
LTC (R) and Mrs. Scott A. Kearby ANG '78 (P)
LTG (R) and Mrs. Francis H. Kearney III '76
Mr. Colin P. J. Kearns '97
Lt Col (R) and Mrs. James A. Kee USAF '70
Mr. Daniel J. Keefe '83
Mrs. James A. Keeley (W '51)
1LT Ryan T. Keeley '17
Mr. Frank R. Keeling II '16
Mr. John C. Keely Jr. '82 (P)
Mr. Brian J. Keen '88
LTC Daniel J. Keenaghan USAR '00
Mr. and Mrs. Brian F. Keenan '78
COL (R) John D. Keenan '84 and MG (R) Jimmie Keenan
LTC (R) Richard T. Keene '71
Mr. Dana B. Keeney Jr. '73
Mr. Mark Keeney
Lt Col David A. Kegerreis USAF '99
Mr. Gregory B. Kehler '94
1LT Carolyn M. Kehn '18
Mr. Brian S. Keif '72
Mr. Theodore R. Keiler
LTC (R) Chester E. Keith Jr. '66
LTC (R) and Mrs. Michael T. Keith '77
Mr. and Mrs. R. Marshall Keith III '79
Mr. Robert M. Keith
Mr. Robert Kelderhouse Jr.
Mr. and Mrs. Barry F. Kellar '86
Mr. and Mrs. David A. Keller '74
Ms. Kellie L. Keller '99
Mr. and Mrs. Robert L. Keller '68
COL (R) Thomas R. Keller '70
COL (R) Kevin T. Kelley '76
LTC Terence M. Kelley '01
Mr. and Mrs. Thomas C. Kelley III (P)
Mr. Troy E. Kelley '91
LTC (R) James P. Kelliher '72
LTC (R) Colin P. Kelly III '63
1LT Edward J. Kelly '14
Mr. Eric W. Kelly '91
COL (R) and Mrs. James J. Kelly '84 (P)
Mrs. Melinda M. Kelly '94 and Mr. Walter M. Kelly
Mr. Michael H. Kelly '69
Nicholas J. Kelly
Mr. and Mrs. Patrick E. Kelly '81
Mr. and Mrs. Michael J. Kelly (P)
LTC (R) and Mrs. Robert E. Kempfe '71
Mrs. James S. Kenady (W '69)
Honorable Frank Kendall III '71 and Ms. Beth Halpem
Ms. Kathleen Kendler '81
Mr. and Mrs. Timothy P. Keneally Jr. '94
Mrs. Herbert S. Kenigsberg
Ms. Denise T. Kenneally (P)
LTC Christopher S. Kennedy '97
COL and Mrs. Edward E. Kennedy '00
Mr. John Kennedy
COL Joshua S. Kennedy USAR '94 and Mrs. Kirsten E. Kennedy '94
COL (R) Leo R. Kennedy Jr. '65
Mrs. Susan A. Kennedy '04 and Mr. Thomas Kennedy
Mr. James P. Kenney '83
COL (R) and Mrs. Kevin B. Kenny '80
Mr. Dales M. Kent '72
1LT and Mrs. Cody D. Keogh '15
Mr. and Mrs. Kevin J. Keough '82
COL Timothy J. Keppler '84
COL (R) Jouni Keravuori '66
BG (R) James R. Kerin Jr. '72
CPT Stephen D. Kerns '15
Mr. and Mrs. Christopher D. Kerski '83
Mr. Robert H. Kesmodel '66
Mr. Paul J. Kessenich '69
Reverend Dr. Kenneth N. Kessler (P)
Mr. and Mrs. Mark R. Kresti (P)
CPT William A. Ketchum '14
1LT Jack H. Kewley '17
Mr. Joseph W. Keyes Jr.
COL Neil K. Khatod '94
CPT Dak A. Kibler '13
Mr. Joseph Kidwell Jr.
Mr. and Mrs. Carl J. Kielbasa '88 (P)
Lt Col (R) and Mrs. Charles P. Kielkopf USAF '80
Mr. Patrick O. Kiernan '03
Mr. and Mrs. Gregory C. Kies '97 (P)
1LT Kylor T. Kiesewetter '18
Mr. Timothy A. Kiesow '99
LTC (R) and Mrs. James O. Kievit '72
Mr. and Mrs. Kenneth J. Kiger '72
LTC Brian S. Kilgore '00
1LT Apphia H. Kim '14
Mr. Edward K. Kim '91
COL € Ike W. Kim USAR '93
1LT Sang W. Kim '14
Mr. Seoungeun Kim and Mrs. Hyun Nam (P)
Ms. Sophia Kim '94
CPT Ye Young Kim '15
Mr. Yong H. Kim '06
1LT and Mrs. Yosero Kim '14
Dr. and Mrs. Carl M. Kimbler (P)
COL (R) and Mrs. Robert S. Kimbrough '89 (P)
Mr. John A. Kime '77
COL (R) Lawrence J. Kimmel '70
Mr. and Mrs. Joseph H. Kimmitt '72
Mr. and Mrs. Melbourne Kimsey II '72
LTC (R) Thomas J. Kindel '77
COL (R) Mark R. Kindl '74
CPT Andrew C. King '17 and 1LT Nailah N. King '18
LTC (R) Bernard F. King '69
COL (R) Charles H. King III '79
COL and Mrs. Chris A. King '83
Mr. David B. King III '77
Mr. and Mrs. Gordon M. King '73
COL (R) John E. King '72
Ms. Nadia L. King '91
Mr. and Mrs. Robert E. King Sr.
Mr. Ronald G. King '69
Ms. Sheridan King (W '54)
Ms. Kelly P. Kinggo '05
Mr. Jeffrey M. Kingston '84
Mr. and Mrs. Joshua L. Kinley '96
Mr. William Kinner and Mrs. Julie Firman
Mr. and Mrs. Lloyd P. Kinney (P)
COL (R) Henry L. Kinnison IV '72
Mr. Daniel E. Kinsey '75
COL (R) and Mrs. Patrick V. Kinsman '93
Col (R) and Mrs. Peter W. Kippie USAF '73
Mr. and Mrs. Dennis P. Kirby '89 (P)
Mrs. Gilbert W. Kirby Jr. (W '49)
COL (R) and Mrs. David C. Kirk '72
1LT Nicholas P. Kirkines '17
Mr. Daryl S. Kirkland '95
Mr. and Mrs. Thomas J. Kirkland Sr. (P)
1LT Tony Kirkland '13
LTC (R) and Mrs. Todd R. Kishpaugh '96 (P)
Mr. Michael E. Kisner II '93
1LT Reilly E. Kissinger '18
LTC (R) and Mrs. Timothy T. Kitt '71
Mr. Richard Klatt '81
LTC (R) John T. Klauck '77
COL (R) George R. Kleb '59
LTC (R) and Mrs. Daniel J. Klecker '81
1LT Spencer W. Klehn '18
Mr. Richard F. Klein '83
MG (R) and Mrs. William E. Klein '54 (P)
LTC (R) and Mrs. Walter J. Kleinfelder '86 (P)
Mr. and Mrs. Andrew B. Kletzing '03
COL (R) and Mrs. John A. Klevecz '71
Mr. and Mrs. James R. Kline '77
COL James J. Klingaman '84
COL (R) and Mrs. Randall R. Klingaman Jr. '91
COl Michael J. Klingele '82
Mr. Ernest C. Klipstein
Mr. Brian T. Kloiber '14
Mr. Edward J. Klotz Sr.
SFC Stephen J. Kmyta
Mr. and Mrs. Douglas H. Knapp (P)
COL (R) and Mrs. Gary K. Knapp '76
CPT Kathryn L. Knapp '14
BG Niave F. Knell '92 and Mr. Andrew Knell
CPT Patrick S. Kneram '15
Mr. William E. Knickerbocker '69
LTC Clifford T. Knight USAR '84
MAJ (R) and Mrs. Scott P. Knight '70 (P)
CPT Tessa L. Knight '15
Mr. and Mrs. Thomas E. Knight (P)
Mrs. Kenneth P. Knitt (W '68)
MAJ Joshua A. Knittel '97
Mr. and Mrs. Richard Knoespel (P)
Mr. William F. Knoll Jr. '78
MAJ (R) Michael R. Knott '83
CPT Brittney L. Knotts '15
LTC (R) Robert E. Knotts '78
LTC Jeffrey R. Knudson '98
Dr. and Mrs. Gerald C. Kobylski '88
1LT Richard R. Koch III '16
Mr. and Mrs. Robert J. Kocher Sr. '74
COL (R) Abbott C. Koehler '78
Mr. and Mrs. H. Frederick Koehler '57
Mr. Robert G. Koehler '85
Ms. Lisa R. Koehlmoos'01
1LT Robert L. Koehlmoos '16
Mr. Robert Koester
Mr. Brian Koh '00
Mrs. Ann W. Koh '93 and Mr. Stephen S. Koh '93
LTC Aaron T. Kohler '96
Mrs. Catherine W. Kohn '94 and Mr. Daniel J. Kohn
CPT Garrett R. Kohnke '17
COL (R) Clarence R. Kohs USAR '77
MAJ Bryan M. Kolano '07
LTC (R) and Mrs. Nicholas J. Kolar Jr. '75
Mr. Mark A. Kolinchak (P)
MAJ (R) Marin H. Kollef '79
LTC (R) and Mrs. Randy J. Kolton '76 (P)
Andrew and Sarah Komm '07
CPT Jordan R. Komm '16
LTC (R) Joseph J. Komperda Sr. '79
CPT Theresa M. Konecni '17
1LT Joseph H. Koning '15
LTC (R) Kenneth A. Konstanzer '80
CPT Thomas J. Kopec '15
Dr. Daniel L. Kopp '69
COL (R) and Mrs. and Mrs. Jeffrey S. Kopp '90 (P)
CPT Erika L. Koppa '13
Mr. John L. Korfmacher '87
COL and Mrs. Christopher M. Korpela '96
Mr. Leonard A. Kortekaas '87
Dr. Alexander D. Korzyk '78
LTC (R) and Mrs. Stephen R. Kostek '78
MG Deborah L. Kotulich USAR '90
COL (R) and Mrs. Richard J. Koucheravy '85
Ms. Allison Kovac
Bill and Patricia Kowal '85
Mr. and Mrs. Anthony Kowalewski (P)
Mr. Bruce A. Kowalski '82
Col (R) and Mrs. John F. Kragh Jr. USMC '85
CPT Kevin W. Krajewski '15
Mr. Robert C. Krall '86
LTC (R) Robert C. Kramer '71
CPT Michael J. Kranch '08
Mr. Brendan G. Krasinski '94
1LT Adam B. Kratch '17
CPT Anthony Kratz '13
Mr. (R) George F. Kratz III '91 (P)
Mrs. Christina C. Krause '02 and Mr. Mike Krause
Mr. Peter B. Krause '67
LTC (R) Dan P. Krebill '73
Mr. Sanford D. Kreider '73
Mr. and Mrs. Joseph L. Kremer Jr. '91 (P)
LTC (R) and Mrs. Andrew F. Krepinevich Jr. '72
Brother Justin S. Krider '97
COL (R) James Kriebel '66
1LT Maximilian A. Krieg '17
Mr. Philip S. Krieger '70
COL (R) and Mrs. Melvin E. Kriesel '62 (P)
MAJ (R) Henry A. Krigsman Jr. '76
Ms. Peggy D. Krihak
Mr. Steven H. Krikorian '81
COL (R) Dennis A. Krings '85
Mr. Ronald W. Krisak Jr. '94
LTC (R) David M. Kristick '76
CPT Kristina S. Muller '15
LTC (R) Thomas M. Kriwanek '72
LTC (R) and Mrs. Leslie D. Krohnfeldt '68
Mr. and Mrs. Rod L. Kronk (P)
Mr. and Mrs. Herman Krucker
CPT Brett R. Krueger '13
Mr. and Mrs. Paul G. Krueger '89
Mr. John G. Krupar '85
Mr. and Mrs. Harry T. Kubasek
Dr. and Mrs. John J. Kubeika (P)
Mr. Eugene Kublanov
LTC (R) Mark J. Kucera USAR '80
Mrs. Karl O. Kuckhahn (W '50)
Mr. Daniel J. Kudrna '94
Mr. Todd J. Kuehnlein '96
Mr. Robert J. Kuelzow '81
Mr. and Mrs. Daniel R. Kueter '91
LTC (R) Kevin R. Kugel '94
Ms. Jessica A. Kuhlman
Mr. William C. Kuhlmann (P)
Mr. and Mrs. David B. Kuhn Jr. '65
CPT Alec Kukharsky '14
Mr. James W. Kulbacki '69
Mr. Kevin D. Kullander '82
CPT Zachary F. Kunkle '15
1LT Kailee R. Kunst '14
LTC (R) and Mrs. Eric R. Kunz '68
Mr. Stephen S. Kuo '00 and Dr. Rebecca Kelso
MAJ (R) and Mrs. Richard A. Kurasiewicz '74
Ms. Carolyn E. Kurz
Mr. Manu J. Kusano '94 and Mrs. Elisabeth C. Kusano '94 (P)
1LT Michael R. Kushnak '16
Mr. and Mrs. Gerald J. Kutz (P)
LTC (R) and Mrs. Richard J. Kuzman '65
Ms. Hyanghwa Kwak '17
1LT Pilsun Kwak '17
LTC (R) Michael Kwan '77
Mr. Mark P. Kwasniewski '78
CPT Kyle S. Snook '08
Mr. and Mrs. Bruce C. La Vigne '72
1LT Zachary R. LaBenne '16
Mr. Kevin E. LaBorne '87
Mr. Patrick J. Labriola
Mr. Anthony Labue
LTC Phillip M. LaCasse '00
Mr. and Mrs. Joseph A. Lachey (P)
Mr. Landon G. Lack '86
Dr. Richard A. Lacquement Jr. '84
CPT Tara C. Lacson '13
Mr. Willie J. Lacy Jr. '93
1LT Joseph M. Ladd '16
Mr. Peter J. LaFleur '86
COL (R) Clovis O. LaFond '63
Mr. and Mrs. Paul K. LaFontaine '86
CPT Andrew M. Lagasse '14
Mr. and Mrs. David A. Lagasse '84 (P)
Mr. and Mrs. Christopher S. LaGullo '92
Mr. Duc D. Lai '94
COL (R) Ramona D. Laib '88
Mr. Patrick A. Laird '14
Mrs. Jean S. Lake (W '49)
Dr. and Mrs. Peter G. Laky '84
CPT Maclean J. Lalor '15
Mr. Stephen H. Lalor
COL (R) Joe B. Lamb Jr. ARNG '72
Mr. and Mrs. Robert C. Lamb Jr. '77
CPT Tyler S. Lamb '13
Mr. Justin L. Lambert '95
1LT Elliott E. Lamewona '18
Mr. and Mrs. Kenneth T. Lamneck '77
Col (R) and Mrs. Thomas S. Lampley USAF '70
Mr. and Mrs. John P. Landgraf '86
COL (R) James M. Landrum '69
Mr. Robert J. Landseadel III '74
CPT Hope C. Landsem '15
MAJ (R) Charles E. Lane '81
Mr. Erik M. La Com '98 and Mrs. Shannon M. La Com '98
LTC (R) Margaret C. Laneri USAR '83
Mr. Michael T. Laney '95
Mr. Richard E. Lange '86
Mr. Gary Langenhahn
Mr. and Mrs. Alan W. Langer (P)
1LT Timothy W. Langerhans '18
COL (R) and Mrs. Gary D. Langford '83
COL (R) and Mrs. Craig G. Langhauser '82
Mr. John P. Langlois '72
Mr. and Mrs. Lawrence A. Lansrud '72
Mr. Stephen J. Lapekas III '94
COL and Mrs. Grover J. LaPorte (P)
Mr. and Mrs. Mike L. Larabee (P)
1LT Julian S. Larimer '15
Dr. George F. Larkin
Mr. and Mrs. William LaRoche
Mr. and Mrs. Bradley W. Larsen '70
COL (R) James E. Larsen II '86
Mrs. Patricia Larsen '93 and Mr. Ted Larsen
COL (R) Wilma A. Larsen '86 and LTC (R) Christopher A. Schirner '89 (P)
Dr. and Mrs. John E. LaSala '72
LTC and Mrs. James B. Lasche USAR '82 (P)
Mrs. Nicole S. Lashbrook '95 and Mr. Robert K. Lashbrook '95
Mr. and Mrs. Rhonald J. Lasiter (P)
LTC (R) and Mrs. Jeffrey D. Lau '83
Ms. Kar P. Lau '94
CPT Andrew G. Laubach '15
LTC (R) Duane S. Lauchengco '94
Mrs. Edward N. Laughlin (W '59)
LTC (R) Charles H. Lautermilch '71
Mrs. Donald K. Law (W '55)
Mr. Thomas Lawer
Mr. and Mrs. Paul M. Lawless (P)
Mrs. Laura A. Law-Millett '94
Mr. Nick Lawrence '72
Mr. and Mrs. Timothy P. Lawrence '85
LTC and Mrs. Ayodele O. Lawson '97
Mr. Edward R. Lawson Jr. '88
1LT Jeffrey A. Lawson Jr. '17
COL (R) and Mrs. Lance A. Lawson '84 (P)
LTC (R) and Mrs. Richard J. Lawson '72
Mr. Michael A. Lawter '89
LTC (R) and Mrs. George C. Lawton '58
Mr. Matthew J. Lawton '98
Mr. Timothy C. Lawton '03
CPT Alex C. Layman '15
Mr. and Mrs. Joseph P. Lazzari '92
1LT Marcoantonio Lazzizzera '17
CPT Mathew T. Leach '15
CPT Ryan S. Leadbeater '15
CPT Bethany A. Leadedter '15
Dr. and Mrs. Charles D. Leahy (P)
1LT and Mrs. Logan P. Leahy '18
COL (R) and Mrs. John P. Leake '75 (P)
COL (R) Richard B. Leap '81 and Ms. Nancy Ericson
Mr. James P. Leary (P)
Mr. and Mrs. David F. Leavell '97
Ms. Carolyn R. Leavitt (P)
MAJ (R) and Mrs. Chris J. LeBlanc '72
CPT Donald L. LeBlanc '14
COL (R) Joseph N.G. LeBoeuf '74 and BG (R) Maureen K. LeBoeuf (P)
COL and Mrs. Brent L. Lechner '93
Mrs. Christine E. Leclerc '96 and Mr. Bryan Leclerc
Ms. Margaret Leclercq
CPT James R. LeCraw '13
Mr. and Mrs. Alec S. Lee '89
Mr. and Mrs. Eric W. Lee (P)
Mr. George W. Lee '94
LTC (R) and Mrs. Gregory G. Lee '01
1LT Haley B. Lee '17
CPT Jonathan J. Lee '14
COL and Mrs. Jong H. Lee (P)
CPT Jordan C. Lee '16
CPT Jordan R. Lee '14
CPT Minki Lee '15
1LT Peterson J. Lee '16
Mr. Preston C. Lee '89
LTC (R) Randall H. Lee '84
Mr. Russell S. Lee '96
1LT Shelby N. Lee '18
1LT Theodore Lee '17
Mr. David C. Leek '88
Mr. Alan M. Lefebvre '05
LTC (R) James H. LeFebvre '72
Mr. Michael A. Leffer '14
MAJ (R) Joseph W. Lehman IV '96
MG (R) and Mrs. Brian C. Lein '84
CPT Michael B. Leinen '16
MG (R) and Mrs. Donald C. Leins '79
Mr. David A. Leis '72
Mr. and Mrs. James P. Leise '86
Mr. Scott A. Leishman '77
Mr. and Mrs. Daniel Leisle (P)
Mr. Robert Leister
Mr. Theodore G. Lemcke '81
Mr. and Mrs. Michael J. Lemming '09
LTC (R) Chad N. Lemond '90
CPT Phillip S. Lenavitt '15
Mr. and Mrs. Thomas A. Lengnick '74
Mr. Michael E. Lenhart III '90
LTG (R) and Mrs. William J. Lennox Jr. '71
COL (R) John M. Lenti '60
LTC (R) Robert J. Lenz Jr. '93 and Mrs. Tara L. M. Lenz '94
Lt Col (R) George F. Leonard USAF '56
1LT Zachary S. Leonard '16
1LT Aaron M. Leopold '14
Mr. and Mrs. Thaddeus S. Lepcio Jr. (P)
Mr. Thomas J. LeRoux '04
COL Jeffrey H. LeRoy USAR '91
Ms. Lorraine A. Lesieur '83
CPT Nicholas J. Lesko '15
Mr. and Mrs. Larry L. Leskovjan '65
Nina and Rob Leslie '69
BG (R) and Mrs. William J. Leszczynski Jr. '72
LTC Steven J. Letzring '91
Mrs. Julie J. Levering '94
Mr. David E. Levey
BG (R) Carl E. Levi
Mr. David B. Levin '72 and Ms. Deborah Oppelt
Mrs. Ann LeWalk (P)
COL Brett G. Lewis '84
COL (R) and Mrs. Charles S. Lewis '79 (P)
LTC (R) Charles W. Lewis (R) '93
CPT Connor A. Lewis '08
MAJ (R) David R. Lewis '71
CPT Derek S. Lewis '14
CPT Jocelyn M. Lewis '14
Ms. Leslie A. Lewis '85
Mr. Thaddeus T. Lewis '84
COL (R) John E. Ley USAR '80
Mr. Todd Leyh
1LT Michael F. L'Herault '17
1LT Robert Li '18
Mr. James E. Libhart '72
LTC (R) Albert M. Lidy '59
MAJ Travis J. Lieb '99 and LTC (R) Karen Lieb
Mr. and Mrs. David A. Liebetreu '80
LTC Blaise P. Liess '89
LTC (R) Aaron B. Lilley '94
Mr. and Mrs. Raymond E. Lilley II '81
Mr. and Mrs. David G. Limberg '92
1LT Aaron Lin '17
CPT Kaiwen Lin '15
MAJ (R) Walter R. Lincoln '72
CPT Jon K. Lindefjeld '15
COL Kenneth K. Lindell '84
Chaplain Cynthia S. Lindenmeyer '90 and COL (R) Vincent R. Lindenmeyer '91
COL Michael L. Lindley '98
1LT Kristopher N. Lindner '17
Mr. and Mrs. David J. Lindsay (P)
CPT Edward H. Lindsey '14
LTC (R) James L. Lindsey '62
LTC (R) Patrick D. Linehan PhD '77
Mr. Barry C. Lingelbach II '99
Mr. Christopher E. Lingle '90
Mr. Erik J. Link
LTC (R) and Mrs. Patrick F. Link '72
Ms. Kathleen A. Linn
Mr. George H. Linnemeier II '72
1LT Jedidiah T. Lipp '18
LTC (R) Racheau D. Lipscomb Jr. USAR '86
1LT Theodore S. Lipsky '16
LTC Michael A. Lipsner '98
1LT Justin T. Liptak '18
COL (R) Edward J. Lisecki '74 and Dr. Therese Ritter-Lisecki
Mr. Robert List
CPT Daniel R. Littel '14
COL and Mrs. Norman P. Litterini '91 (P)
Mr. Erik M. Littlejohn '94
Mr. and Mrs. Bruce D. Litwin '71
Ms. Jia Liu
CPT Brandon A. Lloyd '17
COL (R) Harrison Lobdell III '69
CPT Jordan Z. Loboda '16
Mrs. Susan G. Lobsiger '84 and Mr. Robert E. Lobsiger
Honorable James R. Locher III '68
LTC (R) Johnny D. Lock '82
COL (R) Dennis K. Lockard '75
CPT Sarah M. Locke '15
Mr. and Mrs. Robert F. Lockett Jr. '86
1LT Grant R. Lockwood '18
Ms. Lynn Lodge
CPT John E. Loft '13
COL (R) Laura C. Loftus '86
Dr. Arlyn E. Logan II '00 and Mrs. Twila A. Logan '00
Mr. and Mrs. Nicholas R. Loglisci Jr. '85
LTC (R) Stony R. Lohr '71
LTC (R) John J. Londa '78
1LT Timothy S. Loney '15
Mr. David J. Long '94
Dr. Joseph E. Long '97
Mr. Loren M. Long '94
Mr. Michael A. Long Jr. '94 and Ms. Jessica A. Raia-Long
CPT Stephen G. Long '13
CPT Tristan J. Long '15
COL (R) and Mrs. Tom C. Loomis '82 (P)
Mr. Daryl D. Looney Jr. '98
COL Michael J. Loos '92
1LT Olivia C. Lopes '18
Mr. Bavy U. Lopez '98
COL (R) David Lopez '76
1LT Hector R. Lopez '17
1LT Michelle Lopez '17
1LT Nathan C. Lopez '18
Mr. Ruben D. Lopez '89
Mr. and Mrs. Thomas D. Lopez '93 (P)
1LT David A. Lopoo '17
Mrs. Allison E. LoPresti '94 and Mr. Thomas C. LoPresti '94
Mr. Timothy M. Lorenz '89
CPT Nicholas J. Lorusso '07
Mr. James A. Loseke '78
CPT Katie L. Loss '14
1LT Theodore S. Lossing '18
Vic and Patricia Losure '86 (P)
Mrs. Cynthia L. Lotz '83 and Mr. Warren Lotz
Mr. Aaron J. Loudon '94
Mr. and Mrs. Nicholas W. Loudon '04
Mr. and Mrs. William R. Lough '79
CPT Jennifer J. Loutzenheiser '94
CPT Amy J. Lovas '13
Mr. Robert M. Love '70
Mr. Timothy R. Love '00
MAJ (R) Ronald E. Loveland '77
COL (R) Shawn P. Lovett USAR '78
CPT Adam C. Lowe '13
COL and Mrs. Barrett F. Lowe '81
Mr. and Mrs. David S. Lowe (P)
COL (R) James P. Lowe '90
Mr. Neil M. Lowe '81
Mrs. Pattie V. Lowe '98 and Mr. Gerald Lowe
Dr. Brian E. Lowell '85
Mr. Lee D. Lowrey '75
COL (R) and Mrs. Robert D. Lowry '66
Mr. and Mrs. Samuel O. Lowry '68
Mr. and Mrs. Cecil C. Loyd III '77
Mr. Garry J. Loysen '66
Mrs. Layne Lozano '94 and Dr. Robert I. Lozano
COL Joshua M. Lubarsky USAR '96
CPT Samantha M. Lubin '15
Col (R) F. Thomas Lubozynski USAF '73
Mr. Michael W. Luce '74
Mr. Michael A. Lucero (former '95)
Mr. and Mrs. Michael E. Ludlow '69
COL and Mrs. Anthony Lugo (P)
LTC Peter A. Luhowy ANG '93
Mr. and Mrs. Holand P. Lujan '97
Mr. and Mrs. Timothy A. Lukas '84
LTC (R) Edward P. Lukert III '77
COL (R) Ronald G. Lukow '91
CPT Johanna M. Lund '14
1LT Mario J. Lund '17
Mr. Thomas J. Lund '61
Mr. Gregory T. Lundahl '95
Mrs. Vicki M. Lundquist '80 and Mr. Carl Lundquist
Mr. and Mrs. Jonathan E. Lundstedt '90
LTC (R) Robert A. Lundy USAR '71
MAJ (R) and Mrs. Joseph M. Lunsford '77
Mr. Richard Lupachino
LTC (R) and Mrs. Timothy T. Lupfer '72
LTC (R) Rodney L. Lusher '86
LTG (R) and Mrs. Douglas E. Lute '75
Mrs. John J. Luther (W '77)
CPT Alan H. Lutterman '13
1LT William R. Lutz '17
CPT Alexandra G. Lycan '15
Mr. Michael R. Lyman '87
Mr. A. David Lynch '72
Ms. Lois Lynch (W '51)
Mr. Michael S. Lynch '93
Mr. Philip H. Lynch '73
Mr. Raymond D. Lynch '03
COL (R) and Mrs. Thomas F. Lynch III '82
LTC (R) and Mrs. Thomas J. Lynch '82 (P)
Mr. George A. Lynn Jr. '69
Mr. Jimi Lyon
LTC and Mrs. Andrew Lyons Sr. (P)
Mr. and Mrs. Steven G. Lyons '68
1LT Andrew R. Lysakowski '17
LTC (R) and Mrs. Michael L. Lysfjord '72
Dr. and Mrs. Kenneth MacAfee (P)
Mr. Robert W. MacArevey '72
LTC (R) and Mrs. Richard S. MacDermott '80
CPT Brendan O. MacDonald '17
Mr. and Mrs. John D. MacDonald III (P)
Ms. Mary F. Mace '92 (P)
COL and Mrs. Craig M. Maceri ARNG '96
Mr. and Mrs. Kyle E. MacGibbon '82
Mr. and Mrs. Tadeusz S. Maciuba '78 (P)
COL (R) and Mrs. John H. Mack '61
CPT Skylar D. Mackay '13
Mr. Thomas R. Mackenzie '49
Mr. John C. Mackerer Jr. '67 and Ms. Trudi Sharpsteen
COL (R) and Mrs. Joseph P. Mackin '74
CPT Scott D. MacKinnon '15
1LT Dillon J. Macky '17
Mr. Robie C. Maclaughlin '95
Mr. and Mrs. Donald C. MacMichael '72
Mr. Lawrence P. MacPhee '73
Mr. and Ms. Charles W. Macune III '92 (P)
Mr. and Mrs. Michael D. Macyauski '79
LTC (R) Gabrielle M. Maddaloni '94
Mr. Jerry A. Madden '65
Mr. and Mrs. Richard W. Madden '74
Mr. Lewis J. Maddux
Mr. and Mrs. Mark D. Madigan '84
COL Michael B. Madkins '94
Ms. Shirley M. Madrid (former '84)
MAJ Peter G. Madrinan USAR '94
BG (R) and Mrs. Peter T. Madsen '75
Mr. Richard J. Maffei '85
Lt Col (R) and Mrs. Wallace C. Magathan III USAFR '68
Mr. and Mrs. Allan H. Magee '72
1LT Collum G. Magee '15
MAJ Matthew D. Magennis '02
Mr. and Mrs. Craig M. Magerkurth '92
Mr. Donald J. Maggioli '80
Mr. John F. Maggiolino '72
COL (R) Carl O. P. Magnell '64 (P)
Mr. Eric D. Magnell '94
MAJ Andrew Q. Magracia IRR '90
COL Tobin A. Magsig '96
Mr. and Mrs. John P. Maguire '95
1LT Madison A. Maguire '18
COL (R) and Mrs. Timothy V. Mahar USAR '74
Mr. Daniel M. Mahoney Jr. '79
Mr. Francis X. Mahoney III '99
COL (R) and Mrs. Steven M. Mahoney '79 (P)
1LT Hugh W. Mahr '18
MAJ (R) and Mrs. Robert M. Maiberger '80
LTC Raymond J. Maier '86
CPT William R. Maier '15
LTC (R) Jerry C. Mailey '69
Mr. and Mrs. Paul Maillet (P)
COL (R) and Mrs. Stephen C. Main '72
CPT McKenzie T. Majchrzak '13
COL (R) William J. Major Jr. '64 (P)
Mr. William J. Major III '94
Mr. and Mrs. Richard A. Makowski '78
Mr. James M. Malakoff '93
1LT John D. Malcolm '16
Mr. Jerome J. Malczewski '85 and Mrs. Linda J. Malczewski '85
CPT James P. Malinda '14
CPT Jordan R. Malkoff '13
CPT Grant V. Mallalieu '16
COL Brian F. Malloy '82
1LT Jeffrey N. Malm-Annan '17
CPT John A. Malmquist '15
1LT Dwayne Malone II '16
CPT Marshall H. Malone '15
LTC (R) and Mrs. James E. Maloney III '57 (P)
LTC (R) Michael D. Maloney '76
COL (R) William A. Malouche '51
Mr. Vincent Manalio
Ms. Maura Mander
Mrs. Natalie Q. Mandry '91 and Mr. Philip M. Mandry '93
Chaplain Edward K. Maney '75
Mr. Mark Mangino and Ms. Susan Bishop
Mr. and Mrs. Joseph E. Mankowski Jr. '71
LTC (R) and Mrs. Jeff A. Manley '78 (P)
Mr. William R. Manley III (former '75)
COL Lisa R. Mann '00 and MAJ John P. Mann
LTC (R) and Mrs. Stephen C. Mannell Jr. '89
Mr. Dan N. Manning '04
LTC (R) and Mrs. Larry A. Manning '68
COL (R) Christopher L. Manos '74
CPT Matthew T. Manriquez '14
LTC (R) and Mrs. Bard K. Mansager '71
CPT Melanie A. Mansbach '07
COL (R) and Mrs. Peter R. Mansoor '82
Mrs. Jamison A. Manternach '98 and Mr. Peter J. Manternach '98
1LT Kyle E. Many '17
COL (R) Fred V. Manzo Jr. '86
CPT Askia M. Mapp '15
Mr. and Mrs. Edward Marashlian (P)
Mr. and Mrs. Albert J. Marcenkus '81
MAJ Benjamin H. March USAR '05
1LT Mark H. Marchetti '17
Mr. Charles J. Marcouiller '89
Mr. Scott R. Marcoux '94
Mr. Anthony J. Margiotta '00 and Mrs. Laura M. Margiotta '00
1LT Rebecca P. Marigliano '15
Mr. Steve N. Maring '77
Mr. Sava C. Marinkovich '93
Mrs. Stephanie D. Markich '99 and Mr. Richard E. Markich Jr.
MAJ Kyle T. Markle '08
COL (R) and Mrs. James C. Markley '83
Mr. Marvin E. Markley '68
LTC (R) and Mrs. John J. Markovich '86
Mr. and Mrs. Eugene P. Markowski '64 (P)
COL and Mrs. Christopher E. Marks '98
Dr. John E. Marlin '78
COL (R) and Mrs. Andrew W. Maron '67
LTC (R) and Mrs. Jason E. Marquith USAR '91
CPT Scott C. Marriner '15
Mr. Carl B. Marriott '71 (P)
Mr. Gabriel M. Marriott '99
Mr. and Mrs. James F. Marsh (P)
COL (R) James P. Marshall '86
Dr. John E. Marshall Jr. '67
1LT Austin R. Martin '17
LTC (R) Benjamin D. Martin '72
Mr. Craig J. Martin '89
Mr. and Mrs. Daniel J. Martin (P)
Mr. John N. Martin '97
LTC (R) and Mrs. Kenneth L. Martin '72
Mr. Matthew A. Martin '89
Mrs. Pamela G. Martin (P)
LTC (R) and Mrs. Peter J. Martin '83
Mr. Stanley R. Martin '89
COL (R) William E. Martin WAARNG '85
LTC (R) William R. Martin '79
1LT Joshua N. Martindale '18 and 1LT Sidney M. Gonzalez Martindale '18
MAJ Joseph A. Martinez '03
CPT Michael S. Martino '14
Mrs. Katherine D. Martins '81 and BG (R) Mark S. Martins '83 (P)
LTC (R) Robert A. Martray '69
Mr. and Mrs. Jon Maruya (P)
Mr. Joseph C. Marvil '73
Mr. David J. Marx '13
CPT Peter M. Marx '14
Dr. Robert J. Marzziotti
Mr. Randolph L. Mase '71
Mr. and Mrs. Americo Masi (P)
Lt Col (R) Lassiter A. Mason Jr. USAF '64
MAJ (R) Sana M. Mason USAR '87 and MAJ (R) Kevin G. Mason
Mr. Sean Mason
LTC (R) and Mrs. Thomas O. Mason '73
LTC (R) Timothy P. Mason '71
Lt Col (R) and Mrs. Cyril L. Massar Jr. USAF '57
CPT Lawrence M. Massengill '13
COL (R) Peter H. Masterson (former '60)
Mr. Joseph G. Materia '72
LTC (R) and Mrs. Dana C. Mather '73
Mrs. Mae S. Mather (W'50)
Mr. Corey W. Mathews '07
Mr. Gregory S. Mathews '94
LTC (R) Robert F. Mathis Jr. '77
Mr. and Mrs. Stephen S. Mathis (P)
Mr. Michael J. Matison '94
Mr. and Mrs. Gregory M. Matiya '72
1LT Hayden T. Matkovich '18
Mr. and Mrs. Julio A. Matos '78
LTC (R) Ruben R. Matos '90
Dr. and Mrs. David J. Matsas (P)
Judith E. Matsko
Mr. Craig M. Matsuda '88
Mrs. Twyla Matsumoto (W '58)
COL (R) Peter J. Mattes '86
CPT Matthew D. Hill '15
1LT Charles M. Matthews '15
CPT Leo E. Matthews '15
Dr. Michael D. Matthews '69
Mrs. Heather B. Mattson '94 and Mr. Jeffrey A. Mattson '94
1LT Thomas J. Matty '17 and 1LT Chelsea N. Matty '18
Mr. and Mrs. Joel T. Matulys '67
Mr. and Mrs. John Matuscak '80
LTC (R) Douglas F. Matuszewski '84
CPT Erin A. Mauldin '14
1LT Ian H. Mauldin '16
Mr. Nicholas A. Mavricos '09
CPT (R) Richard E. Maxwell '78
COL (R) John W. May Jr. '69
Ms. Mary E. May (P)
Mr. Matthew A. May '04
LTC (R) Phillip H. May '80
Mr. Eric L. Mayer '96
Mr. and Mrs. William Mayfield (P)
Mr. James J. B. Maynez '84
CPT Andrea Mazda '14
Mr. and Mrs. Jeffrey W. Mazikowski '93 (P)
Dr. Robert A. Mazur '81
Mr. and Mrs. Ronnie E. McAda Jr. '97
Mr. and Mrs. Willis R. McAdams Jr. '86
COL (R) Robert J. McAleer '88
1LT Jessica E. McAllister '16
LTC Kevin M. McAllister '90
Mr. Carl R. McAloose (former '82)
COL Kevin A. McAninch '94
Ms. Sharon McAuliffe
LTC (R) Robert B. McBane '69
LTC (R) and Mrs. Donald L. McBee '61
Mr. and Mrs. John I. McBeth '69
LTC (R) and Mrs. William W. McBeth '70
Mr. and Mrs. Patrick A. McBrayer '74
1LT and Mrs. Edward J. McBride '13
Mr. and Mrs. Paul M. McBride '01
Mr. Michael V. McCabe '70
Mr. Patrick W. McCabe '94
Barry and Jill McCaffrey '64
MG (R) Todd B. McCaffrey '86
Mr. Michael D. McCain '85
Mr. and Mrs. Michael S. McCall '75
COL (R) and Mrs. Raymond C. McCann USAR '73
Mr. Matthew P. McCarthy '96
Mr. Michael B. McCarthy '00
Mr. and Mrs. Sean B. McCarthy (P)
Honorable Joseph L. McCarville III '69
1LT Austin T. McCasin '16
1LT Charles A. McCawley '13
Mr. Joseph A. McChristian Jr. '65
LTC (R) and Mrs. David M. McClellan (P)
Mr. Joseph C. McClendon '78
LTC (R) Robert E. McClintock Jr. '94
1LT Collin P. McCloy '17
MAJ (R) Joseph J. McClung '84
Mr. Lynn McCluskey
Mr. Christopher J. McCole '10
Mr. and Mrs. William E. McConaghay '72
CPT and Mrs. Hugh P. McConnell '17
Col (R) Michael P. McConnell USAF '74
LTC (R) Gary L. McCorkindale '78
COL (R) and Mrs. Daniel J. McCormack USAR '80
Mr. and Mrs. Leonard R. McCormack '58
CPT Moira R. McCormack '12
COL Ryan E. McCormack '97
Mr. and Mrs. James M. McCormick '82 (P)
1LT John T. McCormick '17
COL (R) and Mrs. David E. McCracken '74
Mr. Robert E. McCraney (P)
MAJ (R) Scott E. McCraney '00
Mr. and Mrs. William McCreary (P)
CPT Katherine M. McCrum '15
Mrs. Lorilyn M. McCue '04 and Mr. Matt McCue
Ms. Carol McCullough
LTC (R) James L. McCullough II '69
Lt Col (R) Willard L. McCullough USAFR '52
COL (R) and Mrs. Everett K. McDaniel '82
LTC (R) John B. McDaniel USAR '76
Col (R) David W. McDermott USAF '69
COL (R) Maria del Pilar McDermott '86
Mr. Michael W. McDermott '12
Ms. Vesta McDermott
Mr. and Mrs. Sean D. McDevitt '85 (P)
CPT Anthony D. McDonald '14
Mr. and Mrs. James A. McDonald '97
Mr. Jeffry S. McDonald '73
Mr. John D. McDonald '93
Mr. Joseph I. McDonald '05
MAJ and Mrs. Richard M. McDonald '97
LTC (R) and Mrs. Robert A. McDonald '59
Mr. William H. McDonald '77
Mr. Michael T. McDonnell '92
LTC (R) Bruce B. McDonough '57
MAJ (R) Dale T. McDonough '72
Mr. Emmett E. McDonough '76
COL Jeffrey A. McDougall PhD '90
COL (R) and Mrs. James H. McEliece Jr. '65
Mr. and Mrs. Larry F. McElrath '90
MAJ (R) Robert A. McEwan '76
COL and Mrs. Craig C. McFarland USAR '94
Mr. Michael C. McFarland '76
1LT Benjamin C. McFarlin '17
MAJ (R) Stuart A. McFarren '79
Mr. George W. McFetridge Jr. '72
CPT Gavin J. McGarry '13
Mr. and Mrs. Darrick L. McGill '92
COL (R) Howard O. McGillin Jr. '81
CPT John J. McGinn '07
Mr. Craig S. McGinnis '88
1LT Mark J. McGinnis Jr. '17
Mr. and Mrs. Daniel R. McGivney (P)
CPT Sean P. McGivney '16
LTC and Mrs. Victor G. McGlaughlin Jr. '79
Mr. Charles H. McGould Jr. '83
Mr. Michael F. McGovern '69
Mr. and Mrs. Michael McGovern (P)
COL (R) Christopher M. McGowan '93 and Mrs. Shara McGowan '93
1LT Emily R. McGowan '18
Mr. Richard J. McGrath '72
Mr. and Mrs. John J. McGrory II (P)
BG (R) John J. McGuiness '83
Mr. and Mrs. John J. McGuinness '87
CPT Thomas G. McGuinness '15
1LT Ulysses Z. McGuinness '18
1LT Brendan C. McGuire '18
Mr. and Mrs. Edward B. McGuire Jr. '73
LTC (R) and Mrs. Michael J. McGuire '84 (P)
Mr. and Mrs. Terrence J. McGuire '71
MAJ Marshall T. McGurk '05
COL (R) Michael S. McGurk '85
LTC (R) Stephen R. McHale '94
Mr. and Mrs. Scott C. McHenry '89
Mr. George V. McIlvaine '72 and Judge Patti Powell
Patrick J. McInerney '73
Mr. and Mrs. Tad M. McIntosh '89
CPT Emily J. McIntyre '14
COL (R) Tim R. McKaig '78
1LT Maxwell H. McKay '18
MG D. S. McKean '90
CPT Allison A. McKearn '13
CPT Mitchell D. McKearn '14
CPT Loguen T. McKee '16
Mr. and Mrs. Matthew D. McKee (P)
COL (R) Kevin W. McKelvy '86
Mr. and Mrs. Brian P. McKenna (P)
Mr. Dennis B. McKenna '07
CPT Joseph T. McKenna '13
Mr. and Mrs. Kevin A. McKenna '92 (P)
MG (R) and Mrs. Terrence J. McKenrick '85 (P)
1LT Matthew N. McKenzie '18
Mr. John K. McKeown '77
1LT Tyler M. McKinney '17
Mrs. Julia L. McKusick '12
Mr. John McLachlan
COL (R) and Mrs. Charles J. McLaughlin IV '86
COL (R) and Mrs. David R. McLaughlin '62
Karen and Mark McLaughlin '88
MAJ Trevor D. McLaughlin '05 and MAJ Erin N. McLaughlin '06
Mr. William F. McLaughlin '72
LTC (R) and Mrs. James R. McLean '72
CPT Connor J. McLeod '15
Mrs. Jessica N. McLoughlin '99 and Mr. Joseph McLoughlin
Mr. Robert McLoughlin
1LT Andrew M. McLucas '14
Mr. and Mrs. Brian F. McMahon '96
COL (R) Jeanette M. McMahon '83 (W '85) (P) and LTC (R) Michael D. Hauser '84
CPT Kieran J. McMahon '16
Mr. Mark McMahon
Mr. Robert E. McMahon '02
LTC Keith D. McManus '98
Mr. and Mrs. Kenneth G. McManus (P)
Mr. and Mrs. Daniel F. McMillan (P)
Mr. Jeffrey G. McMillan '89
CPT Patrick W. McMillan '13
1LT Kevin J. McMullen '13
Mr. Alan D. McMurry '72
COL (R) and Mrs. John J. McNally III '75
LTC (R) John T. McNamara Jr. '84 and COL (R) Maryann McNamara (P)
Col (R) and Mrs. Roger T. McNamara USAF '62
CPT William W. McNamara '14
1LT Caleb B. McNeill '16
COL (R) David A. McNerney '55
LTC (R) Thomas K. McNerney '72
Mr. Michael S. McNevin and Ms. Kristine Kelson (P)
COL (R) Patrick B. McNiece '79
Mr. Matthew J. McNiel '94
1LT Kristen S. McPeek '18
Dan and Marisa McPherson (P)
Mr. Richard W. McPhillips '99
MAJ (R) and COL Thomas C. McQuary '72 (P)
Mr. Ryan W. McQueen '99
Mr. Christopher W. McQuillan '98
LTC (R) and Mrs. James F. McQuillen '62
LTC (R) and Mrs. Brian E. McQuistion '71
Mr. Arthur C. McRae Jr. '84
LTC (R) Wayne E. McSwiggan '69
LTC (R) Leonard S. McWherter '83
LTC (R) Thomas A. McWhorter '78
LTC (R) John M. McWilliam '72
Mr. and Mrs. Rodney M. Meade Jr. (P)
Mr. and Mrs. Timothy K. Meade '81
Mr. and Mrs. William Meadows (P)
Mr. William D. Meals
Mr. John R. Meceda '62
Col (R) Eugene B. Mechling Jr. USAF '49
MAJ (R) David E. Mechtly '77
CPT Jonathon B. Mecker '13
Mr. and Mrs. Frank T. Medici (P)
Mr. William M. Medof '94
Mr. Kevin P. Meehan '89 and Mrs. Kellie A. Mulligan Meehan (P)
LTC Amy M. Meeks '94 and Mr. Jeff Couch
LTC Stephen T. Mefford '94
Mr. Joseph R. Megginson Jr. '69
1SG Virgil Megill
1LT Sarah E. Meier '18
CPT Timothy P. Meier '13
Dr. Robert W. Meikle '80
Mr. and Mrs. Danford R. Meischen '69
Mr. and Mrs. James B. Melesky '71
Doris and Marty Melnick
Mr. Jim Melton '94
Mr. John J. Menard '84
Mr. Oscar Mendez
Mr. and Mrs. Trinidad D. Mendez (P)
CPT Cristian Mendoza Espinosa '15
1LT Andrew K. Mengle '16
LTC (R) Louis R. Mentillo '54
MAJ (R) and Mrs. Ralph F. Meoni USAR '79
Mr. and Mrs. Douglas E. Merkl '72 (P)
Mr. and Mrs. Martin R. Merklinger (P)
LTC (R) Mark L. Merrell '89
Mrs. Diana Merriam (P)
CPT Bruce R. Merrill '14
1LT Evan J. Merritt '17
Mr. Mark C. Merritt '86
CPT Richard H. Mersereau '15
CPT Jason T. Merten '13
Mr. John D. Merulla
Mr. Mark S. Messina '84
LTC (R) Todd A. Messitt '87
Mr. and Mrs. Karl "Ted" Messmer '92
LTC (R) Garret K. Messner '92
Mr. Gene Metti
LTC (R) David A. Metzler USAR '69
Mr. Russell A. Metzler '94
Chris And Tracy Meure
Mr. Glenn M. Meyer '12
Mr. and Mrs. James J. Meyer
BG (R) and Mrs. Karl F. Meyer '84
Mr. Michael J. Meyer '07
Mr. Paul M. Meyer '94
Bob and Daenira Meyer '73
MAJ Robert J. Meyer '07
LTC Terry D. Meyer '96
1LT Wilson P. Meyer '17
Lt Col (R) Jerome A. Meyers USAF '57
Dr. John J. Meyers '98
Mr. Lucas J. Meyers '00
CPT Mark H. Meyers '14
Mr. Joshua A. Michaels '03
Martin and Jennifer Michna '94
Mr. Kurt A. Miesner '94
LTC (R) Fernando D. Miguel '93
CPT Allyson I. Hauptman '14 and CPT Mark A. Mihalik '14
Mr. Terris W. Mikelk '69
COL (R) and Mrs. Michael T. Miklos '84
Mr. Mark A. Milat '82
Mr. Brian P. Miles '98
COL (R) Paul L. Miles Jr. '60
Mr. and Mrs. Peter C. Miles '69 (P)
Mr. James M. Miley '67
Mr. Charles B. Millar '84
CPT (R) and Mrs. Jonathan A. Millen II '86
1LT Alexander T. Miller '18
LTC (R) and Mrs. Andrew J. Miller '91
Chaplain and Mrs. Daniel A. Miller '71
Mr. and Mrs. David Miller (P)
Mr. David P. Miller '77
COL (R) Donald L. Miller USAF '57
LTC (R) and Mrs. Ernest A. Miller USAR '72
CPT Ethan P. Miller '13
MAJ (R) Gregory E. Miller '79
Mr. Herbert G. Miller Jr. '66
LTC and Mrs. Ian M. Miller '94
1LT James C. Miller '17
COL Jason L. Miller '94
Mr. Jason M. Miller '03
LTC (R) and Mrs. John F. Miller '68
Mr. and Mrs. Kevin L. Miller '79 (P)
MAJ (R) Lee K. Miller '72 (P)
Mr. Lewis J. Miller
CPT Luke K. Miller '15
Ms. Mary Jo Miller (P)
CPT Michelle M. Miller '15
1LT Nathan J. Miller '15
Maj (R) Robert L. Miller Jr. '72
Mr. Robert W. Miller Jr. '71
Mr. and Mrs. Roger L. Miller '72
Mr. Ryan S. Miller '94
Ms. Shay S. Miller '97
Mr. Stephen E. Miller Jr. '89
Col (R) and Mrs. Warren L. Miller USAF '61
Mr. Alexander M. Milley
Mr. Scott A. Milliren '85
Mr. William L. Millman
COL (R) Charles J. Mills '67
LTC (R) Darin W. Mills '96
Mr. and Mrs. Jeffrey M. Mills '92
Mr. John D. Mills
Mr. Robert L. Mills '68
CPT Virginia C. Mills '13
Mr. and Mrs. Dana D. Milner '86
Mr. and Mrs. David W. Milton '75
LTC (R) Gary A. Minadeo '80
COL (R) Steven J. Minear '84 and LTC Michel Minear (P)
COL Daniel D. Miner USAR '92
1LT Lukas J. Miniutti '17
Mr. and Mrs. Peter Miniutti (P)
Mr. and Mrs. Robert R. Minner '91 (P)
COL (R) and Mrs. Robert L. Minor '74
Andrea and Robert Minutoli '72
COL Victoria L. Miralda '90 and Mr. Robert G. Piper
CPT Michael D. Miranda '14
Mr. and Mrs. Roman Mirczak '00
Mr. Robert S. Miske '75
COL (R) and Mrs. Charles S. Mitchell '91
LTC (R) David A. Mitchell '72
Mr. and Mrs. Forrest T. Mitchell '99
LTC (R) Korey O. Mitchell '92
Mr. Michael A. Mitchell '87
COL and Mrs. Robert A. Mitchell (P)
Mr. and Mrs. Michael S. Mitchiner '88 (P)
1LT Christopher B. Mittuch '13
COL Laurence M. Mixon '86
CPT Michael H. Mobbs Jr. '07 and CPT Meaghan C. Mobbs '08
1LT Ivan L. Mobley '17
Mr. Michael D. Modeen '69
Dr. James M. Modlin '77
Mr. Brendon J. Moeller '13
COL (R) and Mrs. Dennis M. Moen '69
Mr. and Mrs. James A. Moerkerke '76
CPT Jacob T. Moffatt '17
COL Thomas J. Moffatt '87
John C. Moffitt MD '95
CPT Sean D. Mogan '15
LTC (R) and Mrs. Gregory R. Mogavero '91
Mr. Joseph Moglia
Mr. and Mrs. Michael A. Mohler (P)
CPT Andrew G. Mohr '15
CPT Ashley T. Mohr '15
COL (R) and Mrs. Jerry T. Mohr '74
Mr. Ralph M. Mohr (P)
1LT Sasha H. Mokhtari '18
Dr. Robert W. Molinari '84 and Dr. Diane Molinari
Mr. Joseph W. Molinaro '84
Lt Col (R) and Mrs. William P. Moline USAF '73
1LT Conall J. Molloy '18
CPT Alexander J. Molnar '15
Mr. and Mrs. Thomas D. Molzahn Sr. '77
Mr. and Mrs. Steven R. Monahan (P)
CDR (R) Kenneth G. Moncayo USN '76
CPT Patrick R. Monfort '14
1LT David J. Monge-Rodriguez '17
CPT Cory A. Monique '15
COL (R) Stephen A. Monks '74
CPT Christopher C. Monroe '17
CPT Sean P. Monsees '16
Mr. Robert Montambeault
Mr. and Mrs. Riziero F. Montanari '77
1LT Edgar E. Montes '18
1LT Austin D. Montgomery '18
Mr. and Mrs. Gary A. Montgomery '77
COL (R) and Mrs. James H. Montgomery ANG '72
1LT John W. Montgomery '18
Mr. John W. Montgomery Jr. '85 (P)
CPT Ryan S. Montgomery '13
MAJ (R) Gary A. Moody '78
Mr. Lawrence R. Moody Jr. '05
Mr. James P. Mooney
Mr. and Mrs. Thomas Mooney (P)
CPT Brandon J. Moore '14
Mr. Charles L. Moore '66
BG Cristina M. Moore '95 and Mr. Robert Moore
Mr. Gary F. Moore '72
Mr. Larry D. Moore '74
Mr. Patrick P. Moore (P)
LTC (R) and Mrs. Robert A. Moore USAR '81
Mr. and Mrs. Ronnie D. Moore (P)
CW5 and Mrs. Scott E. Moore Sr. (P)
CPT Thomas W. Moore '16
LTC (R) and Mrs. William L. Moore '73
Dr. Leon E. Moores '84 and COL Lisa K. Moores (P)
MAJ (R) and Mrs. Michael O. Moorman USAF '63
Dr. Richard Morales Jr. '76
Capt Zoar Z. Morales USMC '12
Mr. and Mrs. Roy Moraly (P)
Mr. Edward H. Moran '86
Mr. Kevin Moran
CW4 Stephen F. Moran (former '85)
Mr. Seth M. Moraniec '05
COL (R) and Mrs. Joseph F. Moravec IV '82
Mr. and Mrs. John Morel (P)
Mr. Thomas J. Morelli '94
CPT John A. Moreno '14
Mr. and Mrs. Jonathan L. Moreno (P)
1LT William J. Moretz '17
1LT Graham H. Morgan '18
CPT Harrison B. Morgan '13
MAJ (R) and Mrs. James D. Morgan '72
Todd and Pamela Morgenfeld '94
1LT Dominic C. Mori '16
Mr. Barry Moriarity (P)
CPT Daniel P. Moriarty '13
1LT Anastasia A. Morin '16
MAJ Dominique Morin (P)
Mr. Daniel J. Morley '91
LTC Christopher F. Morrell '00
CPT Anthony R. Morris '14
MG (R) David A. Morris '75
Mrs. Dawn C. Morris '90 and Mr. Shannan Morris
1LT Destinee A. Morris '18
Mr. Edward S. Morris '84
Mr. Joel T. Morris
LTC (R) John L. Morris Jr. '69
1LT Kyle A. Morris '16
1LT Matthew F. Morris '17
Mr. Peter C. Morris '84
LTC (R) Russell O. Morris '70
Mr. and Mrs. Timothy J. Morris '82
COL (R) and Mrs. Douglas J. Morrison '82
Mr. William E. Morrison '71
1LT Brandon F. Morroni '13
CPT Alexander E. Morrow '13
Dr. and Mrs. David P. Morrow '91
LTC (R) Stephen K. Morrow '77
1LT Sabrina S. Mortell '18
COL (R) Berry E. Morton II '66
Mr. David Morton
Mr. Jason M. Morwick '94
Mr. and Mrs. Kurt A. Mosher '90
Mrs. Virginia T. Mosier '89
Mr. Allen P. Moss '13
Mr. Nathaniel E. Mostajo '94
MAJ (R) Preston M. Motes Jr. '65
MAJ (R) and Mrs. James A. Mothorpe '76
Mr. Edward T. Motley '86
1LT Elizabeth S. Moton '15
LTC (R) Jimmy D. Mount '62
CPT Alexander Mountford '14
Mr. Randy R. Mounts '04 and Mrs. Nicole A. Mounts '06
Mr. David H. Mowry '84
Mr. William E. P. Moyer '72
Mr. Christopher W. Mozina '83
Ms. Maureen Mrazek
Mr. and Mrs. Victor A. Mroczkowski '97
Mrs. Annette R. Beljan (W '74)
COL Scott W. Mueller '94
Mr. and Mrs. Robert B. Muh '74
CPT Ethan T. Muhs '14
LTC (R) and Mrs. Gregory A. Muilenburg '81
Lt Col (R) William C. Muir Jr. USAF '74 and Ms. Grace Lenzi
Mr. Thom M. Mukri '89
CPT Ryan P. Muldoon '17 and CPT Elizabeth R. Muldoon '17
Mr. and Mrs. Timothy P. Mulhere (P)
LTC (R) David L. Mull '78
Dr. Matthew T. Mullarkey '84
BG (R) and Mrs. William J. Mullen III '59
Barbara and Keith Mullenger (P)
COL (R) Patrick J. Mullin '91
Mr. John P. Mulroney '74
Mr. and Mrs. John Q. Mulvaney '64
LTC (R) Thomas J. Mulyca '73
Mr. Steven E. Mumm '79
Mr. Robert L. R. Munden '90
LTC (R) David L. Mundt '62
Mr. and Mrs. Joseph T. Munko '92
1LT Jeffery T. Munoz '17
LTC (R) and Mrs. Robert C. Munsch '62
Mr. Christopher D. Munsey '05
Dr. Patrick D. Munson '95
Mr. Richard D. Munson '97
Mr. and Mrs. Daniel J. Murphy (P)
Mrs. Michael P. Murphy (W '70)
CPT Jacob L. Murphy '06
CPT (R) Jake E. Murphy '09
Mr. James Murphy
Mr. James P. Murphy '88
LTC and Mrs. Jeffrey B. Murphy '94
Mr. and Mrs. Joseph A. Murphy Jr. '73
1LT Keri Ann M. Murphy '17
Mr. Marlin D. Murphy '85
Mr. and Mrs. Michael B. Murphy (P)
1LT Patrick W. Murphy '18
Mr. and Mrs. Paul F. Murphy '87
Mr. Shane Murphy
CPT Timothy P. Murphy '02
Mr. Torrey M. Murphy '94
Col (R) Paul E. Murr USAF '69
Mr. and Mrs. Alton G. Murray Jr. (P)
CPT Christopher S. Murray '14
Mr. Geoffrey D. Murray '07
COL (R) and Mrs. John F. Murray '64
Mr. Miles M. Murray '07
LTC (R) and Mrs. Roy A. Murray Jr. '69
1LT Savannah C. Murray '17
CPT Scott M. Murray II '17
1LT Sean S. Murray '17
Mrs. Amy J. Murrell '80 and Mr. Don F. Murrell
Mr. and Mrs. Joseph Murtha
Mrs. Julie K. Musser (P)
Mr. Robert Mussler
Mr. Michael A. Mutz '73
CPT Daniel L. Myers '15 and CPT Sally S. Myers '15
CPT Ian P. Myers '16
Mr. Kevin M. Myers '96
LTC (R) Ronald G. Myers '89
Mr. Scott V. Myers '74
1LT Hevin Na '18
Mr. Ralph D. Nacey '95
Mr. Lars Nadig
Mr. Theodore J. Nagel '84
Mr. and Mrs. Peter K. Nagy (P)
COL (R) and Mrs. Nicholas M. Nahas '64
Mrs. Carole E. Nahlik (W '63)
MAJ (R) Richard H. Naigle '77
Mr. and Mrs. John D. Nail, Jr. '96
Mr. Robert S. Nakamoto '82
LTC (R) Victor M. Nakano PhD, P.E. '91
Lt Col (R) Keith J. Nance USAF '60
Mr. Carl R. Nank '85
Mr. and Mrs. Michael P. Napierala '89
SA Greg Naples Jr. '96
Mr. and Mrs. Joseph V. Napoli '78
1LT Lolita D. Narcisse '18
COL (R) James L. Narel '69
1LT Airyn J. Nash '18
LTC (R) and Mrs. David A. Nash '83
Mr. and Mrs. David V. Nasta (P)
Mr. and Mrs. Gerald A. Nathe
COL (R) and Mrs. James C. Naudain '77
COL David W. Navratil '93 and Mrs. Charina Navratil '93
1LT Ethan B. Naylor '13
Mr. Gordon S. Neal '79
Mr. Wesley Neal
COL David G. Neary USAR '91
Mr. Michael T. Neary Jr. '96
Mr. Michael J. Nebesky '96
Mr. Ivan Nedds
LTC (R) Larry R. Needs '62
Lt Col (R) and Mrs. Patrick F. Neeley USAF '69
LTC Laurel A. Neff '97 and Mr. Michael S. Neff
Mr. and Mrs. Martin H. Neidig (P)
Mr. Jeff Nelligan (P)
Mr. Argyle S. Nelson IV '05
Mr. Carl Nelson
CPT Christopher J. Nelson '15
Mr. Christopher J. Nelson '00
Mr. David E. Nelson '86
CPT Eric M. Nelson '14
Mr. James R. Nelson '69
MAJ (R) and Mrs. Phillip A. Nelson '66
MAJ Thomas A. Nelson USAR '84
1LT Tyler D. Nelson '15
Ms. Valerie Nelson (W '45)
Mr. Michael J. Nemeth '04
CPT Margaret J. Nencheck '04
Mr. and Mrs. Emmerico T. Nepomuceno '82
CPT Reginald C. Nesbit '14
Ms. Maria S. Netherland 94
Mr. Matthew A. Nethers '02
Mr. and Mrs. Victor Nettles (P)
Mr. Christopher M. Neville '89
Mr. Craig S. Newmaker '89
Dr. Sheila Newsom '73
1LT Blake P. Newton '18
LTC Robert A. Newton '81
1LT Jonathon J. Ng '18
1LT Calvin D. Nguyen '18
Mr. and Mrs. Co G. Nguyen '87
1LT Duy D. Nguyen '18
CPT Jonathan D. Nguyen '14
CPT Nathan N. Nguyen '13
Mr. Michael D. Nicholas Sr. '77
LTC (R) James W. Nichols '78
Mr. Raymond E. Nichols Jr. '90
MG (R) Stephen E. Nichols '52 (P)
Mr. Ryan A. Afuso and Mrs. Susan Nichols-Afuso (P)
LTC (R) and Mrs. David N. Nicholson '72
1LT Ryan A. Nick '17
COL (R) and Mrs. James D. Nickolas '86
LTC (R) and Mrs. Jerry W. Nicks '53
Mr. Christopher J. Nicolini '95 and Ms. Veronica Lewinger
Mrs. Sally H. Nicoll (W '57)
CPT Jeffrey Nielsen '13
Mr. Scott M. Nieman '94
1LT Jennifer M. Niemann '17
Mr. Toomas A. Niemann '94
Mr. and Mrs. Jack R. Niemi (former '68)
1LT Vanda E. Niemi '18
Mr. James Niklas
Mr. and Mrs. Timothy P. Nishimura (P)
Mr. Henry G. Nixon '96
LTC (R) Steven P. Nixon Sr. '85
Mr. Scott E. Noble '92
The Most Reverend Jim W. Noblin '10
Mr. John A. Noesser '94
1LT Christian L. Nolasco '18
Mr. and Mrs. Brian J. Noonan (P)
CPT Cody M. Noonan '15
Mr. Daniel H. Nordin '08
MAJ Micah Z. Nordquist '00
Mr. and Mrs. Brodrick L. Norman '94 (P)
Mr. George T. Norris Jr. '76
Dr. Timothy J. Norris '72
Mr. Jeffrey P. Nors '97
Mr. Ian A. Northrop '98
LTC (R) and Mrs. John Norton Jr. '70
LTC (R) Gregory Nosal Jr. '69
Mr. Eugene F. Nosco Jr. Esq. '77 and Dr. Mary Lou Nosco
COL (R) Robert M. Notch '89
Anthony and Kristin Noto '91
Mr. Frank P. Noto III '72
Mrs. Debra Nouss (P)
Mr. Mark A. Nouss (P)
LTC and Mrs. Brian J. Novoselich PhD '96
COL (R) and Mrs. Dean A. Nowowiejski PhD '78
1LT Jacob J. Nuding '18
COL (R) Thomas C. Nunn Jr. '73
Mr. and Mrs. Michael Nunnery (P)
Mr. E. J. Nusbaum '79
Mr. James A. Nussbaumer '13
1LT Danielle A. Nuszkowski '17
Mr. and Mrs. Ralph Nye (P)
Mr. George L. Nyfeler III (former '84)
BG (R) and Mrs. Kip P. Nygren '69
LTC and Mrs. Thomas W. Oakley '00
Mr. Robert Obernesser
Mr. RC Obert '93
1LT Nicholas Oblak '17
Mr. and Mrs. Dennis F. O'Block '64
Mr. Alvaro V. Obregon '92
Mr. and Mrs. John J. O'Brien '90 (P)
Mr. Juston M. O'Brien '84
Mr. and Mrs. Matthew K. O'Brien (P)
1LT Stephen J. O'Brien '18
1LT Steven R. Ocasio '16
MAJ (R) Robert J. Ochman '79
COL (R) and Mrs. David C. Ochs USAR '81 (P)
CPT David C. Ochs Jr. '15
1LT Aron A. Ochsner '16
Mr. and Mrs. Brian L. Ochsner '83
COL Thomas P. Ockenfels '85
COL (R) and Mrs. James T. O'Connell Jr. '60
COL and Mrs. Joseph L. O'Connell USAR '83
Mr. and Mrs. Thomas P. O'Connell '77
COL (R) and Mrs. Vincent F. O'Connell USAR '74
1LT Brian G. O'Connor '16
LTC (R) and Mrs. Patrick J. O'Connor '75
Mr. Peter O'Connor
Mr. Thomas F. O'Connor III '73
Mr. and Mrs. Timothy J. O'Connor '79 (P)
Mr. Thomas C. Odderstol IX '77
1LT Ryan T. O'Deens '18
Mr. Anthony K. Odierno '01
CPT Kelechi C. Odocha '13
LTC (R) and Mrs. Michael S. Odom '90
Mr. and Mrs. David J. O'Donnell '80 (P)
CPT Elizabeth A. Canahui '14
Mr. Leo J. O'Donnell Jr. '88
Mr. Peter L. Odorico '72
1LT Patrick S. O'Dowd '18
Mr. Thomas B. O'Driscoll '86
LTC Roger Odwyer
LTC Gregory P. Oelberg '84
CPT Lee M. Oeschger '13
Dr. Jeffrey M. Oettinger '84
1LT Samuel P. O'Ferrall '17
Dr. Evan H. Offstein '94
CPT David E. Offutt '14
LTC (R) Ronald D. Offutt '77
Dr. and Mrs. Robert J. Oglesby '84
Mrs. Kathleen A. O'Grady '90 and Dr. John O'Grady
CPT Kyle F. O'Grady '14
Mr. and Mrs. Christopher J. Ogrinc (P)
1LT Noah R. Ogrydziak '17
Mr. and Mrs. Joel Oguete '84
COL and Mrs. Christopher W. O'Gwin '99
CPT Briana M. O'Hearn '14
CPT Nathanael P. Ohl '17
Mr. Curtis W. Ohland '94
Mr. and Mrs. Christopher R. Ohlinger '68 (P)
Mr. Erik K. Oines '15
CPT Bradley D. O'Keefe '15
CPT James K. O'Keefe '15
Mr. Patrick J. O'Keefe '68
Mr. Duane J. O'Laughlin '85
Mr. Bryan B. Olay '07
Mr. John N. Oldham '94
Mr. Shawn N. Olds '94
Mr. Brian D. O'Leary '82
Mr. Richard A. Oleksyk '85
Mr. Leigh Oliva
LTC and Mrs. Stephen A. Oliva
LTC (R) and Mrs. Bryan L. Oliver '74
Ms. Commillia Oliver
MAJ (R) Ernest M. Oliver '84
Mr. John A. Oliver Jr. '94
CPT Madison R. Oliver '15
Mr. Joshua Ollek '06
Mr. and Mrs. John Olmstead III (P)
Mr. Darren A. Olson '91
LTC (R) Gregory A. Olson '87
COL (R) Holly L. H. Olson '87 (W '87)
COL (R) Joseph L. Olson '69
MAJ (R) and Mrs. Mark R. Olson '70
Ms. Michelle L. Olson '91
LTC (R) Stewart O. Olson '69
COL (R) Warren C. Olson USAR '84
Dr. Thomas and Sally P. O'Meara '70
Mr. and Mrs. George A. O'Neal '92
Mr. and Mrs. Daniel A. O'Neil '83 (P)
Ms. Marcella T. O'Neil (W '57)
Mr. Dennis W. O'Neill '93
1LT Joshua K. O'Neill '16
COL (R) and Mrs. Tadahiko Ono '65
Mr. Michael J. Opitz '89
Mr. Humberto A. Orantes '94
LTG (R) and Mrs. Robert L. Ord III '62
1LT Kevan J. O'Rear '13
Mr. Carl J. Orler '79
Mr. and Mrs. Thomas J. O'Rourke (P)
Mr. Carlos E. Ortiz Jr. '94
1LT Andrew Ortiz-Alcauter '18
MAJ Bradley J. Ortman '07
Mr. and Mrs. Francis J. Ortman III (P)
LTC Brian K. Orwig '94
Mr. and Mrs. Clifford L. Orwin (P)
Mr. Lloyd B. Osafo '05
MAJ William D. Osborne '81
COL (R) and Mrs. Paul A. Oskvarek '72
Mr. and Mrs. James A. Osman Jr. '70
CPT Douglas A. Oss Jr. '14
LTC (R) Gary A. Ostby '94 (P)
Mr. Chris E. Ostrander '91
COL (R) and Mrs. Eric D. Ostrem USANG '80
Mr. and Mrs. Daniel B. Ostrowski '72
MAJ (R) Alisande Osuch '81
MAJ Caroline E. O'Sullivan ARNG '08
LTC (R) James W. O'Toole '69 and Mrs. Gail P. O'Toole '82
Mr. Kevin R. Ott
CPT Thomas R. Ott II '13
Mr. Stephen K. Otto (former '64)
1LT Matthew R. Ouellette '18
Mr. Ian R. Ousley
Mr. William J. Ovberg '54
Darrell and Melissa Overcash '83
Mr. and Mrs. Michael Overly (P)
COL and Mrs. Randy T. Overstreet '00
Mr. and Mrs. David S. Overton III '88
Benjamin '03 and Elizabeth Owens
COL (R) and Mrs. Carl D. Owens Sr. '78
Mrs. Christine N. Owens (W '68)
LTC (R) David M. Owens '77
Mrs. Ray Owens (P)
Mr. Robert J. Owens '87
LTC Wade H. Owens
LTC Robert J. Ozanich '96
Mrs. Beach N. Pace '91 and Mrs. Jincy R. Pace '94
1LT Arturo G. Pacheco '17
Mr. and Mrs. Dale C. Packard '72
Mr. Harry B. Packard (former '54)
Ms. Kerri Moore (P)
1LT Andrew B. Paffett '17
CPT Kyle G. Paget '17
Ms. Jennifer H. Painter '91
MAJ Patricia M. Painton USAR '84
CPT Kevin C. Pak '14
Mr. and Mrs. Joseph D. Palatka '73
CPT Andrew G. Palella '15
Gregory and Denise Paley (P)
Mr. and Mrs. James M. Paley '65
1LT Matthew S. Paley '17 and 1LT Grace F. Demet '17
Ms. Liberty Palifka
LTC (R) Gregory A. Palka '86
Mr. Thomas Pallas
CPT Gabriel R. Palma '15
Mr. Ali W. Palmer '97
Mr. Andrew Palmer
Mr. Mark A. Palmer '81
Mr. Paul C. Palmer Jr. '61
1LT Paul V. Palmer '17
Mr. Christopher Paltz
1LT Bryan J. Panaccione '17
1LT Nicholas S. Paneral '17
LTC (R) and Mrs. Myron E. Pangman '72
1LT Jacob J. Paniccia '18
Mr. Joseph A. Paniccia '84
Jeffrey and Denise Panicucci (P)
Mr. Matthew K. Pansy
1LT Zachary E. Panto '16
Mr. and Mrs. Phillip Panzarella '79
COL (R) Roy J. Panzarella '78
COL (R) Donald F. Panzer '54
1LT Evan J. Pape '18
CPT Nicholas A. Pappas '15
Mr. Luis A. Parada '84 and CPT Brenda L. Amster-Parada USAR '85
Mrs. Elaine Parcells (W '65)
Mr. Douglas O. Pardo '00 and Dr. Janine Pardo
CPT Evan C. Pardue '14
COL and Mrs. Rafael A. Paredes '91
Ms. Donna L. Parent '94
Mr. Daniel M. Parietti '85
1LT Tomas A. Parish '17
1LT Andrew S. Park '17
Ms. Grace Park '94
CPT Robin S. Park '06
LTC (R) Steve J. Park '94
Mr. and Mrs. Richard E. Parke '84 (P)
Ms. Angela M. Parker '96
1LT Robert M. Parker '13
1LT Samuel G. Parker '17
Mr. Thomas C. Parks '00
Mr. Christopher Parlo
Mr. Graeme R. L. Parnell '94
Dr. Gregory S. Parnell
Mr. Jonathan R. Parow '90
1LT Alex Parra '16
COL Michael D. Parrish USAR '85 and Mrs. Lorraine T. Parrish '85 (P)
Mr. Jonathan M. Paschal '90
Mrs. Suzanne Pascocello
CPT Steven T. Pashko '14
Mr. Brad A. Pasho '98
Mr. and Mrs. Victor A. Pasini '74
COL (R) Michael A. Pasquarella '73
SGM and Mrs. Michael A. Passmore (P)
Mr. Matthew F. Pasvogel '91
LTC (R) Peter K. Patacsil '89 and Ms. Erin J. Patacsil '93
LTC Charles A. Pate '82 and LTC Maria P. Pate '82
Mr. Richard P. Pate '74
Mr. and Mrs. Mayur Patel (P)
Mr. Samir T. Patel '08
COL (R) Tarak H. Patel '93
Mr. and Mrs. Vipul H. Patel (P)
Mr. Daniel W. Patrick
Mr. Jason C. Patrick '94
COL (R) Jacqueline L. Patten '92
Mr. and Mrs. Scott A. Patten '70
Mr. and Mrs. Donnie K. Patterson '73
LTC Philip M. Patterson USAR '79
1LT Tranelle A. Patterson '17
1LT Kevin M. Patterson-Schiff '18
Mr. Brian V. Patton '84
Ms. Virginia M. Paul
Mr. Walter E. Paulekas '78 (P)
MAJ (R) Ross D. Pauley '81
1LT Blaise C. Paulo '18
Mr. Cyril S. Paulo '99
1LT Nathan C. Pauls '18
Col (R) Myhre E. Paulson Jr. USAF '70
COL (R) and Mrs. Raymond Pawlicki '71
Chaplain Matthew P. Pawlikowski USAR '86
Mrs. Deborah H. Pawlowski '82 and Mr. Joseph P. Pawlowski Jr.
LTC (R) and Mrs. Brian K. Paxton '90
Mrs. Christine D. Payne '99
Mr. Thomas W. Payne '92
1LT Tyler H. Payne '17
CPT Joshua S. Pcsolyar '13
1LT James T. Peaco '14
COL (R) and Mrs. William H. Pearce '73
Mr. and Mrs. Gary E. Pearcy '86
Mr. Robert E. Pearson III '94
Mr. and Mrs. Willard D. Pease '70 (P)
COL Brandi B. Peasley '94 and LTC (R) Mark D. Peasley '86 (P)
1LT Connor N. Peasley '16
CPT Evan D. Peasley '16
Mr. William Peavyhouse
1LT Joshua M. Peck '16
1LT Steven T. Pedersen '17
Mr. Viterbo D. Pedregon '02
Mr. Chad Peebles
Mr. and Mrs. David E. Peek '91 (P)
LTC (R) John E. Peeler '77
CPT Max C. Peezick '13
LTC Kathryn K. Pegues '02 and Mr. John A. Pegues
Mrs. Emily E. Pehrson '14
Mrs. Carole Peipher (P)
COL (R) David E. Peixotto '67
CPT Carissa J. Pekny '16
COL (R) and Mrs. David R. Pelizzon '81
Mr. Nathan T. Pelletier '03
COL (R) and Mrs. Edouard A. Peloquin '51
1LT Joshua M. Peltier '17
COL (R) Wayne R. Pembrook '70
Mr. and Mrs. Peter A. Penczer '58
1LT Dexter D. Penick '18
Mr. and Mrs. James W. Penland (P)
Mr. and Mrs. Randal G. Penrice '84
Dr. and Mrs. George E. Peoples Jr. '84
COL (R) John M. Peppers '80
LTC (R) Scott E. Peppler '72
Mr. Kevin P. Perakslis '97
1LT Matthew R. Perdomo '18
CPT Gabrielle A. Perez '13
MAJ (R) Amanda F. Perez Salvation Army '82 and MAJ (R) Ramon T. Perez Salvation Army '82
Mr. David R. Perkins '64
Mr. Edward J. Perkins Jr. '94
COL (R) and Mrs. Randall A. Perkins Jr. '60
Mr. Steven W. Perkins '84
Mr. Broc A. Perkuchin '86 (P)
MSG Vincent A. Perla
COL (R) and Mrs. Joseph P. Perovich '80 (P)
CPT Theodore J. Perretti '17
Mr. Domenic F. Perriello Jr. '87
LTC (R) and Ms. Christopher J. Perron ARNG '97
LTC (R) and Mrs. David E. Perry '77
CPT Donald G. Perry III '15
COL (R) and Mrs. Floyd L. Perry '68
CPT Nathaniel Perry II '15
COL (R) and Mrs. Troy D. Perry '89
Mr. Gary M. Perryman
Ms. Alice N. Persons
LTC (R) Justin C. Perusek '94 and Mrs. Elita S. Perusek '94 (P)
LTC (R) Alexander D. Perwich II '79
LTC Andrea M. Peters '02
Mr. and Mrs. Antony E. Peters '93
Mr. John V. Peters '69
MSG and Mrs. Mark Peters (P)
Lt Col Michael A. Peters USAFR '94
Mr. Erich H. Petersen '03
1LT Erik N. Peterson '18
COL (R) and Mrs. Jeffrey D. Peterson '87
LTC Paul G. Peterson '02
LTC (R) and Mrs. John M. Petracca Jr. '91 (P)
GEN (R) and Mrs. David H. Petraeus '74
1LT Marie A. Petrangeli '17
Mr. and Mrs. J. R. Petrey
Ms. Kristian Petric
Mr. James C. Petrillo
LTC (R) Michael B. Petring USAR '84 and Mrs. Monica M. Belisle-Petring '84
MAJ (R) Robert O. Petro '80
Mr. Robert Petrone
Mr. Jonathan J. Petrucelli '94
MAJ Rory J. Petteys USAR '03
Mr. Richard M. Pezzella
COL (R) Michael F. Pfenning PhD '80
COL (R) Christopher J. Pflanz '94
COL and Mrs. Patrick D. Pflaum '95
COL Charles R. Phariss II '94
Mr. and Mrs. Brian M. Phelan '96
Mr. David W. Phelan '70
MAJ Keith T. Phelan '06
CPT Mathieu J. Philie '13
CPT Ashley S. Phillips '15
Ms. Claudia Phillips
Mr. and Mrs. Donald W. Phillips '72
Mr. and Mrs. Jeremy M. Phillips '99
LTC (R) Lee A. Phillips III '77
LTC and Mrs. Richard T. Phillips '85 (P)
1LT David C. Piatt '17
COL (R) Jose A. Picart '75
Mr. and Mrs. Stephen B. Pickering '76
Dr. Christopher A. Pickett '98
1LT Christina-Maile C. Pico '17
Mr. and Mrs. Daniel Pidgeon (P)
LTC Brian J. Piekielko '01
Mr. Edward D. Pierce
Mrs. Jennifer N. Pierce '14 and 1LT Hayden N. Pierce '15
LTC (R) Joseph I. Pierce '94
Mr. and Mrs. Craig R. Pieringer '77 (P)
LTC and Mrs. Gary J. Pieringer USAR '83 (P)
1LT Nathaniel B. Pieringer '16
MAJ Brian E. Pierson USAR '84
LTC James C. Piggott '86
Mrs. Karine G. Pignatiello '95 and Mr. Tony Pignatiello
Mr. Edgar H. Pigott '86
Mr. Damian J. Pillatzke '85
Mr. and Mrs. David A. Pinder '86
LTC (R) and Mrs. Joseph P. Pineau '76
Mr. Frank J. Pingelski III '04
CPT Alexander J. Pinigis '13
Mr. Steven J. Pinkham '07
1LT Cory A. Pinkley '18
CPT Jack D. Pinnell '15
Mr. Edward J. Pintar '91
Mr. Dennis C. Piper '71
COL and Mrs. Samuel T. Piper III '85
Mr. Alan E. Pires '80
Mr. James D. Pirkle '82
Lt Col (R) Stephen P. Pirner USAFR '96 and Mr. Kevin Rutherford
COL (R) and Mrs. John E. Pirog '93
Mr. Joseph A. Piscitell
Mr. Mark T. Pisko Sr. '83
Mr. John N. Pistone '93
Mr. and Mrs. Gregory L. Pittman (P)
Mr. Hugh S. Pittman P.E. '94
CPT Kelsey A. Pittman '17
COL (R) William R. Pittman IV '92 and LTC (R) Cynthia L. Pittman '96
Mr. and Mrs. Christopher H. Pitulej (P)
COL Ray A. Plagens Jr. '83 and Dr. Julie Plagens
CPT Brenden A. Plancon '14
Honorable and Mrs. Stephen E. Platt (P)
1LT Laura E. Pleake '16
Mr. and Mrs. Donald B. Ploch (P)
CPT David A. Plotts '05
CPT Christina N. Plumley '14
Mr. and Mrs. William W. Plummer III '71
Mr. and Mrs. Phillip S. Plutt '80 (P)
LTC (R) and Mrs. Brian J. Poe '90 (P)
Mr. William T. Pohlmann '99
Mr. John P. Poisson '84
LTC (R) and Mrs. William J. Pokorny '73
Mr. Stanley P. Pokrywka Jr. '90
COL Jose L. Polanco '94
1LT Daniel J. Polanowicz '16
MAJ (R) Erik K. Polcrack '72
LTC and Mrs. John A. Polhamus '92 (P)
LTC (R) and Mrs. John S. Polickoski '56
Mr. Scott M. Polk '94
COL (R) and Mrs. Richard J. Polo Jr. '80
Mr. Aaron S. Polsgrove '99
Mr. Joshua D. Pomeroy '14
1LT Jonathan K. Pompey '18
1LT Remington C. Ponce-Pore '18
Mr. and Mrs. Harold D. Pontious Jr. '75
Mr. and Mrs. James E. Pool '94 (P)
CPT David A. Poole '13
Mr. William M. Poole '66
Mr. and Mrs. Gary W. Pope (P)
Mr. and Mrs. J. Paul Pope '75
LTC Tito G. Pope USAR '96
Mr. Stephen J. Popielarski '63
COL (R) Albert V. Porambo '84
Mr. and Mrs. Paul Porcaro (P)
Mr. and Mrs. Henry H. Porper Jr. '63
CPT Victor L. Porsenna '15
1LT Alexander M. Porter '17
LTC (R) John G. Porter '54
1LT Nancy D. Porter '17
Mr. Patrick L. Porter '69
LTC (R) and Mrs. Ronald R. Porter '77
COL Matthew A. Posner '94
Mr. Brian W. Post '91
COL Benjamin K. Potter '97 and Dr. Michelle C. DiVito MD
Lt Col (R) and Mrs. Gary W. Potter USAFR '72
LTC (R) and Mrs. Patrick G. Potter USAR '74
Mr. William T. Potter '94
CPT Bradley A. Potts '12
LTC (R) Edward B. Poucher '69
Mr. Matthew S. Pounders '98
Mr. David A. Pounds '99
Mr. Ronald K. Poust Jr.
Mr. Robert A. Powalski '91
Mr. John H. Powell '77
COL (R) and Mrs. Kenneth W. Powell '81
Mr. and Mrs. Stephen S. Powell '79
COL (R) Thomas C. Powell '85
LTC (R) Webster D. Powell III '82
1LT Derek A. Powers '17
Mr. and Mrs. James A. Powers '60
Ms. Marianne Powers (W '58)
The Honorable Richard A. Powers '01
LTC (R) and Mrs. Robert D. Powers ALARNG '72
Mr. and Mrs. Wayne M. Powless (P)
Gordy and Judy Prairie (P)
1LT Dipak R. Prasad '18
Mr. Michael J. Pratt '87
Dr. Robert A. Prehn
Mr. and Mrs. Thomas W. Pressler '72
Mr. Mark E. Preston '77
Mr. and Mrs. Robert B. Preston III '72
LTC (R) Lon L. Pribble '83
1LT Christopher M. Price '14
LTC (R) Judith M. Price '89 and LTC Eric Price
Ms. Renata F. Price '68
Mr. Thomas L. Price Jr. '85
Mr. Matthew N. Pridgeon '77
1LT Matthew K. Priester '17
CPT Caleb G. Primos '15
COL (R) William F. Prince
Mr. Michael A. Princi '91
LTC (R) and Mrs. Frank L. Prindle '74
Mr. John M. Prindle and Mrs. Gleam Davis (P)
Ms. Molly J. Prins '17
LTC (R) and Mrs. Robert D. Prins '93 (P)
Mr. Leo Priola
CPT Daniel E. Prior '13
Mr. and Mrs. James Prior
1LT Keila S. Pritchard '18
Mr. Sean M. Pritchard '94
Mrs. Dana M. Probert '93 and Mr. Allen Probert (P)
Mr. Donald M. Proeschel '74
1LT Daniel W. Provaznik II '18
MAJ (R) Carl A. Provencher '75
MAJ (R) Mark C. Prugh '78
Dr. and Mrs. Alexander Pruitt '76
Mrs. Anycia A. Prukop '84 and Mr. Harold K. Prukop Jr. '84
Mr. John J. Prusiecki Jr. '81
Mr. and Mrs. Mark J. Prusiecki '84
1LT Elizabeth D. Psiaki '18
Mr. Steven C. Ptacek '75
Mr. Anderson H. Puckett '98 and Mrs. Cally L. Puckett '98
Mr. John Pugh
Mr. Seth D. Pullen Esq. '01
Mr. Andrew D. R. Pullenza '86
COL (R) Mark T. Purdy '94
COL LaVon R. Purnell '86
Mr. and Mrs. William L. Pursel Jr. '86
CPT Jordan E. Puryear '13
Mr. George Puskar
Mr. and Mrs. Joseph A. Puskas (P)
Mr. Kim R. Putnam '72
Mr. Brendan T. Quann '64
Ms. Alice Quesenberry '94
1LT Patricio Quezada '17
1LT Shawn E. Quillen '18
Mr. Peter T. Quimby '96
CPT Brian P. Quinn '17
Mr. Daniel P. Quinn '04
LTC (R) and Mrs. Edward L. Quinn '69
COL (R) Patrick D. Quinn III '91 and Mrs. Kathleen M. R. Quinn '91
Mr. Thomas V. Quinn '79
Mr. William J. Quinn '73
LTC (R) and Mrs. Raymond B. Quinones '76
Dr. and Mrs. Juan Quiros (P)
1LT Daniel J. Rabbia '18
COL (R) and Mrs. Robert F. Radcliffe '65
COL Ralph W. Radka '97 and COL Karen F. Radka '98
Mr. Theodore W. Radtke V '96
1LT Ethan R. Raebel '18
Mr. and Mrs. Brian Rafferty (P)
COL and Mrs. James J. Raftery Jr.
Mr. Charles A. Ragland '09
Lt Col (R) Phillip Raign USAF '58
1LT Vincent J. Raimondi Jr. '16
CPT Richard F. Rainey '14 and CPT Mallory A. Rainey '14
Mr. and Mrs. Harold W. Rambusch IV '89
1LT Maitland A. Rames '17
MAJ Jessie C. Ramirez '10
CPT Primo Ramirez Jr. '15
Mr. and Mrs. Thomas F. Ramos '69
1LT Rafael D. Ramos-Michael '17
Dr. Russell W. Ramsey '57
Bob and Mary Ann Ranalli '59
LTC (R) Jaimy S. Rand '86 and Mr. Frank E. Rand
Marcia H. Randall (W '56)
CPT Brennan W. Randel '13
Mr. Andrew W. Randrup '89 and Mrs. Susan D. Randrup '90
LTC (R) Michael L. Raney '74 (P)
Mr. and Mrs. Joseph F. Rangitsch '83 (P)
1LT Thomas P. Rangitsch '17
Mr. Courtland A. Rankin '96
COL (R) and Mrs. Eric C. Rannow '92 (P)
Mr. Justin C. Raphael '03
Mr. John P. Rapisarda '93
LTC (R) and Mrs. Lawrence A. Rapisarda '68
1LT Anna M. Rapp '17
Mr. J. K. Rappold '81
Mr. Brian E. Rasmussen '73
LTC (R) Earl D. Rasmussen '78
COL (R) and Mrs. Lamar C. Ratcliffe Jr. '68
Mr. and Mrs. Robert P. Rathbun (P)
Mr. Salvatore Ratti
Col (R) and Mrs. Robert J. Rauk USAFR '72 (P)
COL (R) Michael A. Rave '85
CPT Neil A. Ravitz, ARNG
Mr. and Mrs. Joseph W. Rawlins '83
COL (R) Clark K. Ray '76
Lt Col (R) David P. Ray USAF '57
CPT Evan B. Ray '15
COL (R) and Mrs. Mark D. Ray '96 (P)
Mr. William J. Ray Jr. '72
LTC (R) and Mrs. Allen D. Raymond '55 (P)
LTC (R) Charles L. Raymond '57
LTC (R) Walter R. Raymond Jr. '81
Mr. and Mrs. William B. Raymond (P)
COL and Mrs. Mark R. Read '92
Mr. and Mrs. Mark E. Readinger '75 (P)
1LT Daniel J. Reape '17
Ms. Judith Reardon
COL (R) John L. Reber '60
Mr. Christopher A. Recker '93
Mr. Gregory S. Recker '91
Ms. Brandi L. Record '03
1LT Jack L. Rector '17
LTC (R) Zane K. Rector '58
COL (R) Richard A. Redd '72
Mr. and Mrs. Robert W. Redd Jr. '90
Mr. and Mrs. James Redenius (P)
Dr. Terence J. Redmann '83
CPT Kirsten S. Redmon '17
Mr. Matthew J. Redmond '94
CPT Patrick L. Reece '15
CPT Trent J. Reece '14
Dr. William B. Reece '83
Mr. and Mrs. Hollis T. Reed (P)
Mrs. Kelsie C. Reed '17
1LT Robert W. Reed '17
1LT Spenser R. Reed '16
Kate and Joe Reeder '70
COL (R) Mark L. Reese Jr. '54
Mr. Tristan C. Reeve '94
BG Shane R. Reeves '96 (P)
Mr. Michael P. Regan '78
LTC (R) and Mrs. Thomas A. Rehm Jr. '81
Mr. John Rehonic
Mr. John N. Rei '91
COL (R) Adam J. Reich IV USAR '78
LTC (R) Donald F. Reich '82
Mr. and Mrs. Raymond Reich (P)
COL (R) and Mrs. Robert M. Reich '64
Mr. Ronald R. Reichart '85
COL (R) and Mrs. Brad D. Reid USAR '83
LTC (R) Jack J. Reid '68
LTC Kristoff R. Reid USAR '98
Mr. Francis X. Reidy '79
Mr. and Mrs. Ethan Reiff (P)
Mr. and Mrs. Bernard J. Reilly Jr. '66 (P)
COL (R) and Mrs. Iain Reilly '63
Mr. John P. Reilly and Ms. Jane M. Wilhelm (P)
Mr. Raymond E. Reilly
COL Patrick A. Reily '83 and Ms. Birgit Nitschke-Reily
Mr. Michael D. Reinert '90
Mr. Norman F. Reinhardt '75
LTC (R) Marcus R. Reinhart '93
Mr. James R. Reinker '69 and Ms. Kornelia Sachs-Reinker
MAJ (R) Franklin H. Reiser '72
COL (R) Aaron W. Reisinger '94
Mr. Raymond J. Reitnour Jr. '71
Dr. and Mrs. Kyle N. Remick '94
Mr. and Mrs. Norman Remick (P)
LTC (R) Will M. Remington '62
MSgt (R) Richard E. Remmele USAF
COL (R) Melvyn D. Remus '54 and Mrs. Marvel L. Remus (W '55)
Mr. and Mrs. Laurent L. Renard '94
LTC (R) W.E. M. Renaud '71
CPT Eric C. Renn '13
Mr. Robert S. Reppa '90
LCDR and Mrs. Max M. Resnick (P)
Mr. Robert Resnikoff
1LT Christopher E. Retsch '13
1LT Tyler E. Rettke '17
1LT Angel A. Reyes Jr. '17
Chaplain David T. Reyes '03
Mrs. Patricia Reyhan (P)
COL (R) and Mrs. Louie Reyna '72
CPT David C. Reynolds '14
Mr. James M. Reynolds
1LT John L. Reynolds '18
Mr. Livingston Z. Reynolds '84
Mrs. Pamela S. Reynolds '90 and CPT Lance A. Reynolds (P)
CPT William J. Reynolds '13
COL (R) Ronald E. Rezek '64
Mr. Richard A. Rhinehart Jr. '78
1LT Hunter A. Rhoades '17
Mr. Alexander D. Rhoads '09
Ms. Sooji P. Rhodes '15 and CPT Benjamin D. Rhodes
Dr. Patrick N. Rhyne '87
CPT Stephen F. Ricciardi '15
CPT Gregory B. Rice Jr. '14
COL (R) Lucas B. Rice '93 and Mrs. Stephanie M. Rice '94 (P)
Mr. and Mrs. Terence M. Rice '91
MAJ (R) and Mrs. Larry T. Rich '78
CPT Mark D. Richard '14
1LT Jonathan J. Richards '16
MG John B. Richardson IV '91
COL (R) Lawrence C. Richardson '62
Mr. Michael D. Richardson '14
Mrs. Stacy L. Richardson '91 and Mr. Ronald W. Richardson '93
Mr. and Mrs. Royce G. Richardson '74
Mr. Scott R. Richardson '81
Reverend and Mrs. Wayne G. Richardson '83
Ms. Eileen K. Richman (P)
Mr. Jimmy L. Ricks '84
Mr. Steven J. Ricks '76
Mr. and Mrs. Charles H. Riddle
Mr. and Mrs. Gary L. Riddle (P)
Dr. and Mrs. William B. Riddle '98
Mr. Cameron L. Ridgway '10
Mr. Louis R. Riebe '79
1LT Grant C. Riechmann '17
COL (R) and Mrs. Kevin R. Riedler '81
1LT Dillon J. Riedlinger '18
Mr. Andrew D. Rieger '95
1LT Matthew R. Riehl '18
1LT Andrew J. Riekenberg '14
Mr. and Mrs. Roscoe Riemenschneider (P)
1LT Zachary W. Riggenbach '18
1LT Alex J. Riggins '18
Mr. Christopher J. Rigoni '87
Mr. and Mrs. David A. Riley (P)
COL (R) James G. Riley '83
CPT Giancarlo C. Rindone '13
Dr. and Mrs. David A. Rinehart (P)
Dr. George S. Ringler USAR '94
CPT (R) Carl B. Rios '13
LTC (R) Timothy A. Rippe '74 and Dr. Christine Macfarlane
Mr. James A. Ripple Jr. '73
Mr. Abner Riser (P)
Mr. and Mrs. Raymond D. Ritacco '72
1LT Bridget Ritter '18
Mr. and Mrs. Bruce R. Ritter '72 (P)
Mr. James S. Ritter Jr. '72
Mr. and Mrs. Lee K. Rivas Jr. '96
CPT Alexander G. Rivera '15
CPT Alfonso A. Rivera '14
Mr. and Mrs. Anthony Rivera (P)
1LT Christian Y. Rivera '18
LTC and Mrs. Craig T. Rivet '91
LTC (R) and Mrs. Don Rixie
Mr. Brett Rizor
Mr. Dean H. Rizzo '84
CPT Bryan J. Robbins '13 and Mrs. Virginia S. Robbins '13
LTC Cristian A. Robbins '03
LTC (R) Elizabeth L. Robbins '92 and Dr. James S. Robbins
COL (R) John L. Robbins
LTC (R) and Mrs. Kendric H. Robbins '94
LTC (R) and Mrs. Barry J. Robella '69 (P)
CPT Christopher V. Roberto '15
Mr. Aldolphus S. Roberts '93
Dr. Ann Roberts
Mr. Arthur Roberts and Mrs. Brooks Cane (P)
CPT Christopher T. Roberts '14
1LT Dillon H. Roberts '17
LTC (R) James E. Roberts '67
Mr. Joel E. Roberts Esq. '90
COL (R) and Mrs. Steven Roberts '70
Mr. Wayne D. Roberts '73
Mr. and Mrs. Kenneth R. Robertson '82
Mr. and Mrs. Scott Robertson (P)
CPT Shaun M. Robertson '15
CPT Tyler B. Robertson '14
Dr. and Mrs. Daniel K. Robie '81
Mr. Andrew P. Robin '01
COL (R) and Mrs. James H. Robinette II '87 (P)
MAJ (R) Arthur W. Robinson III '73
Dr. Bruce T. Robinson '76
Mr. Eric M. Robinson
Mr. Kevin A. Robinson '99
COL Lori L. Robinson '94 and LTC Thomas J. Robinson Jr.
CPT Matthew W. Robinson '11
CPT Ronald F. Robinson Jr. '17
1LT Taylor D. Robinson '18
Mr. William E. Robinson '68 (P)
COL (R) Eric W. Robyn '69
LTC (R) Thomas R. Rock '72
COL (R) Mark D. Rocke '79 and BG (R) Malinda E. Dunn
Mr. James D. Rockwell '91
Mr. and Mrs. David Rodarte '74
Mr. and Mrs. Frederick J. Rodenbach '87
CPT Blake N. Rodenberger '15
1LT Taylor L. Rodenhuis '18
Mr. Robert J. Rodenmayer '97
CPT Alexandria F. Rodgers '14
Mr. Jerry L. Rodgers Jr. '91
LTC (R) and Mrs. Stephen J. Rodgers '68
Mr. Alexandre Rodrigues
LTC (R) Adrian L. Rodriguez '94
MAJ Arturo B. Rodriguez '11
Dr. Daniel Rodriguez '87 and Ms. Olga Jaramillo
GEN (R) and Mrs. David M. Rodriguez '76 (P)
Mr. Javier Rodriguez '89
MAJ and Mrs. Joshua Rodriguez '07
Mr. Michael Rodriguez
LTC (R) David B. Roeder '83
COL (R) Paul E. Roege '79
Mr. and Mrs. David R. Roemer '74
Mr. Sean P. Roemer '13
COL (R) Steven J. Roemhildt '87 and Col An T. Duong USAF
CPT Vanessa A. Roesler '85 and Mr. James A. Kline
Mr. Douglas C. Rogers '69
MAJ (R) Jasper L. Rogers USAR '92
Lt Col (R) and Mrs. John R. Rogers USAF '64
CPT Kristin M. Rogers '14
LTC Matthew B. Rogers '98 and Ms. Julie Fridlington
CPT Paul R. Rogers '13
Mr. and Mrs. Robert E. Rogers II '78 (P)
Dr. Robert F. Rogers '53 and Dr. Gail M. Rogers
COL and Mrs. Stephen C. Rogers '92
Mr. and Mrs. Thomas E. Rogers '74
COL and Mrs. Robert R. Roggeman '86
CPT Matthew J. Rogowski '14
COL Michael P. Rogowski '99
Mr. Jose A. Rojas '93 and Mrs. Lorraine M. Rojas '93
Dr. and Mrs. Michael L. Rolli '94
1LT Nathaniel W. Rollings '14
COL (R) George A. Rollins USARNG '73
LTC (R) Kenneth A. Romaine Jr. '87 and Dr. Jennifer Crockett
Mr. and Mrs. Eric J. Roman (P)
Mr. Anthony Romano
Mr. David E. Romano '91
Mr. James R. Romanski '91
COL Douglas H. Rombough '85
CPT Spencer D. Rome '13
Mr. and Mrs. Mark K. Romeo '87 (P)
Mr. and Mrs. J. T. Roohan
Mr. and Mrs. William S. Roohan
Mr. Thomas A. Rooker '72
Dr. and Mrs. Stuart A. Roop '88
COL (R) and Mrs. Daniel S. Roper '82
1LT Diamond L. Rorie '13
LTC (R) Charles C. Rose and CPT Kelly A. Rose '97
Mr. Joseph C. Rose '69
Miss Katherine V. Rose '95
CPT Nicholas Rose '15
Mr. and Mrs. Robert J. Rose (P)
CPT Sean H. Rosenberg '10
Mr. and Mrs. Cory G. Rosenberger (P)
1LT Ruth E. Rosenberger '14 and 1LT James J. Forgrave '15
LTC (R) and Mrs. Dennis L. Rosenberry '68
CPT Jack E. Rosenhammer '15
1LT Jonathan C. Rosoff '18
Mr. and Mrs. Douglas G. Ross '92 (P)
LTC Elbert G. Ross '87
COL (R) James P. Ross '90
Mr. Kyle S. Ross '09
Mr. Richard J. Ross II
Mr. Joseph H. Rossetti '77
Mr. David A. Rossi '84
Mr. and Mrs. Jay E. Rossi '72
COL (R) Michael A. Rossi '82
Mr. Raymond E. Rossi Jr.
Mr. Dan Rossini
Mr. and Mrs. Matthew R. Rotella '86
LTC (R) Barry A. Roth '84
Mr. Blaine E. Roth '92
Col Eric J. Roth USAF '87
CPT Jordan M. Roth '15
1LT Nicholas J. Roth '18
Mr. Richard M. Roth '99
COL (R) and Mrs. Harry E. Rothmann Jr. '67
Mr. Edward J. Roubian '73
Dr. Alexander J. Rouch '76
Mrs. Dorothy C. Rountree (W '69)
LTC (R) Beverly Y. Rouse '84 and Mr. Robert M. Rouse
Dr. Thomas H. Rousseau III '61
Mr. Anthony T. Rowan Jr. '75
Mr. James R. Rowan '79
CPT Caitlin A. Rowe '15
LTC (R) Donald S. Rowe '65
CPT Matthew P. Rowe '14
Mr. Raymond B. Rowles II '91
CPT Rickey B. Royal Jr. '11
Ms. Barbara Ruane
1LT Dustyn E. Ruble '13
COL and Mrs. Stephen B. Rubright USAR '97
Dr. David C. Ruck '75
Mrs. Julia S. Ruddock '07 and Mr. Simon Elliott
MAJ Marjorie A. Rudinsky '84
Mr. William M. Rudnicki '85
Mr. and Mrs. Jonathan W. Rue '87
LTC Daniel W. Ruecking '97
COL (R) Alan E. Ruegemer USAR '77
Mr. Bernard Ruf
Mr. Philip P. Rufe '88
COL (R) and Mrs. Edgar K. Rugenstein '83
MAJ Daniel C. Ruiz '10
COL (R) Daniel M. Ruiz '94 and Mrs. Jennifer A. Ruiz '94
Mr. Pablo E. Ruiz P.E. '90
Dr. and Mrs. Mark C. Rummel (P)
COL (R) Robert R. Rumph '62
Dr. Anthony S. Ruocco '79
1LT Bryan E. Rupert '13
1LT Madison E. Ruppel '18
Dr. Kevin R. Rupprecht and Dr. Cecelia Rupprecht (P)
CPT Jeffery B. Rush '15
Mr. and Mrs. Paul S. Rusinko '78 (P)
Mr. and Mrs. David R. Russell (P)
Dr. and Mrs. Henry P. Russell '69
Ms. Jennifer L. Russell '94
CPT Kevin K. Russell '13
Mr. Michael D. Russell (P)
LTC Shawn P. Russell '99
Mr. Vincent K. Russell Jr. '96
LTC (R) W A. Russell Jr. '64
Mr. and Mrs. Anthony R. Russo '72
Mr. and Mrs. John M. Rutherford III '82
Mr. Joshua W. Rutledge '00
Mr. Marc J. Ruyak '90
Mr. and Mrs. Albert E. Ryan III '83
Mr. David M. Ryan
COL (R) and Mrs. Michael C. Ryan '71
Mr. Michael F. Ryan '69
1LT Michael J. Ryan '17
COL (R) William E. Ryan III '77
CPT Nathan A. Ryba '13
Ms. Carol Sabel
John and Lisa Sabino '96
Mr. James V. Saccone '90
CPT Gregory G. Sacenti '15
COL (R) David J. Sacha '83
Mr. and Mrs. Scott Sackett (P)
Mr. John P. Sacksteder '02
LTC Aaron J. Sadusky '99
COL (R) Joseph T. Saffer USAR '76
Mr. Patrick H. Sagebiel '00
Mr. Jeff Karmiol and Mrs. Cindy Saifman (P)
COL (R) James M. Salander '66
1LT Matthew D. Salazar '17
CPT Taylor M. Salazar '17
1LT Lennard J. Salcedo '15
1LT Baggio R. Saldivar '17
LTC (R) Rory A. Salimbene '78
Mr. and Mrs. John S. Salmento (P)
CPT and Mrs. Joseph M. Salmento '14
Mr. and Mrs. Richard B. Salomon
Mr. Stephen P. Salomone '00
Mr. Isaiah T. Salsman '13
LTC (R) Michael J. Saluto '89
Mr. James P. Sambor '14
CPT Marc C. Samland '16
Mr. Robert L. Sammon '99
Ms. Betsy Sammons '90
Mr. Allen L. Sample '74
CPT Sallena P. Samuel '14
MAJ (R) and Mrs. Alan W. Sanborn '73
MAJ (R) William R. Sanborn '73
CPT Derek A. Sanchez '15
SGT Louis F. Sanchez
COL (R) Teodorico V. Sanchez Jr. PA '80 and Dr. Rossana Sanchez
Dr. and Mrs. Lawrence T. Sanders '62
Mr. and Mrs. Morgan Sanders (P)
Mr. Kent S. Sanderson '83
COL (R) Michael C. Sanderson '64
Mr. and Mrs. Paul B. Sandford (P)
1LT Araceli G. Sandoval '17
CPT Ryan J. Sands '14
COL (R) and Mrs. Timothy L. Sanford '72
Mrs. Marshall Sanger (W '46)
1LT Ryan A. Sanguigni '17
COL (R) and Mrs. Roger N. Sangvic '86 (P)
COL (R) James A. Sansone '71
Mr. Dain M. Santarelli '09
Dr. Michael G. Santens PhD '83
CPT Steven E. Santon '14
1LT Nicholas E. Santorelli '18
Mr. Gregory T. Santorsola '03
1LT Dustin E. Santos '16
Mr. Richard Santosky
Mr. James A. Santucci '87
Mr. John M. Sapanara '74
Mrs. Alexander V. Sarcione (W '49)
COL (R) and Mrs. Christopher L. Sargent '74
Mr. and Mrs. Gary P. Sarpen '72
Mr. Eric M. Sass '96
Mrs. Cynthia M. Sauer '86 and Mr. Scott M. Sauer '86
Ambassador John Saunders
COL (R) and Mrs. Daniel P. Sauter III '86 (P)
Mr. Fred C. Sautter III '69
1LT Jacob M. Savage '17
Mr. James A. Saville
1LT Eric J. Savini '18
Mr. Paul J. Savio '60
Mr. Richard M. Savo '13
CPT Phillip L. Savoie '13
Mr. Michael W. Sawicki '72
Mr. and Mrs. David T. Sawyer '95 (P)
MAJ (R) Shepard A. Sawyer Jr. '79
CPT Amy M. Saxton '15
Professor and Mrs. William W. Saylor PE '72
CPT Lauren A. Scales '15
Mr. and Mrs. Thomas D. Scarberry II '97
Mr. Jason C. Schaaf '94
Mr. and Mrs. John D. Schaaf Jr. (P)
LTC (R) Patrick A. Schado '74
CPT Michael D. Schaefer '14
LTC (R) Michael J. Schaefer '78
Dr. and Mrs. Paul S. Schaefer '75
BG Jed J. Schaertl '91
Dr. and Mrs. Joseph H. Schafer '86 (P)
LTC (R) and Mrs. John A. Schaffer '58
Mr. Paul A. Schaffer '98
LTC (R) and Mrs. Michael E. Schaller '84
Mr. Raymond J. Schaltenbrand Jr. '65
Mr. and Mrs. Michael R. Schardt (P)
CPT Aaron M. Schares '13
COL (R) and Mrs. Richard D. Scharf '63
Mr. Larry J. Schauer '90
CPT Bryson W. Scheetz '15
Mr. Ernest R. Schelhaas '77
Mr. and Mrs. Richard A. Schemel Jr. '86 (P)
COL (R) Brenden M. Scherr '88
Mr. Chris R. Schiavo '86
Mr. and Mrs. Robert M. Schicktanz '79
CPT Harold W. Schieve
Mr. and Mrs. William M. Schiffer '86
CPT Peter J. Schlatter '13
LTC (R) and Mrs. John C. Schleeter USAR '84
Mr. and Mrs. Michael Schlessinger (P)
COL (R) Austin B. Schmidt (former '73)
LTC (R) Leroy A. Schmidt '60
CPT William J. Schmidt '13
1LT Zachary J. Schmidt '16
1LT Matthew C. Schmitt '17
LTC (R) and Ms. Gregory L. Schmitz '76
Mr. Larry Schmirz
Mr. Phillip R. Schmitz '94
Mr. Joseph S. Schneider '72 (P)
1LT Madeleine M. Schneider '19
Mr. Michael A. Schneider '99
1LT Erick J. Schneider-Cuevas '16
Mr. and Mrs. Scott Schnurr (P)
CPT Braden S. Schoenlein '14
LTC (R) Eric M. Schoennauer '93
Ms. Kathleen P. Schoeppner
Ms. Nicole Schoeppner
Mr. G. Scott Scholler '72
COL (R) John C. Scholz '56
Mr. and Mrs. David Schomaker (P)
MAJ (R) and Mrs. Dennis R. Schonewetter USAR '69
Mr. Theodore A. Schonsheck '04
Mr. Jeffery J. Schorr '88
LTC Elizabeth W. Schott '91 and LTC (R) Russell J. Schott '91
Mrs. Robert A. Schow Jr. (W '59)
Mr. and Mrs. Richard A. Schrader '72
1LT Ryan E. Schreck '17
Frederick and Marion Schremp '67
MAJ (R) Walter A. Schrepel '76
LTC (R) George E. Schrlau USARNG '75
Dr. and Mrs. David E. Schroeder '70
COL and Mrs. Elliot D. Schroeder '97
COL (R) and Mrs. James T. Schroeder '73
Mr. Jeffrey L. Schroeder '85
COL (R) and Mrs. Jeremy J. Schroeder '94
MAJ (R) Joseph L. Schroeder '76
Mr. and Mrs. Philip Schroeder (P)
1LT Patrick T. Schroll '17
CPT Sara L. Schubert '13
COL (R) Andrew P. Schubin '84
CPT Vincent C. Schuele '13
LTC (R) Arthur A. Schulcz '66
Mr. Brian D. Schuler '92 and Mrs. Delyn A. Schuler '94
LTC (R) James P. Schultz USAR '73
Mr. Bruce D. Schulz '69
Mr. Kurt A. J. Schumacher '93
Mr. Jonathan F. Schupp '87
Ms. Jill E. Schurtz '86 and Ms. Beth E. Ford
Mr. and Mrs. Scott Schuster (P)
COL (R) Scott Schutzmeister '86
Mr. and Mrs. John P. Schwab '88
Mr. and Mrs. Stephen F. Schwaderer '70
CPT Derek R. Schwartz '13
CPT (R) and Mrs. Donald M. Schwartz USMC '64
LTC (R) Thomas J. Schwartz '81
Mr. Henry A. Schwartzstein '71
CPT Zachary K. Schwatka '14 and Mrs. Kierstin E. Schwatka '14
COL (R) and Mrs. Paul Schweikert Jr. '54
CPT Jonathan M. Schwindt '15
Mr. James F. Schwoob '60
LTC (R) David L. Scibetta '69
Mr. Brett A. Sciotto '94
Mr. and Mrs. Christopher Sclafani '90
LTC (R) and Mrs. Michael J. Scoba Jr. USAR '75
Mr. Thomas Scofield and Mrs. Katie Scofield
Mr. Aaron D. Scott '92
Dr. and Mrs. Alan H. Scott '63
Mrs. Ann M. Scott '96 and Mr. Phillip C. Scott
MG (R) Bruce K. Scott '72 (P)
Mr. and Mrs. Charles B. Scott (P)
COL (R) and Mrs. Dennis E. Scott USAR '77
Mr. Erik J. Scott '97
LTC (R) James A. Scott III '61
Mr. and Mrs. Kelley O. Scott '88
Ms. Linda S. Scott '92
LTC (R) Lloyd M. Scott II '74
COL (R) and Mrs. Ronald R. Scott USAR '72
1LT William H. Scott '17
Mr. and Mrs. Leopoldo C. Scrivner '80
CPT Kevin T. Scruggs '13
Mr. William E. F. Scully III '77
COL (R) and Mrs. Robert E. Scurlock Jr. '82
Mr. Christopher Scuron '89
Mr. and Mrs. Eric R. Seal '93
Mr. and Mrs. Robert D. Seals (P)
LTC (R) and Mrs. Kenny A. Searcy '72
COL (R) and Mrs. Richard S. Seaward '60 (P)
Mr. Brian E. Sebastian '89
Mr. Gene A. Seegmueller '53
Mr. John S. Seehorn '91
COL (R) Robert E. Seger '66
LTC (R) Jeffrey A. Seggi '93
Mr. Jim Seichter
Mr. Thomas J. Seidler
Mr. Charles M. Sela '72
LTC (R) Kent R. Selby '85
Mr. and Mrs. Peter K. Seldin
LTC (R) and Mrs. Joseph P. Seletsky '71
Mr. and Mrs. Nathan E. Self '98 (P)
Ms. Lara A. Seligman-Russo '92
COL (R) and Mrs. Richard W. Sellner '81
1LT Michael A. Selner '17
LTC and Mrs. Daniel C. Selph '86
Mr. Philip A. Selton '87
Mr. Kevin Sembrat
1LT Jacob Semerar '15
CPT and Mrs. Austin D. Semmel '15
Mr. and Mrs. Timothy T. Sempf (P)
1LT Jack D. Senft '16
Mr. and Mrs. John J. Senneff '96
CPT Erin L. Senter '14
Mr. and Mrs. Stephen A. Seppa '73
LTC and Mrs. Jeremy S. Sereno '98
CPT (R) Daniel M. Serrano Jr. '17
1LT Jonathan S. Sessions '18
Mr. Tracy D. Sessions '06
Ms. Candace Y. S. Seto '84
Mrs. Julie S. Sevelius '97 and Mr. Ralph Sevelius
LTC (R) Lawrence M. Seward '94
MAJ (R) Steven M. Seybert '79
Mrs. Nancy E. Shablom (W '83) (P)
CPT Thomas E. Shade '15
CPT Cherith A. Shaffer '07
Mr. and Mrs. Hugh A. Shaffer '68
Mr. Charles W. Shaklee '72
Mr. and Mrs. Daniel l. Shamblin (P)
COL (R) and Mrs. David M. Shanahan '76
LTC (R) and Mrs. Michael J. Shanahan '73
Ms. Kathleen Shannahan
Ms. Edith T. Shapiro, M.D.
LTC Jeffrey M. Shapiro USAR '88
Mr. and Mrs. Michael D. Shapiro '92
1LT Michael C. Shares '16
1LT Brianna F. Sharkey '15
CPT John P. Sharp '14
Dr. and Mrs. Dale S. Sharples II '68
Dr. Joseph B. Sharrock '97 and Mrs. Shannon B. Sharrock '97
Dr. John H. Shary III MD '70
Mr. and Mrs. Herbert L. Shatzen '76
Gen (R) and Mrs. John A. Shaud USAF '56
Mr. and Mrs. Douglas J. Shaver '87
Mr. Jacob W. Shaver '98
LTC (R) and Mrs. Charles L. Shaw '62
MG Jamelle C. Shawley '92
1LT Meredith K. Shea '17
Mr. Richard J. Shea '84
1LT Michael D. Sheahen '13
CPT Alexander T. Shearouse '15
Dr. Kevin P. Sheehan '78 and Ms. Julia A. Spicer
Mr. W. Scott Sheehan
Mr. David P. Shelstad '90
1LT Nicholas R. Shelton '18
LTC (R) and Mrs. Richard L. Shelton '86 (P)
COL (R) George T. Shepard Jr. '86
Mr. and Mrs. John E. Shephard Jr. '77
Mr. and Mrs. David A. Sheppard II (P)
MAJ (R) Michael C. Sheridan '84
Mr. Richard V. Sheridan III '90
LTC (R) and Mrs. Frederick W. Sherman III '72
COL (R) Paul D. Sherman Jr. '93
Mr. Brian D. Sherrick '97
Mr. and Mrs. Robert H. Sherwin Jr. '73
CPT Jacob R. Shevitz '14
COL Burton K. Shields '89
CPT Raziel E. Shields '14
Mr. and Mrs. Thomas Shillo (P)
Mr. and Mrs. Edward W. Shim '92 (P)
Ms. Alisa M. Shin (P)
CPT Andrew M. Shin '15
Mr. Stan Shin '96
CPT Matthew G. Shinkwin '14
GEN (R) and Mrs. Eric K. Shinseki '65
Dr. Roy J. Shipley '94
Mr. Mark J. Shogren '94
LTC (R) Christian M. Shore '64
COL Andrew J. Short '97
1LT Brendan J. Short '17
Charles and Patricia Short PhD '78
Mr. Kevin E. Shorter '84
Mr. Rand K. Shotwell '67
Mr. Jeffrey A. Showalter '98
Mr. and Mrs. William H. Shriver '72
Mr. and Mrs. Walter W. Shulits '72
LTC Stephen A. Shuster '84
Mr. William E. Siburg III '80
Mr. Jason J. Sidel '93
Mr. John M. Sidoni '75
Mr. David E. Siegel '74
Mr. and Mrs. Jay L. Siegel (P)
Mr. John C. Siemer Jr. '72
CPT Alexandria E. Sieracki '13
Mr. and Mrs. Marc D. Sierra '83
Mr. James E. Siewertsen '87
CPT Ryan F. Siggens '02
MAJ (R) Robert L. Sigmund '70
Mr. and Mrs. Zachary A. Sikes '94
COL (R) James R. Siket '67
LTC Jeffrey T. Silverman '03
CPT Scott P. Silvester '13
LTC (R) and Mrs. Thomas A. Simcox '62
Mr. Richard L. Simis '80
Mr. Barry L. Simmons '96
LTC David M. Simmons '94
COL (R) and Mrs. Gary E. Simmons '77
Mr. John A. Simmons '84
Mr. and Mrs. Randall S. Simmons (P)
Ms. Alissa G. Simon '87
LTC (R) Jerry A. Simonsen Sr. '73 (P)
LTC (R) and Mrs. Daniel E. Simpson '88
LTC (R) and Mrs. Edward Simpson Jr. '65 (P)
LTC (R) Jeffrey S. Simpson '91
Chaplain Scott E. Simpson '90
CPT Chelsea M. Sims '14
MG Douglas A. Sims II '91
CPT Jordan C. Sims '14
1LT Matthew M. Sims '16
Thomas and Susan Sims '55
Mr. and Mrs. Joseph Simunovich
LTC (R) Kenneth J. Simurdiak Jr. '93
Mr. Edward D. Sincock
Mr. and Mrs. Robert G. Sines (P)
Mr. Tony C. Singer '69
Dr. and Mrs. Thomas E. Singlevich
CPT Tyler W. Sinisgalli '13
Mr. and Mrs. Robert J. Sinnema '85
Mr. and Mrs. Emmanuel G. Sioson (P)
LTC and Mrs. Emmanuel I. Sioson '04
Ms. Phyllis Sirkis (W '54)
Mr. and Mrs. Gregory D. Sirko '02
Judge and Mrs. Salvatore T. Sirna '90 (P)
LTC David R. Siry '94
Mr. and Mrs. Emry P. Sisson '86
1LT Hans C. Sitarz '17
Mr. George P. Sivess '71
Ms. Karol A. Siwietz (P)
Mr. William J. Siwy Jr. '72
LTC (R) Michael J. Six '78
1LT Colton D. Skeen '17
Mr. Douglas H. Skeggs '72
Prof. Robert P. Skertic '79
Mr. Samuel A. Skiles '96
COL (R) Anthony J. Skubi III '86
Mr. and Mrs. George J. Slabowski Jr. '84
Mr. and Mrs. Frederick W. Slack (P)
LTC (R) Steven A. Slade '76
Mr. and Mrs. Robert A. Slater
MAJ (R) Michael E. Slavin '82
CPT Jeremy D. Sledge '13
Mr. and Mrs. Gary S. Sliver '01
Mr. James H. Slogar '54
Col and Mrs. Domenico Smeraglia USAF '98
Mr. Charles M. Smigen '13
1LT Aaron J. Smith '17
Mr. Adam Smith and Ms. Aileen Mullen Smith (P)
CPT Alex B. Smith '08
Mr. Arthur D. Smith
CPT Benjamin S. Smith '15
Mr. and Mrs. Benjamin S. Smith '90 (P)
Mr. Brennan C. Smith '87
LTC (R) Brian E. Smith '77
Mr. Brian P. Smith '09
COL (R) and Mrs. Carleton M. Smith '79
LTC (R) Catherine A. Smith '92
CPT (R) Chad M. Smith '94
Mr. and Mrs. Charles T. Smith (P)
Mr. and Mrs. Christopher A. Smith '91
Mr. Christopher V. Smith '00
LTC (R) Christopher W. Smith '96
MAJ (R) Craig L. Smith '75
LTC and Mrs. David R. Smith '87
Mr. and Mrs. David R. Smith
COL (R) David S. Smith '69
Mr. Derick C. Smith '90
LTC (R) Donald B. Smith '75
Mr. Donald E. Smith '86
Lt Col (R) and Mrs. Earl P. Smith II USAF '72
CPT Richard D. Smith Jr. '17 and CPT Emma S. Smith '17
Mr. Eugene N. Smith '59
COL (R) and Mrs. Forrest E. Smith '84
COL (R) and Mrs. G. Robert Smith '80
Mr. Gerardus J. Smith Jr. '90
Mrs. Jamie J. Smith '01 and Mr. Travis Smith
Mr. and Mrs. Jeffrey H. Smith '66
CPT Jeremy D. Smith '11
Mr. and Mrs. John T. Smith (P)
CPT Katerina R. Smith '13
Mr. and Mrs. Michael E. Smith '69
LTC (R) and Mrs. Paul R. Smith '77
Maj Gen (R) Perry M. Smith USAF '56
LTC (R) and Mrs. Phillip L. Smith '73
Mr. Ralph E. Smith '73
Mr. Rodney A. Smith '84
COL (R) Ronald B. Smith '75
CPT Spencer C. Smith '15
Mr. and Mrs. Terry E. Smith '73
MAJ Thomas B. Smith '03
MAJ Travis A. Smith '94
Mr. and Mrs. Travis B. Smith '99
Mr. Wayne R. Smith '83
LTC (R) and Mrs. William C. Smith '72
Mr. and Mrs. Zachary L. Smith '77
Zella Smith Anderson, J.D.
MAJ Matthew C. Smoose (former '03)
COL and Mrs. William Smoot (P)
LTC (R) and Mrs. David T. Smyth '71
MAJ (R) and Mrs. William R. Sneddon ARNG '80
Mr. and Mrs. Brian A. Snell Esq. '86
Mr. and Mrs. Todd M. Snell '92
1LT Samantha J. Snelson '18
1LT Joseph T. Snider '18
1LT Tyler J. Sniffen '17
1LT Alexander D. Snow '17
LTC (R) Michael D. Snow '70
LTC (R) Charles R. Snyder '80
1LT Douglas F. Snyder '16
Mr. and Mrs. James C. Snyder (P)
LTC (R) Kelly J. Snyder '86
CPT Stephen P. Snyder Jr. '15
Mr. Darrell J. Sodergren '84
Mr. and Mrs. Christopher M. Soldi '97
COL Jon E. Solem USAR '90
1LT Brook K. G. Solheim '18
1LT Allen M. Solida '17
LTC (R) Miracle D. Solley '84
CPT David W. Solomon '16
Brig Gen (R) and Mrs. W. J. Soper USAF '58
LTC (R) and Mrs. Clark B. Sorensen '74
Dr. Leonard G. Soroka and Dr. Linda L. Lamwers (P)
1LT Shawn A. Sororian '13
Mr. Steven R. Sosland '80
Mr. Louis J. Sosler '73
LTC (R) and Mrs. Christopher P. Soucie '92 (P)
CPT Bradley S. Soviak '13
CPT Tyler W. Sowell '15
1LT Krista M. Spada '18
COL and Mrs. Everett S. P. Spain '92
Mr. Kevin P. Spala '85
Mr. and Mrs. Owen L. Spannaus '64
Mr. and Mrs. Donald L. Sparaco Jr. '90
Mr. Bradley E. Sparks '69
MAJ (R) and Mrs. Michael A. Spasyk '75
COL (R) Katherine Spaulding Alexander '84 and Mr. John S. Alexander (P)
CPT Alicia S. Spaziante '13 and CPT Matthew D. Spaziante '13
Mr. John C. Speece '98
1LT Charles G. Speer '18
CPT Samuel A. Speer '16
Mr. and Mrs. Thomas Spell (P)
Mr. and Mrs. Mark G. Spelman '68 (P)
LTC (R) Michael J. Speltz '69
Mr. Bryan S. Spencer '08
Mr. Craig Spencer
COL (R) Michael A. Spencer III '82
LTC (R) Steven M. Sperry '65
LTC (R) and Mrs. Donald C. Spiece Jr. '76
CPT Daniel P. Spies '14
Mr. and Mrs. Robert G. Spignesi Jr. '91
Mr. and Mrs. James C. Spilman '82
Mr. Richard J. Spinelli Jr. '89
Mr. and Mrs. James M. Spinks Jr. '72
Mr. Jan Spiro
MG (R) and Mrs. Rex A. Spitler '80
1LT Stephen C. Spratt '17
Mr. and Mrs. Scott R. Sprawls '98
COL (R) Robert M. Springer Jr. '49
1LT William W. Spurgeon '17
Mr. Ryan Squillante
MAJ (R) and Mrs. Thomas Sroka (P)
1LT John F. St Pierre '14
COL (R) and Mrs. Patrick St Pierre '80 (P)
1LT Elijah M. St.Hilaire '17
Mr. Eric N. Staat '89
LTC (R) Stephen C. Stacey '75
Dr. William A. Stack IV '90
CPT Cody A. Stamm '15
1LT Michael E. Stanchi '18
LTC (R) Thomas B. L. Stanford '73
Mr. Nicholas Stankovich '98
Mr. and Mrs. Brian Stanley (P)
COL (R) Walter C. Stanton Jr. '50
Mr. S. P. Stark '89
CPT Charles T. Starke '16
CPT Daniel R. Starkweather '15
LTC (R) Gary E. Starkweather '77
COL (R) and Mrs. Raymond E. Starsman '61
Mr. Edward G. Stauch '59
MAJ (R) John W. Steakley '55
Mr. and Mrs. Eric J. Stearns (P)
Mr. and Mrs. Michael Stedman (P)
CPT Catherine D. Steele '13
Mr. Marcus E. Steele '84
Dr. Mary J. Steele (W '50)
Mr. and Mrs. David N. Steer '82
Norman and Mary Steffenson (P)
Mrs. Emmy Lee Steigelman (W '54)
Mr. and Mrs. Randall L. Stein '72
Mr. Daniel W. Steiner '84
Mr. and Mrs. Marvin A. Steinman '72
LTC (R) and Mrs. Frederick W. Stellar '74
Mr. Peter E. Stelling '94
LTC (R) Vickie D. Stenfors '90 and Mr. Jeffrey M. Stenfors
Ms. Jessica E. Stephenson '10
CPT Mark W. Stephenson II '16
MAJ (R) and Mrs. Mark W. Stephenson '80 (P)
LTC (R) James M. Stepien '94
Mr. James M. Stepp '66
1LT Robert S. Sterling '15
COL (R) Herbert I. Stern '41
CPT Joseph T. Sterr '13
Mr. and Mrs. Daniel E. Stevens (former '66)
LTC (R) and Mrs. Frederick A. Stevens Jr. '52
COL (R) Shelby T. Stevens '70
1LT Alexander D. Stewart '16
COL Arthur Stewart (P)
CPT Blair D. Stewart '15
Dr. Charles E. Stewart '69
1LT Christopher J. Stewart '16
COL (R) and Mrs. Gary M. Stewart '66
Col (R) and Mrs. James J. Stewart USMC '60
Mr. and Mrs. Lionel P. Stewart (P)
Mr. and Mrs. Michael J. Stewart '87
Mr. and Mrs. Stephen A. Stewart (P)
Lt Col (R) and Mrs. Richard A. Stibrik USAF '73
Mr. Gereth B. Stillman '72
Dr. and Mrs. John A. Stine '81
Mr. Scott D. Stine '02
CPT Andrew C. Stire '14
Mr. Michael R. Stith '71
CPT Gordon J. Stock '14
COL (R) and Mrs. Mark L. Stock '89
Maj (R) Ronald P. Stock USAF '62 (P)
1LT John M. Stockdale '18
LTC (R) and Mrs. Eugene F. Stockel '83
Ms. Lori A. Stocker '85
Mr. William L. R. Stocker '59
1LT John H. Stockhausen '17
Mr. and Mrs. Thomas J. Stoddard (P)
Mr. and Mrs. Adam C. Stoecker (P)
MAJ Chris F. Stoinoff III '07
1LT Geoffrey M. Stoker '18
1LT Delainey S. Stokes '17
CPT Jessica S. Stokes '15
COL (R) John H. Stokes III '57 and Ms. Mary Beth Ziegler-Stokes
Mr. Robert B. Stokes '84
Mr. and Mrs. Edward Stolarski (P)
Mr. and Mrs. Andrew G. Stone '89
MAJ Brent J. Stone '08
Ms. Mary Lou Stone (W '67)
Mr. Laurence J. Stoneham Jr. '61
Dr. and Mrs. Michael P. Stoneham '85
Dr. and Mrs. Kurt J. Stonesifer (P)
Mr. and Mrs. Brian J. Storm '99
CPT Rick M. Storm '10
CPT Brent M. Stout '17
MAJ (R) and Mrs. Charles R. Stout
CPT Matthew G. Strack '14
1LT Samuel T. Strader '14
Mr. and Mrs. John M. Stradinger '86
Mrs. Sherrill L. Stramara '81 and Mr. Robert A. Stramara
COL (R) and Mrs. John J. Strange Jr. '92
Mr. Shannondoah D. Strange '98
Mr. Scott T. Stratton '94
LTC Adam C. Straub USAR '94 and COL (R) Darlene M. Straub '94
LTC (R) and Mrs. Donald R. Street Sr. '62
Mr. and Mrs. Frederick D. Streetman '90
Lynn (Haseman) and Brad Streich '00
Col (R) Robert K. Strickland USAF '55
LTC (R) and Mrs. Tracy L. Strickland '74
Mr. Jon E. Strickler '86
Mr. Steven W. Strifler '86
Dr. D. Blake Stringer '93
Mr. Tollie Strode Jr. '80
Mr. and Mrs. Ryan L. Strom '97 (P)
Mr. Brett A. Stroney '07
Mr. Bryan D. Strong '86
BG (R) Kenneth D. Strong '67
Mr. and Mrs. Jack T. Strother '93
Mr. Walter T. Strother '69
1LT Grayson W. Strouse '18
Mr. William A. Strout '94
Dr. Christopher M. Struve '92
LTC (R) and Mrs. Peter J. Stuart '74
CPT and Mrs. Richard J. Stucky '11
Mr. Anthony J. Studebaker '85
Lt Col (R) and Mrs. William F. Studer USAF '46
1LT Jared D. Sturgell '16
LTC David M. Sturgis '01
COL (R) and Mrs. William K. Suchan '84
Mr. and Mrs. John B. Suddarth '81
Mr. Edward C. Sudzina '91
Mr. Michael D. Sufnarski '90
Mr. and Mrs. Mickey J. Suh '94 (P)
Mr. Edward J. Suhr '84
Mr. Steven K. Sulcov
Ms. Rose N. Sulley '92 (P)
COL Strider Sulley (P)
CPT Dana L. Sullivan '13
Mr. James M. Sullivan '84
Mr. and Mrs. John S. Sullivan III '72
Mr. Joseph R. Sullivan '77
Mr. Thomas W. Sullivan '08
Mr. and Mrs. Chris T. Sultemeier '84 (P)
Mrs. Christie M. Summers '94 and Mr. Michael White
Mr. and Mrs. Mark H. Summers (P)
Mr. and Mrs. William Summers Jr.
Mr. Robert Sundy II '97 and Ms. Kimberly Bow-Sundy (P)
Mr. and Mrs. Timothy S. Surdyke (P)
Dr. Lori L. Sussman '83
Mr. William D. Sutherland IV '11
Mr. David S. Sutter '83
Mr. Jason W. Sutton '94
COL (R) Lloyd L. Sutton '73
COL (R) Don F. Svendsen '59
Mr. Martin H. Swafford '80
CPT Mary L. Swan '14
1LT Ryan D. Swan '16
COL (R) and Mrs. Jimmy D. Swanson '75
LTC Kirk L. Swanson '91
Ms. Susan Swanson (P)
LTC (R) and Mrs. Thomas P. Swanton USAR '83 (P)
Mr. Robert L. Swartwood II '01
LTC (R) and Mrs. Robert D. Swedock '68
Mr. Barry P. Sweeney '88
LTC (R) Matthew C. Sweeney '82
Mr. and Mrs. Thomas O. P. Sweeney '72
Mr. John P. Sweeny '98
CPT Daniel J. Sweet '17
Mr. Erick W. Sweet '70
MAJ (R) Lawrence E. Swesey '69
Mr. and Mrs. Richard J. Swift '94
1LT Steven E. Swiniarski II '16
COL (R) Jeff B. Swisher '85 and Mrs. Vanessa M. Swisher '85
Mr. Michael R. Switzer '86
LTC (R) and Mrs. David P. Sykora USAR '75
MAJ Benjamin J. Sylvester '08
Mr. and Mrs. Albert R. Symes '62
MAJ (R) Michael T. Synnott and MAJ (R) Natalie S. Synnott
Mr. James W. Sytsma '94
MAJ and Mrs. Adam J. Szczypka '09
CPT (R) John A. Szott III '14
Mr. and Mrs. John A. Szott Jr. (P)
COL (R) Dennis J. Szydloski '78
Mr. Anthony E. Tabasso (P)
Mr. and Mrs. Frank Taber (P)
Mr. David B. Tabor '95
LTC (R) Darrel S. Tackett '90
Mr. Lance A. Tacquard '94
Mr. Simon J. Taflan '77
Ms. Ting J. Tai '94
Dr. and Mrs. James W. Talbot '65
Mr. and Mrs. David R. Talbott '06
LTC (R) and Mrs. Stephen P. Talbott '94 (P)
Mr. James R. Talley '89
Dr. and Mrs. Stephen B. Tallman '72
Mrs. Tammy Flint
Mr. Thomas L. Talty '79
1LT Matthew S. Tamburri '17
1LT Celeste K. Taniguchi '18
Mr. and Mrs. Tray P. Tankersley III '92
Ms. Sharon A. Tappe
Mr. and Mrs. Karl W. Tappert '86 (P)
Mr. Davis S. Tarr '60
1LT David M. Tarsa '14
Mr. and Mrs. Harold D. Tarvin (P)
Dr. Gerry Tate, Ph.D (former '77)
Mr. and Mrs. John H. Tate II '64
Mr. Bernard J. Tatro '69
1LT Christopher M. Tatsuoka '18
Mr. Charles O. Taumoepeau '99
LTC Tracy B. Tawiah '03
LTC (R) and Mrs. Michael S. Tax Sr. USAR '79 (P)
1LT David M. Taylor '17
COL (R) and Mrs. Dean C. Taylor '81
COL (R) John L. Taylor '62
Mr. John P. Taylor '76 (P)
1LT Justin M. Taylor '18
LTC (R) Michael W. Taylor '90
Mr. and Mrs. Paul J. Taylor Sr. (P)
Mr. Paul J. Taylor Jr. '93
Mrs. Robyn L. Taylor '97 and Mr. Mark Taylor
Mr. Steven S. Taylor '04
The Honorable William B. Taylor Jr. '69
MAJ (R) William C. Taylor USAR '70 (P)
MAJ (R) and Mrs. William R. Taylor Jr. USAR '78
Mr. and Mrs. William R. Taylor '69
CPT Zachary D. Taylor '14
1LT Zachary T. Taylor '15
Lt Gen (R) and Mrs. David J. Teal USAF '61
Mr. John M. Teal '00
CPT Bryan M. Teaton '13
Mr. Charles W. Teel '84
Tom and Monica Teesdale '71
Dr. Mark S. Tejan '78
CPT Christopher M. Telle '13
Mr. and Mrs. Jon E. Tellier '89
Mr. A. W. Temple Jr. '64
Mr. Paul J. Templeton
Mr. Casey M. Terrell '04
Mr. Anthony J. Testa Jr. '94
Mr. Alex J. Tetreault '85
1LT Jeremy P. Tetro '16
1LT Noah C. Tetro '18
Mr. and Mrs. William R. Tetro '77
Dr. and Mrs. William J. Tetu '71
Mrs. Diane Teuten (W '62)
COL (R) Edward G. Tezak Ph.D. '63
Mr. Michal A. Thalacker '79
LTC (R) and Mrs. Otto J. Thamasett '58
LTC (R) and Mrs. George T. Thames USAR '93
Mr. and Mrs. David A. Tharp '80
Mr. William S. Tharp '96
Mr. Timothy A. Thatcher '91
Mr. Jacques S. Theriot
CPT J. Alexander Thew '11 and Ms. Elizabeth M. Kennedy
Mr. James E. Thiele '85
Mr. and Mrs. Steven Thiele (P)
COL (R) LaVoy M. Thiessen Jr. '73
CPT Melissa V. Thom '15
Mrs. Alice Marie Thomas (W '45)
COL David A. Thomas '94
Mr. Devon T. Thomas '94
1LT Elizabeth J. Thomas '16
LTC (R) Harold G. Thomas '72 and LTC (R) Vicky L. Thomas
1LT James B. Thomas '17
MAJ (R) and Mrs. Jerry J. Thomas '98
COL (R) Kenneth A. Thomas '69
Col (R) and Mrs. Kenneth L. Thomas, Sr. USAF '70
LTC (R) and Mrs. Kirk K. Thomas '79
Ms. Mitzi K. Thomas (W '51)
1LT Nathanael R. Thomas '17
LTC (R) and Mrs. Robert B. Thomas '62
Mr. Robert B. Thomas '85
CPT Terrence J. Thomas '17
COL (R) and Mrs. Thomas N. Thomas '64
COL (R) and Mrs. Thom S. Thomassen '72
Mr. and Mrs. James J. Thome Jr. '93
Mr. Theodore M. Thome '93
1LT Ander J. Thompson '18
1LT Anthony M. Thompson '18
Mr. Christopher A. Thompson '94
CPT Cort S. Thompson '15
Mr. George C. Thompson '73
Mr. Jeffrey E. Thompson '86
Mr. John R. Thompson '94
Mr. and Mrs. Jon K. Thompson '65
CPT Matthew A. Thompson '14
COL (R) and Mrs. Michael J. Thompson '76 (P)
COL (R) and Mrs. Michael R. Thompson '73 (P)
COL (R) and Mrs. Richard G. Thompson '78
Bruce and Gabriella Thorn '89
MAJ Michael G. Thornberry '94
Mr. Brian J. Thorne '94
Mr. Eric J. Thorne '94
Mr. Robert J. Thornfelt '94
Mr. and Mrs. Richard A. Thornton '84
CPT Sean M. Thorpe '16
CPT James G. Thul '13
Dr. and Mrs. John R. Thurman Jr. '00
LTC and Mrs. Thomas D. Thury Sr. (P)
LTC (R) Blair A. Tiger '84
Mr. Daniel L. Tigges '69
COL (R) Donaldson P. Tillar Jr. '59
Mr. Pete Timmins
Mr. David J. Timmons '73
Col (R) Richard J. Tiplady USAF '64
CPT Hayden J. Tippett '14
1LT Mark P. Tisler '18
CPT Brewster J. Tisson '13
CPT Sean V. Toal '13
CPT Louis S. Tobergte '14 and CPT Jessica L. Tobergte '14
Mr. and Mrs. Michael A. Tobey '95
Mr. Ben Tockarshewsky
LTC (R) Regina C. Todd '80 and Mrs. Aldea M. Choquette
1LT Samantha L. Todd '17
Mr. William S. Todd '98
Mr. Kevin M. Tohill '91
1LT Annalee M. Tokarsky '18
Mr. Kurt Tolivaisa '85
Mr. William E. Tomasi '87
Mr. Matthew A. Tomasz '73
Mr. Brian Tomkowicz
Mr. Patrick R. Tomlinson Jr. '93
Mrs. Lori K. Tompos '89 and Mr. Stephen Tompos
MAJ (R) and Mrs. Chris E. Tomsen '77 (P)
LTC and Mrs. Brien W. Tonkinson '86 (P)
LTC (R) and Mrs. Scott R. Torgerson '82
Mr. W. Ted Tornehl '71
LTC (R) and Mrs. Emanuel M. Tornquist III '73
Mr. and Mrs. Darryl J. Torres '93 (P)
LTC Joseph A. Torres ARNG '02
MAJ (R) William R. Torrey '99
Reverend Dr. and Mrs. Eric G. Tosi (P)
COL (R) and Mrs. Robert G. Totten '60
Ms. Mary Beth Touchstone
CPT Michael A. Tougher IV '14
Mr. Marc E. Toulouse '96
LTG (R) and Mrs. Kenneth E. Tovo '83
Mr. Joseph H. Towell (former '73)
Mr. Kristopher A. Towers '91
CPT Ryan S. Townsend '02
LTC (R) and Mrs. William S. Tozer '60
Mr. John Tracy
Mr. Dominic H. Trader '90
CPT Gregory L. Trahan '13
CPT (R) Brian J. Trainor '13
Mr. and Mrs. Charles W. Trainor '67 (P)
CPT Cory L. Trainor '13
CPT Daniel J. Trainor '15
1LT Zachary J. Trainor '18
Dr. David W. Trammel '70
1LT Son T. Tran '18
1LT David J. Trate '17
LTC (R) and Mrs. William E. Traubel '66
LTC (R) and Mrs. Stephen R. Trauth '74
Mr. Thomas Travers
LTC Mark Trawinski '85
Mr. and Mrs. Terry J. Treat '70
LTC (R) and Mrs. William H. Tredennick '65
Dr. James T. Treharne '79
Mr. and Mrs. Raymond D. Trent '85
CPT Eric C. Triller '13
MAJ Heather A. Trimble '97
MAJ Jeremy M. Trimble '08
Mr. and Mrs. Roger L. Trimble '01
Mr. Stephen R. Trimborn '94
Mrs. Gina L. Trombley '93 and Mr. Ian Trombley
Mr. and Mrs. Jeffrey W. Trombly (P)
Mr. and Mrs. George S. Trompak '74
Mr. and Mrs. Richard M. Trotter '77
MAJ (R) and Mrs. Eric G. Troup '75
MAJ (R) and Mrs. Guy K. Troy Jr. '81
LTG (R) William J. Troy '75
Mr. Terrell N. Truan
LTC (R) Michael L. Trubia '77
Mr. and Mrs. Brian G. Trueblood '83 (P)
Mr. Carlos A. Trujillo '94
LTC (R) Joseph L. Trujillo '84
Mr. Blake D. Trullinger '06
LTC Vu Truong '94
Mike Trusty '80 and Diane Trusty
LTC (R) and Mrs. Stephen P. Tryon '83
1LT Diana A. Tsang '15
1LT Newton J. Tsang '18
Gordon and Janet Tsuchiya (P)
Mr. Bruce R. Tucker '79
1LT Ryan J. Tucker '18
LTC (R) and Mrs. Peter F. Tuebner '76
1LT Hannah E. Tuffy '16
COL (R) and Mrs. Burton W. Tulkki '72
CPT Matthew E. Tullia '10
Mr. and Mrs. Steven A. Tullia '83 (P)
Mrs. Sheryl Swofford Tullis '89 and Mr. Steven C. Tullis '90
Mr. Charles T. Tully Jr. '89
Mr. and Mrs. James R. Tully III '85 (P)
Mr. Jeffrey C. Tumm '80
CPT Rebecca B. Tummers '14
Chaplain Brian M. Tung '94
Mr. Michael T. Tunnell '92
Mr. Stephen H. Tupper '77
Mr. and Mrs. Christopher E. Turco '94 (P)
MAJ Sarah J. Turcotte '08
Ms. Mary Jo Turek
Mr. David Turetzky
Mr. Robert T. Turfe '90
COL (R) Drew A. Turinski '84
Mr. Brian C. Turner '91
Ms. Doris A. Turner '80
LTC (R) and Mrs. Eric C. Turner '87 (P)
Mr. and Mrs. Gary D. Turner (P)
Mr. Michael R. Turner '96
Mr. Robert M. Turner '83
Mr. Sean J. Turner '94
Mr. W. Bruce Turner '81
Mr. David Turpin
Mr. William J. Turturro '94
Ms. Tamara A. Tuschhoff '90 and Mr. Kenneth Tuschhoff
Dr. and Mrs. Paul V. Tuttle III (P)
Mr. Michael Twardy
BG (R) and Mrs. Andrew B. Twomey '77
Mr. and Mrs. John D. Tyree '87
MG (R) and Mrs. John Uberti '83
CPT Micah A. Uchida '15
1LT Michael C. Ugenyi '15 and 1LT Ciara R. Jackson '16
COL (R) and Mrs. Michael Ulekowski '75 (P)
COL (R) and Mrs. Donald F. Ullmann '64
Mr. and Mrs. John M. Ulmer '62
CAPT Frederick R. Ulrich III '15
CPT Luke Ulrich
Mr. Henry A. Umanos '75
CPT Kyle P. Underwood '15
Mindy and Mike Ungar '80
Mr. Kevin D. Universal '90
Mr. and Mrs. Richard D. Upchurch
1LT Austin J. Updegraff '18
1LT Kevin M. Updike '14
Mr. Christopher M. Upton '94
LTC (R) Elias Ursitti '93
MAJ and Mrs. Christopher J. Ustler '07
1LT Ryan J. Utter '16
Mr. and Mrs. Christopher J. Utz (P)
CPT John F. Uvina '13
Ms. Kristen A. Vahle '04
LTG (R) and Mrs. David P. Valcourt '73
1LT Isaiah L. Valdez '18
Mr. Ricardo B. Valdez '94
LTC (R) and Mrs. Thomas E. Valente Jr. '60
BG and Mrs. Benjamin S. Valentine ANG '93
Mr. and Mrs. John T. Vallely '92
Mr. Michael Vallorosi
COL (R) and Mrs. Lee A. Van Arsdale '74
Dr. and Mrs. Bruce E. van Dam '72
Ms. Mary Joy Van Hout (W '45)
Mr. and Mrs. Steven R. Van Kirk '83
MG (R) James W. Van Loben Sels '59
Mr. Brian C. Van Valkenburg '02
MAJ Ryan C. Van Wie '10
LTC (R) and Mrs. Thomas W. VanAlstyne Jr. '84
LTG (R) and Mrs. Robert L. Van Antwerp '72 (P)
Mr. William F. Vanaskie '69 (P)
CPT Adam R. Vance '06
Mr. Jeremy B. Vance '94
CDR and Mrs. Gerry Vandam (P)
Mr. Todd B. Vandawater '94
Mrs. Jon C. Vanden Bosch (W '55)
CDR (R) and Mrs. Brian K. Vander Yacht USNR (P)
Mr. and Mrs. Robin W. VanDeusen '75 (P)
COL (R) Martha S. VanDriel '91 and Mr. Michael VanDriel
LTC (R) Craig A. Vanek '73
Mrs. Erin M. VanLanduit '00
Mr. and Mrs. Christopher P. Vanslager '81
CPT Katlin E. VanWye '15
Mrs. Alexander A. Vardamis (W '57)
Mr. Matthew A. Vargas '07
Mr. and Mrs. Gregory P. Varley (P)
Mr. and Mrs. Alphonso Varner (P)
1LT Dylan B. Varrato '17
Mr. Vaughn G. A. Vasconcellos '78
COL (R) Steven Vass Jr. '61
Mr. Michael R. Vastag '94
Mr. and Mrs. James A. Vaughn '77
LTC (R) James E. Vaughn USAR '79
COL (R) John K. Vaughn '83
1LT Diego O. Vazquez '17
Mr. Timothy Vedder
Mr. and Mrs. James A. R. Veeder '72
Mr. and Mrs. John A. Veenstra '70
1LT Luis M. Vega '17
Mr. Christopher R. Vegas '00
Mr. David R. Velasquez Jr. '91
CPT Juan E. Velasquez '17
COL (R) and Mrs. John W. Velliquette Jr. '86 (P)
Mrs. Brandi L. Venard '96 (W '96)
CPT Rommel Claude C. Verano '14
Mr. Kyle Verber
CPT Jason C. Verkay USAR '95
1LT Clayton J. Vermeesch '17
COL (R) and Mrs. John A. Vermeesch '90 (P)
Lt Col (R) Lawrence R. Verrochi Jr. USAF '70
Mr. and Mrs. Joseph H. Vest '89
1LT Matthew T. Vest '17
1LT Colin G. Vestal '18
Mr. and Mrs. Steven D. Vestal '92 (P)
SSG Frank J. Vettese Jr.
CPT William S. Viana '15
LTC (R) John H. Vickers '86
LTC (R) and Mrs. Michael D. Vidlak '73
LTC (R) Philip C. Viehl '70
CPT Johnny Villagomez '17
1LT Denys D. Villatoro '18
Mr. and Mrs. Garth T. Vincent (P)
Mr. and Mrs. Mark S. Vincent '74
Mr. George S. Viney '67 (P)
Mr. and Mrs. William R. Vineyard '64
LTC (R) Matthew C. Vinton '97 and LTC (R) Melanie I. Vinton '97
Mrs. Emily Vissers (W '67)
Dr. and Mrs. Steve S. Vitucci '69
COL (R) and Mrs. Herbert D. Vogel Jr. '52
Mr. and Mrs. James C. Vogel (P)
COL (R) and Mrs. William S. Vogel '75
LTC Jeffrey R. Voigt '87
Mr. Howard M. Voland '72
Mr. Gilbert A. Volker '53
Mr. and Mrs. William A. Vollmer '82
Mr. and Mrs. Ronald M. Vollmond (P)
Mr. Christopher Volo
Mr. Peter J. von Alt '94
LTC (R) Thomas D. von Kaenel '77
MAJ (R) Randall A. VonRosenberg '80
1LT Alexander G. Voronovich '18
Mr. Thomas E. Vossman '85
1LT Scott A. Votino '18 and 1LT Rebecca J. Gray '18
Mr. and Mrs. Edward W. Vross Jr. '72
1LT Vincent V. Vu '17
CPT Katherine J. Wacker '14
LTC (R) Mark M. Waclawski '79
Dr. and Mrs. Dean E. Wade '72
COL (R) and Mrs. Michael P. Wadsworth '82
Dr. Edward Wagman MD
Mr. Aaron A. Wagner '94
MAJ Brandon C. Wagner '08
LTC (R) Jill L. Wagner '93
COL (R) John E. Wagner '50
Dr. John H. Wagner III MD '86
Mr. John H. Wagner II '62 (P)
Mr. and Mrs. Keith C. Wagner '85
Mr. Lewis G. Wagner '83
Mr. Mark R. Wagner '81
Mrs. Gweneth H. Wagnon (W '72)
Mr. and Mrs. William Wahoff (P)
Mr. and Mrs. Mark F. Wait '81 (P)
CPT Joshua D. Waldeck '13
COL (R) Patrick L. Walden '91 and Dr. Laura M. Walden
Mr. Jay W. Waldman
1LT Travis D. Waldroup-Rodriguez '18
Mr. David J. Walker '91
Dr. James D. Walker '72
1LT Joseph D. Walker '17
Mr. and Mrs. Kevin A. Walker '92
Mr. Matt Walker
Mr. Robert Walker
1LT Stephanie J. Walker '17
Mr. and Mrs. Thomas A. Walker '60
LTC (R) and Mrs. Hubert B. Wall Jr. '71
LTC (R) and Mrs. Kevin B. Wall '78
LTC (R) Michelle L. Walla '85
LTC (R) Kenneth M. Wallace '62
Mr. Paul J. Wallace
LTC (R) and Mrs. Richard T. Wallace '74
LTC Benjamin M. Wallen '96
COL (R) and Mrs. Thomas G. Waller Jr. '72
Mr. David K. Wallestad '69
1LT Ioannis E. Wallingford '15
Mr. Larry D. Walrod '70
Mr. David D. Walsh
LTC (R) and Mrs. James F. Walsh '68
CPT John P. Walsh IV '08
Brian and Lois Walsh
Mrs. William G. Walsh (W '82)
1LT Patrick F. Walsh '18
COL (R) Patrick M. Walsh '90
LTC (R) Richard R. Walsh '63
COL (R) George R. Walter Jr. '72
Mr. and Mrs. Rodney W. Walter II '81
CPT Walter Woo '15
Mr. and Mrs. Christian J. Walters '92
1LT Jacob S. Walters '17
CPT Joseph S. Walters '13
1LT Andrew R. Walther '17
Mr. Andrew T. Walton '03
1LT Brandon R. Walton '17
LTC (R) John P. Walton '96
MAJ and Ms. Richard L. Wampler Jr. USAR '95
Mr. and Mrs. Azmi Wandi (P)
LTC (R) and Mrs. Robert H. Wank '72
Mr. William Wansaw
MAJ (R) Thomas J. Waraksa '67
Conan Ward Family Foundation
Mr. Gregory A. Ward '05
Lt Col (R) and Mrs. John D. Ward USAF '51
Mr. Joseph M. Ward '74
CPT Kyle D. Ward '14
Mrs. John H. Ward (W '64)
MAJ (R) and Mrs. William F. Ward '80
Mr. and Mrs. Robert J. Wardlow '85
Ms. Therese Wareham (P)
1LT Kaeleigh C. Warfield '16
Mr. Steven B. Wargny '00
Col (R) and Mrs. Richard G. Wargowsky USAF '55
Mr. and Mrs. Andrew M. Warner '77 (P)
CPT Andrew S. Warner '15
CPT (R) and Mrs. Charles O. Warner III '72
COL (R) Karl K. Warner '74
CPT Kyle C. Warren '15
LTC (R) Warren J. Warren '59
Mr. and Mrs. K. George Wasaff (P)
CPT Pierce T. Wasdahl '14
CPT Donald W. Washington II '13
Ms. Monique Y. Washington '91
LTC (R) Paul L. Washington Jr. USAR '87
COL (R) and Mrs. Versalle F. Washington Ph.D. '85
1LT Scott E. Washle '18
Mr. and Mrs. Thomas M. Wassel (P)
Mr. and Mrs. David L. Waters (P)
Mr. George P. Waters
Mr. and Mrs. John L. Waters '57
Mr. and Mrs. Thomas W. Waters '72
Mr. William S. Waters '70
LTC (R) and Mrs. Howard E. Watkins '71
Mr. and Mrs. Paul B. Watkins '71 (P)
CPT Winston E. Watkins III '04
Mr. Zachary J. Watkins '02
Mr. Andrew J. Watson '09
Mr. and Mrs. Broadus E. Watson Jr. '77
MG (R) Bryan G. Watson '82
Col (R) Frank C. Watson USAF '64
LTC (R) James L. Watson Jr. '81
Mr. Jeffery J. Watson '88
Mr. and Mrs. Stanley Watson (P)
Mrs. Tamara C. Watson '80 and Mr. Tim C. Watson
Mr. and Mrs. Thomas P. Watson '77 (P)
COL (R) and Mrs. Timothy F. Watson '89 (P)
CPT William M. Watson II '16
MAJ Zachary N. Watson USAR '08
CPT Benjamin J. Watt '05
LTC (R) William J. Wattendorf '70
Ms. Anne Daley Wattman
Mrs. Kathryn Watto (P)
Mr. and Mrs. Charles Watts (P)
1LT Alexander C. Waugh '16
LTC (R) and Mrs. John W. Weatherford '81
COL and Mrs. Christopher M. Weathers '97
Mr. Frederick Weaver Jr. '76
Mr. Jeffery A. Weaver '92
CPT Tyler J. Weaver '17 and Dr. Courtney Weaver
LTC (R) Arthur M. Webb '62
COL (R) and Mrs. George S. Webb '72
CPT Ryan M. Webb '13
COL (R) and Mrs. William L. Webb III '72 (P)
CPT William L. Webb '13
Mrs. Charlotte S. Webber (W '48) (P)
CPT Matthew L. Webber '14
Mr. James A. Weber '90
COL (R) Martin J. Weber '91
1LT Solomon L. Wechsler '15
Mr. and Mrs. John C. Weekley '72
COL (R) and Mrs. Robert M. Weekley '59
Mr. William R. Weeks '80
Mr. and Mrs. Edward J. Wegel '80
Mr. Christopher J. Wegmann '79
Mr. and Mrs. Dean D. Wegner '93
1LT Michael A. Wegner '17
1LT Karol W. Wegrzyn '18
LTC (R) Marc A. Wehmeyer '93 and Mrs. Ashleigh D. R. Wehmeyer '93
Mr. and Mrs. Scott A. Wehrli (P)
Mr. Donald Weigand
Mr. Charles W. Weigle '07
1LT Emily T. Weiher '18
COL Thomas P. Weikert '83
Dr. Peter L. Weiland Jr. '79
Mr. and Mrs. Sigmund T. Weiner '64
Mr. David M. Weinerth '88
1LT David E. Weinmann '18
Mr. and Mrs. Eric H. Weinmann (P)
MAJ (R) and Mrs. Michael P. Weinstein '75
LTC (R) Richard M. Weinstock '73
Ms. Kerrie C. Weis '02
Mr. and Mrs. Thomas E. Weisenfels '89
LTC (R) and Mrs. Doyle J. Weishar '75
Mr. Harry F. Weiskopf '75
Mr. Daniel C. Weiss '95
COL (R) Francis E. Weiss '73
LTC (R) and Mrs. Robert D. Weiss '71
Mr. Thomas W. Weiss '86
Lt Col (R) Wayne A. Weiss USAFR '58
Dr. Roland Weisser Jr. and Dr. Lydia Weisser (P)
COL (R) and Mrs. Donald J. Welch Jr. '79
Mr. and Mrs. Robert C. Welch Jr. (P)
COL (R) and Mrs. Ronald W. Welch '82
1LT William K. Weldon '16
LTC (R) Scott C. Weliver '85 and Mrs. Devrie A. Weliver '88 (P)
1LT Ryan K. Well '16
1LT Jeffrey B. Weller '18
LTC (R) Brian F. Wells '69
Mr. and Mrs. Bruce R. Wells '75 (P)
Mr. Caleb K. Wells '06
Mr. James D. Wells Jr. '92
Mr. James S. D. Wells '94
CPT Melissa S. Wells '15
Mr. and Mrs. Robert W. Wells Jr. '69
MAJ (R) W. Bond Wells Jr. '78
MAJ Nathaniel R. Welsh '08
1LT Spencer L. Welton '18
COL (R) Christopher W. Wendland '94
Mr. and Mrs. Jack Wenik (P)
Mr. and Mrs. Michael E. Wenis (P)
Mr. Edward T. Wenner '00
CPT Christopher A. Wente '13
1LT Alexander G. Werden '18
Mr. Robert Werley
MAJ Alexander C. Werner '06
Mr. Michael W. Werner '94
Dr. Robert J. Werner '71
Mr. Timothy S. Werner '98
LTC (R) and Mrs. Paul F. Wertz '62 (P)
COL Jason A. Wesbrock '94
1LT Cody F. West '18
1LT Mason V. West '15
LTG (R) Nadja Y. West '82 and COL Don West (P)
COL (R) Richard D. West '69
COL (R) and Mrs. Sterling G. West '72
Mr. and Mrs. Frederick Westerlund (P)
LTC (R) and Mrs. Kurt O. Westerman '80
Mr. Scott J. Weston '85
Mr. and Mrs. Vincent P. Westover '90
1LT Brandon H. Wethman '17
Mr. Christopher K. Wetzel '90
Mr. and Mrs. Martin J. Whalen '94 (P)
Mr. and Mrs. Raymond Whalen (P)
COL (R) David B. Whaling '84
Mr. Phillip L. Wharton '71
Dr. Charles W. Whatton '69
Mrs. Angela L. Wheeler (P)
Dr. and Mrs. Bruce R. Wheeler '69
Dr. Robert J. Wheeler '52
CPT Tyler W. Wheeler '14
LTC (R) John G. Wheelock IV '72
CPT Charles R. Whitaker '14
1LT William A. Whitaker '18
Mrs. Robert D. W. White (W '46)
Mr. and Mrs. Charles S. White '69
Mr. Donald H. White III '91
Dr. and Mrs. Earl D. White II
LTC (R) and Mrs. Frederick E. White USAR '70
Mr. and Mrs. James White (P)
Mr. Justin M. White '95
Mr. Kevin White
1LT Kristi M. White '17
Mr. and Mrs. Michael G. White '83
Mr. Michael J. White '01
COL (R) and Mrs. Norman J. White '73
COL (R) and Mrs. Richard B. White '84
Mr. and Mrs. Timothy W. White '90
CPT William C. White '14
1LT William M. White '17
Mr. Joseph Whitehead Jr. and Ms. Hilary S. Cornell (P)
COL Shannon J. Whiteman '99 and MAJ Mark Whiteman
1LT Joseph A. Whitley '17
MAJ (R) and Mrs. Ted D. Whitley USAR '72
MG Joseph E. Whitlock '86
LTC (R) Erin A. Whitney '96 and COL Daniel Whitney
Mr. and Mrs. Justin E. Whitney '86
Mr. Michael S. Whitten '94
CPT Thomas P. Whitten '13
Mr. Stephen W. Whittey '79
CPT James B. Whittington '13 and Mrs. Jessica A. Whittington '13
Mr. Robert W. Widmer '83 and Mrs. Kathleen M. Widmer '83
CPT Marion E. Wiedemann '15
Mr. William B. Wiegand
LTG (R) and Mrs. Francis J. Wiercinski '79
1LT Joseph P. Wiesbrook '18
Mr. and Mrs. Brett R. Wiggs '87
CPT Taylor B. Wilby '15
Mr. Andrew V. Wilcox '06
Mr. Christopher J. Wilcox '74
CPT Peter B. Wilcox '14
1LT Zachary E. Wilcox '17
Mr. and Mrs. Andrew R. Wild '87
LTC (R) and Mrs. David G. Wildes '72
Mr. Daniel J. Wiley '83
Mr. and Mrs. Geoffrey J. Wilhelmy '72
Mr. Thomas J. Wilk '86
CPT Michael R. Wilke '13
1LT Joseph W. Wilkerson III '18
CPT Aris K. Wilkins '14
LTC (R) and Mrs. Glenn F. Wilkinson '74
Mr. and Mrs. Henry G. Wilks '84
CPT Pierce G. Willenbrock '15
COL (R) Barry E. Willey '72
MAJ (R) Allen J. Williams '72
Mr. and Mrs. Blair S. Williams '96 (P)
LTC (R) and Mrs. Charles H. Williams Jr. '71
Mr. and Mrs. Charles Williams (P)
Mr. David C. Williams '02
Mr. Dennis E. Williams '70
Mr. Gary L. Williams '00
Mr. Gary S. Williams '82
Mr. Gerald W. Williams '74
Ms. Gloria Williams (P)
1LT Jacob L. Williams '17
CW2 James J. Williams
MAJ (R) and Mrs. John C. Williams '77
Mr. and Mrs. John D. Williams '90 (P)
CPT John H. Williams '15
Dr. and Mrs. John R. Williams '68
CPT Josette P. Williams '15
Mr. Kevin L. Williams '04
1LT Mackenzie A. Williams '18
Mr. Mark J. Williams '00
Lt Col and Mrs. Patrick C. William USAF (P)
CPT Peter A. Williams '15
COL (R) and Mrs. Ronald N. Williams '65 (P)
Mr. Shaun H. Williams '84
COL (R) Stephen D. Williams '69
Mr. Thearon M. Williams '86
Mr. Theodore D. Williams '94
1LT Timothy J. Williams '18
1LT Tyler M. Williams '14
Mr. and Mrs. Wallace Williams (P)
1LT Austin R. Williamson '17
LTC (R) and Mrs. John M. Williamson '76
COL (R) Frank P. Willingham '80
Mr. Clifford K. Willis '72
Mr. and Mrs. Dale C. Willis II '87
Mr. Eric M. Willis '00
CPT Michael T. Willis '16
Bill and Ann Willoughby '60 (P)
Mr. Fredrick Wills
1LT Daniel K. Wilsford '18
Mr. William J. Wilshire '93 and Ms. Karen Richard
MAJ (R) and Mrs. A. Rhodes Wilson ANG '72
CPT Allison G. Wilson '15
1LT Brandon M. Wilson '18
Mr. Charles E. Wilson '54
LTC and Mrs. Dereck K. Wilson '02
Mr. Douglas L. Wilson '79
COL Eric M. Wilson USAR '93
COL (R) Eugene W. Wilson IV '91
Mr. James A. Wilson '04
LTC (R) Michael B. Wilson '77
Mr. Ryan J. Wilson '99
COL (R) and Mrs. Thomas A. Wilson II '63
COL (R) and Mrs. Tod J. Wilson '72
1LT Natosha N. Wilson-Lattimore '18
Mr. and Mrs. Robert G. Wilt '90
Mrs. Tracel H. Wilt '94
1LT Tyler A. Wilton '18 and 2LT Abby J. Wilton '19
Mr. Lloyd Winans
COL (R) and Mrs. Gary W. Winch Jr. '90 (P)
1LT William G. Windom '17
LTC (R) and Mrs. Gregory R. Wine '79
LTC Diane E. Wineinger '90
Mr. and Mrs. John K. Wing '71
LTC (R) Karl E. Wingenbach '85
Mr. and Mrs. John J. Winger (P)
CPT Christopher W. Wink '15
COL (R) and Mrs. William T. Winklbauer '89
COL (R) and Mrs. Richard K. Winkle '87
COL (R) and Mrs. John C. Winkler '62
Ms. Marissa Cooper (P)
Ms. Hannah I. Winter (P)
Mr. and Mrs. Craig S. Winton '87 (P)
Dr. Harold R. Winton '64
LTC David Wise '94
LTC (R) Douglas H. Wise '72
COL (R) and Mrs. James D. Wisenbaker Sr. '75
Mr. David Wisnosky '86
Mr. David R. Withers '85 (P)
Mr. and Mrs. P. T. Withers (P)
BG (R) Eugene S. Witherspoon '61
Mr. Michael H. W. Witherspoon '86
COL (R) and Mrs. Richard H. Witherspoon '68
1LT Amber M. Withrow '18
CPT Bernard K. Witschen '14
Mr. Benjamin M. Witt '98
1LT Cole W. Witter '17
Mr. Mark R. Wittlin '88
CPT Collin B. Wittmeyer '13
Glenn Wittpenn '83 and Mary Anne Callahan
Dr. and Mrs. James P. Witzerman PhD '79
Mr. and Mrs. Carl F. Woessner Jr. '68
Mr. and Mrs. Edward R. Wohlwender '83
Mr. and Mrs. Adam C. Wojcik '00
Mr. and Mrs. H. Gregory Wold '56
Mr. James R. Wold '72
Mr. and Mrs. Guy A. Wolf '80
BG (R) and Mrs. William T. Wolf '79
Mr. Donis R. Wolfe Sr. '67
1LT Kimberley R. Wolfe '18
MAJ Masey V. Wolfe '05
Mr. and Mrs. Richard J. Wolff '76
Mr. Douglas W. Wolfkill '84
Mr. Marvin R. Wolgast '88 (P)
CPT Andrew C. Wolgemuth '15
A. Ross Wollen '65
COL Jason A. Wolter '94
LTC (R) John B. Wolters '77
Mr. and Mrs. Gregory K. M. Wong '72
LTC (R) and Mrs. Tezeon Y. Wong USAR '82
Mr. Thomas T. Wong '97
Mr. William L. T. Wong '93
Mr. and Mrs. David M. Wood
Mr. and Mrs. Frank A. Wood
Mr. Gerald L. Wood '70
CPT Hunter P. Wood '15
LTG (R) and Mrs. John R. Wood '72
1LT Lauren E. Wood '14
Mr. Stephen Wood Sr.
COL (R) Robert A. Woodmansee '84
COL and Mrs. Kevin M. Woods '97
The Reverend Todd L. Woodson '91
Mr. Timothy G. Workman '94
Mr. Branch A. Worsham Jr. '58
Mr. and Mrs. Cameron K. Worsham '90
Col (R) and Mrs. Robert G. Worthington USAF '71
Mr. Brian M. Wray '95
Mr. Anthony M. Wright '94
Mr. Benjamin D. Wright '96
Dr. Benny L. Wright '87
CPT Brian M. Wright '13
Ms. Courtney A. Wright '91
Mr. Degas A. Wright '85 and Ms. Patricia Braz-Wright
Mr. Donald C. Wright '84
Mr. E. Cooper Wright III '03
Mr. Erik C. Wright '04
COL Jason M. Wright '94
CPT Jason T. Wright '13
Mr. and Mrs. Jeffrey F. Wright '79
John Wright '83 and Carolyn Spaulding-Wright '86 (P)
COL (R) and Mrs. Steven J. Wright '71
Mr. and Mrs. Thomas J. Wright (P)
LTC (R) Timothy G. Wright '82
LTC (R) Mark B. Wroth USAR '78
COL (R) Scott G. Wuestner '84 (P)
Mrs. Amy T. Wunderlich '03 and Lt Col Matthew C. Wunderlich USAF
Mr. and Mrs. Charles Wurz (P)
CPT Richard J. Wycklendt '13
Mr. James R. Wylie '72
LTC (R) and Mrs. Allen G. Wynder '82
Mr. and Mrs. John A. Wyrwas '63 (P)
1LT Richard Z. Xue '16
Ambassador and Mrs. Donald Y. Yamamoto (P)
Mr. and Mrs. Colin W. Yankee '99
COL Michael F. Yankovich '94
Mr. Gerald J. Yankow
LTC (R) and Mrs. Thomas J. Yanoschik '87 (P)
1LT Jeff Yao '13
CPT Melody J. Yap '15
LTC (R) Michael W. Yap '67
Mrs. Charles V. D. V. Yarbrough (W '52)
CPT Molly C. Yardley '13
1LT Brandon M. Yarnovich '17
Mr. and Mrs. Tim Yates
Mr. Shannon K. Yates '90
Mr. and Mrs. Roger G. Yauss (P)
Mr. and Mrs. Stephen S. Yeager (P)
Mr. Jason A. Yee '94
CPT Charlotte E. Yerdon '01
Mr. Scott C. Yeung '06
CPT Jimmy Yin '16
CPT Henry J. Yoder '14
1LT Kyle R. Yoder '13
Dr. William P. Yonushonis '69
CPT Andrew D. Yoon '16
Mr. and Mrs. Robert Yopp (P)
1LT Zachary T. Yopp '18
Richard G. York '82 (P)
COL Gail E. S. Yoshitani '92 and LTC (R) Shaw Yoshitani '91
CPT Benjamin R. Young '15
CPT Corey D. Young '13
Mr. David Young
CPT Ian R. Young '13
Mr. James L. Young Jr. '78 and Mrs. Jennifer J. Young (former '80)
Mr. James W. Young '94
Lt Col (R) and Mrs. John R. Young USAF '70
Mr. and Mrs. Kenneth B. Young (P)
Mr. Kenneth L. Young '95
Mr. and Mrs. Peter J. Young Jr. '92
Mr. and Mrs. Robert C. Young
COL (R) and Mrs. Terry J. Young '70
LTC (R) Thomas C. Young II '54
Dr. and Mrs. Timothy R. Young '63
Stephanie and Timothy Young (P)
Mr. Arron B. Yount '92
LTC (R) and Mrs. Mark A. Yrazabal '71
Mr. William F. Ystueta Jr. '91
LTC Raymond K. Yu '02
CPT Austin J. Yun '17
LTC (R) and Mrs. Richard E. Zak '75
COL Richard H. Zampelli '94
CPT Kevin N. Zander '14
COL James A. Zanella '99
Dr. and Mrs. John Zanella Jr. (P)
Mr. and Mrs. Arthur J. Zarone '84
Mr. Michael J. Zatlukal '94
CPT Andrew L. Zecha '14
Mr. and Mrs. Michael E. Zefeldt (P)
Dr. and Mrs. Patrick S. Zelley '94
Mr. Aivars Zeltins
LTC (R) and Mrs. Ernest G. Zenker '62
COL (R) Lars N. Zetterstrom '94
Mr. Huafeng Zhang and Mrs. Rong Wang (P)
CPT Jessica H. Zhu '17
1LT Zhaozhong Zhu '17
Ms. Marianne Ziegler
Mr. Nicholas J. Ziemba '04
COL John G. Zierdt USAR '90
CPT Christine M. Zimmerman '13
Mr. Henry H. Zimmerman III '64
Dr. Amy A. Zingalis '98
Mr. George J. Ziots '68
Mr. and Mrs. Gerry R. Zmolek '72
Mr. and Mrs. Jack C. Zoeller '70
1LT Alan R. Zollar '17
Mr. William E. Zook Jr. '69
Mrs. Stacy R. A. Zotter '92 and Mr. David Zotter (P)
Mr. Bryne C. Zuege '91
Mr. and Mrs. John M. Zurisko
CPT Brandon M. Zwank '14
COL (R) and Mrs. Martin A. Zybura '89
Anonymous (6)