Advertising Opportunities
The West Point Association of Graduates (WPAOG) is the publisher of West Point magazine and First Call and Parent Review eNewsletters. Founded in 1869, WPAOG is a non-profit, tax-exempt organization dedicated to furthering the ideals and promoting the welfare of West Point, and to serving and supporting the Long Gray Line of more than 55,000 living West Point graduates. Its philanthropic pursuits maintain a Margin of Excellence for cadets attending the United States Military Academy.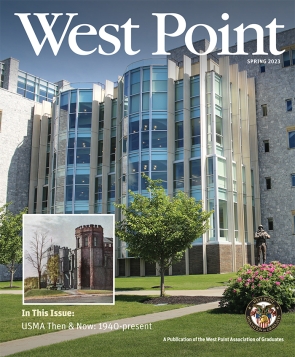 Advertising with the West Point Association of Graduates print and digital communications provides your business with the opportunity to reach one of the world's premier target audiences:
All living graduates of the United States Military Academy
Surviving spouses of graduates
Current cadet parents
Faculty, staff, and friends of West Point
West Point Magazine
West Point magazine is the official alumni magazine for graduates of the United States Military Academy. It is published quarterly and has a circulation of 59,000 + per issue. Digital editions are available online at WestPointAOG.org/WestPointMagazinepastissues. West Point offers fresh content focusing on the Academy of today while also highlighting the 200-year-old traditions that unite all members of the Long Gray Line.
First Call – WPAOG's twice-monthly eNewsletter
This digest of Academy, graduate and cadet-related news content and photography is curated for maximum interest to graduates. It regularly reaches over 49,700+ actively engaged West Point graduates and achieves an outstanding open rate of over 57 percent.
Parent Review – WPAOG's monthly eNewsletter
Parent Review contains news content created specifically for the 5,000+ parents of current cadets, is distributed once a month and achieves an outstanding open rate of over 67 percent. View current West Point Print & Digital Media Kit.
---
SAVE 15%
First time advertisers—promote your business with special rates on digital and/or print advertising
*Discounted rates are for first-time advertisers and are good for one year. West Point Authors Bookshelf ads are not eligible for this discount.
---
West Point Bookshelf
This special section within West Point magazine is designed to showcase West Point graduate and faculty authors, as well as selected books about West Point. View West Point Bookshelf rates.
For more information contact:
Austin Hunt, Sponsorships/Advertising Manager
845.446.1646/ 1582or ads@wpaog.org
Advertising Rates and Specs: westpointaog.org/Advertise
Artwork submissions: ads@wpaog.org
Advertising Policy and Process
WPAOG Advertising Internal Review Process
Advertising art (submitted for printing in West Point magazine, in other print publications, or for placement in First Call or on the web) will be evaluated by the Editorial Committee at weekly meetings. Questionable ads (ad content and/or information on URLs/websites provided in the ad) will be given further review.
The Editorial Committee, representing WPAOG membership and administration, will reject advertising that does not meet the criteria of the advertising policy, or that they believe does not serve the best interests of West Point Association of Graduates and/or the United States Military Academy at West Point.
The purpose of West Point Association of Graduates (WPAOG) ("publisher") is to further the ideals and to promote the welfare of the United States Military Academy at West Point, and to support and serve its graduates. WPAOG's publications, website and other messaging will endeavor to support this purpose.
The publisher reserves the right to reject and/or cancel any advertisement for any reason. WPAOG, as publisher of West Point magazine, strives to project the United States Military Academy in a positive light, and in so doing, does not want to be perceived as taking a stand on political or religious issues. Therefore, ads for political groups or individuals running for political office are not permitted, nor are ads that promote or present extreme political or religious ideology.

The advertiser and their advertising agency assume full liability for content of advertisements printed, for obtaining copyright permission for the use of any registered logos, wordmarks, or tag lines that are included, and assume full responsibility for any claims made against the publisher.